Joined

Mar 2, 2009
Messages

2,833
Reaction score

5
Gents,
Not on SF much lately as I've acquired a new, more serious addition as opposed to clothing: time. Looking to clear out some small things to make room for some larger purchases.
2 very affordable, EXCELLENT starter watches for sale which I'm Looking to sell as a lot . (actually, would be willing to sell just the Laco OR Both, but not just the Steinhart) Also some other luxe accessories that came off my other pieces.
All prices include shipping
WATCHES ARE BOTH GONE
2) Gently used OEM Jaeger LeCoultre 18MM SS polished deployment clasp. Had this on my Memovox but sold it on its bracelet. Very minimal surface marks, barely noticeable. Overall excellent shape with about a few weeks of wrist time. These go for $450 at the dealer.
I'm looking to get $250---$237.
3) Gently Used OEM IWC American Alligator strap in 21x18MM. Dark brown, a bit darker IRL than in the pics. Padded to 5mm and I loved the look of this strap so I had to have it for my 3714. That's gone now, so this has to go as well. VERY minimal wear and you can tell from the [lack of] smell that its not even broken in. Ridiculously priced at the AD,
I need $175--->$160.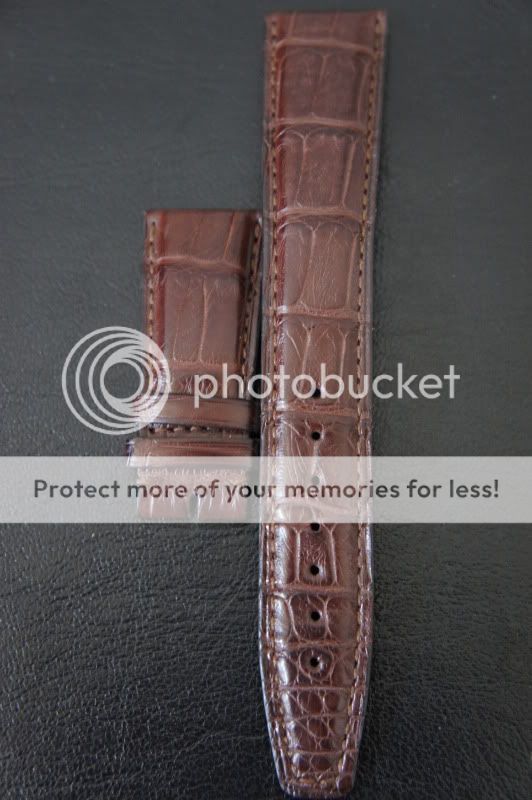 4) NWOT "The Watch Boys" (TWB) "IWC style" genuine American alligator strap in Navy, 21x18. Nicely padded with matching stitching. As stated, never worn, brand new. Their site asks for $115 but shipping is from Canada.
I need $99--->$89 shipped conus
and you'll receive it in 2 days flat.
If you want both straps and the clasp, I can offer it for $479--->$455 CONUS
1A) STEINHART "Nav B-Uhr II 44 mm Handaufzug. Amazing value. Worn for a total of about 2 weeks before my current set of daily wearers. Sapphire crystals on both sides, Handwound ETA mov't, blued hands & pilot style buffalo strap with oem deployment clasp. I'd rate this conservatively at 9.5/10. Includes inner and outer boxes, OEM strap (near new). The only dealer besides the manuf is in singapore. Thus, you'd have to order it from Switzerland and wait....usually a LONG time. MSRP is around $550 (which i paid from a local guy who happen to have a new one) with shipping which IMHO is the best value out there. Inner and outer boxes, hang tag and manual included.
1B) LACO Paderborn 42 mm automatic, ETA 2824-2 mov't (not the cheap Miyota model). One of the most historically accurate flieger watches and all around solid performer. Sapphire crystal, Blued hands, sandblasted case with historical markings on an oem (near new) pilot strap with stamped tang buckle.(Pretty clear that I'm a pilot watch kinda guy) Similar to above, this piece is also 9.5/10 with about a week of wrist time. The pilot strap isn't even broken in and it keeps excellent time.
I bought this piece for $775+CA tax and I don't think you can find it for less.
http://i763.photobucket.com/albums/xx275/fsun06/watch%20stuff/35330031.jpg[/IMG
[IMG]http://i763.photobucket.com/albums/xx275/fsun06/watch%20stuff/7e061ba7.jpg[/IMG
[IMG]http://i763.photobucket.com/albums/xx275/fsun06/watch%20stuff/6e334fa4.jpg[/IMG
[IMG]http://i763.photobucket.com/albums/xx275/fsun06/watch%20stuff/a3b0e727.jpg[/IMG
[IMG]http://i763.photobucket.com/albums/xx275/fsun06/watch%20stuff/6b4055bf.jpg[/IMG
[IMG]http://i763.photobucket.com/albums/xx275/fsun06/watch%20stuff/9366c8ea.jpg[/IMG
[IMG]http://i763.photobucket.com/albums/xx275/fsun06/watch%20stuff/53a08d74.jpg[/IMG
[IMG]http://i763.photobucket.com/albums/xx275/fsun06/watch%20stuff/7000fa80.jpg[/IMG
[IMG]http://i763.photobucket.com/albums/xx275/fsun06/watch%20stuff/75f03170.jpg[/IMG
[IMG]http://i763.photobucket.com/albums/xx275/fsun06/watch%20stuff/e8f55212.jpg[/IMG
Last edited: