Joined

Mar 20, 2011
Messages

15
Reaction score

0
Hi guys,
New member...been lurking for a while, but this is my first post. Anyway, I am an American, but I live in Germany. I wear suits to work and am looking to pick up some new cognac and black dress shoes soon. I am leaning toward AE, but am not entirely sold. If I was to make a decision today, I would probably pick the Strand in walnut and Fifth Avenue in black, or possibly vice versa. Anyway, I digress...
AE shoes are available here, but are ridiculously expensive. I will be headed back to the U.S. around Easter, and plan to do some major shoe shopping then. But today I was wandering around town and noticed that the local dealer has the Hale in black and Easton in brown on closeout for 250 Euro. This is a pretty smokin' deal for Europe, and seems to come down to about the same as list price for U.S. shoes. If I buy them in the U.S. I will hopefully have more options, but will have to drag them back overseas with me.
I haven't checked to see if he has my size yet, but I am definitely curious and just wanted to see what you guys had to say about them. I don't see them listed on the AE website...are these just older closeout models? Does anyone know if they are recraftable? Also, what is the official AE eBay seller ID?
Pics for reference:
Hale:
Easton: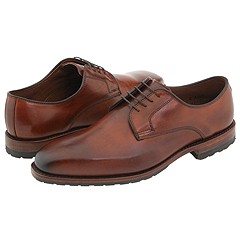 I am curious about both, but am particularly interested in the Hale, as it seems to match what I'm after. The Easton may be a little dark and a little on the plain side. Looking forward to checking both out, though.
Thanks,
GS