THE FOO
Dubiously Honored
Joined

Feb 11, 2007
Messages

26,400
Reaction score

9,217
Recently, SF member Hercules posted photos of his English-American MTM suit. He looked terrible. Most of the comments directed him to toss the suit out or consider it a loss. However, I argued that, in fact, the suit was not so bad at all. It seemed to me that people were merely reacting to the circumstances of the photo and, to an extent, the SF-unfashionable style of the suit. This is a general problem with Styleforum. We don't take the time to learn about the little things that make a suit fit right or wrong, so our critiques are often vague, overblown, and misguided. So, to make my point, I did this "semi-foof." I made only two substantive changes: (1) re-cut the front quarters, and (2) straightened out the trousers. I also did some other subtle things to eliminate the visual effects of the wind. A tailor could make both changes to the suit I implemented--notice how the button holes are the in the same place. Unlike make situations where quarters are more closed than desired, this is salvageable. I hope you can see that this is actually a decent suit and did not deserve to be trashed: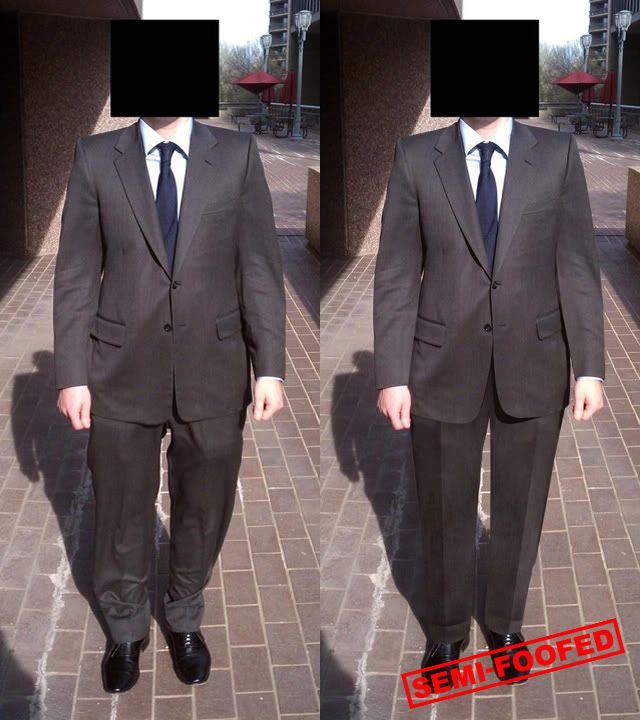 Here is a full-foof:
Still, only minor changes. I raised the collar of both the jacket and shirt, improved the lapel roll, widened the shoulders a tad, and then widened the lapels to match. All said and done, this is a better-than-average SF suit.