"Brimfield" Buckle Back Denim Jeans for Palmer Trading Archive Co.

POSSIBLY THE BEST JEANS YOU'LL EVER OWN!



NEW WITH ALL TAGS!

TWO PAIRS AVAILABLE: 32/34, and 34/36. (Please note that the original pair of 34/36 that I listed have SOLD.)

​
(Please note that if you're a 30 or 32 waist I might be able to secure these jeans in your size--please PM if interested!)
Made for the Palmer Trading Co. Archive of New York City by the Hartford Denim Company these jeans are unbelievably high quality. They are cut from 16.5 oz denim from Cone Mills, NC, a company founded in 1891, and suppliers of some of the best denim fabric available anywhere in the world--a fact that has led to its being in extremely high demand for Japanese high-end denim products and an essential for historical reproductions of American workwear.
The copper rivets are all hand-made in Brooklyn, NY, and hand-attached, as are the hand-swirled pewter buttons with copper rivet heads at the fly. The main fly button at the waist is hand-made from an American penny with a thick center copper rivet--again, attached by hand!
These jeans feature a thick leather back buckle--again, secured to the jeans by hand-made copper rivets--that ensures a perfect fit. They also feature a full complement of belt loops. The deep and functional ticket pocket that's inside the right-hand front pocket is also leather--the same hide as the buckle--and is also attached by hand-made copper rivets. The back patch features the Palmer Trading Co. three pines logo, and is, of course, also hand-made and leather.
The pockets are made with heavy striped cotton of the sort made famous by C19th railroad uniforms.
These jeans were built in Hartford, Conn. by the Hartford Denim Company and come complete with a lifetime guarantee--if they ever need a repair of any sort, send them back to the factory and they'll repair them free of charge. Naturally, all of the materials that went into making them were sourced in the USA.
These are jeans made as they should be--and as they were when denim clothing was first made for gold prospectors, farm hands, and cowboys during the C19th.
These are incredible jeans, and worth every penny of the $360 that they originally retailed for. These are new, with all of their tags attached. I'm asking just
$115, OR OFFER, boxed, shipped, and insured in the USA.
International inquiries welcome, with shipping at reduced cost.
Please PM with interest and offers!
I currently have two pairs available. BOTH ARE NWT. Please note that the Hartford Denim Co. makes only c.500 pairs of jeans a year, as they have a LOT of handwork. Since they follow traditional practices the jeans have the sizes hand-written onto the by the last person who finishes them before they go to have their size tags attached. These marks indicate that these are largely hand-made products rather than mass-produced, and they will fade over time. They also exemplify that these jeans are not to be considered "artisan products" but heavy-duty workwear, to be treated as the tools they are--and were during the Depression.
PAIR 1 -- Tagged 34/36:
(Size handwritten on front thighs lightly)
Waist: 17 1/4
Inseam: 34 1/2
Rise: 12 1/2
PAIR 2 -- Tagged 32/34:
(Size handwritten by hem lightly)
Waist: 16 1/2
Inseam: 34
Rise: 12 1/2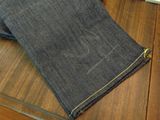 NB: PLEASE NOTE THAT the brown whisper marks that appear are just shadows caused by poor lighting! These are in excellent, NWT condition!
Pictures of both: