MINT CONDITION!

Aero "On the Waterfront" Wool Jacket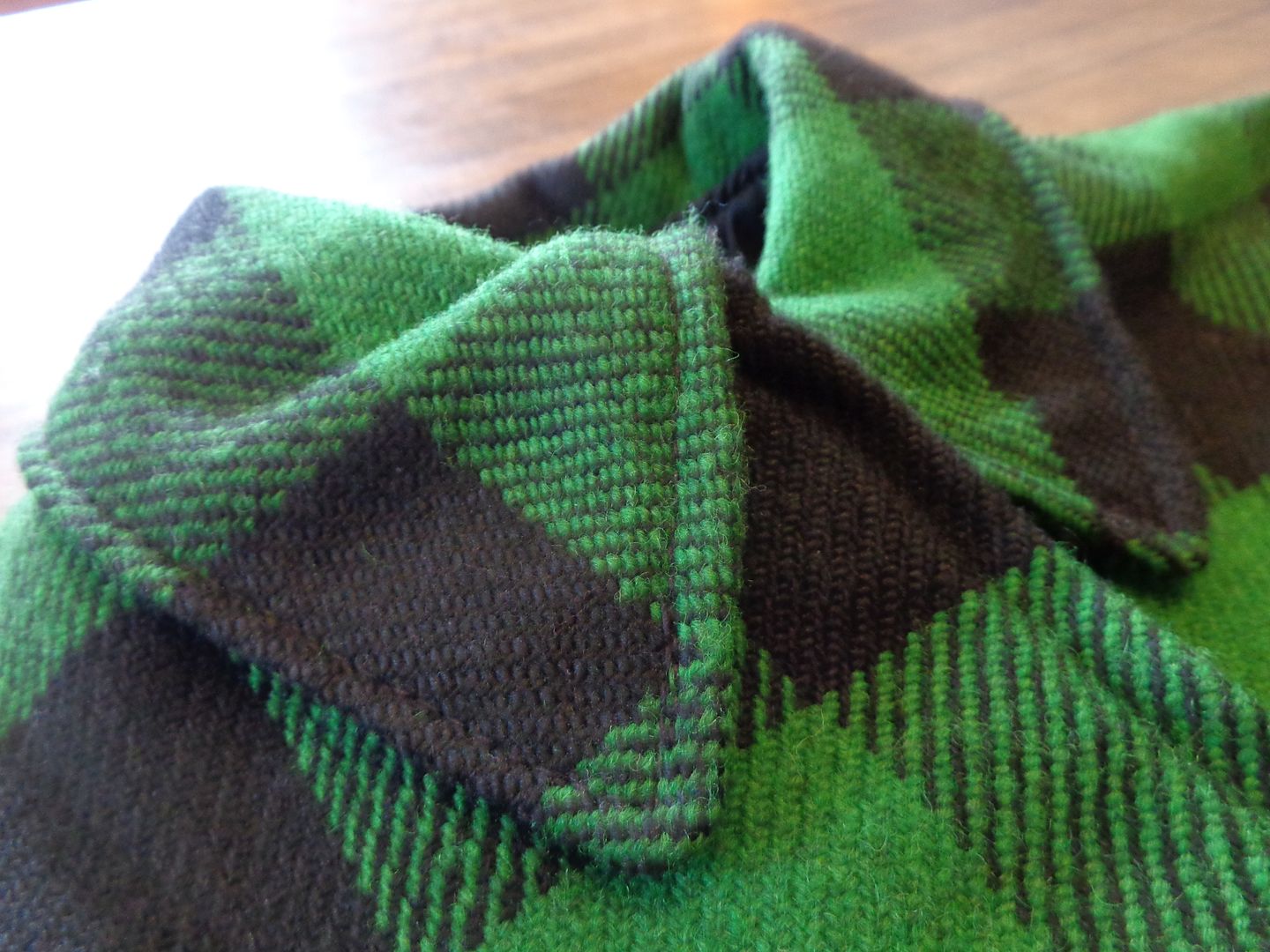 NO LONGER MADE IN THIS COLOUR SCHEME. POSSIBLY THE ONLY ONE AVAILABLE IN MINT CONDITION!
​
In Green and Black Buffalo Plaid.... MUCH more attractive and unusual than the current Red-and-Black Buffalo Plaid, and NO LONGER AVAILABLE!
Aero's jackets are renowned for their exceptionally high quality--but Aero's sterling reputation won't prepare you for just how incredible this jacket is. Since this was an Aero I was expecting this to be an exceptionally nice jacket, certainly far, far better than Woolrich's wool jackets and likely a notch or two above the Filson's Mackinaws. But the quality of this jacket is simply astonishing--it's simply in a completely different league to any other wool jacket that's been on the market, with even Filson's (pre-takeover) offerings paling by comparison.
This jacket's secret lies, first, in the incredible quality of the cloth that it's made from. Aero's "Waterfront" jacket is a reproduction of the Buffalo Plaid Utility jacket worn by Marlon Brando in *On the Waterfront*. With their unwavering commitment to authenticity Aero commissioned a British woolen mill to bring their pre-WWII looms back into production to produce the cloth from which this jacket is made. The result is a woolen cloth of a quality that's simply no longer seen. Rugged, thick, densely woven, with a slightly coarse nap--this is woolen cloth that is not only designed to keep its wearer warm and dry in almost any adverse weather conditions but to do so for decades and keep looking good. I really can't praise this cloth enough--until you've felt it you won't appreciate just how durable the pre-War wool utility jackets were, and hence how they could be worn day in and day out with their owners working hard in all weathers on the unforgiving docks.
But the ruggedness of the cloth isn't the only thing that sets it apart--it's also exceptionally beautiful. The green and black buffalo plaid is, in my view, a far more attractive colour scheme than the more usual red and black. And this makes it all the more unfortunate that this colour scheme is no longer being made.... Aero intended this jacket to be a recreation of Brando's *Waterfront* jacket, and once they learned (from the discovery of a rare colorized version of the film) that his jacket was red and black they stopped production of the green and black version. They apparently have no plans to re-introduce it (although we can hope they will!), and so this is one of the few remaining green and black versions available. And given its MINT condition, possibly the ONLY green and black version available in this colour scheme!
The quality of its cloth is not the only thing that makes this jacket exceptional--the other materials and its construction are also superb. Unlike the original pre-War utility jackets this version is constructed to the superlative standards you'd expect of Aero. (Indeed, they apologized for their perfect pattern matching, after some film buffs complained that the film version of this jacket lacked this!) In addition to the aforementioned perfect pattern matching the stitching is absolutely perfect throughout, and is incredibly strong, with lapped reinforced seams--perfect for the stress that the seams of the original pre-War jackets were subject to. The wool knit cuffs and hem and beautifully soft and tight, while the period-correct Talon zipper moves beautifully fluidly. The collar is period-correct, being similar to that of the classic A-2, while the snaps that secure the flapped patch pockets are designed to last for decades. This jacket is fully lined in Aero's black cotton drill--widely regarded as the warmest, most comfortable, and one of the most durable linings Aero offers. This jacket also comes with its original Aero leather zipper pull.
In keeping with Aero's quest for authenticity this jacket carries a pre-War style interior Aero label.
This jacket is in MINT, unworn condition--and is possibly the ONLY such jacket available today. It was, of course, made in Aero's factory in Galashiel, Scotland.
Asking just $265, OR OFFER, boxed, shipped, and insured in the USA.
International inquiries are welcome, with shipping at cost. Given that this is possibly the only jacket of its kind left, this is an absolute bargain, at considerably below retail!
Tagged a 44, this--like the original A2 jackets--was originally designed to be worn "high and tight" in the pre-War years. This would accordingly best fit a contemporary 42 chest, or possibly a 40, depending on how you like to layer.
Chest: 23
Sleeve: 25 1/2 (including knits)
Shoulder: 20 (slopes into sleeve, making them fit slightly longer)
Length: 26 1/2