Brioni Linen Suit. Size c. 42.
NB: I have over 350 items of classic menswear available for sale on SF--please check the "Most Active Sellers" list on the left for my username, tweedydon, and click on it to see my full listings!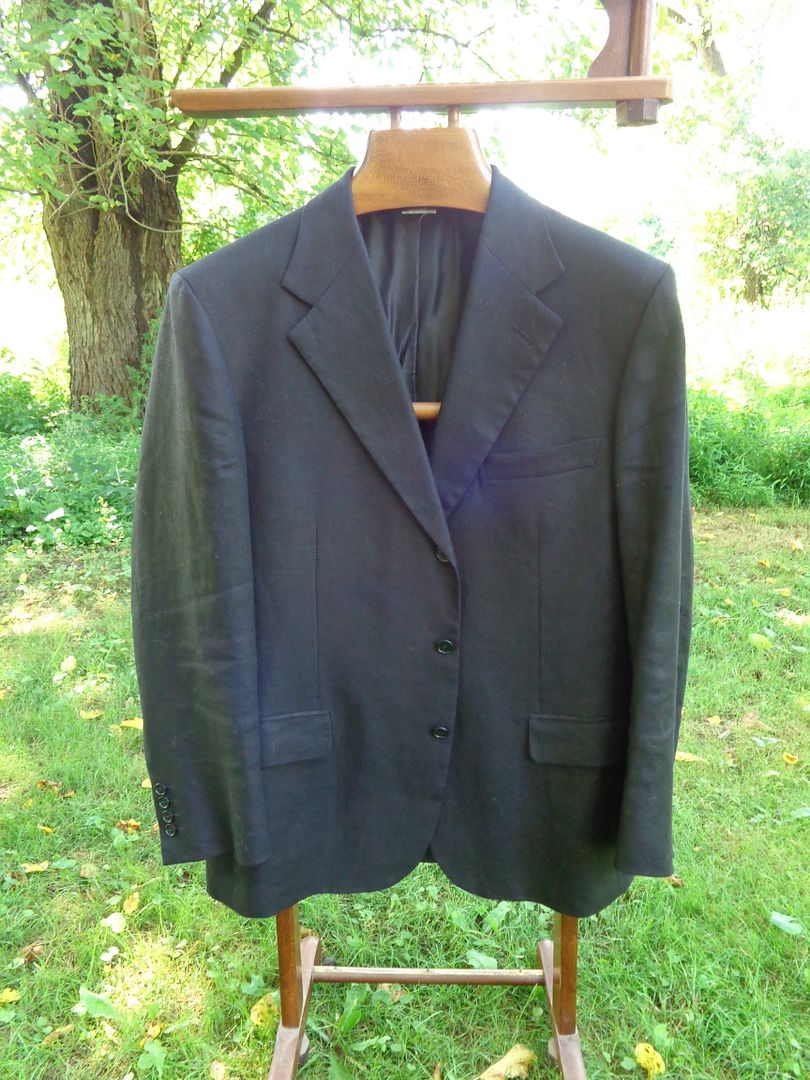 ABSOLUTELY STUNNING!
​

Brioni--along with Berluti, Brunello Cucinelli, and Borrelli--is one of the few serious luxury brands that continues to offer only the very best menswear. Founded in 1945--its first store was in Rome, on the exclusive Via Barberini 79--Brioni was named after the (then Italian) Brionian Islands, rather than after one of its founders.

It quickly established a reputation for superlative tailoring, and acquired a clientele that included Hollywood movie stars and heads of state. This tradition continues today--Brioni provided the suits for Daniel Craig's James Bond, as well as at least one American President.

This gorgeous suit epitomizes Brioni--although, being pure linen, it is considerably rarer than the usual ("usual" being a relative term with Brioni!) wool models. This being a Brioni suit the linen that it is cut from is in an utterly different class to that which is usually used, being clearer made from a much higher quality flax than usual, and far better and more closely woven. This gives it all of the desireable properties of linen--cool and breatheable, with a wonderful hand and drape--but without the strong tendency to wrinkle. Moreover, since the luxurious linen of this suit means that it is lighter mid-weight rather than lightweight, it would be perfect for three season wear--you'll just need to pack it carefully away in Winter!

The seasonal versatility of this suit is underscored by its colour. Although it appears black, when photographing outside I realized that it is in fact a very, very, very dark navy blue, making it suitable both for business wear and all but the most formal of social occasions.

The suit is Brioni's Palatino model. Cut with a Continental three button front--with a beautifully fluid a lapel curl at the top button, making it a 3/2.5 jacket--it is darted, with finished (non-working) four button cuffs. Naturally, it is fully canvassed, and fully lined in Brioni's signature lining. It is also entirely hand-made, with pick-stitching throughout the lining, the lapels, the placket... everywhere! It has a twin rear vent. The trousers are pleated front and cuffed.

Naturally, this was Made in Italy. (As far as I know, Brioni does not build its suits anywhere else.)

It does have two very small flaws--both of which will be immediately fixed on dry-cleaning. First, there is some minor residue from masking tape on the shoulder, as shown--this will come out easily, and is the mark of a barbarian affixing a price strip unwisely. Second, there is a small white crease mark on the trousers from hanging, as shown--this, too, will easily come out with dry cleaning.

This is an absolutely gorgeous suit, from one of the world's best tailors, in an extremely rare fabric and colouring!

This suit originally retailed for close to $6,000. As such, this is an absolute bargain at just $225, OR OFFER, boxed, shipped, and insured in the USA. International shipping is available at cost!

Tagged 42R, this measures:

Chest: 22 1/4"
Sleeve: 24 1/4 (+1 3/4)
Shoulder: 18 3/4
Length: 29

Waist: 17 3/4 (+ 1 1/2)
Inseam: 29 1/4 (+1) with 1 1/4 cuff.