Jacket Size

M 40US / 50EU
Color

Orange
Universal Size

XL
THREE NWOT SEERSUCKER JACKETS!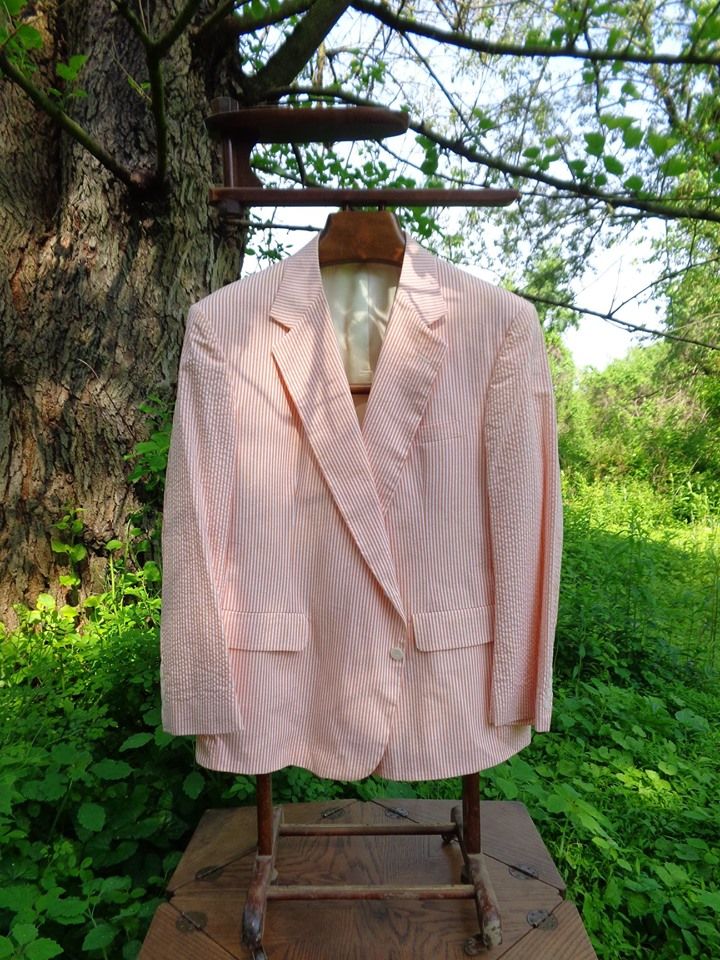 MADE IN THE USA. In "peaches and cream" stripe.
Jacket 9: c.46, 48
Jacket 10: c.40, 42
Jacket 11: c. 44, 46
Measurements:
Jacket 9:
Chest: 24
Sleeve: 25 1/8 (+1 3/4)
Shoulder: 20 3/4
Length: 29 3/4
SOLD! Jacket 10:
Chest: 21 1/4
Sleeve: 25 5/8 (+2 )
Shoulder: 19
Length: 30 1/2
Jacket 11:
Chest: 23
Sleeve: 29 1/2 (+2) (NOT a typo!)
Shoulder: 20
Length: 33 1/2
The word "seersucker" comes from the Persian expression, shroshakarshir, literally "milk and sugar". This refers to the alternating smoothness and roughness of the ridged cloth producing something perfect for the heat--just as the smoothness of milk and the roughness of sugar, combine to produce delectable and refreshing Persian confections.
Seersucker is the quintessential Ivy summer fabric. I'm thus delighted to be able to offer not one but three lovely seersucker jackets in "peaches and cream" candy stripes--a nice departure from the usual blue and cream.
These jackets are cut as contemporary two button jackets with darts and a single center vent; they are fully lined in a antique ivory lining that complements the peach and cream striping of the exterior shell. Although there is no fabric content listed these are clearly cotton, and are properly woven as seersucker, with the fabric's stripes following the traditional ridged nature of the weave.
The jackets have four button cuffs, and were all Made in the USA.
They are all New, Without Tags, and so are all in excellent condition; the lower pockets are all basted shut.
Asking just $35, or offer, each, boxed and shipped in the USA.