Quote:
Originally Posted by
Rye GB
I'm with the Old Asian Man on this one. I think SoCal has some amazing spending power (I'll be in NYC in 2 weeks, he can take me shopping) but for me doesn't show enough creativity in his purchases.
I think it's a NYC thing though, I lived in Manhattan for 7 years and if you have the cash people tend to go for the pieces or label that is wrapped up in Manhattanite Hype. Murakami x LV, the Thom Browne fad, Lanvin is certainly shining bright at present, Dior Homme 3 years ago and anything black and nylon fabricated from Prada 8 years ago. It's easy to get caught up in the frenzy for the latest designer item living in New York in the same way I see folks in Los Angeles heading to the car dealership as soon as the new Beemer or Benz is launched.

I think SoCal has some wonderful items I just wish he'd drop some Ca-ching on Number Nine, Carpe Diem, John Lobb, 45rpm not the latest gold sneaker from YSL or Dior, not only what his friends will recognize as expensive, not what is most sought after at Jeffrey. I think his biggest weakness is his denim choices. They always look like the items you can find at Century 21 for 80% off.

But then he's young, there's time, I'm an older but wiser (I think) curmudgeon.
I wasn't going to say anything and just file away your remarks in the "32 year old that dresses about 10-12 years too young" Usless Comments file; but, I digress.
Please don't talk to me about being stale or having a lack of creativity Mr. Ratty Jeans and Tee with Decent Shoes.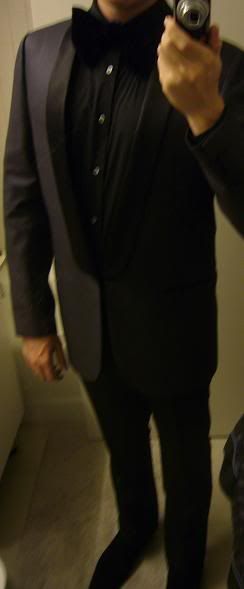 I'm really curious as to why you would put John Lobb next to Number Nine, stiff uncomfortable jeans and all that stuff. While I can readily afford them I'm not going to pay $1300--$2500 for shoes when I mistreat my and also scuff and stub them throughout the day
I've stated it before I don't need to go out and buy jeans and sleep in them and never wash them and sit on my wallet all day so I can get honeycombing, roping, jizz stains or whatver is cool these days. I have 2 dark pairs, a white pair and a grey pair so I'm set for another year when I might buy a medium lighter wash pair. To me it is to easy and repetitive to wear denim day in and day out. Figuring out how to match your pinstripe or Price of Wales trousers is a lot more fun.
And just to humour you: I bought the gold sneaks w/in the first week of the Beverly Hills boutique opening...and yes, I did drive there in a Mercedes.