Yeah I've been on both sides of that equation.  Actually that crazy red tartan double-vented jacket w/ throat-latch was stashed in the women's jackets, along with an Anderson-Little tweed in my size that was stained to death.  Looks like because they were good but damaged items they were waiting for a sale.  Well, to help out people my size I put the tweed back into its place.  My opinion is that if they really wanted it they would've taken it.  To leave something behind, stashed or not, is to make a value judgment about how much it's worth to you.  It's funny because the tartan jacket had a tag that made it discounted when I picked it up, so I don't even know what they were waiting for.
Quote:
Originally Posted by
jamiebryant
Quote:
Originally Posted by
DanM
Hey, do you guys ever stash stuff in a particularly overlooked or overloaded corner of a thrift shop, hoping it will still be there on sale day? ...cause I think I just bought some dude's thrift stash. Pics tomorrow.
(disclaimer - this is nothing compared to the stuff in LA or NYC, but I think it's pretty solid for Ohio)
Ive heard of alot of people doing that. Ive done it a couple of times but they weren't as good as I thought because ive gone back like the following day and half of the shit would be gone and the other half ended up back where it belonged.
I wanted to give thanks to westling for a great trade and being a standup dude.  Also, in light of my recent hat finds, it made me appreciate the ones DanM was generous enough to pass on to me way back.  Still haven't found any hats your size, man, but will keep on looking.
 
Now, I don't know if any of you are into the Gilt group, but right now they have some good deals on BB BF and VV ties and Wolverine boots.  Higher than thrift prices, surely, but still much better than retail.  If you're not yet a member, you should check it out.  This will give you an additional $25 off:
link:
(Click to show)
Edit: I checked and the above link may not work; PM me and I can give you a link.
 
I would do it soon, though, as their stuff sells out super fast.  A little while ago they had some really nice cashmere stuff that sold out within a day... Not trying to
, but wanted to pass along a deal.
 
Also, came across a BB 1818 shirt in 16.5x34/35 (Available) Normally don't pick this up, but was in mint condition.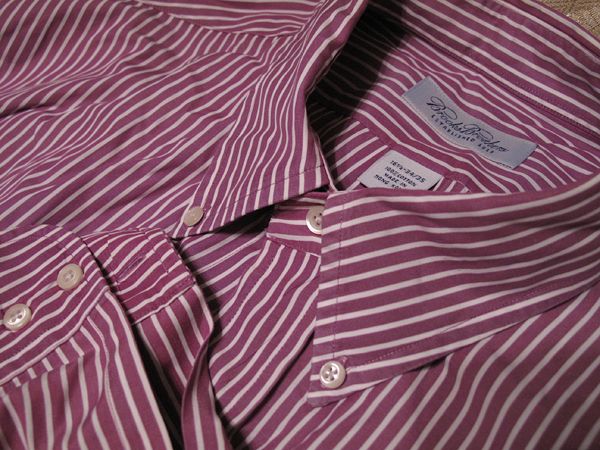 I attended a post-Xmas party tonight, at which I did get a chance to wear my holiday tie:
thrift fit:
(Click to show)
Of course I probably went overboard with the patterns.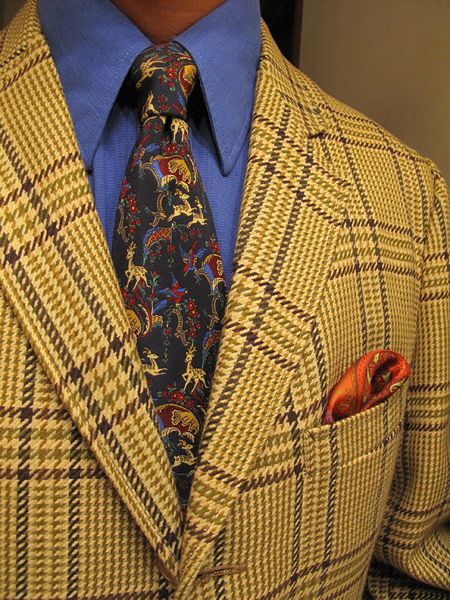 Top half only, sorry, was in a rush to get out the door.  This was paired with dark blue raw (non-selvedge) denim Levi's 517 at a heavy discount and brown Florsheim Imperial monkstrap ankle-boots from the 'bay.

Tie: Loris Azzaro thrifted by me
Jacket: Bespoke (no tags) thrifted by me
PS: Etro thrifted by Nataku
Shirt: Not SF approved, but thrifted
Edited by CesarC - 12/28/12 at 11:04pm