Quote:
Originally Posted by
FaceOfBoh
First off, a big
THANK YOU
to both
barrelntrigger
and
GMMcL
for sending some things along. bnt proxied me some of those awesome LVC 501s
Sunglasses thrift fit pic
(Click to show)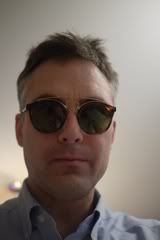 No prob, buddy! Glad to be of service! I'm actually thinking of changing my handle into Jeansproxyguy.
What?! You mean to tell me you don't look like the guy in the avatar!? Where's your helmet?
Quote:
Originally Posted by
suited
During lunch I went to a local spot that I check out regularly even though they are priced very high (featured in my previous rants). I started getting frustrated because the racks were so jam packed that you could barely part the shirts enough to see the labels. I checked 1 rack of shirts and moved on to the suits. I passed up the usual items that are nice but just too pricey, and found a lovely BB navy blazer in a unique material (pics to come) that I know I have passed up at least a half dozen times because of price, but the tag is missing this time. From my experience this is almost always a good thing, especially in this store because every single item is individually priced. I grabbed it and moved to the ties and found a t PINK, then moved to the other rack of shirts. About 3/4 the way down I find a nice Ermenegildo Zegna, grab it, and there's another next to it, and another, and another...someone cleaned out their closet.
13 in total
, all with dry cleaning tags. Left 4 behind that were ugly with damaged buttons. The rest are pretty ace. They gave me the blazer with the missing price tag for about 65% off the original price, based on my estimate. The shirts were not standard GW prices, so I went for a reasonable bulk discount and she politely obliged, which took about 20% off the total of the shirts.
Pics or it didn't happen!