The gods of thrift have smiled upon me this weekend. It was a Me-Me-Me! weekend, with some great items in my size. On the way to a birthday party for some friends, I decided to stop at a Goodwill on the way. I headed to the shoes first and spotted this pair of AE. Anyone know anything about them?
I have an email in to AE customer service with the model number to see if they can provide any info. They are too small for me and not my style, and I don't expect to make any real money off of them, but picked them up in case anyone here or at AAAC would want them. They will need a resole, but the uppers are in pretty nice shape. They probably aren't especially noteworthy, but I'm throwing them in here for completeness sake. They are the first pair of AE I've found thrifting. The best pair of shoes I've found up to this point as been a couple pair of J&M's in nice shape.
8.5 E 63282 8
2669 COMB
I moved over to the men's rack where the fun started. I found a midnight-blue suit made from Franco Ippolito, a local tailor who is no longer in business. I'm still learning what I can about tailoring, but it looks to me like there is hand stitching all over the place, full canvas, surgeon cuffs, dual vents, and the fabric feels wonderful. Best of all, it fits! The waist of the pants will need to be brought in a bit. The sleeves may be a touch long, but not drastically. I haven't tried the jacket on with a real shirt yet. A solid navy suit has been on the top of my want list since I started thrifted. Being such a staple, I've been surprised at how few decent ones I come across. Needless to say, MINE-MINE-MINE! ...I mean... not available.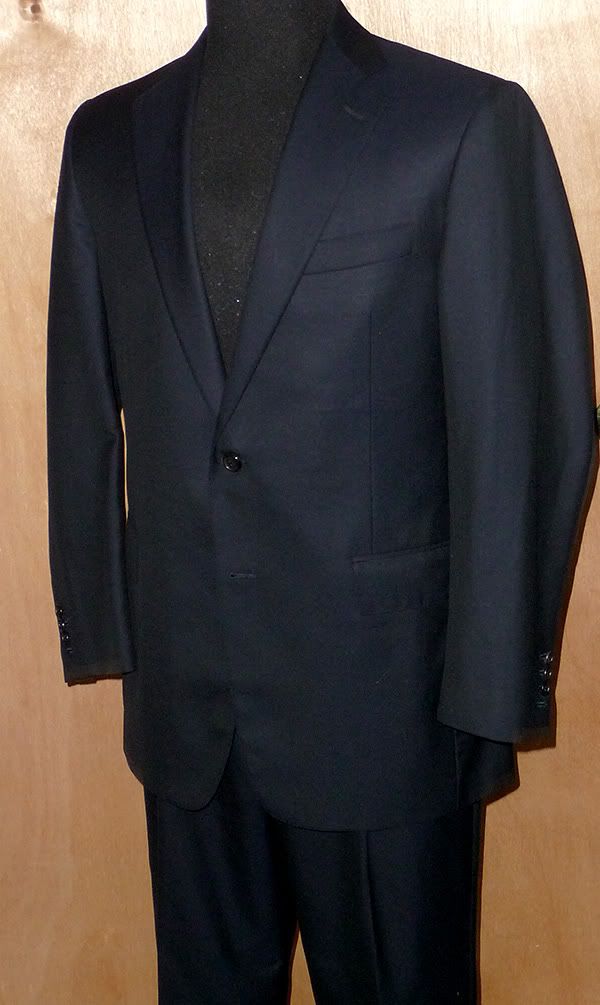 The party was on the other side of town, so I decided I to check out the Goodwill just down the street from them first. and spotted a tweed suit made by Bonds. They had their main factory in Rochester for a while, and went kaput in '82. It has the 70's lapels, but is otherwise a nice suit, fully canvassed, inexpensive, and my size (only sleeves and hems need shortening), so why not. Available though, if anyone is interested. I would probably overheat in a tweed suit, as I have to be careful about my body temp. I would probably only wear it if I were to be spending time outside in the winter, so it seems a waste to keep.
Fabric:
Warning: Spoiler!
(Click to show)
Sizing:
Warning: Spoiler!
(Click to show)
Shoulders: 18"
Chest: 40"
Waist: 37"
Sleeve: 26"
Length (including collar): 32"

Waist: 32" (brace buttons)
Inseam: 34" (2.25" let-out) no cuffs
On the way home, I was feeling a bit beat, but decided to stop at a couple more places before they closed for the day. The next item on the top of my list was a pair of brown ankle boots for casual wear. What do I find?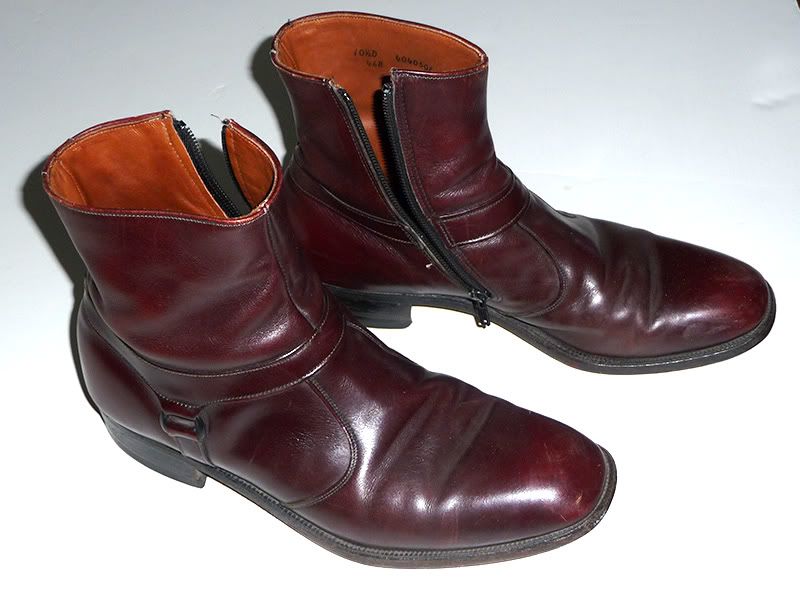 There are no identifying marks anywhere on them other than this script:
Warning: Spoiler!
(Click to show)
I'm guessing there's no good way to identify them, and they are a touch too big, but they will do for now until I find something to replace them with. They just need a good polish. (Not available)
At the last store of the day, three guys are walking in ahead of me, and seem to have a purpose to their stride. They head for the back, so I figure any decent suits will be gone and head for the shoes (my typical first stop anyway), My eyes are immediately drawn to the bottom shelf and I'm shocked at what I see.
I flip them over as my disbelief grows.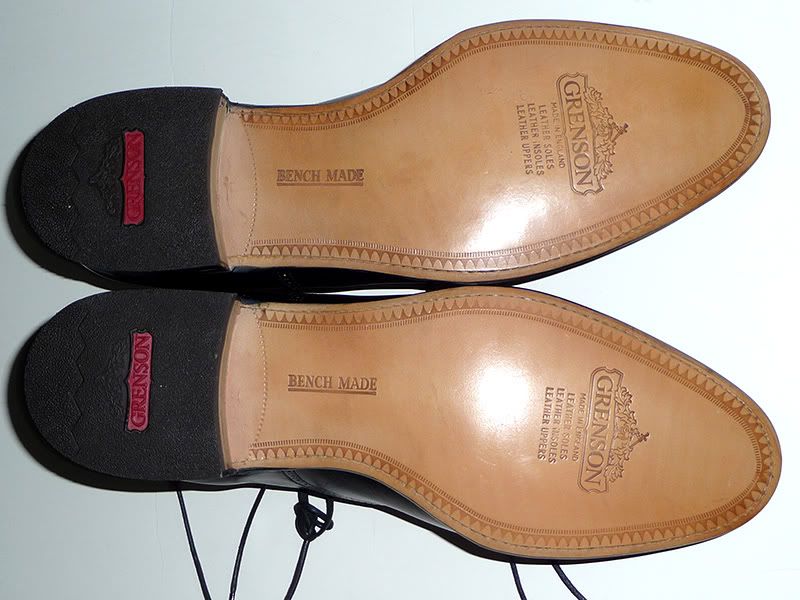 Then I realize that they feel and look to be about right, and when I check the sizing... 11D... Ok, so I wrack my memory. US sizing is one down from UK, right? Right? Heck, I'm buying them either way, but don't try them on until I get home. Oh yeah, baby! MINE-MINE-MINE!
Warning: Spoiler!
(Click to show)
I realize the guys that went in ahead of me must have looked at the furniture or something else, as they weren't anywhere near the suits. As I'm browsing through, this jacket jumps out at me.
Fabric:
Warning: Spoiler!
(Click to show)
Micheals-Stern was a men's clothing company similar to Hickey-Freeman here in Rochester, only they didn't survive past the 70's. Based on the tags, this jacket was made in either '66 or '76. Based on the lapels, and the fact that the company was liquidated in '77, my guess is that this jacket was made in '76, part of the liquidated stock, and has just been floating around since then. I generally don't use the label NWOT, but I would be tempted to with this jacket. Fully canvassed as well.
Sizing:
Warning: Spoiler!
(Click to show)
Shoulders: 18"
Chest: 43"
Waist: 41.5"
Sleeve: 22.75"
Length (including collar): 30"
There's a place near me I check just about every other day, but didn't hit it Saturday, as I was going in a different direction. There couldn't possibly be more in store for me, but I have to go for completeness sake. I had a few things to drop off to donate anyway (at least that's my excuse). I walk in, head to the shoes, and...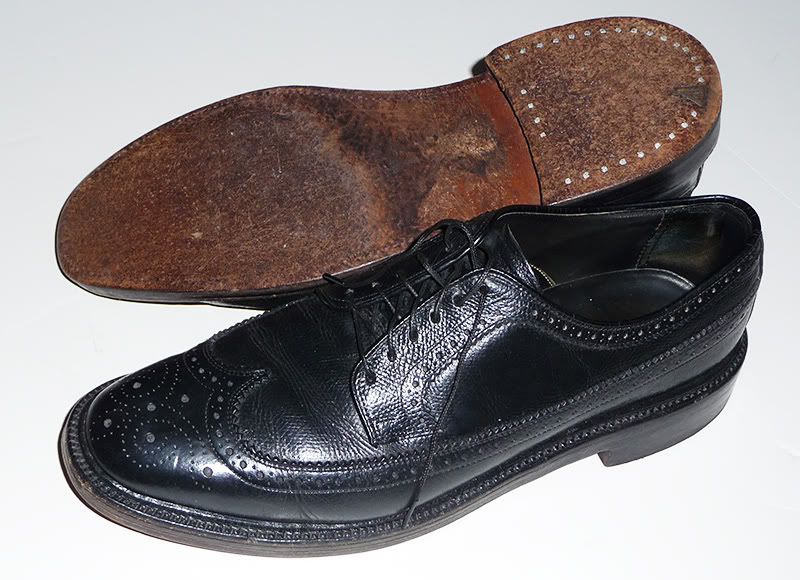 You guessed it. 10 D, my size. No markings other that sizing and model number, but unless my obsessive reading of these forums has mislead me, I'll consider it safe to assume that these are the much-vaunted Florsheim Imperial V-cleats. They are hard to mistake. My eyes latch right on to that familiar gunboat form and I did a double-take. These are more on my reserve list, as I don't think I'll wear them all that much, but damn. My shoe collection has now doubled in size. I never thought I would be saying those words: "shoe collection". As I walked around the rest of the store, a young guy in a ball-cap and t-shirt glanced down at them in my hand and let out a snicker. I almost laughed right back. Oh, you poor slob. If you only knew.
Not quite the haul some of you can pull in, but easily the best I've done for my own personal use. A big "thank you" to you guys, as I've learned a lot reading this thread. I love how my senses are keying in on what's important without having to look at every label.