Quote:
Originally Posted by
Kwaker
Can someone explain what is being depicted in this picture taken from the Alden factory?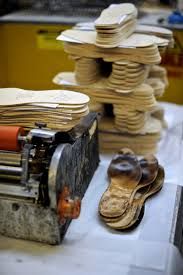 To me, it suggests that the original insoles are removed as part of the restoration. Is that correct? Perhaps it is then re-installed as a benefit to the original owner who would then not have to repeat the break in process?
If I were to consider purchasing pre-owned quality footwear, I would want fresh, flat leather insoles installed as part of the restoration.
I have seen this photo, and I have taken it as evidence that Alden may replace insoles during recrafting if necessary.  Replacing the insole is never  standard procedure, and most companies don't do it at all.  It certainly adds a good bit of labor and risk to the repair process and shouldn't be done unless it is absolutely necessary to save the shoe from being thrown away (due to a worn out insole).  Some of the more expensive brands, like Edward Green and John Lobb do replace insoles as needed. 
I suppose the above photo could have been staged, and may have just been made for the purpose of showing the conformed insoles (which is fun to see).  However, I don't know why Alden would have a stack of worn insoles on hand, unless they do sometimes replace them as needed.  To be clear, I have never actually asked Alden if they do this, and a simple email to them would probably answer the question rather easily.  
The fact that most people get their Alden's back from restoration with the original insole should be expected, but it doesn't rule out the possibility that they may sometimes replace them if it is warranted.