Quote:
Originally Posted by
PeterParker
Warning: Spoiler!
(Click to show)
I believe the #8 Indy is a regularly stocked item at LS (i.e. it gets reordered). Not sure if they carry the 4060 (Grant last captoe). Personally, I think the #8 Plaza last captoe that LS carries is stunning and more attractive than the 4060.
Aries83
has a fine example of the #8 Plaza captoe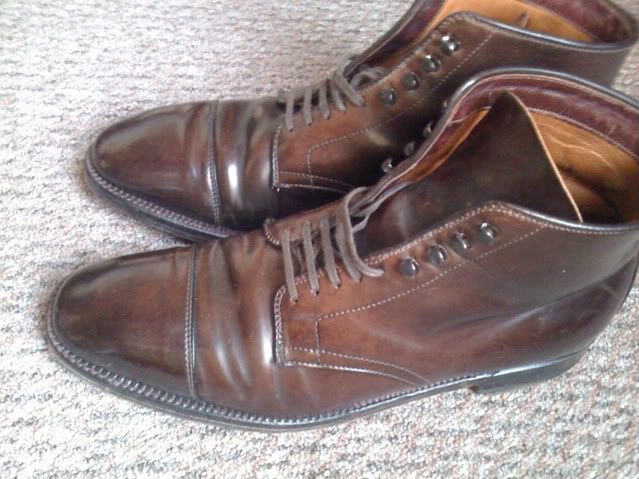 It should also be noted that while other outfits offer a variation of the Indy boot, there are slight differences - mainly in the welt. The J Gilbert version has a regular welt (close heel?), and the Shoemart version has a 360 degree reverse welt (and all eyelets), whereas the LS version has the reverse welt and close heel like the original 405. If you're worried about having too much contrast, that is easy enough to solve. Take some dirt and rub it into the mocc toe stitching where you find it too bright. Eventually the stitching darkens with dirt, conditioner, polish, etc. so I wouldn't worry about them staying white for too long. In fact, many people don't like the contrast stitching and applying brown polish to match the leather is one of the first things they do. If the boots fit you well and you like the styling of them, I see no reason to exchange them. Just enjoy and wear those boots for many years to come.
Thanks for the informative post (spoiler'ed because it's long). It's a shame that more #8 boots are not done with nine eyelets like the
Barrie wingtip boots recently at LS
and
Epaulet's Brixton boots
. I have a pair of 403s and appreciate the look, but overall I thinks speed hooks really can ruin the look of a nicer boot, especially non-Trubalance boots and/or shell boots. (Yes I realize that the #8 officer's boot at LS has nine eyelets but the captoe brogue boot is not a style I can get into.) Have always wanted a Grant or Barrie #8 plain toe boot with nine eyelets... Watching for that like a shark.
Quote:
Originally Posted by
interlockingny
I actually find [the Grant last] TTS. I know so size down 1/2 size but I found that didn't work for me. Perhaps because my feet are slightly wide. It could also be that I wear thicker socks with the boot which offsets the 1/2 size. Are you looking at a particular boot / shoe? FWIW, I also have the BBBF Longwing which is on the Grant last and I find that TTS as well.
I'm 10D in Barrie and Trubalance, and therefore would be 10.5D in Grant, correct? That's assuming only D widths are offered, which is true in most cases.