Quote:
Originally Posted by
g.michael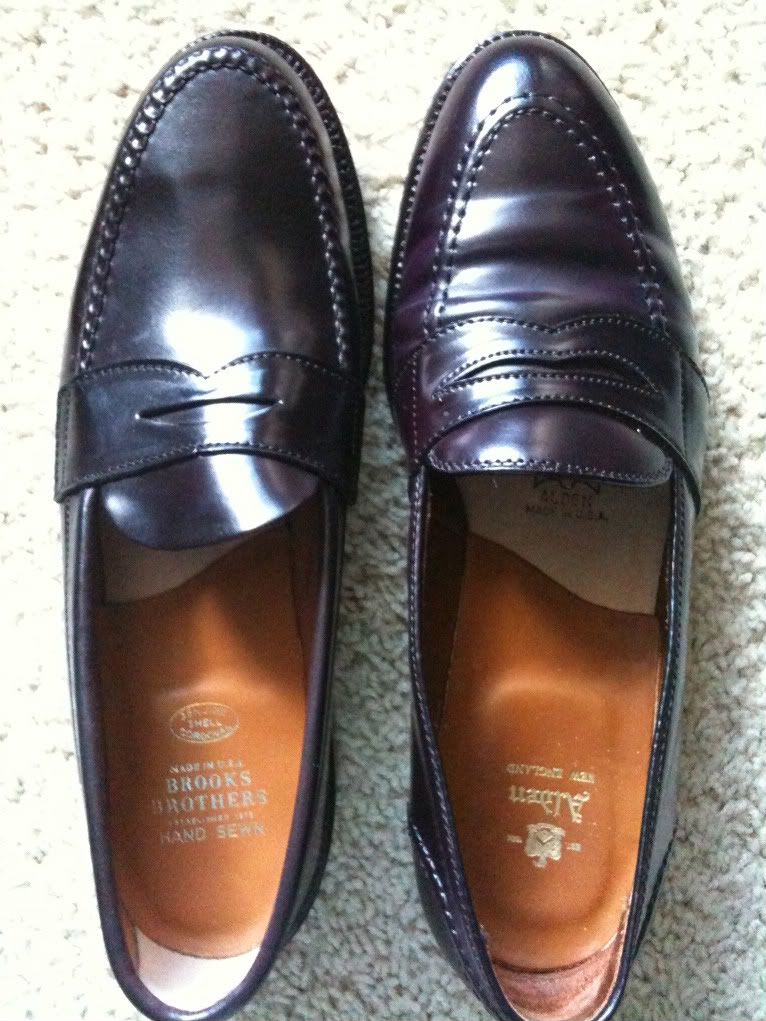 Another data point in the "Should I size down a half size for the Van last" debate.
New Brooks Brothers cordovan unlined LHS (Van last) on the left. Alden full strap cordovan (Aberdeen last) on the right. Both size 11B. I lined them up evenly and as you can see, the Van is a hair shorter and has a narrower heel than the Aberdeen full strap. The LHS width feels and looks narrower as well. I could size down in the full strap to 10.5C and be okay. No way could I do it with the LHS (tried it).
Interesting thing on the color--I have worn the full strap about a dozen times (lightly—you can still see the outline of the "Shell Cordovan" stamp on the bottom of the sole) but you can see how the Color 8 has lightened up—the vamp shows the color shade in the pic but the entire shoe has lightened up to that shade. You can see it better in person. It looks awesome!
Great picture. It shows that the unlined Van lasted shoes are narrower in the heel and wider in the toe box (great). It also shows how much tighter the Van is than the Aberdeen over the instep (not great).
I wonder if the narrower heel on the unlined BB is due to the very narrow heel stiffener that Alden uses. I seem to recall thinking the Van last had a reasonably wide heel when I tried on the regular lined version - I wonder if they use a wider stiffener on those shoes.