I hate those "fantasy" swords. It's the same aesthetic approach as a stretch Excalibur:
I just had to post the winner of the old "Most tasteless car ever" thread.
But seriously:
Watches and jewellery - counted as clothing, right?
- Breast pocket: American Optical aviator sunglasses, chrome. That means normally no pocket square if sunny, unless I'm working, which is mostly indoors. I also often carry about ten business cards in the breast pocket if I'm at work.
- Left inside pocket: T.M. Lewin small card-case in grained leather, now falling apart. Credit cards and other plastic, own and other people's business cards, etc. I also occasionally use an old thirties silver cigarette case as a wallet, although this is a bit heavy for light jackets. Pen: Sixties gold Mont Blanc Meisterstück/sixties gold-plated Sheaffer fountain and roller pen set.
- Right inside pocket: Normally nothing, occasionally the mobile (Siemens S65, crap) and occasionally another Italian rose-and-scroll-engraved silver cigarette case for...alternative smokes. I also have a small Dutch silver pill-box shaped like a wrapped candy, for other recreational purposes. It's got much similar rose-and-scroll engravings.
- Right outside pocket: Mobile phone
- Left outside pocket: Small jeweller's loupe, Swiss army knife or mini Leatherman tool, if doing home visits. On my keychain there's also a miniscule flashlight, surprisingly strong. It must be something like Dawson (?) described.
- Left trouser pocket: Cigarettes and cheap plastic lighter, or occasionally old Ronson Varaflame lighter of this pattern: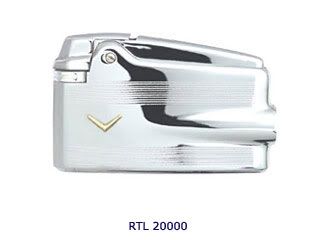 - Right trouser pocket: Key ring, with the aforementioned flashlight and an old Colt promotional gunmetal disc with three screwdriver heads on it. Keys to work, flat and bicycle. Coins, to be emptied in an overflowing bowl in my bedroom.
- When needed, an old zippered portfolio in the oddest leather grain I've ever seen. Very textured and bumpy. I have no idea what it is, but I like it. When people ask me, I tell them it's elephant's scrotum, which might provide you with a mental image...
If carrying the portfolio, some stuff gets transferred there, like the tools, keys, mobile, etc. I carry too much junk around, I know. I can't understand why I don't manage to lose any of all this, but I have notoriously lost/had stolen exactly one good lighter, one good fountain pen and one good wallet in my life. No watches lost, except for one which flew off my hand on a rollercoaster when I was 17.