Another evening of beer, schnapps and stinky fish, this time the evil third cousin of
lutefisk
, the dreaded
rakfisk
:
http://en.wikipedia.org/wiki/Rakfisk
: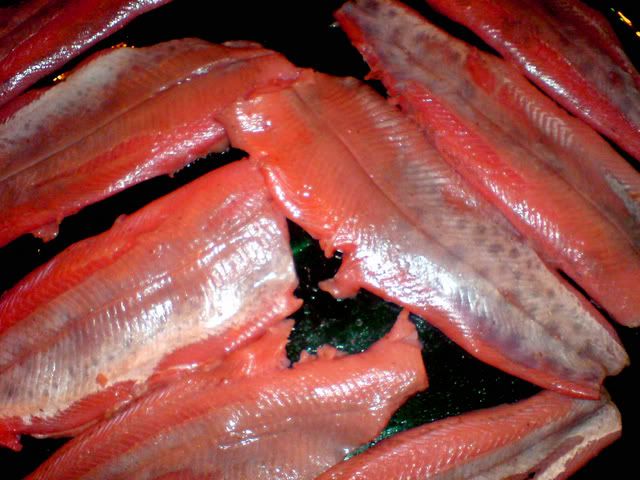 Quote:
The finished product does not need cooking but is eaten as it is. Rakfisk is usually served sliced or as a fillet with raw red
onion
,
lefse
,
sour cream
, and
almond potatoes
. Some also use mustard-sauce, a mild form of mustard with dill. Although not an everyday meal, approximately 500 tonnes of rakfisk are consumed in
Norway
annually. Rakfisk is not recommended to eat for people with a reduced immune defense and to pregnant women.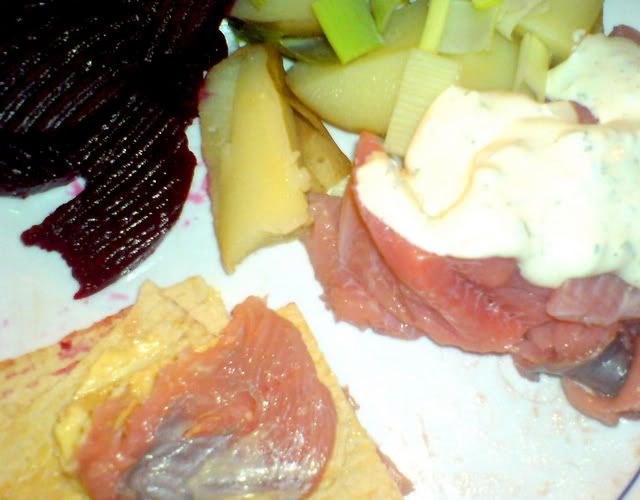 A more lyrical description of the Swedish herring variety:
Quote:
Surströmming
is sold in cans, which when opened release a strong, foul smell. It is for this particular smell, which is similar to fish gone bad or garbage left out in the sun for a couple of days, that surströmming is infamous in popular culture, and it is often held that people who try surströmming can be confident that they will never forget it. Because of the smell, the dish is often eaten outdoors. However, opening the can under water somewhat lessens the smell, as well as keeping the person opening it from getting soaked in brine, as the fermentation often builds up a considerable pressure inside the can.