Almost a month ago
Manton
sent a post card from Santa Cruz to forum members in which he touched on some of his family memories of Santa Cruz. Then
oscarthewild
mentioned Santa Cruz in a thread title about the new Grateful Dead archive at UCSC.
I'm a native of Santa Cruz. Each year I return a few times only for personal business with a florist's shop near one of the cemeteries. Just a few days ago, I saw a little AP wire piece from a recent edition the Santa Cruz Sentinel. While reading, I was listening to Moby Grape's "Omaha" and then came the memories tumbling like sweets from a jar as Joan Baez wrote in "Winds of the Old Days".
__
"May 6, 4:42 PM EDT

Neil Young to release archive on Blu-ray discs

SAN FRANCISCO (AP) -- Rocker Neil Young plans to release his entire music archive on Blu-ray discs, a sign that the discs' capabilities are building appeal among musicians as well as movie studios.

Blu-ray discs hold much more data than DVDs, are easily updated over the Internet and offer better picture and sound quality.

Young revealed his plans Tuesday at a Sun Microsystems Inc. conference in San Francisco. Santa Clara-based Sun makes the Java technology that gives Blu-ray discs their interactive menus and ability to accept updates over an Internet connection."
__
Listen my friends. It must have been in 1973 or 1974 when I left my chilly little stone mas in the garrigue near Gordes for the equally chilly Santa Cruz at Thanksgiving time. My girlfriend, Marie-Therese, had just gone to see her family in Strasbourg and I was a little homesick. So, off to California I went.
Back in Santa Cruz, my Father asked me if I wanted to tag along with him to help him replace the refrigerator at the ranch house in nearby Bonny Doon. The ranch house came to us in 1970 when my paternal Grandfather died. He never lived there. It remains a rental property even until this day. With no plans and not having been to the ranch in several years, I said, "Sure, why not?"
Crossing town and heading north towards Davenport we ambled up an otherwise empty Highway 1 on that gray morning. Highway 1 is also known as Coast Road and parallels the north-south railroad tracks. A pungent aroma from the endless artichoke and brussels sprout fields assaulted us until the turnoff inland at Bonny Doon Road. We talked about the changes to Santa Cruz County since my Father moved there from San Francisco in 1938 after finishing college.
Along Coast Road Before Bonny Doon Road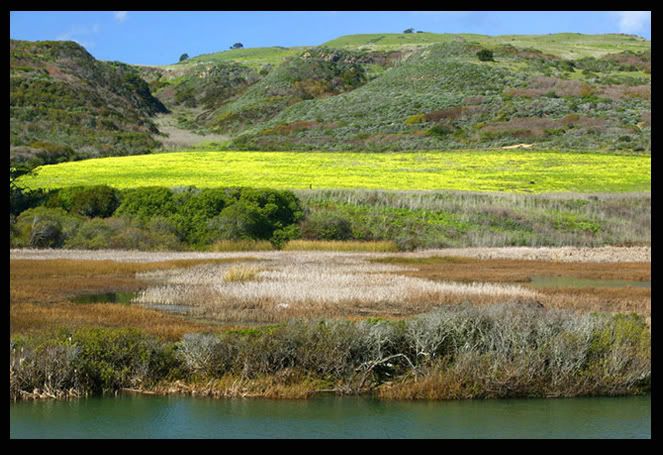 Bonny Doon Road sure wasn't the same from the passenger seat of my Father's Ford pick-up truck as it was when I strapped myself into the driver's seat of my Lotus Europa that, for the time being, remained mothballed down in La Jolla. The old Ford truck probably never broke forty miles per hour on the two-lane switchback road up into the coastal hills.
Bonny Doon really wasn't anything more than a wide spot on the road to the Redwood forest in the Santa Cruz Mountains at that time. It was once a staging area for logging trucks into and out of the forest.
Old Growth Redwood Trees in the Santa Cruz Mountains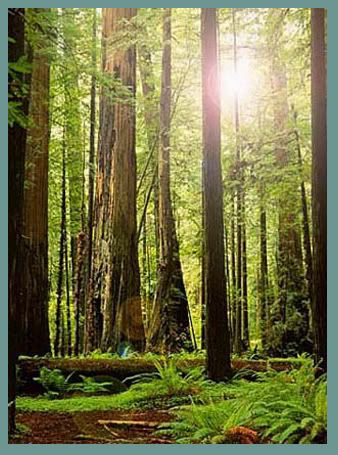 When we pulled up to the ranch house there was some guy playing a guitar on the front porch. As we approached, he waved to my Father. My Father returned the greeting with, "Hello, Neil." Yep. It was Neil Young. Well, I'd heard that Neil rented an old cliff-top bungalow on East Cliff Drive somewhere above Castle Beach in the past. But here he was playing guitar on the porch at our ranch. My Father kept it a secret from me all the time I was away. We laughed.
The new refrigerator was untied and rolled easily from the back of my Father's truck. We swapped it out for the old one in the ranch house kitchen. Neil's then girlfriend, the late actress Carrie Snodgress, was there along with their tiny new baby, Zeke. Carrie offered us some coffee. I was so star-struck by these people that I mumbled some sort of "no thanks" as my Father was contradicting that remark by accepting and saying how nice that would be! So, we had a mug of coffee at the kitchen table while Neil played guitar and sang on the front porch.
Out Back at the Ranch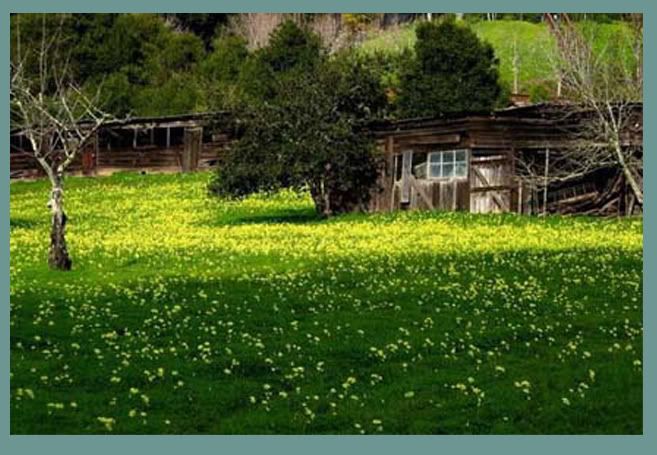 Wow. The jet lag, the caffeine, and Neil Young's singing live gave me a buzz that I remember to this day. But, Santa Cruz has always been a refuge for musicians and artists of all types. Neil Young played off-and-on at Randall Kane's Catalyst from about 1967 onward. Some of the band members from Buffalo Springfield would drive north from Los Angeles to hangout in Santa Cruz. Band member and fellow Canadian, Bruce Palmer, suggested that Neil go to Santa Cruz with the others one time. That's how Neil came to discover Santa Cruz.
At that time, the Catalyst was housed at street level on the Front Street side of the decaying St. George Hotel that faced both Pacific Avenue and Front Street right in the center of town. In its mid-1960s faded glory, the hotel was little better than a flophouse and residence of last choice for less fortunate fixed-income folks.
The Pacific Avenue side of the hotel building at street level was home to the notorious Hip Pocket Bookstore. Peter Demma and one of Ken Kesey's Merry Pranksters (whose name I don't recall) owned the store. They moved two of Ron Boise's huge metal sculptures from a field next to the Sticky Wicket's (a Beat Generation coffee house originally located in downtown Santa Cruz) new home in Aptos and installed them above the front door of the bookstore in 1964. These were fourteen-foot tall shiny metal abstract nudes for everybody to see in the center of town! All too often for the sensibilities of Santa Cruz's general population, the Merry Pranksters' old International Harvester bus with its eye-popping paint job was parked outside the bookstore on Pacific Avenue in the middle of downtown.
Installation of Ron Boise's Nudes at the Hip Pocket Bookstore on Pacific Avenue in 1964
The Merry Pranksters' Psychedelic Bus
"Since we don't know where we're going we have to stick together in case someone gets there." Ken Kesey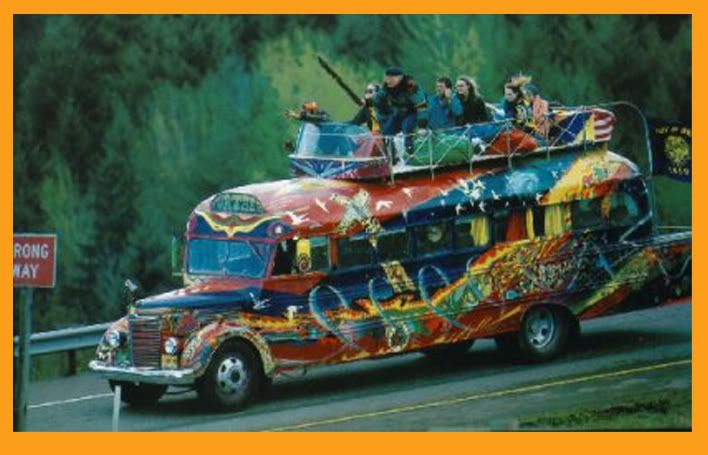 After lots of local outrage and an attempted Salem Witch Trial of sorts for so-called obscene materials in the store, the store's owners were found not guilty. Shortly after that the place went bankrupt. Fritz Maytag immediately bought the Boise nudes and put them on the roof of his Anchor Brewery (Anchor Steam Beer) in San Francisco. Fritz also was instrumental in reviving many of the old vineyards in the Santa Cruz Mountains for Ridge. Have you ever had any of the Ridge Santa Cruz Mountain Zinfandels?
Now back to the music we go. Palmer knew some of the Moby Grape guys and they used to show up unannounced at The Catalyst and jam. The Catalyst was never dull. In 1968 or 1969, then Santa Cruz District Attorney Peter Chang got up on stage and played his trumpet one Friday night. Chang was well and truly over-served at the bar before he wobbled to the stage. It was hilarious to see this local high-profile politician wildly drunk and making a fool of himself. I saw James Brown and the Famous Flames at the Catalyst in 1966. The Catalyst later moved to its current location on Pacific Avenue where Johnny's Bike and Sport Shop used to be. That's just across Cathcart Street from where the J.C. Penny store collapsed during the Loma Prieta Earthquake of 1989.
James Brown in 1966
Friends told me that Neil Young was still playing once in a while at The Catalyst with a local group called The Ducks into the mid-1980s, maybe even later. Well, the Ducks' drummer, John Craviotto, started off as the drummer for Corny and the Corvettes in 1963. John later played with Neil Young on tour as well as with Ry Cooder. Corny was Cornelius Bumpus. His band was local fixture in the 1960s. They played at all of our high school dances in the gym. Corny later played his alto saxophone with the Doobie Brothers because of his tremendous talent and his acquaintanceship with the Doobie's producer, Ted Templeman, who was also a Santa Cruz resident. Corny was more than a session man. He played with Donald Fagen's group and with later touring versions of Steely Dan and Moby Grape plus Bobby Freeman, Etta James . . . the list goes on.
Corny and the Corvettes
Ted Templeman started out playing both guitar and drums for Harpers Bizarre (née The Tikis). After the band's one and only big hit cover of Paul Simon's "59th Street Bridge Song", that group broke-up and Templeman went on to become one of Warner Brothers' most successful record producers. I remember being over at Gale Yount's house in the early-1960s while Gale was shaping a new 9'2" surfboard for me. That board was fated to be demolished on the nasty rocks at Steamer Lane very soon. There was no such thing as an ankle leash in those days.
Gale's brother, Dick, began as bassist for Corny's band and later played bass for The Tikis. There I was with the Tikis rehearsing on the other side of the wall in Yount's garage on Pennsylvania Street just a few minutes on foot from my house. The smell of wet surfboard resin plus the rehearsal music from the garage, and Templeman's bright red Ferrari LWB California Spyder parked in the driveway was way too much for my mere teenage brain to handle. I still wasn't old enough to drive and here was another kid (only a few years older than me) driving a three-year old Ferrari! Where does any Santa Cruz teenager get a Ferrari? That's another story altogether. I ran all the way home from Pennsylvania Street and couldn't sleep that night. Visions of surfboards and red Ferraris filled my mind's-eye.
Ferrari 250 LWB California Spyder Similar to Templeman's
Maybe you're wondering how all this relates my listening to that Moby Grape album?
The frenetic number "Omaha" on the album was Skip Spence's composition. Even though Skip was quite a guitarist, Marty Balin of Jefferson Airplane hired him to play drums for the Airplane. Way too much of a free spirit, Skip left after a short tenure with the Airplane to be a founding member of Moby Grape and go back to playing guitar. Skip adopted Santa Cruz after the Airplane played there for a dance at the Coconut Grove Ballroom upstairs in the Casino Building on Beach Street in 1966. He was a poster boy for psychedelic drug abuse at the time.
Listen My Friends to "Omaha"
http://www.youtube.com/watch?v=c_FlNwQlBmU
Just as Neil is and Bruce was, Skip was a native of Canada. Two days before his 53rd birthday in 1999, he died in Santa Cruz. A memorial concert and tribute of sorts was held on that April 30th. Skip died homeless. He alternated sleeping quarters amongst friends' homes as well as a big tool shed behind a commercial property of mine on Water Street in Santa Cruz. Life has a way . . .
Skip Spence with Jefferson Airplane (left) and Moby Grape (right) Flanking the Memorial Concert Poster

__