Bexley shoes
Posts: 1,302
Joined: 3/2006
Location: People's Republic of the Five Boroughs

Built quality is very good for the money. Most of the line is Goodyear welted and uses full grain leather. Value is very good and some designs are attractive. My problem with Bexley is that they don't work for my feet very well.
Posts: 1,302
Joined: 3/2006
Location: People's Republic of the Five Boroughs
My feet have prominent heel bones that stick out a bit and Bexley shoes never broke in enough to be comfortable, especially at the heel.
My left Bexley Enfield boot has a tongue that likes to shift to the left when walking which is uncomfortable.
Overall, based on my experience ( I own three pairs) and my brother's (two pairs) Bexley are not the most comfortable shoes, at least for us.
Posts: 594
Joined: 6/2008
I also have the Bloomingdale monkstrap and the Stanford wholecut.

I bought them in the Madeleine store in Paris.

Certain Bexley styles look very good in my opinion. They are full grain calf Goodyear welt at an unbeatable price.

However fit is tricky. I had to go up a half size to 43 and a half for the Bloomingdale and down a half size for the Stanford to 42 and a half. So I would be wary of purchasing over the net.

I also got their shoe trees which are good value for four. However, they are less full in the body than other brands of the same size.

Sizing in Bexley may be easier if you do not have a high instep.
Posts: 1,302
Joined: 3/2006
Location: People's Republic of the Five Boroughs
Posts: 6,452
Joined: 9/2007
Location: New York
Posts: 6,529
Joined: 10/2004
Location: Guv'mintFlunkyLand
Posts: 1,302
Joined: 3/2006
Location: People's Republic of the Five Boroughs
It varies somewhat. I don't own any AE or C&J shoes but I am usually UK8/eur 42. For the boots I had to size down to EUR41.5 and they are still a bit long but OK with a winter weight sock. Bexley Beverly loafers fit Ok if a bit snug at EUR 42. I have to check the size of my Bexley wholecuts when I get home but I think they fit true to size, like the rest of their oxfords.
Posts: 485
Joined: 1/2008
Location: Netherlands
So, after a few years of ownership, what is the verdict on these Bexley boots and shoes? Did they survive? I must admit, the pics posted above look way better than the pictures on Bexley's site. The sole and heel look al lot more bulky on their site it seems. The rubber sole pattern strikes me as odd though, I'd prefer a Dainite sole.
I also bought the Jodphur boots (leather sole) september 2008 I believe. I have worn them almost every day during the past year.Comfortable and feels the right size. Sole is almost fully worn at the toe.
The Bloomingdale feels just a tiny bit too big at the heel, but I think that half a size down wouldn't fit me.
Posts: 107
Joined: 11/2008
Quote:
Originally Posted by
Dmax
One of the members asked me to post pictures of my Bexley Einfield boots. These have been worn probably a dozen times or so: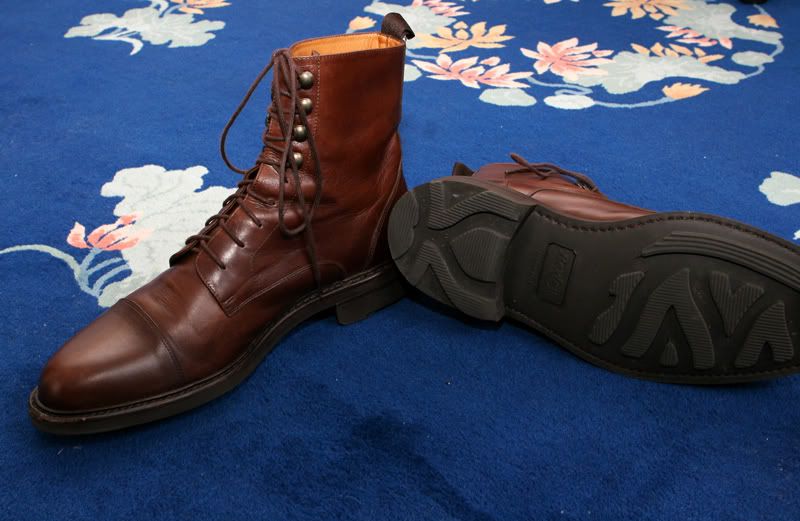 Hi,
Are these the chocolate or chestnut? I am also interested in purchasing these boots, however, not sure about their sizing. I too wear a UK8 in C&J. Their website mentions that the last shape is generous. Not sure if I should go for the UK8 or 7.5.
Also, are the sole made of pure latex as their website suggests? I'd appreciate your advice, many thanks.
Posts: 1,302
Joined: 3/2006
Location: People's Republic of the Five Boroughs
Mine are probably chestnut since I purchased them at one of the Bexley stores back when only one shade of brown was available and the other color is listed as Internet exclusive. I am not sure how pure latex differs from regular black rubber but the quality of the sole is pretty good. The sole design seems to be a copy of the Ridgeway design made by Dainite of UK. I'll have to check on the sizing later when I get home.