+100. This is what Styleforum should be. People actually learning and having thoughtful discussions and comparisons about style as opposed to blindly following groupthink and reputation to make purchases.
It shouldn't just be, "Well, I think the shoes are made of better quality or the silk is better quality".
What the heck does that even mean half the time? Who looks at a silk tie and feels it and knows whether the silk is better or worse than the other? (Except for maybe Charvet ties) if there wasn't a brand name attached to it?
Likewise with shoe leather.
I look at these photos and Sator's, and if there weren't the shoe trees there, I don't know if I would be able to tell the difference b/w the Chelsea and PAs. And the normal Joe looking at your shoes wouldn't be able to either.
Yet people are willing to pay $600 more for a pair of English shoes.
Some of the English shoes definitely have beautiful style and antiquing, but they don't seem to justify, at least to me, the cost of getting them shipped here, with a mark-up and VAT, to the US. If you were in the UK, you should definitely get the English shoes, because they are much more affordable there.
But it doesn't seem worth it when you already have a top-notch shoe store in the US.
Quote:
Originally Posted by
Wes Bourne
Digging up this thread to add another side-by-side shot: EG Chelsea 202 last size 8.5/9D on the left vs. AE Park Ave #5 last size 9D on the right.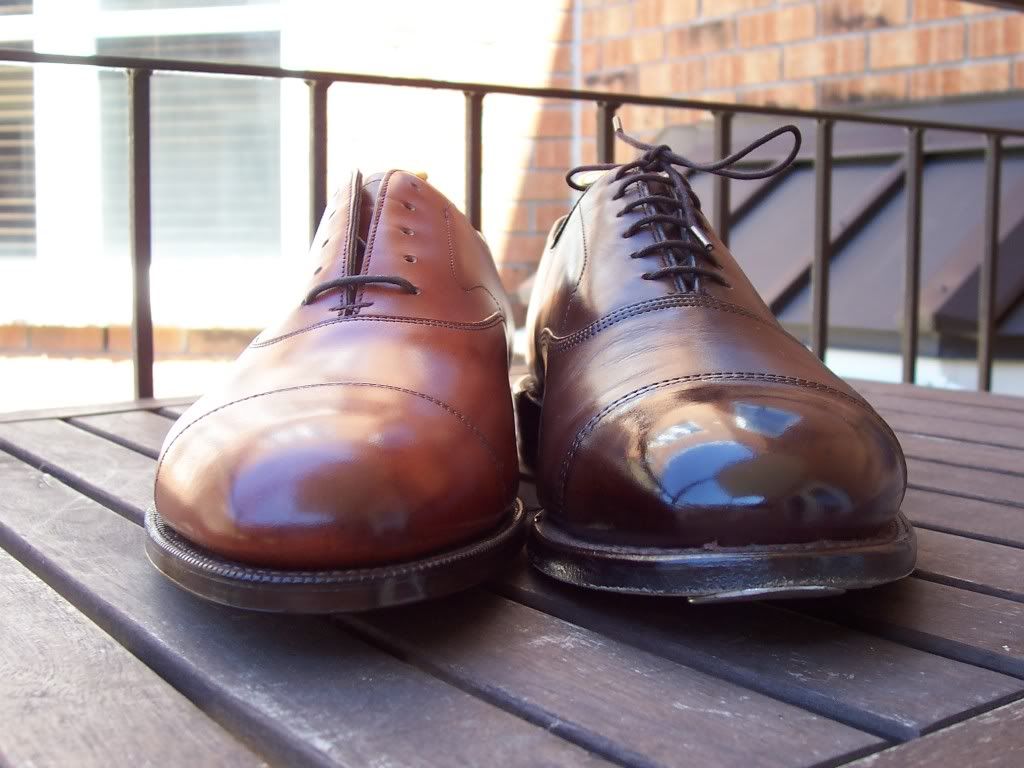 Observations:
-The Chelsea is actually longer than the PA (strictly comparing the uppers), but EGs are known to have a welt and sole that are trimmed very close to the uppers, whereas AE are on the opposite end of the spectrum.
-The widest point (ball of foot) is further forward on the Chelsea than the PA and it is also wider than the PA at its widest point.
-While the #5 last is AE's longest, I consider the PA to fit very tts. Otoh, I would need an 8/8.5D on the 202, perhaps even an 8/8.5C.