Consolidating all I am selling into one thread, along with some price drops. Prices are exclusive of shipping:
More Purple Label and Paul Stuart! Some real deals and very nice items to be had here, with some consolidated from an older thread. Descriptions to come later.
Ralph Lauren Purple Label Suede Lambskin Overcoat Large $525
Simply amazing, this made in Italy 100% Lambskin suede overcoat is beautiful. The lambskin is buttery soft, and the coat is fully lined on the inside. Very nice versatile color and has a wind guard for the neck area. Also comes with a belt, I have no idea how to use it however, as there are no belt loops on the coat. If anyone has an idea about what it's for let me know. I would keep this for myself in a second if it wasn't a large
There is a small spot on the left arm as detailed in one of the pictures, its not really noticeable unless someone is looking for it. There is some wear on the belt from hanging from the tag, but otherwise the coat is in pristine condition. Retails for over $2k, pickup a very elegant coat for way under the retail price!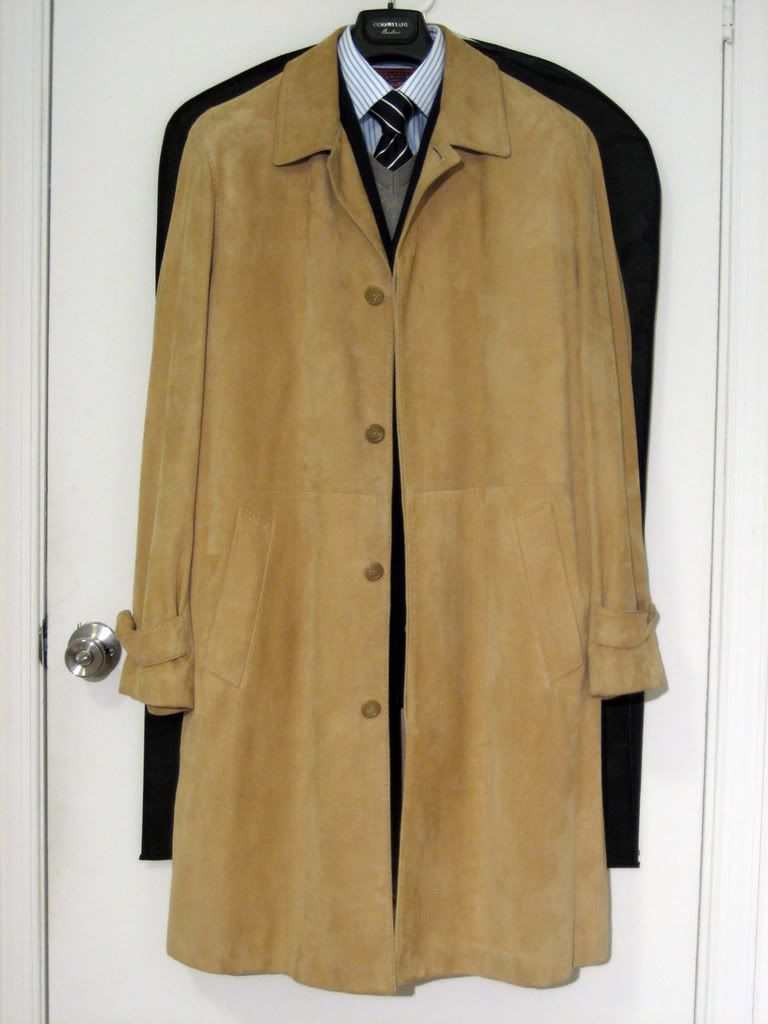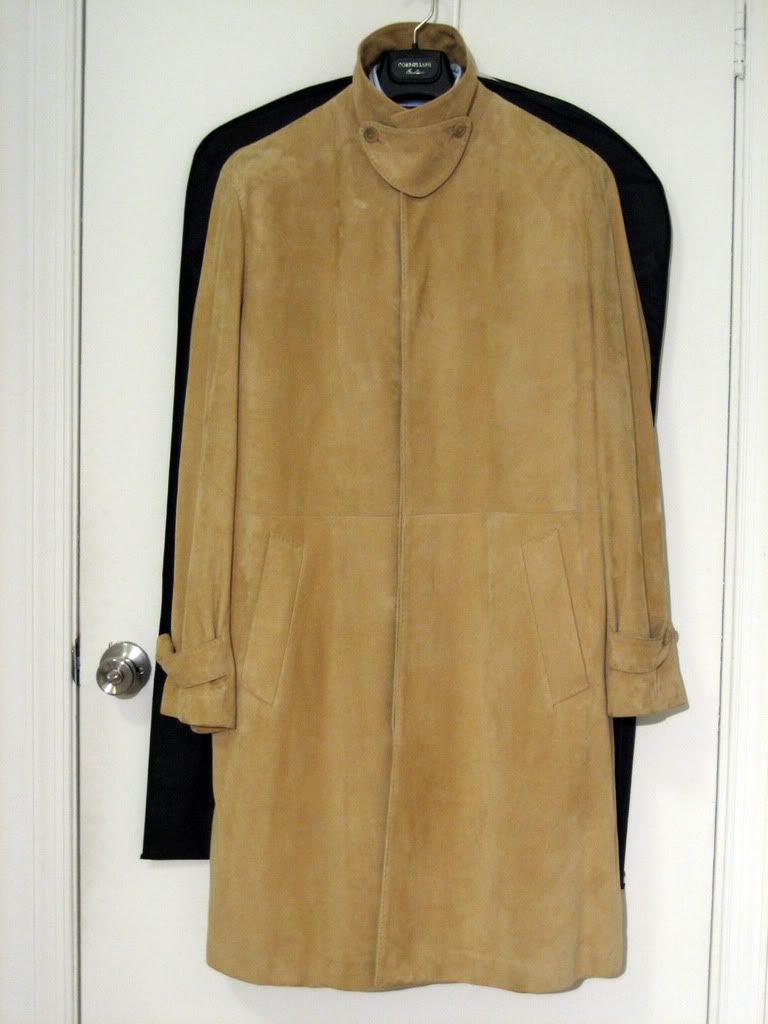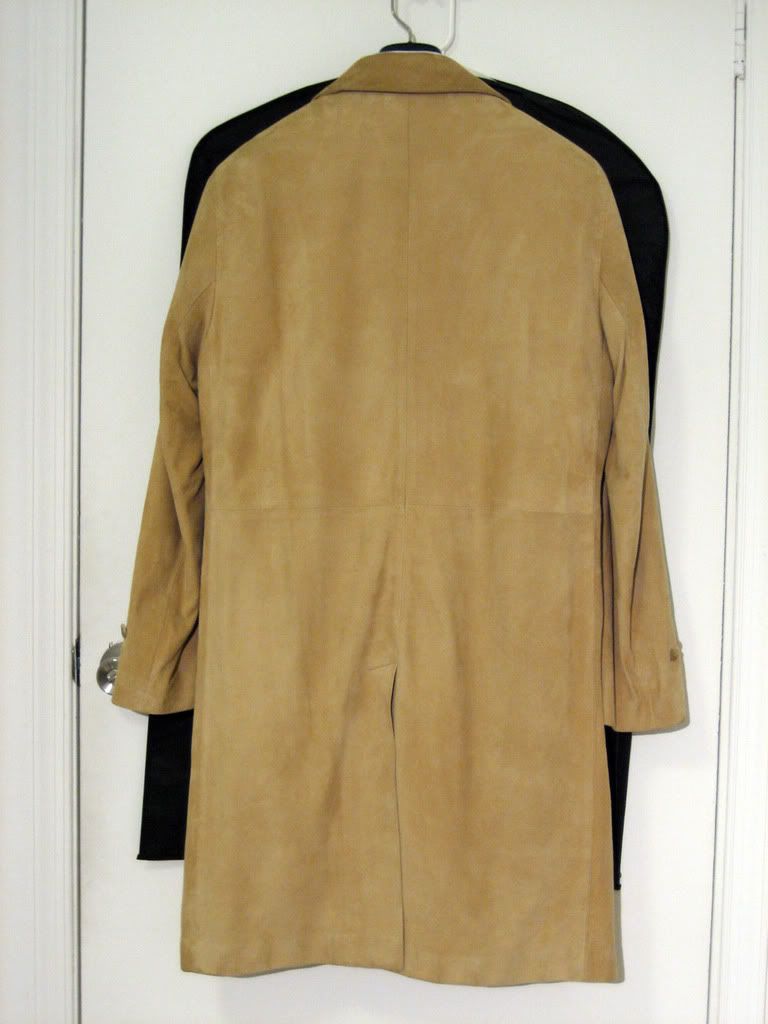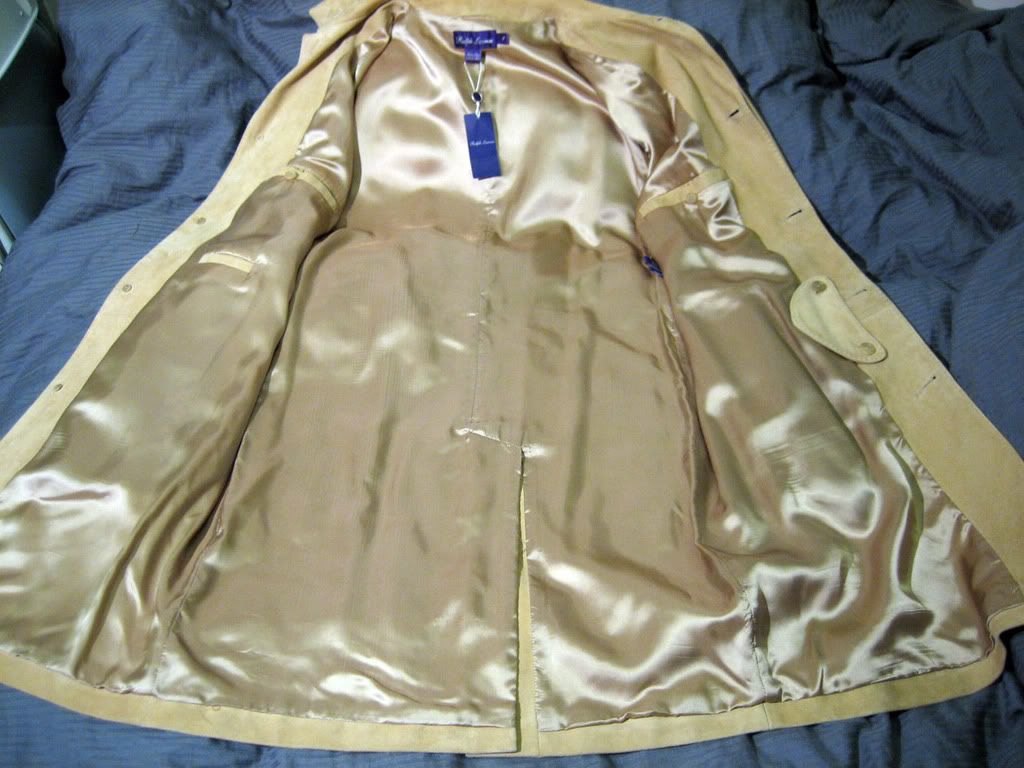 Shot of the spot: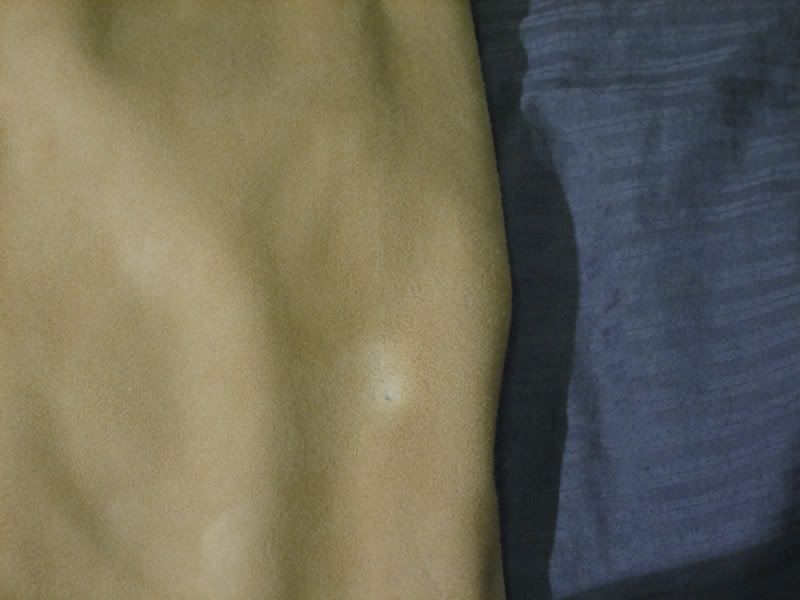 Ralph Lauren Purple Label Cotton Blazer 40R $190
Gorgeous cotton jacket. Nice sheen and ticket pocket too. Another extraordinary output from Purple Label, slim and flattering. Sleeves are unfinished and the buttons are included. Originally retailed for $1395. Double vented. There is a marker line over the left chest pocket. It kind of blends in with the color, but in the interest of full disclosure I mention it.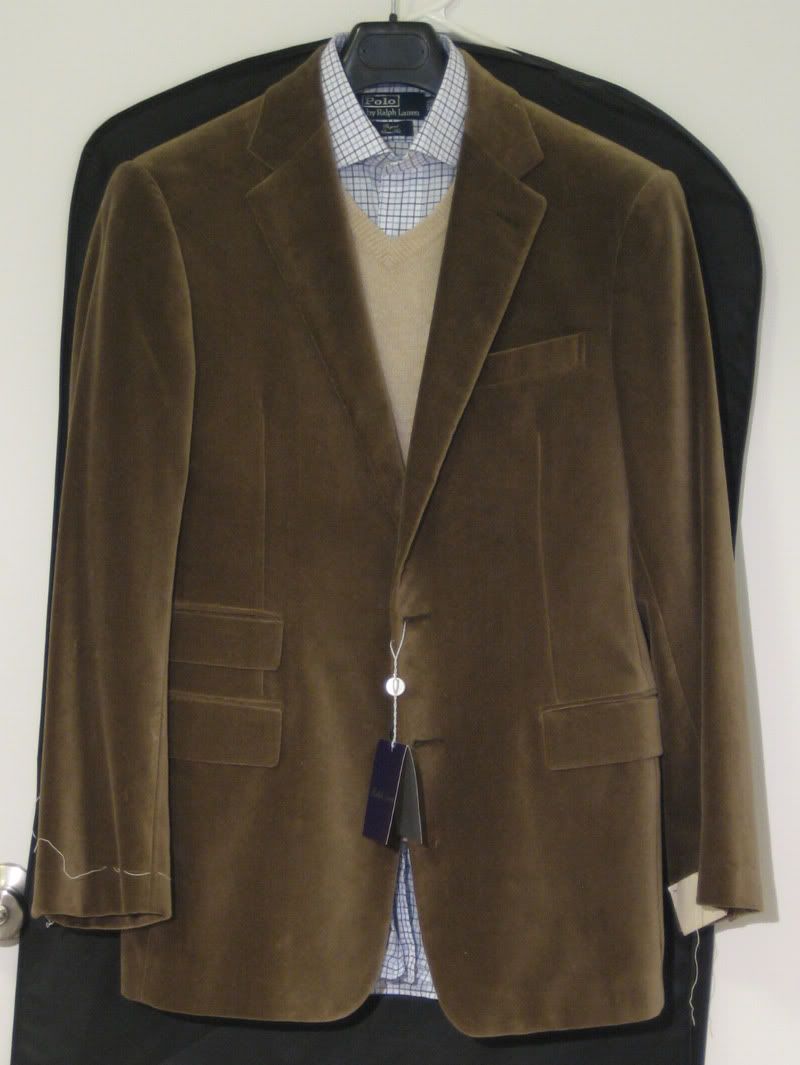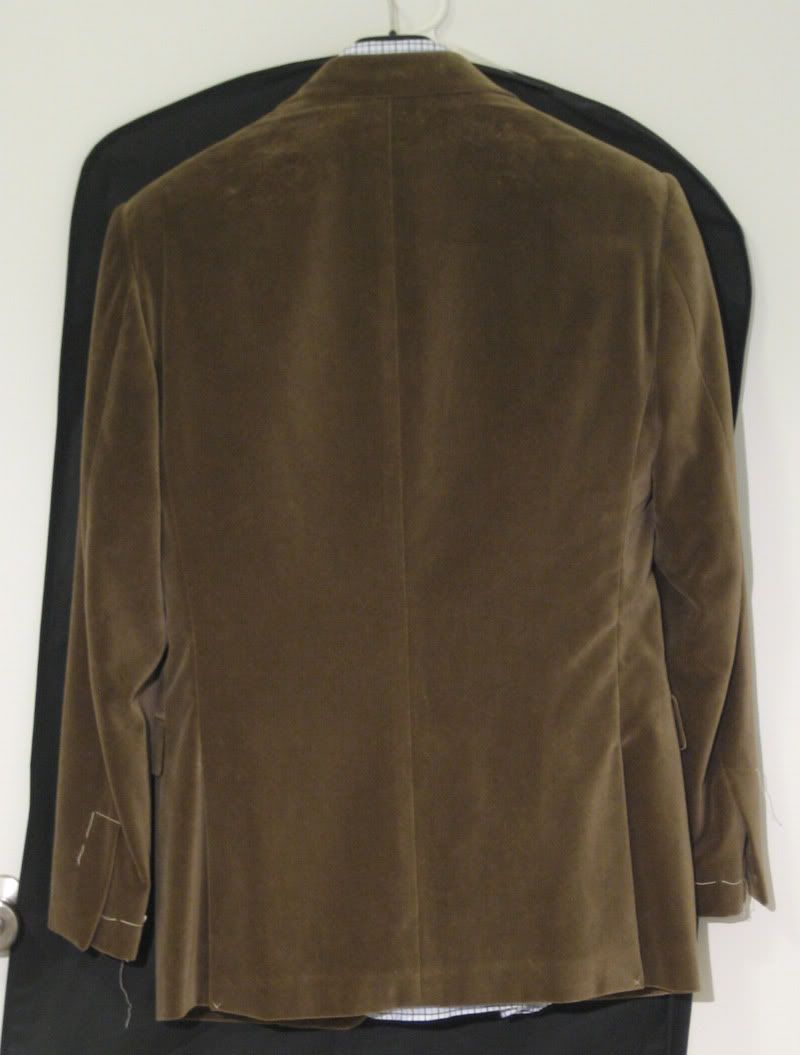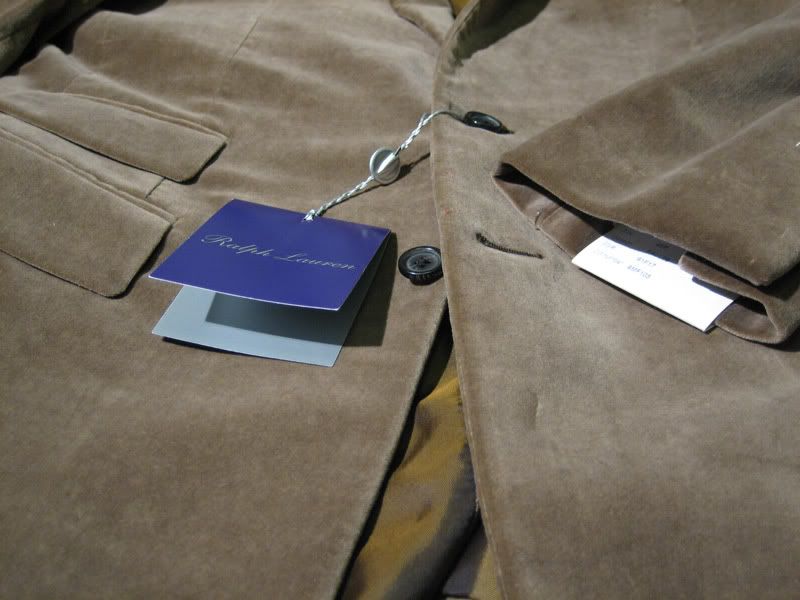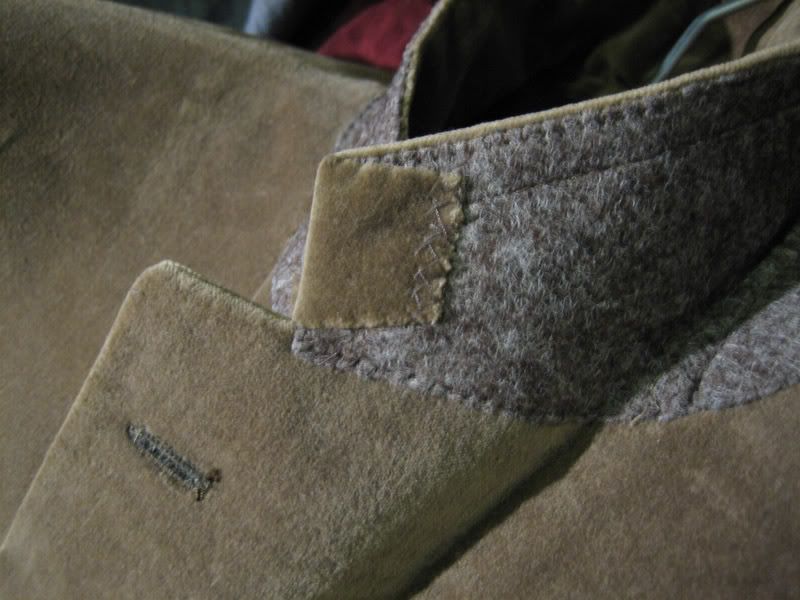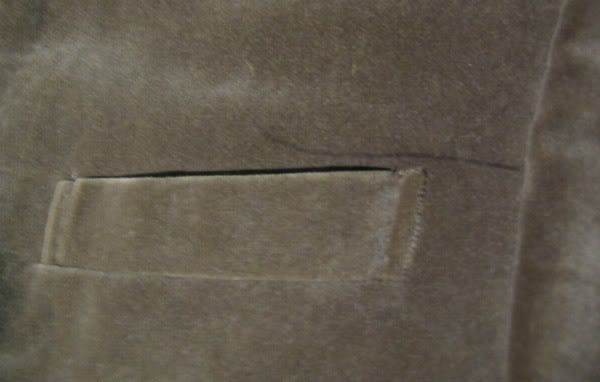 Measurements:
Item\t Tagged Size\tChest\tWaist\tShoulder\tLength\tSleeve
RLPL Cotton Blazer\t40R\t 20.5\t 19\t 18.75\t 30\t25
Ralph Lauren Purple Label Khaki Shorts 42 $50
Next is a pair of Ralph Lauren Purple Label shorts. Made in Italy, 100% cotton with excellent construction as usual. Retailed for $225, get ready for summer early and pick them up here!
Item\t Tagged\tWaist\tRise\t Leg Opening Total Length
RLPL Khaki Shorts\t42 21.5 10.75\t12.25\t\t21.5
Ralph Lauren Purple Label Linen Pants 42 $55
These light blue 100% linen pants are made for the beach. Made in Italy, pleated and lined to the knee, these retailed for $295.
Item\t Tagged\tWaist\tRise\tLeg Opening\tKnee
RLPL Linen Pants\t42\t21\t12\t 10\t 11
Paul Stuart Tweed Jacket ~38 to 40 $20
This lovely tweed Paul Stuart tweed jacket is fully lined. Great construction and made in Canada. The only thing is that the right sleeve is missing a button. Otherwise its in great condition.
Chest: 20.5
Waist: 19.25
Shoulder: 18.25
Length: 31.25
Sleeve: 23.75 with ~1" to let out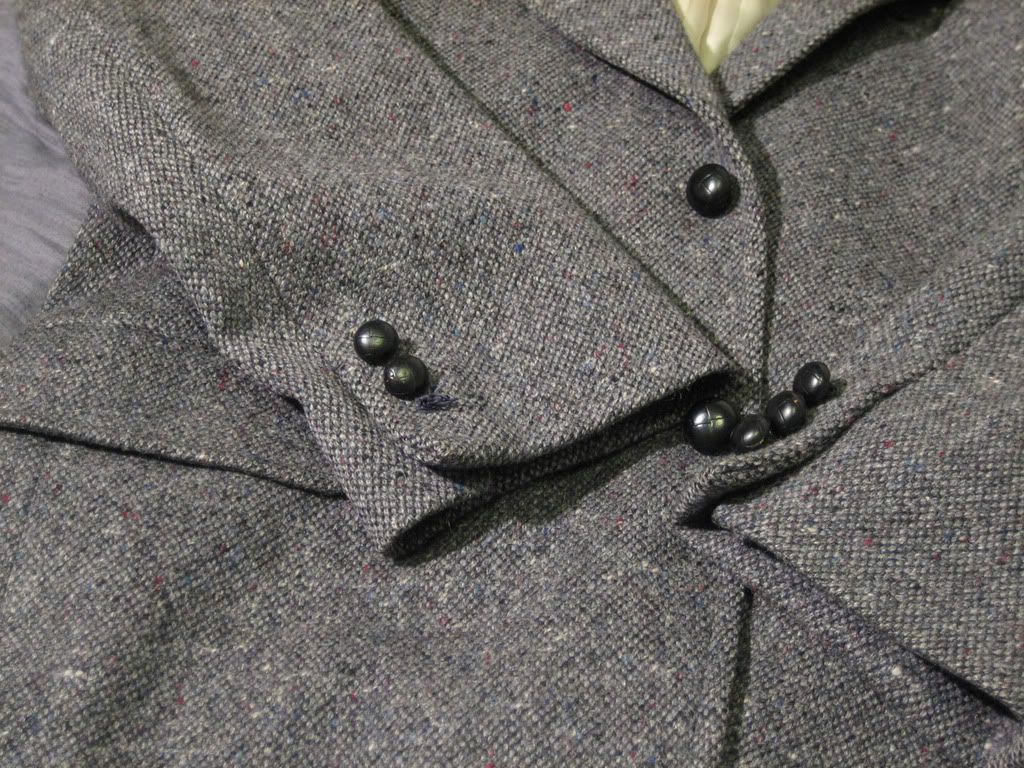 I just got this blazer and unfortunately it doesn't fit. It's a navy blazer with raised, distressed and frayed light blue pinstripes, from Burberry's Prorsum line. Not sure how much these typically run for but I imagine it must be a fair amount as its Burberry's top of the line offering, which is made in Italy. There appears to be wear on the pockets inside the jacket but otherwise is in good condition. It's a size 50eu/40us, and price is $190 shipped. A steal consider its exclusivity and high retail price.
Pics up: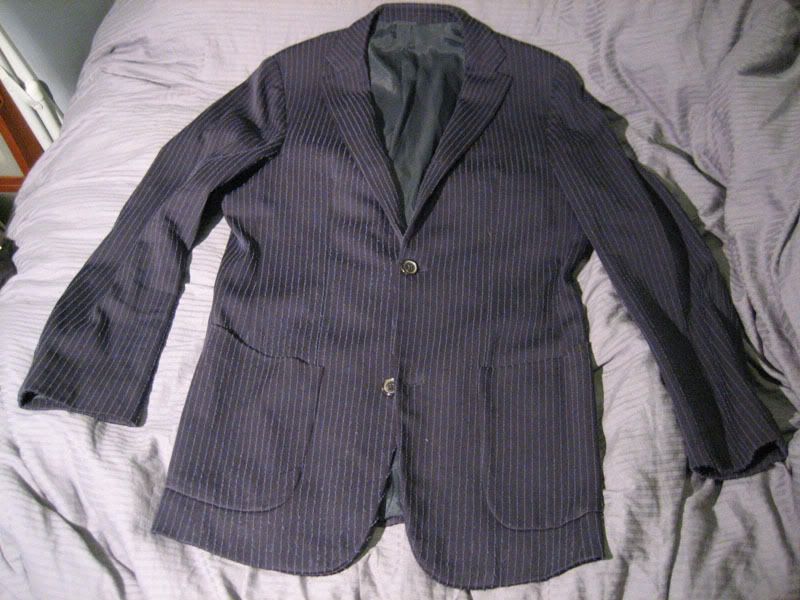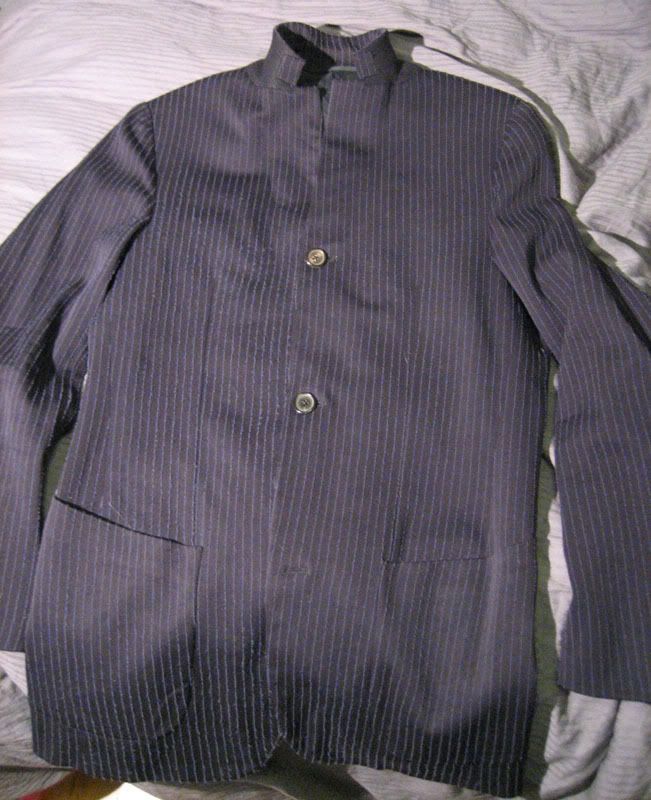 Shot of the collar flipped up and of the fabric texture, which is very unique: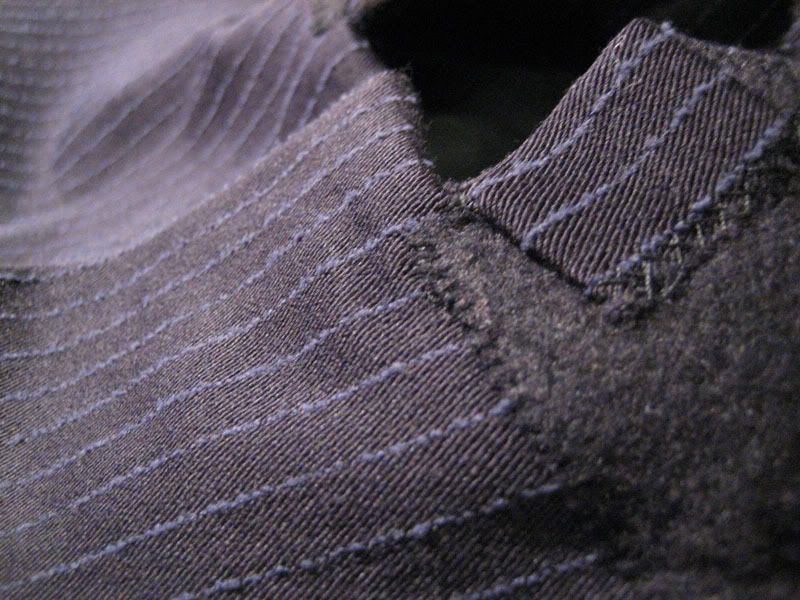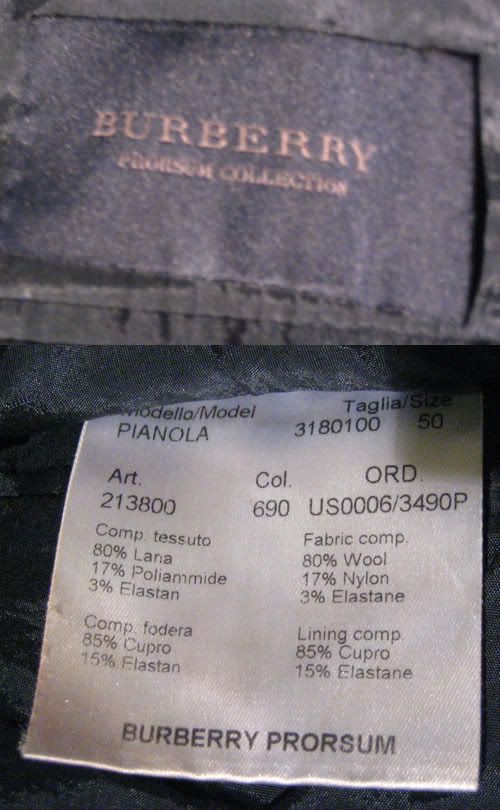 Pic of the wear on the inside pockets: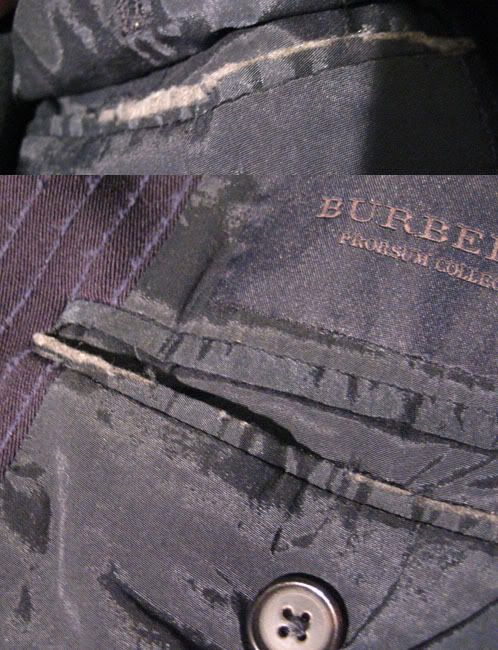 Measurements:
Chest: 20.75"
Waist: 18.25"
Shoulders: 17.5"
Sleeve: 25.25"
Length: 30.25"
Marc Jacobs Jacket Euro 50 US 40 $old
100% cotton white jacket, made in Italy. Nice details like button clasp chest pockets and shoulder epaulettes. Is tagged a slim size 50 EU/40 US, but could also fit a 40 EU/38 US. Brand new with tags, retailed for over $500. Would be great for the summer.
Measurements:
25.75" sleeve
24" length
17.5" shoulders
20.5" chest
Zegna Sweater Sz Medium $old
55% silk 45% cashmere sweater. Very nice feel and made in Italy. Retailed for $260.
Chest\t21
Shoulders\t18
Length\t24.75
Sleeve\t25.5
Ralph Lauren Purple Label Sweater Sz XL $old
100% cotton beautiful sweater from Ralph Lauren Purple Label. Made in Italy and retailed for $295. If it doesn't sell here at this price it will go on Ebay.
Chest\t22.25
Shoulders\t18.75
Length\t26
Sleeve\t26.5
Robert Talbott Best of Class tie $23
Very nice Robert Talbott BoC tie. Brand new.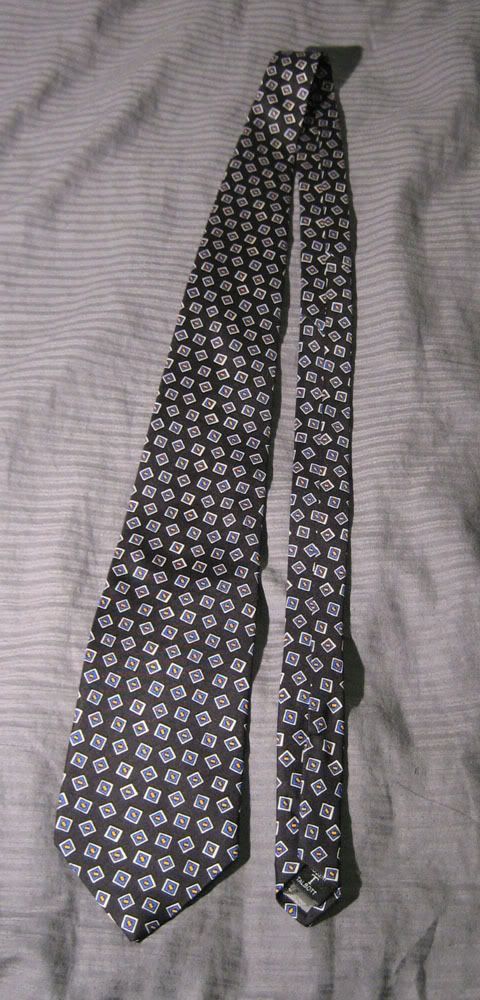 Polo Blazer ~36-37r $70
Now this is a bit of an oddity. Its a nice fully lined polo sports jacket, very nice production quality looks like. It appears to have been a custom job of some sort, as there is "J. Nogami" stitched on the inside. Still, a very nice pinstriped polo sportscoat and a bargain for this price.
Chest\tShoulders\tSleeves\t Length\tWaist
19.25\t17.25\t 22.75 + .5\t27.5\t17.75
Polo made in Italy pants sz 32 $55
Very nice fabric on these pants. Pleated and cuffed, these Navy pants were made in Italy. Still in extraordinary condition; very nice construction and fine quality buttons.
Polo made in Italy Cashmere sportscoat sz 38R $200
Now this is a beauty. A blue label cashmere sportscoat, it was made in Italy and features a ticket pocket and a very distinct pattern. Missing the tags, but the ticket pocket is still as of yet uncut. A bargain at $200, there is barely any wear on this.
Chest: 20"
Shoulders: 19.5"
Sleeves: 23.5 + 1" to let out
Length: 30.5"
Waist: 18"
Purple Label tan cotton pants sz 42 $70
Perfect for the summer. These lightweight pants retailed for $325, snap them up here for a huge discount. Flatfront and unfinished hems.
Allen Edmonds Park Avenues 9.5D $135
You know these shoes. The classic captoe bal from Allen Edmonds, its a staple in every wadrobe. A shame its just too narrow for me. In near new condition. Looks like there's some light shopwear on the back of the heels, and some small creases on the very inside of the shoe. These have been tried on gingerly inside the house, which is about the extent of the wear on the soles. They don't come with the box or shoe bags; if you'd like them (they are not from the park aves) add $10.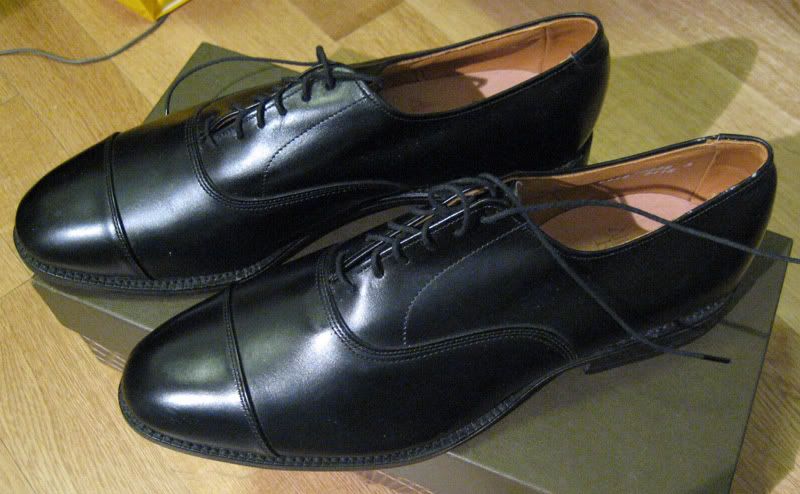 Shop wear: