UPDATE: Wings + Horns slim fit hoodie back up for sale! It was on hold for a month (yes, a long time lol) but then the buyer backed out due to Paypal problems or something... Anyway, it's still BNWT, still $230 shipped.
1) Wings + Horns SS08 french terry hoodie; black, sized medium, slim fit
-I purchased this hoodie from TNT Blu in Canada, but it turned out to be slim fit when I was looking for a classic fit. TNT Blu doesn't accept returns, however, so I'm reselling it here. It's BNWT and never worn (only tried on). Purchased for $250 (before $20 shipping and $25 customs brokerage fee so $295 total); I'll let it go for
$230 shipped
.
Construction, cut, details, and materials are excellent, and the hoodie is super comfortable.
Measurements:
Chest: 19-20" (depending on where you measure, not exactly sure... 20" pit to pit, )
Shoulders: 17.5"
Length: 24" (from where the hood meets the neck down the back)
Sleeve: 25" (from shoulder seam down)
First time selling, so let me know if I measured wrong based on my descriptions. I wear a medium in just about everything, and this hoodie fits me in a perfect slim fit. I was looking for a classic, more loose fit though.
Unfortunately, I don't have a camera, so I'll post pics from TNT Blu and Nomadshop.
2)
SOLD
Engineered Garments SS08 Fishing Jacket in vintage black chambray, medium
-Amazing piece with incredible details; I searched all over for it after seeing pics, but unfortunately I don't think I can pull it off with my wardrobe, and the cut is boxier than I'd like.
I purchased this from Jonathan and Olivia in Canada for "$275 + tax = $308 + $25 shipping cost which brings the total to $333.00." I'll let this go for
$250 shipped
.
I've worn it only once, and that was briefly to class; I'd describe the condition as 10/10 (aside from random creases and wrinkles due to shipping/storage).
Measurements:
Pit to pit: 21.5"
Shoulders: 18"
Length: 25.75"
Sleeves: 25.75"
Again, no camera so here are photos others posted in the EG thread here on SF: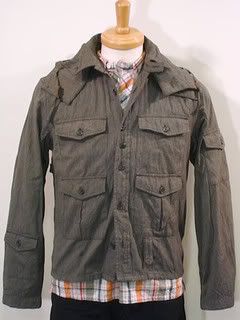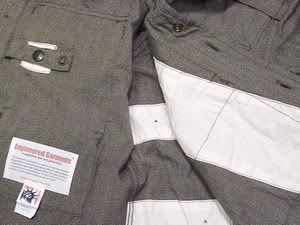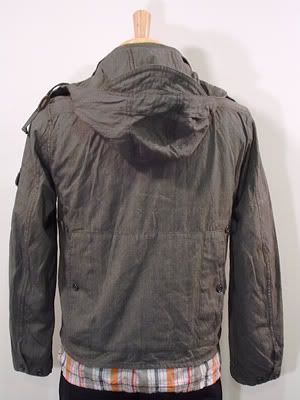 In different colors:
http://i66.photobucket.com/albums/h2...008/sub1-1.jpg
http://i66.photobucket.com/albums/h2...008/main-8.jpg
Link to thread w/ pics:
http://www.styleforum.net/showthread.php?t=51938&page=5
3)
SOLD
Nice Collective Jacket
I purchased this off of jswanson3 in this FS thread:
http://supertalk.superfuture.com/showthread.php?t=47648
, and while I like the slim profile of the jacket, the sleeves are too long for me. I bid it down from his original asking price of $230 to $200 shipped. I'm asking
$175 shipped
.
I'll copy/paste the description from the thread with a note added:
Nice Collective Jacket from F/W 2005. Brown, size medium. Button and heavy duty zip front. 100% cotton. Raw seam details, front lined, single back vent. Patch, zip, and inside pockets, underarm vents. Worn 2-3 times.
NOTE: by "underarm vents," what he means is that the jacket appears to have a 3" tear at each armpit (basically a large hole). I'm 95% sure that the jacket comes like this, and I'm calling NC's offices tomorrow to confirm.
Tagged: Medium
Chest: 19.5" across
Shoulder: 17.5"
Back length: 27.5"
Sleeves: 27"
I'd say that this jacket is a little more brown than the photos suggest. It also has a slightly ribbed/corduroy texture that the pics don't show.
I realize I'm a new poster here and that this is my first sale, and some of you may be wary due to that. I'm not so sure what I can do about this, but I've made $1k+ in purchases at sufu, and maybe Paypal can confirm that or something. Also, if anyone here happens to play online poker, I can prove that I have $100k+ in account balances online, if that calms your fears at all.
Finally, if you're interested in these pieces and live near UW in Seattle or the the Bay Area (Cupertino, CA), I'd be happy to make this transaction in person.
Feel free to PM me or post here with any questions!!
BTW, shipped prices apply only to those in the US. I don't know how much it costs or how much hassle it is to ship internationally, but if you're interested, let me know and we can work it out.