UPDATED
We'll start with some
extremely
nice Polo trousers. These are made in Italy and have a nice heft. They've already become one of my favorite trousers. Side tabs, no belt loops. The windowpane is kinda burnt orange, or so my non-colorblind girlfriend tells me. Check it out:
I have one pair left in size 36. These are the "Dillon" model and sizing seems pretty true. Retail was $345 or thereabouts. Asking $90 plus $6 shipping by Priority Mail. Buy a pair and a jacket and I'll combine the shipping costs for you Now, the Double RL leather jackets. These ain't your typical flimsy mall jackets. They're made of thick, stiff horsehide leather that's only going to get better as you break it in. They're the type of thing you'd throw on to go beat the hell out of some Nazis. I'm not normally a leather jacket guy, but I think I'm keeping one of these for myself. I'll even model it for you: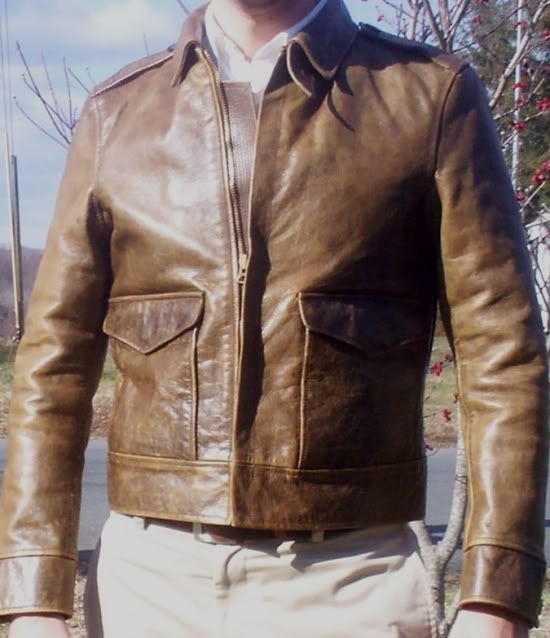 Lots of nice touches. Throat latch, hidden snaps under the collar to keep it down, tabbed waist. Handsome buttons, too. Closeup of the antiquing:
Available in sizes M and L. I'm a pretty standard 38R and you can see how the M fits me. Some rough measurements: M: Shoulder 17.5; sleeve 25; chest 20; length, 23. (Length is from bottom of the collar.) L: Shoulder 18.75; sleeve 25.5; chest 22.5; length 23.5. (Length is from bottom of the collar.) Bear in mind, the measurements are taken on the outside of a thick jacket. These are nicely slim, and I love how they don't have elastic on the sleeves and waist. Retail is $1,200; asking $375 shipped. PM if interested. PayPal and Google Checkout accepted. Shipping costs are for continental U.S. I'll consider shipping elsewhere, but I'll have to get you a shipping estimate. Now if you'll excuse me, I've got to go deal with some Nazis.*
*Jacket purchase does not include toy gun or fedora.