This Classified is Closed
For Sale:
CLASSIC IVY OUTERWEAR & DOWN VESTS! Iconic LL Bean Field Jacket, Orvis Shooting Jacket, Faconnable Duffle Coat, Great Western Vintage Blanket Rancher Coat, REversible Tweed Harrington Jacket, Schott down vest, more! FREE SHIPPING & OFFERS WELCOME!
Will Ship To: Anywhere

I have several WONDERFUL items of classic Ivy/Trad outerwear to pass on today, including an iconic Made in the USA LL Bean Field Jacket with button-in liner, an Orvis Field Jacket, a vintage Great Western wool rancher jacket, and more!
As always, I offer
FREE SHIPPING ON EVERYTHING IN THE USA;
International inquiries are welcome, with shipping at reduced cost!

Also as always,
ALL OFFERS ARE VERY WELCOME!
Please PM with interest and offers!1) ICONIC LL Bean Field Jacket. Made in the USA.
SOLD
This is the nicest example of this American icon that I've seen!
The Field Jacket is THE classic American item of outerwear for Fall, the warmer Winter days, and Spring, and L.L. Bean make the definitive iconic version. And THIS one was Made in the USA--I believe that they are now all "imported".
Introduced in 1924, the Field Coat by L.L. Bean was originally designed for hunting, but its extreme versatility quickly took it out of the woods, and it's just as likely to be seen on the streets of the Upper East Side or Boston Common as it is deep in the Maine woods.
The outer shell is rugged two-ply cotton canvas, treated to be water resistant; the collar and turn-back cuffs are 16-wale corduroy for comfort and abrasion resistance. The jacket itself is designed for function. It features a deep lamb-chop pocket on either side at the front; the flap of this is the bottom of the upper lamb-chop pocket that is placed directly above it; a highly functional and innovative design. The jacket has a zipped breast security pocket, and a bi-swing back; both of the shoulders are reinforced. The coat fastens with oversize buttons, ideal for use in the cold.
This coat is complete with its original tartan Primaloft button-in liner, and with all of its original spare buttons!
With the exception of the fading of the original size tag, this jacket is in absolutely excellent condition!
Asking just $39, or offer.
Chest: 25 3/4
Sleeve: 24 1/2
Shoulder: 23 (Please note that the shoulders slope into the sleeves in Bean Field jackets)
Length (BOC): 30 1/2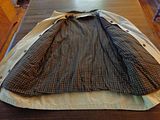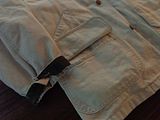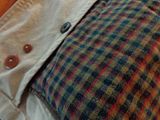 2) Orvis Field Shooting Jacket
SOLD
This is absolutely BEAUTIFUL! Cut from beautifully sturdy cotton duck in classic British khaki, this is simply packed with features. First, it is clearly modeled on the Barbour Border, for it has two deep front handwarmer pockets in the front with reinforced edges, as well as two deep functional pockets that snap securely shut for security The coat fastens with both a button and a zipper; the placket is reinforced with the same brown corduroy as the collar, as are the turn-back cuffs. The sleeves have reinforcing elbow patches. Both shoulders are reinforced for shooting, and the back is a fully functional bi-swing back with a half-belt. The back also features a full-length game pocket that is securely fastened with a zipper at both ends.
The interior is lined in perfect scarlet, and features two breast security pockets that are fastened with zippers.
All of the buttons and snaps are Orvis signature fastenings.
This is is absolutely beautiful condition, and a size Large.
Asking just $45
Chest: 22 3/4
Sleeve: 25 3/4
SHoulder: 20 1/2
Length (BOC): 32 1/2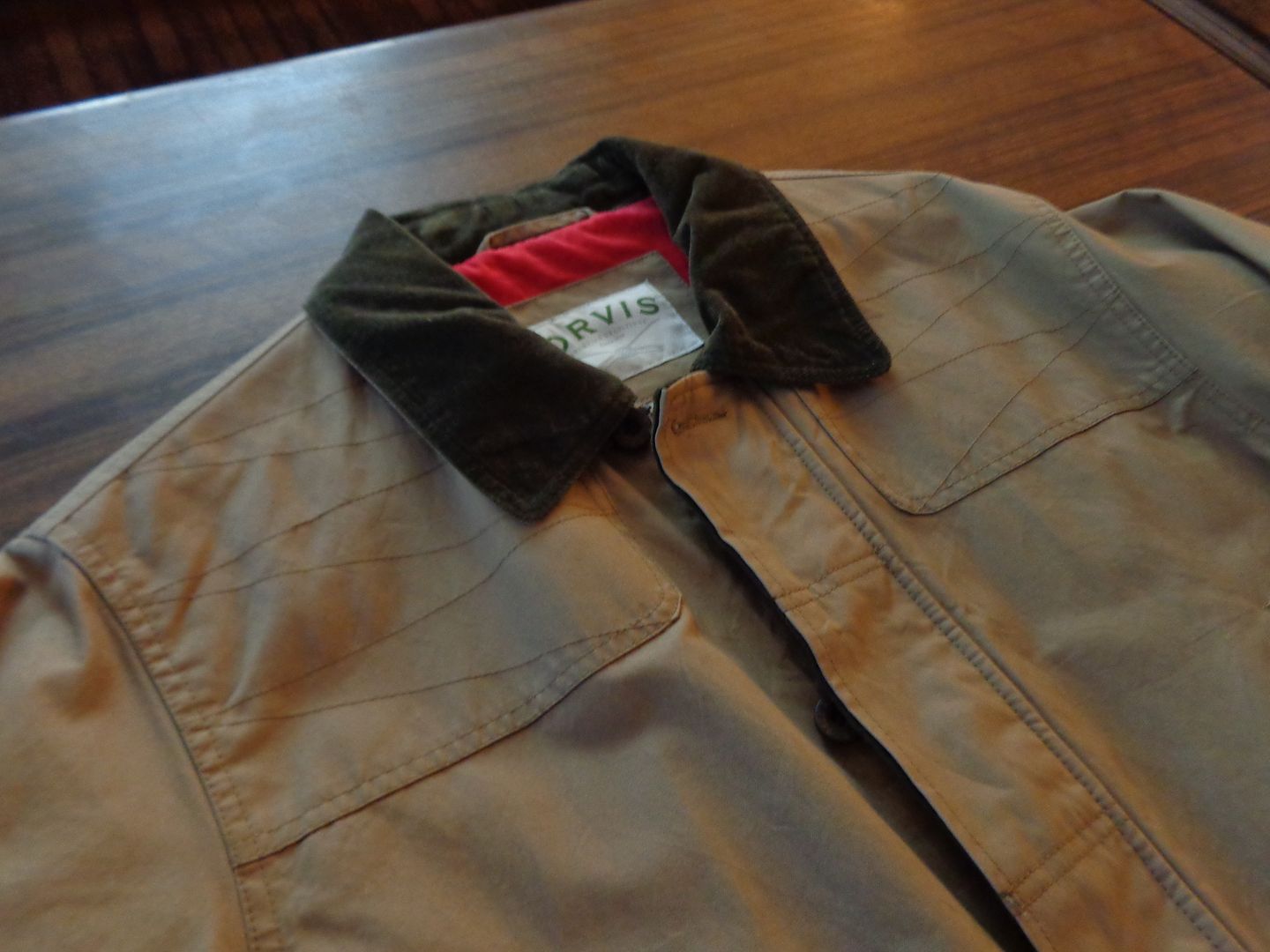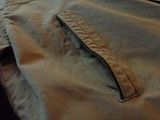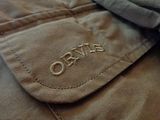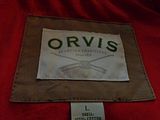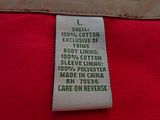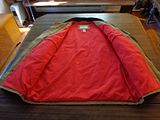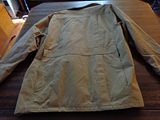 3) MADE IN ITALY Quilted Jacket from "Ivy Oxford
"
SOLD
Along with the Field Jacket the quilted jacket is a classic Ivy Fall staple--as the Italians clearly realize, since the company that produced this lovely example is called "Ivy Oxford", clearly hoping for its wares to appeal to both the American Ivy League market and their British Sloane equivalents!
This jacket is lovely, and worthy of being tagged "Ivy". Made it Italy, it is a classic quilted jacket cut from cotton that has been permeated with resin to render it water resistant. It comes complete with a classic corduroy collar and turn-back cuffs. It features a lovely and traditional pocket configuration on the front, with a deep flapped pocket being placed directly in front of a deep handwarmer pocket with corduroy reinforcing trim. The lining is quilted for the lower quarter below the drip strip. It features a shallow twin vent at the back and a single interior pocket. It is in excellent condition.
Asking just $45, or offer.

Size M. Measurements:
Chest: 23 1/2
Sleeve: 24
Shoulder: 21 1/4
Length: 32 1/4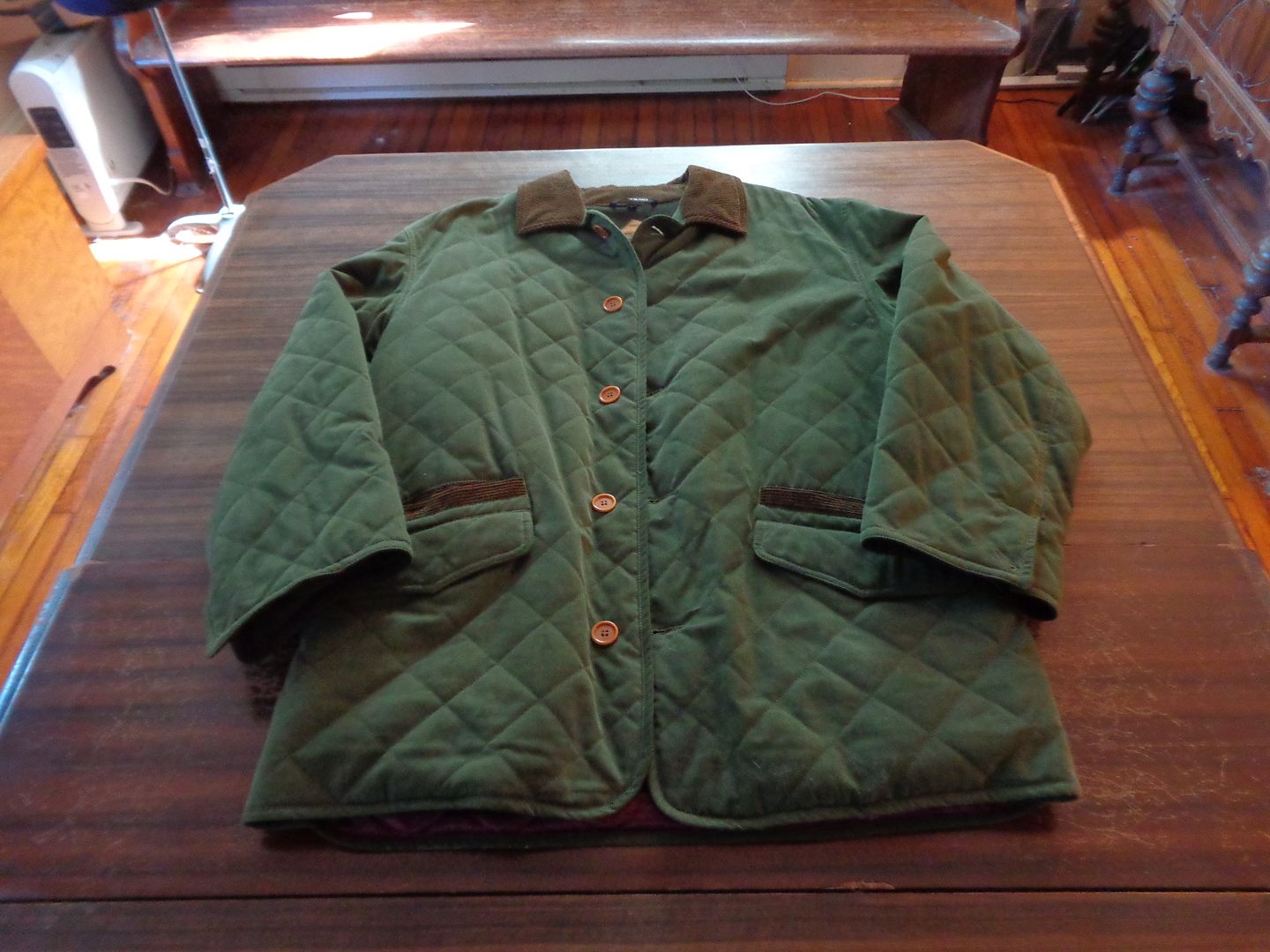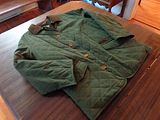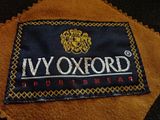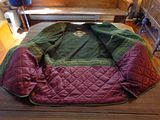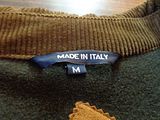 4) Faconnable Duffle Coat. MADE IN ENGLAND!
This is WONDERFUL! Cut from a very thick and heavy loden green wool cloth in a wonderful broad herringbone weave this was made in England. The quality is outstanding--in addition to the thickness and warmth of the cloth the workmanship is absolutely first rate, and the front is closed by a RiRi zipper--the Rolls Royce of zippers than only appears on the best clothing. (Eastman use RiRi for their leathers.) The coat features two deep front pockets with lapped seams at the edges; it also has lapped seams along the two traditional shoulder front capes that are a feature of duffels, as well as around the rear shoulder cape, down the sides, and also down the sleeves and along the placket. The coat closes with a RiRi zipper as well as buttons, and is, of course hooded. There are ornamental sleeves closure tabs at the cuffs.
The coat is unlined, as is traditional, and the interior seams all feature contrast piping in British Racing Green.
This coat is in excellent condition except that it is missing a button. This does not affect closing the coat, as it also has a zipper, and could be easily disguises by moving the bottom button up to replace the missing one. The coat could also use a dry clean just to freshen it up.
This truly is beautiful, and given its quality and condition is a steal
at just $65, or offer.

Measurements:
Chest: 24 1/2
Sleeve: 25 1/2 (+2)
Shoulder: 21
Length: 36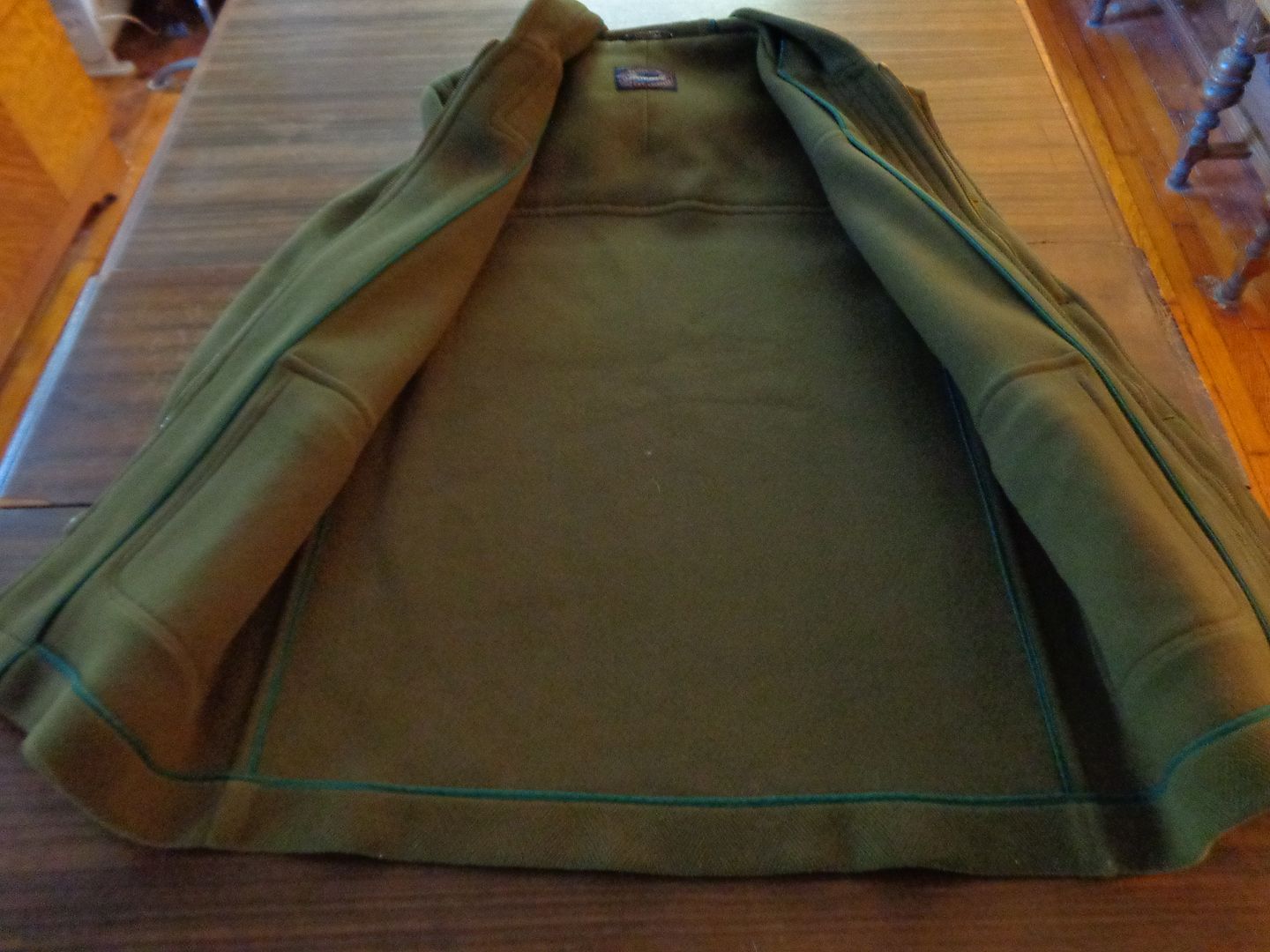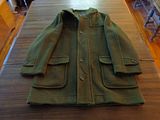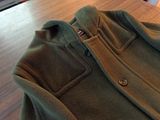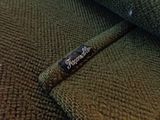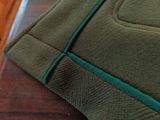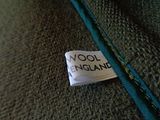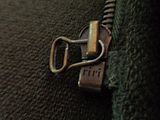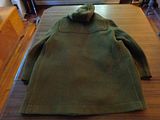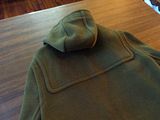 5) WONDERFUL Vintage "Great Western" Jacket!
This is absolutely wonderful, and if it were smaller and fit me it wouldn't be here! Likely dating from the 1960s this is a classic and utterly wearable piece of Americana, being a thick and wonderfully warm wool Rancher coat in a bold Western plaid in grey, cream, moss and peat. It features two deep slanted and flapped pockets on the front and a classic faux-fur collar, as well as oversized buttosn fro ease of closure when it's bitterly cold on the prairie. The cuffs have functional cuff strapsn to tighten the cuffs against the cold. It features a quilted lining for warmth. The collar is designed to stand up, and there is a locker loop on one side and a button on the other so that it can be fastened into place.
This was sold by Gimbels, which closed in 1987 and was famous for having the largest Thanksgiving Day parade in the country.
This was, of course, made in the USA.
It is in excellent condition, with two minor flaws; a very, very small moth nibble on the top of one sleeve, as shown, and one of the buttons for the left cuff strap is missing; this could be easily replaced.
Asking just $49.

This is tagged 46. Measurements:
Chest: 26 1/2
Sleeve: 26 1/2
Shoulder: 20 1/2
Length: 35 1/2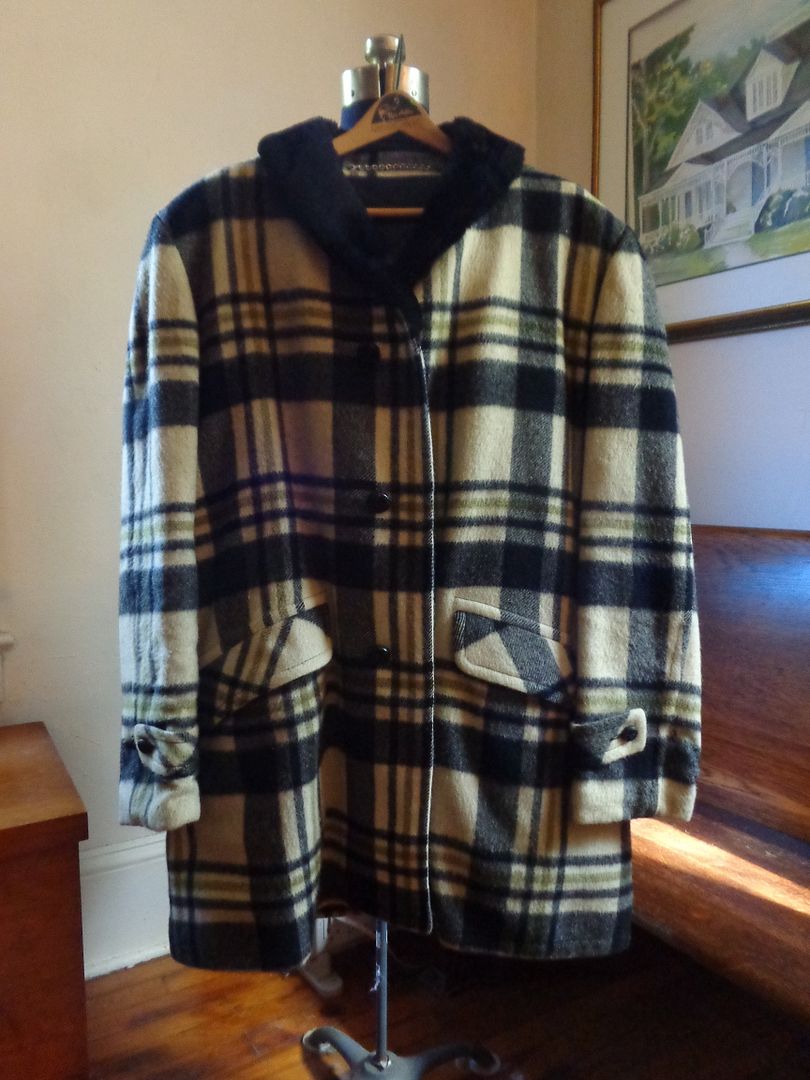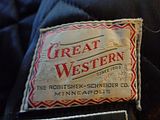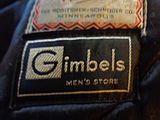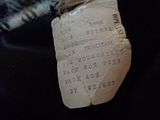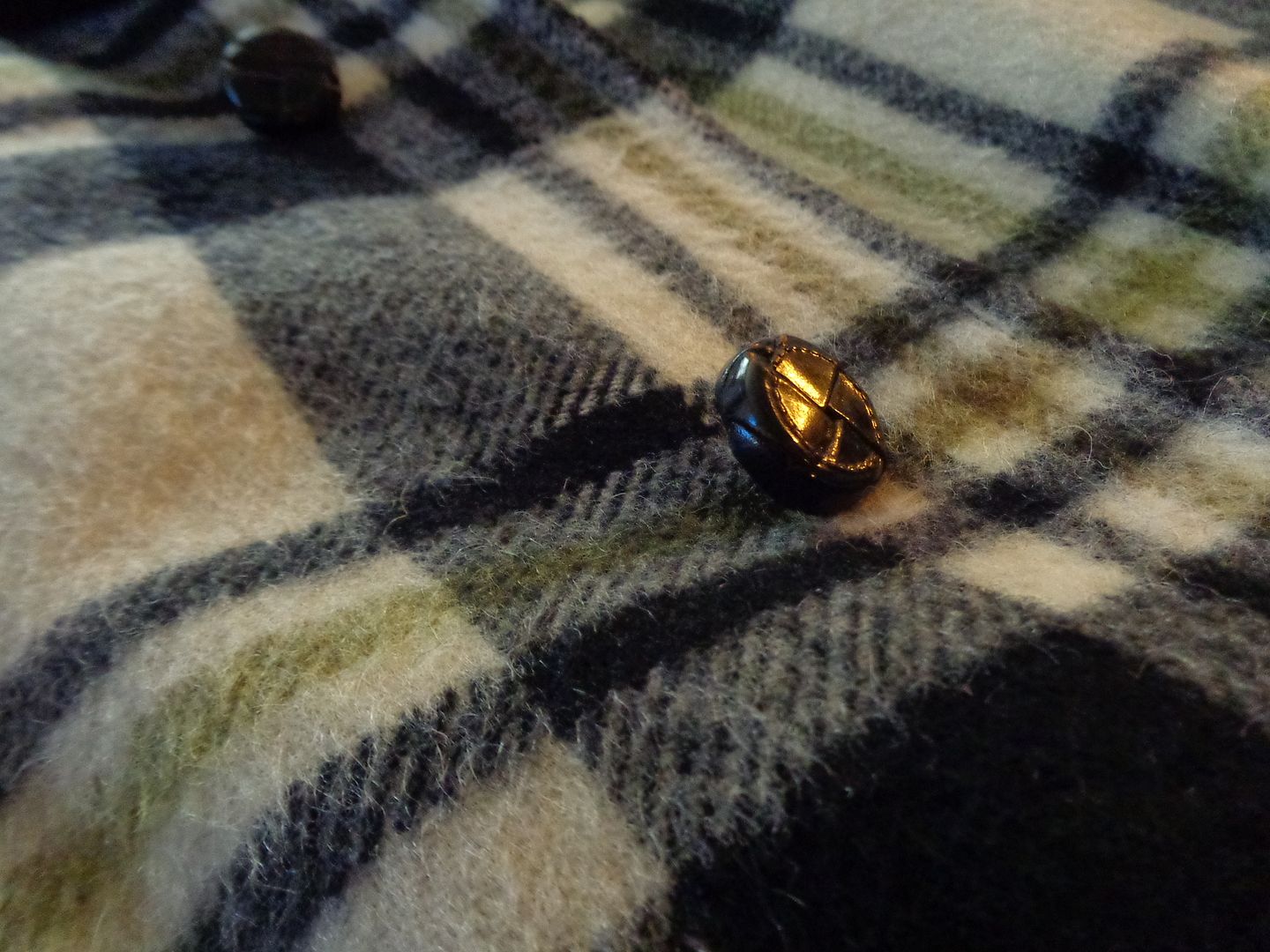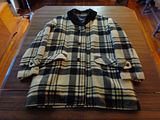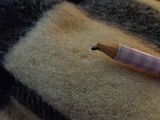 6) WONDERFUL Reversible Harrington Jacket in herringbone tweed and classic tan!
SOLD
This is wonderful--a reversible Harrington jacket, with one side being classic grey herringbone tweed, and the other the clasic waterproof tan cotton. Both sides have the same classic Harrington features: two slash front pockets with button down flaps, knit cuffs and knit waistband. The jacket features a fluid reversible zipper--of course, as a reversible jacket. It has raglan sleeves, and the collar is designed so that it buttons shut, with the buttons being on the tweed side of the throat latch.
The jacket has some minor issues. First, it needs a dry clean to freshen it up. Second, there is a small stain on the tweed side by the zipper, which will likely come out; there is also a small brown stain on the cotton tan side by the knit hem, as shown. The collar has some discoloraton from wear on the cotton tan side--clearly this was sensibly worn tweed side out!
This was Made in the USA.
Owing to its flaws this is conservatively in Good/Very Good condition,
and so it just $29.

Size XL. Measurements:
Chest: 24
Sleeve: 35 1/2
Length: 24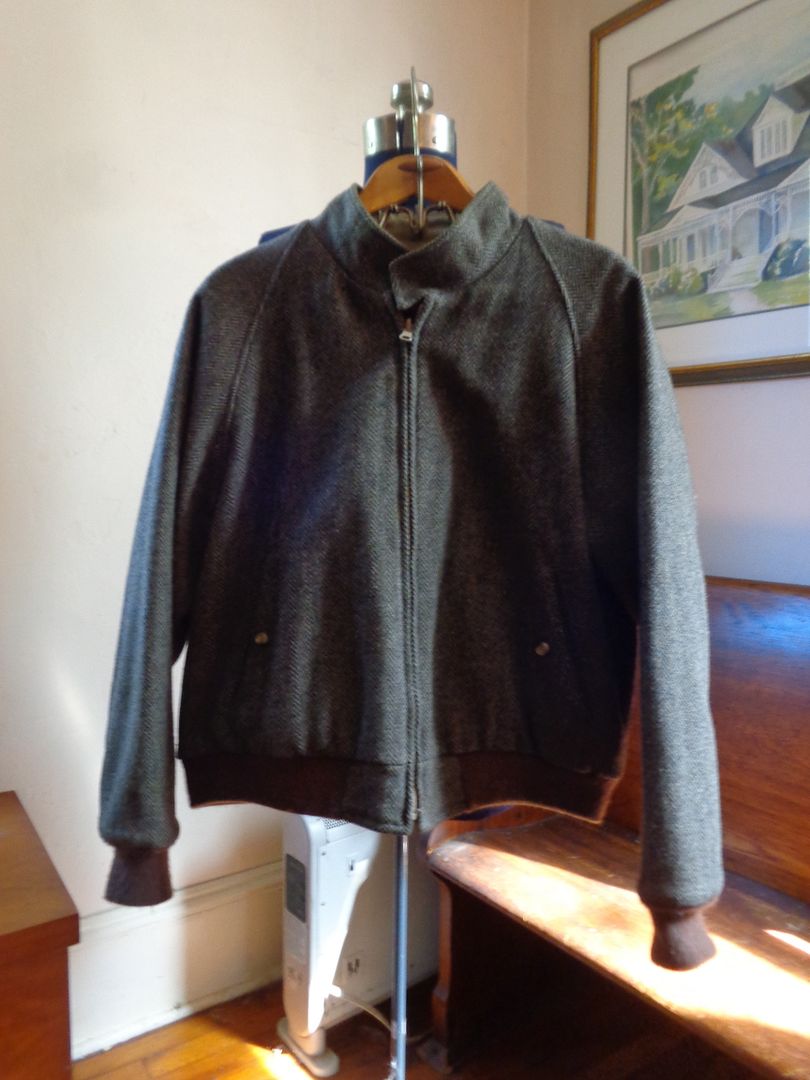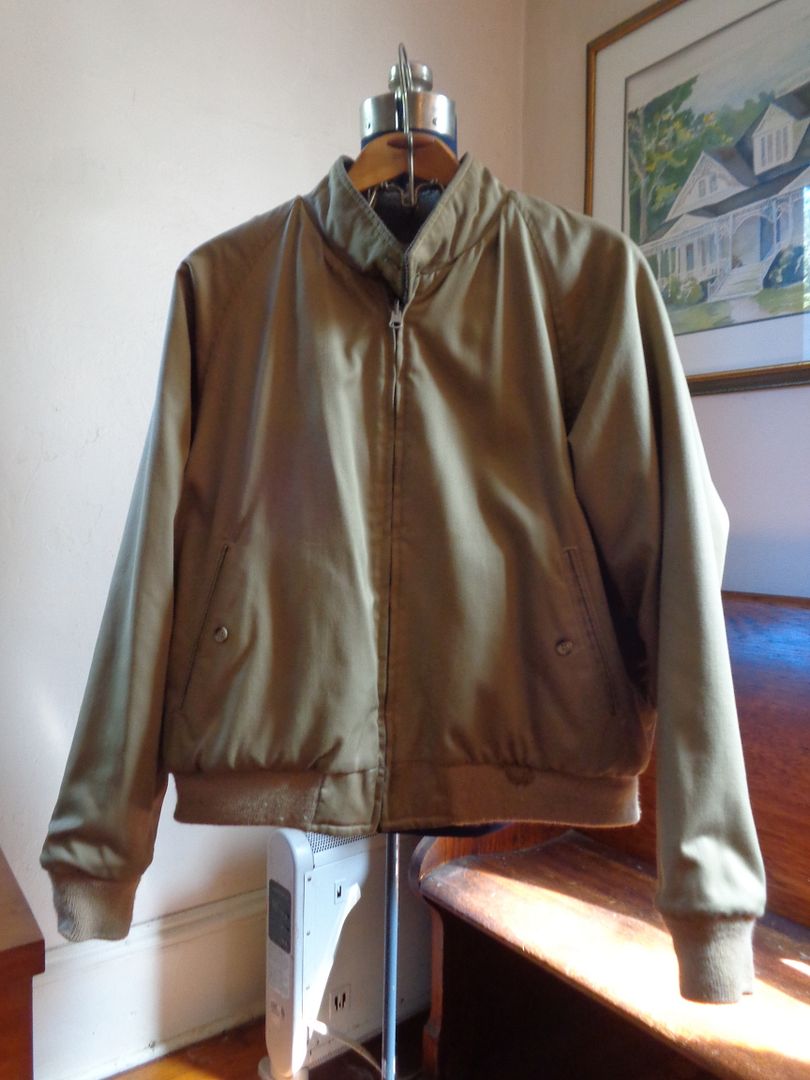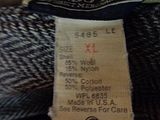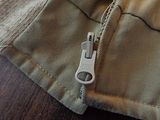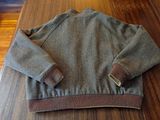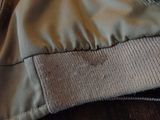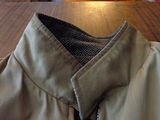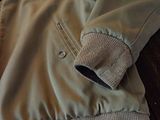 7) US Army Coat. Coat, Cold Weather. Man's Field. WITH OPTIONAL LINER!
This is a wonderfully functional coat! It features four deep front pockets with snaps, a hood in a zippered compartment in the collar, the ability to stand the collar up and close it against the cold, functional epaulettes, cinced waist, velcro adjustable cuffs, and a button in liner. The coat is a Medium Short, and si recommended for chests 37 - 41 inches. Very Good/Excellent condition.
Asking just $25.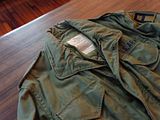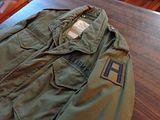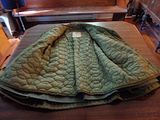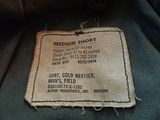 8) Schott Down Vest
SOLD
From the people who brought us the Perfecto biker jacket comes this lovely down vest--a classic Fall accessory for when you want warmth without weight! This features two handwarmer pockets that have been neatly designed to that they do not affect the silhouette of the vest when not in use and a wonderful vintage label! This is in Very Good/Excellent condition, and was Made in the USA--in Elizabeth, NJ.
Asking just $25.
Chest: 21
Length (back): 26 1/2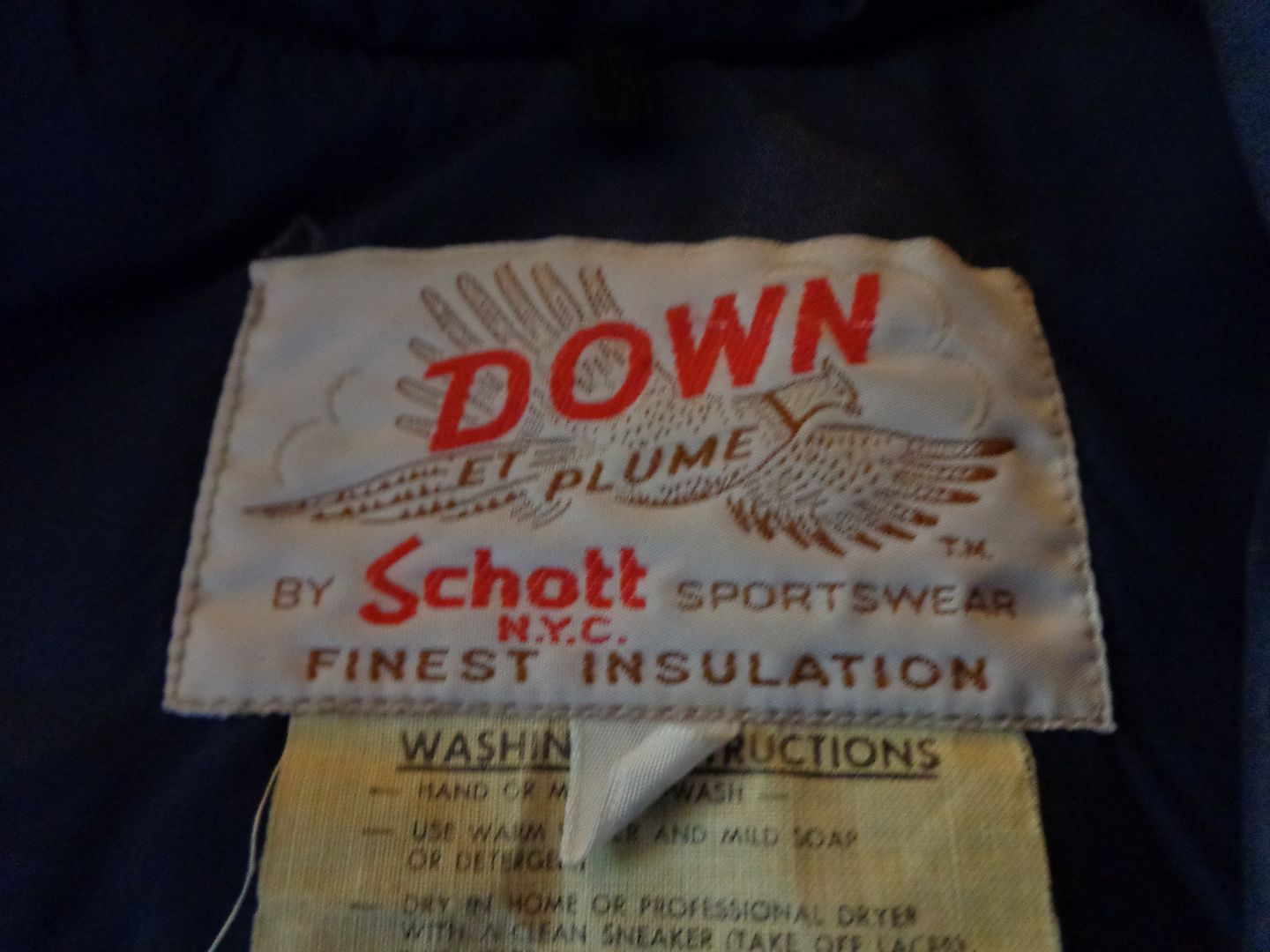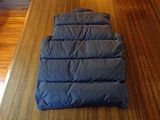 9) Woolrich Vest
A classic Fall and WIter accessory, this lovely navy vest has two deep zippered slash pocket, two flap pockets, a check tartan liner, and an interior security pocket. It also has a cord collar, and is in excellent condition.
Asking just $20Size L. Measurements:
Chest: 23 1/4
Length: 27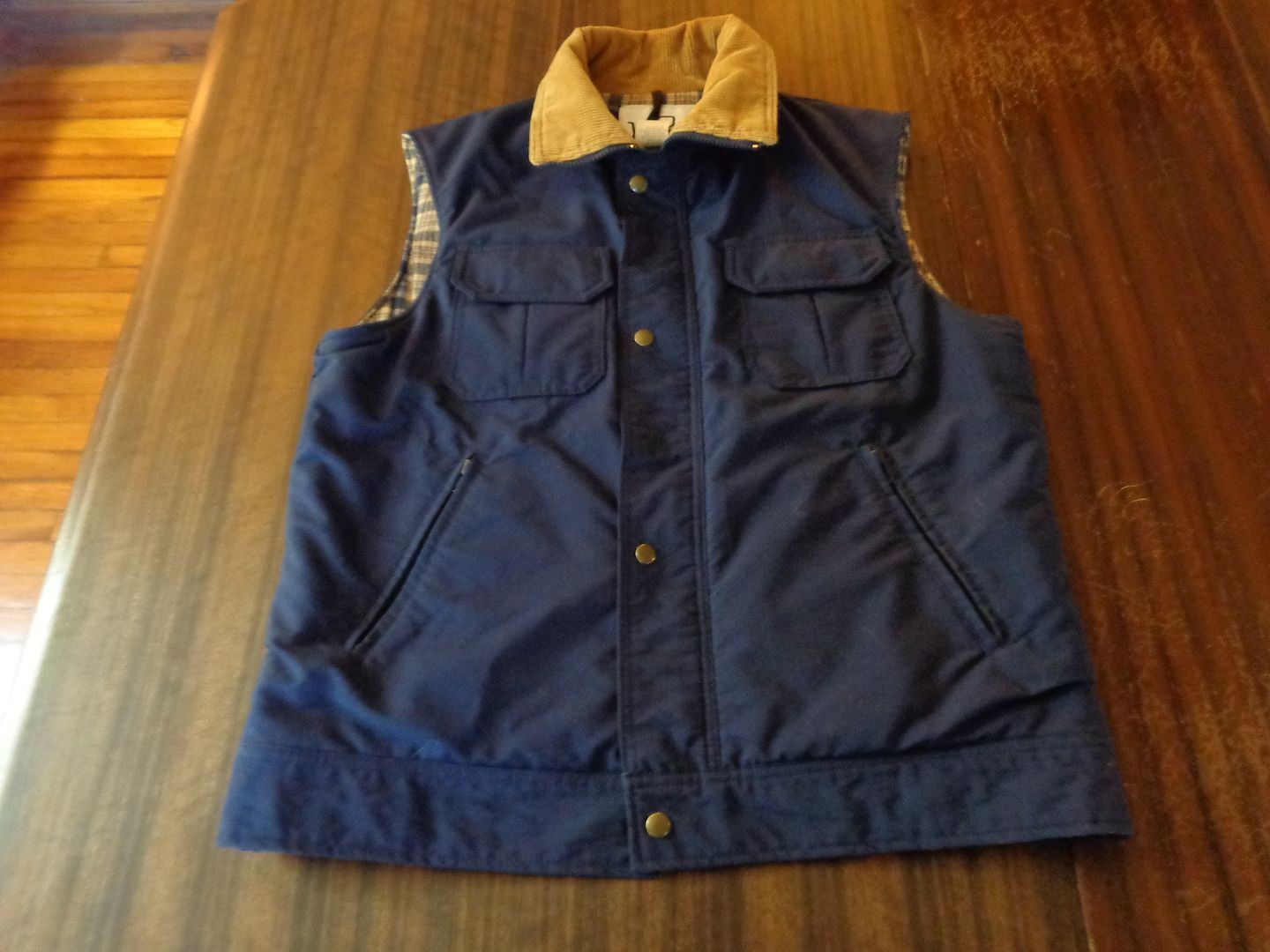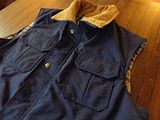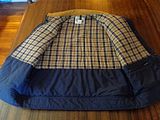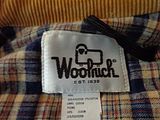 Edited by tweedydon - 10/23/16 at 2:48pm