For Sale:
New Kiton and Loro Piana fabrics, Oatmeal and Cream Moleskin
Will Ship To: Anywhere

Some new fabrics for sale and some lower prices on some stuff that I've posted before:
Holland and Sherry Cream moleskins, they are both called "cream" but as you can see one is lighter than the other. The lighter color one is 14 1/2 oz and the other is 20oz. Both 100% cotton, very smooth, soft nap. $50/yd
Holland and Sherry 100% super 130's wool "heritage plaid". Blue checks with sand color overcheck. As you can imagine with super 130's, terrific drape and super smooth finish. $85/yd
Loro Piana brown melange 90% wool / 10% cashmere "tweed". This is a terrific fabric for a brown sportcoat as its not a solid brown, its a great weave like a tweed, but its soft like a flannel. 12oz, $100/yd
Kiton cashmere, silk, linen khaki herringbone fabric. Kind of like a solaro, but without the red undertones. 10oz, $85/yard (second pic is most color accurate)
100% cotton Made in England, brown herringbone with red overcheck, $60/yd
100% wool, made in Huddersfield for Kiton, brown PoW with light blue overcheck. 10oz, $85/yd
50% wool / 50% linen brown/blue/red plaid, made fro Kiton, makes for a wonderful sportcoat, the linen gives it a nice texture that you can't get with a worsted. 10oz, $85/yd
100% cashmere brown and blue herringbone gunclub, made in England, this is a classic gunclub in a classic, unfussy, colorway, which is hard to find. 10oz. $100/yd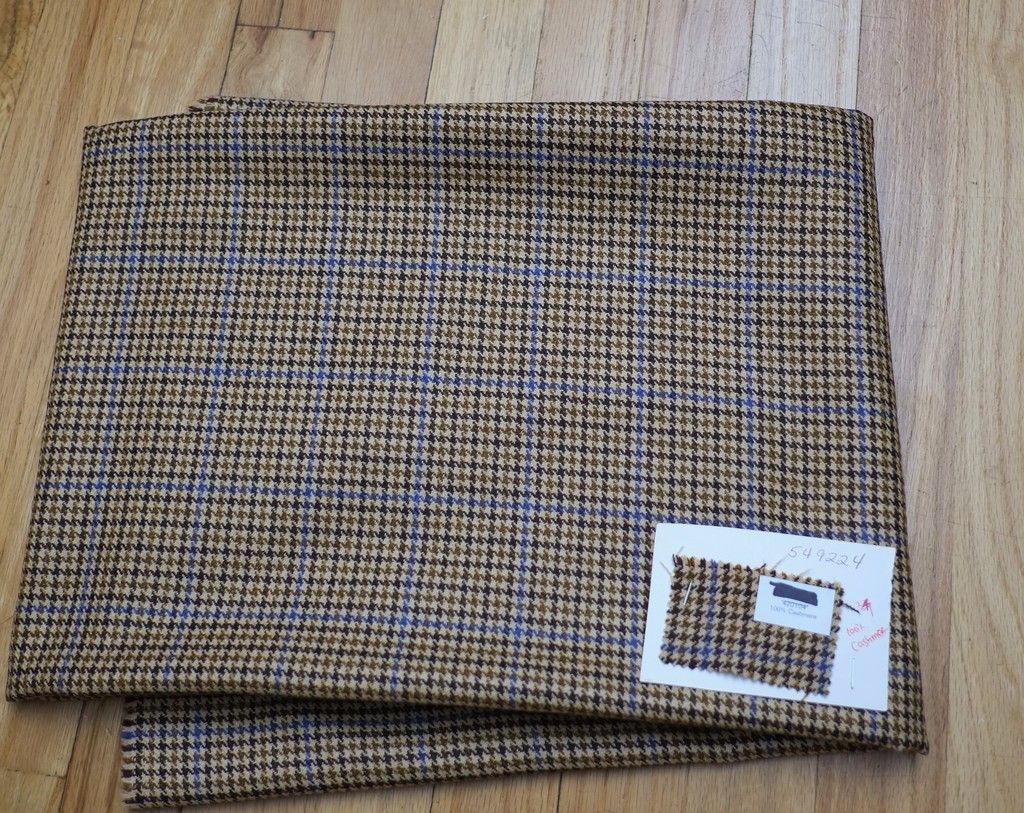 for scale:
Kiton inner mongolia cashmere and linen 10oz ( about 60/40 linen/cashmere) grey fabric with brown plaid. $85/yd. Terrific spring/summer/fall fabric for sportcoats or suits.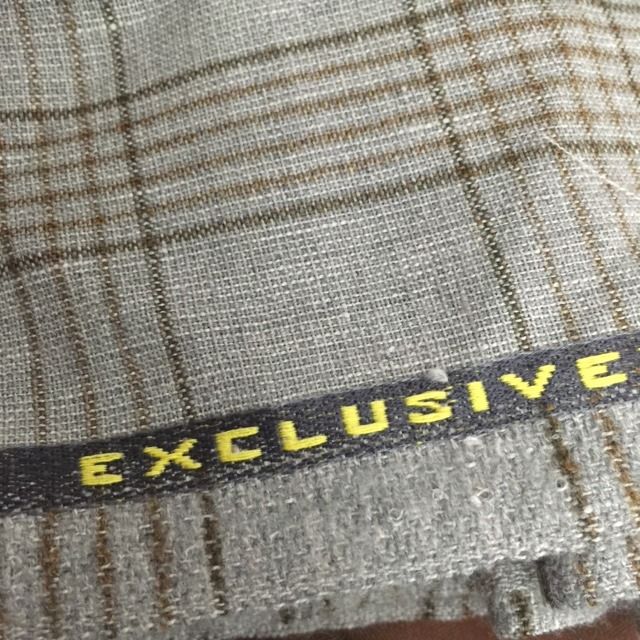 Made in Italy (Columbo) navy hopsack, 10oz. Silky smooth, terrific drape, airy with a wonderul drape/feel. $60/yd.
SOLD
Medium Grey 4 Ply Saxony Made in England by Woodhouse. This fabric is no longer made, so you won't find it anywhere else. It is a terrific weave, perfect for getting a grey suit made that is not the normal worsted/flannel. 13/14oz weight. $100/yd (ALL SOLD)
Loro Piana 50% cashmere / 50% silk navy basketweave "matka". Another great fabric for a not typical navy sportcoat, lots of texture and slubbiness but the cashmere adds a softer drape and touch than typical silk matka. $100 / yd (SOLD)
50% wool / 50% linen brown plaid with red, blue, made for Kiton. Another great, unique fabric for a sportcoat.
10ox, $85/yd (SOLD)
Edited by edmorel - 11/21/16 at 11:02am