This Classified is Closed
For Sale:
DROP! GRAIL! STUNNING UNWORN Holland & Holland Pure Linen Shooting Jacket. Size 42L. FREE SHIPPING & OFFERS WELCOME!
Will Ship To: Anywhere

This is absolutely GORGEOUS! Established in 1835, Holland & Holland are *the* premier British gunsmiths; indeed, they are one of the premier gunsmiths in the world, offering a full range of bespoke hunting rifles and shotguns. (Yes, the word "bespoke" was intentional; Holland & Holland have offered a bespoke gun making service from the middle of the C19th.) They also offering shooting classes, and, naturally, a range of sporting clothing that is made to the same exactly standards as their guns.... with prices to match.
This beautiful shooting jacket shows clearly why Holland & Holland clothing has the same reputation for beauty and function as its range of weapons. It is, first, cut from pure linen in a light Spring green herringbone pattern. Linen might seem an odd choice for a shooting jacket, and indeed Holland & Holland do focus on tweed clothing. But the shooting season in England starts on the Glorious 12th of August.... and given increasing temperatures tweeds can be unsuitable for summer sport. Moreover, Holland & Holland have equipped hunters that voyage beyond the boundaries of the sceptered isle, and linen is considerably more comfortable to wear while bringing down antelope on the veldt than tweed could ever be!
The fabric is complemented by the cut. This is a REAL shooting jacket, not a fashion item--and so every feature of it works, and works well.... and there are features in this jacket that lesser jackets haven't even dreamed of.
This jacket is cut as a traditional British shooting jacket. It has a three button military front, subtle darts to give it shape in the field, and slanted front hacking pockets. As it is a shooting jacket is also has action-back shoulders for ease of movement when tracking a flying gamebird with uplifted gun. It has a single center vent. The sleeves feature the traditional "paired" button closure; single button cuffs with a button on the back and front so that the sleeve does not look unfinished from behind. All of the buttons are, of course, horn.
It has a fully functional throat latch--which includes a second button below the throat button to ensure that your neck is protected when the collar is closed, a feature that almost no shooting jackets still have.
There is a lot of handwork in this jacket; this is evident on the military grey cloth that reinforces the underside of the collar, and that looks exceptionally handsome when the throat latch is engaged.
The interior of the jacket is just as functional as the exterior. Most impressively it features a split lining; a lining divided at the back with elasticated bands holding it together, so that the lining with not be adversely affected when you're moving your gun quickly into place or tracking gamebirds. (This renders the action back fully functional, and is a feature that lesser shooting jackets never have.) The lining is Holland & Holland's signature lining, in harvest gold with pictures of cartridges labelled "Holland & Holland" throughout. This lining also appears n the underflaps of the two front pockets. The lining is Bemberg. There are three interior pockets in this jacket, with the left-hand lower pocket being a deep game pocket. The closure buttons in the interior are also all horn.
This jacket was, of course, Made in England. It is fully canvassed. It is also in near mint, UNWORN condition; all of the exterior pockets still have their original basting intact. The only tiny blemish is a small pinhole--literally, a pinhole--on the lapel, as shown.
New, this jacket would have cost around $1,800. Given this, I'm offering it at less than 10% of retail--
$185 > 145 > 125, or offer, boxed, shipped, and insured in the USA
. International inquiries are welcome, with shipping at cost.
Please PM with interest and offers!

Tagged 42L. Measures:
Chest: 21 1/2
Sleeve: 27 1/2 (+2) (This is a genuine, functional, shooting jacket, so the sleeves are longer to allow coverage when your arms are extended.)
Shoulder: 19 5/8
Length: 31 3/4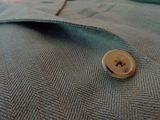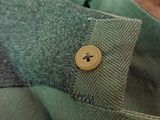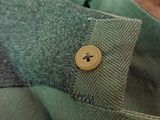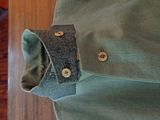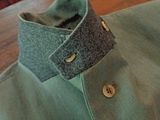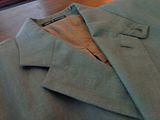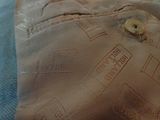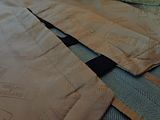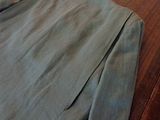 Edited by tweedydon - 10/3/16 at 6:55pm