This Classified is Closed
For Sale:
THE Classic Ivy Summer Shoe--White Bucks! 9.5D. FREE SHIPPING & OFFERS WELCOME!
Will Ship To: Anywhere

White bucks are THE quintessential Ivy summer footwear! So-called because they were originally made with buckskin, these have long been a staple of the Ivy summer, as the 1960s ad below makes clear! Indeed, the habit that Ivy-educated lawyers had of wearing these shoes to work led to the term "white shoe law firm" to describe a certain type of legal practice.
These shoes are a lovely example of this summer classic, with beautiful creamy white uppers and red soles. Made by Cole Haan, these are in Very Good condition, with some minor scuffing to the uppers, as shown, and minor wear to the insoles. Size 9.5 D.
Asking just $29 >24, or offer, shipped in the USA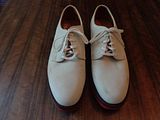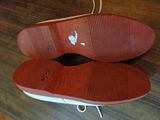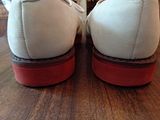 Edited by tweedydon - 8/21/16 at 1:13pm