This Classified is Closed
For Sale:
DROP! UNWORN NWOT Pal Zileri jacket in Wool and Cashmere--with original hanger! FREE SHIPPING & OFFERS WELCOME!
Will Ship To: Anywhere

This is a STUNNING jacket! Cut from an Italian-milled fabric that's a blend of wool (95%) and cashmere (5%) the drape and hand of the fabric are beautiful. It's also lightweight enough to serve as a summer office jacket, and could readily carry you through both Fall and Spring.
The quality of construction of the jacket fully lives up to the quality of its cloth; it is fully canvassed and beautifully cut; it is unvented, in Flusser-approved style, and features both three button cuffs and a three button front. It has subtle darts. It is fully lined.
This jacket is NEW, and UNWORN. All of the front pockets are still basted shut, and it comes complete with its original inspection tag in the inside pocket, and its original spare button in a small packet in the inside pocket. It also comes complete with its original Pal Zileri hanger! It was, of course, Made in Italy.
SInce this is new and unworn it is in absolutely excellent condition.
Asking just $60 > 50 > 45, or offer, boxed and shipped in the USA. International inquiries welcome!

Tagged 46L. Measurements:
Chest: 24 1/8
Sleeve: 26 3/4 (+1 1/)
Shoulder: 21 1/2
Length: 33 1/4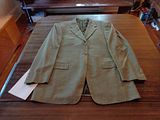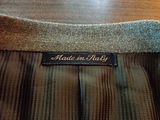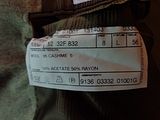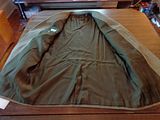 Edited by tweedydon - 7/30/16 at 6:46pm