This Classified is Closed
For Sale:
FIVE BEAUTIFUL Summer Jackets--Trad/Ivy and more! Sizes 38 - 44. NWOT Pal Zileri, Cable Car Clothiers 3/2 silk sack, The English Shop of Princeton, Maus & Hoffman seersucker, more! FREE SHIPPING & OFFERS WELCOME!
Will Ship To: Anywhere

I have over two dozen BEAUTIFUL Summer jackets to pass on this weekend, including several GRAILS--a vintage Lily Pulitzer, a cashmere Langrock, some wonderful hopsack 3/2 sacks in summer colours, a cashmere and wool Pal Zileri, vintage Chipp, and more!
This is my FIRST post; I'll be listing more jackets shortly, and also tomorrow!
As always, I offer
FREE SHIPPING ON EVERYTHING IN THE USA
: International inquiries are welcome, with shipping at a reduced rate!
Also as always,
ALL OFFERS ARE VERY WELCOME!
Please PM with interest and offers!
2) BEAUTIFUL silk 3/2 sack by Southwick for Cable Car Clothiers!
SOLD
"Much like its namesake, this is the type of store that gives San Francisco an irresistible allure. Step through its doors and you step back in time—way back. Cable Car Clothiers is an anomaly in an age where museums or old photo albums are often the only medium able to connect one with his roots."
--Alan Flusser, *Style and the Man*.
Founded in 1946 Cable Car Clothiers--which was then called Vet's Mercantile, and focused on army surplus clothing--is located on Sutter Street in San Francisco. In 1954, as army surplus began to dry up, it strated to focus on British clothing, catering initially to the now weathier veterans who had acquired a love of classic British tweeds and woolens from being stationed in Blighty's Home Counties during the war. Named, obviously, for the cable car line that ran by it, in 1970 the decision was made to expand its reach through mail order. Beautifully produced, the catalogue reached a circulation of 2 million, and made "CCC" an inconic men's clothier. It's willingness to embrace new means of marketing, its insistence on quality, and, given its extremely high costs for its beautiful clothing, its likely high margins has meant that CCC has survived when so many traditional clothiers have failed. Indeed, CCC is not only surviving, but flourishing, keeping true to its original 1950s mission of offering absolutely beautiful traditional high-quality clothing with a classic British or Ivy slant.
This jacket is a perfect example of the sort of goods that CCC offers. Made by Southwick, one of the greates of the traditional American clothing manufacturers, it is cut from absolutely beautiful slubby silk in classic summer ivory. The colouring and texture of the this jacket are both wonderful! A traditional 3/2 sack this is fully lined and features the classic two button cuffs and a single centre vent. It was, of course, Union made in the USA--Southwick does NOT offshore its manufacturing. It does have some summer staining in the lining by the armholes, but this could easily be ignored (it is post-sanitizing by dry cleaning), and in any case cannot be seen when the jacket is worn. As such, this jacket is in Very Good condition, and so is a steal at just
$40, or offer.

Measurements:
Chest: 22
Sleeve: 25 (+1 1/2)
Shoulder: 18
Length: 30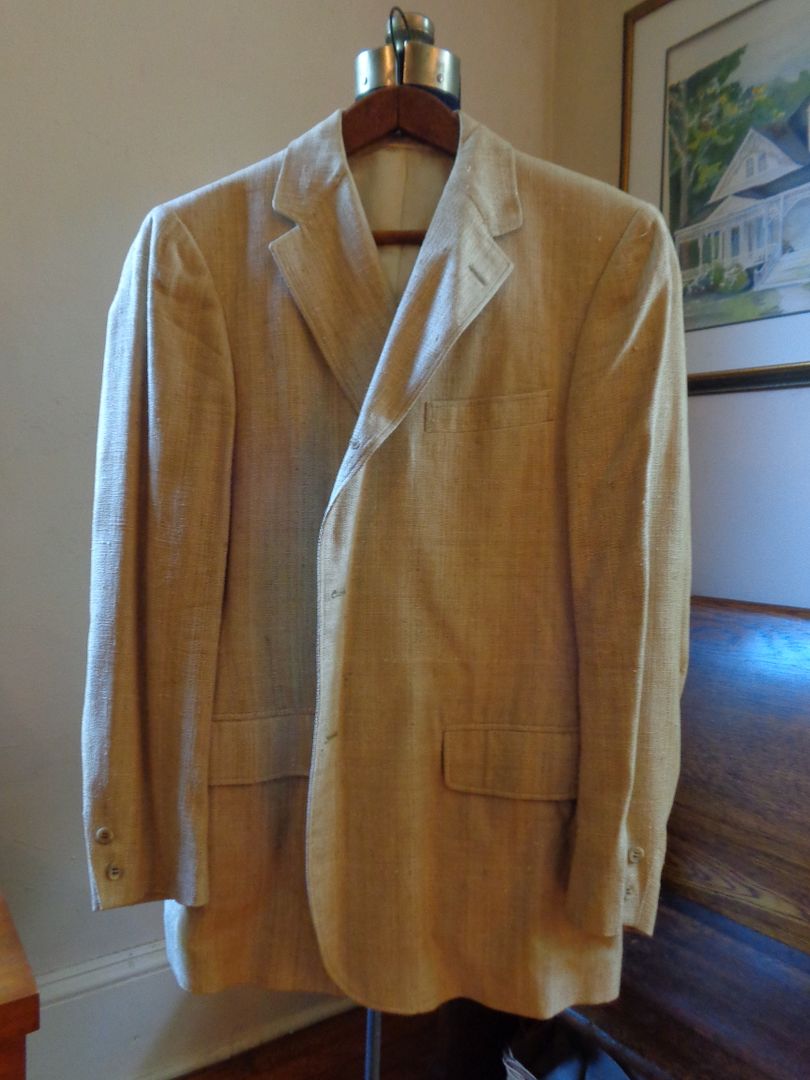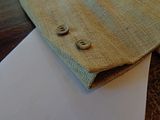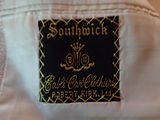 3) The English Shop of Princeton CLASSIC IVY 3/2 Summer Sack in Hopsack
SOLD
This is absolutely beautiful! Made for The English Shop of Princeton--one of the Big Four Princeton men's clothiers of the Golden Age of Ivy Style, and, like CCC, a clothier that prominently featured British clothing--this is an absolutely classic Ivy summer blazer. Cut from tightly woven hopsack in the perfect shade of verdant summer green this is a classic 3/2 sack with an absolutely beautiful and fluid lapel roll. Wonderfully lightweight, yes, owing to the tightness of its weave, nicely robust, this is half-lined and half-canvassed. It features the classic two-button cuff and a single centre vent, and has very natural shoulders--perfect for summer! It also features the ever-desirable patch pockets. t was, of course, Made in the USA, and is in absolutely excellent condition.
This is a classic summer blazer that could serve you well for decades to come!
A steal at just $45, or offer.

Measurements:
Chest: 21
Sleeve: 26 1/2 (+2)
Shoulder: 17 5/8
Length: 31 1/4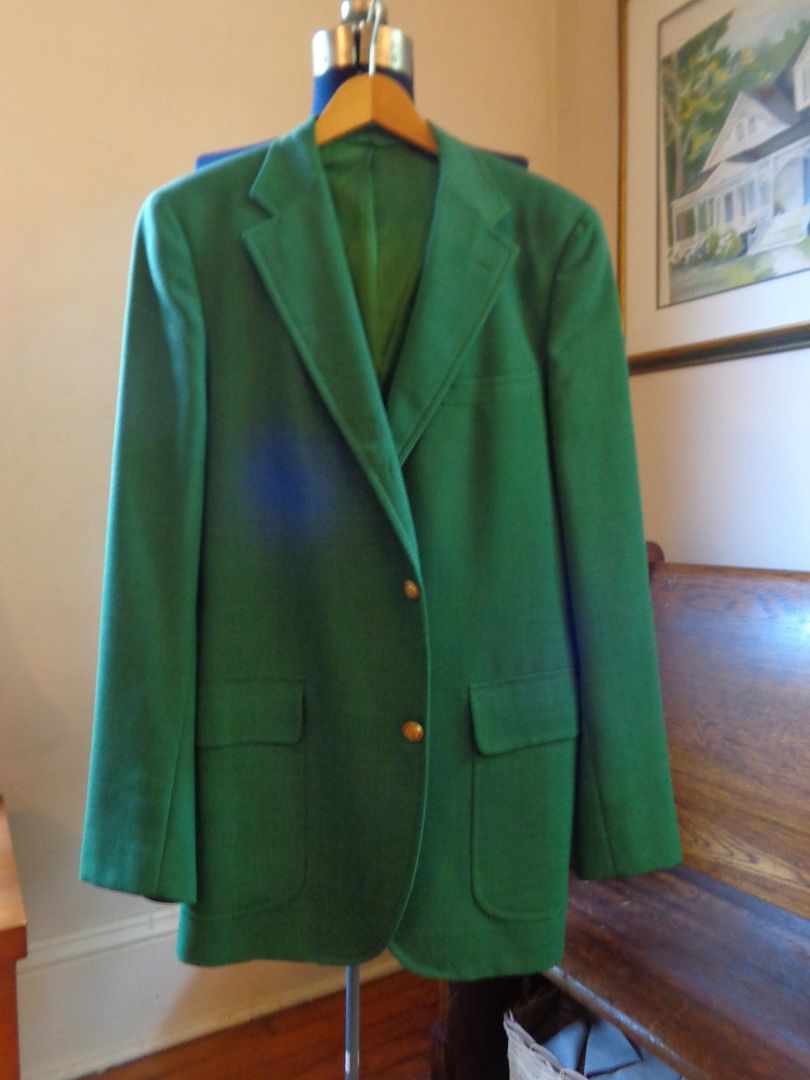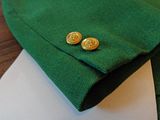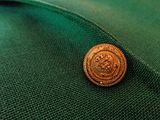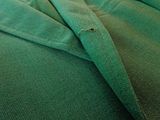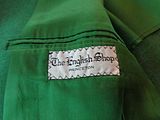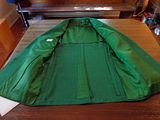 4) BEAUTIFUL Seersucker-esque jacket from Maus & Hoffman, with THREE PATCH POCKETS!
SOLD
Maus & Hoffman was founded in 1940 in Florida... where it still operates as one of the premier upscale retailers of clothing, with three stores in its family-owned chain--Naples, Palm Beach, and Vero Beach, all upscale resorts as far from the Florida of Spring Break as you can get. Focusing on classic menswear, this beautiful jacket exempifies both the quality and the warm-weather focus that you'd expect from M&H.
Although this appears to be a classic blue and cream seersucker jacket this actually isn't seersucker, but is (slightly) more formal cotton in seersucker striping. Union Made in the USA by Hickey-Freeman, one of the premier American clothing manufacturers, this beautiful jacket is that rarity--a jacket with THREE PATCH POCKETS! It also has a three button front closure, is subtly darted, and is half-canvassed and quarter lined. It has a single centre vent, and is in excellent condition.
Asking just $39, or offer.

Measurements:
Chest: 22 1/4
Sleeve: 25 1/4 (+2)
Shoulder: 18 1/4
Length: 31 1/2
5) ABSOLUTELY GORGEOUS! STUNNING Dark Turquoise silk jacket, horn buttons.
SOLD
This is absolutely beautiful--my pictures really don't do this justice at all! The colour of this jacket is an absolutely gorgeous dark and jewel-like turquoise, and this is complemented by its subtle broken bone herringbone patterning, a weave more frequently found on tweeds than on slubby silks such as this. Made for Harold Grant, the upscale Florida men's clothiers that is now long gone, this gorgeous jacket has a contemporary two button front and subtle darts. It is half-canvassed and fully lined, and features a single centre vent. It was made in the USA, and is in absolutely excellent condition! A testament to teh quality of this jacket lies in the fact that its buttons are all cut from natural white horn.
This is truly a beatiful item, and a bargain at just
$45, or offer.

Measurements:
Chest: 22
Sleeve: 26 (+2)
Shoulder: 19 1/8
Length: 33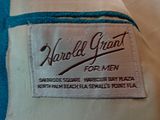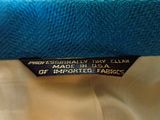 6) CLASSIC 3/2 sack in Pale Yellow by Gordon of Philadelphia for The Locker Room of Sea Girt, NJ
The Locker Room was a classic men's clothing store that catered to the wealthy and staid denizens of Sea Girt and their visiting Princetonian cousins until its closure sometime in the early 1990s... around the same time as Princeton was losing its classic Ivy clothiers to malls and dress-down Fridays. The Locker Room specialized in resort wear for the Ivy set, and this jacket shows just how well they did this.
Made by Gordon of Philadelphia, one of the great unsung men's clothiers, and cut from a lovely pale yellow cloth in a hopsack weave this is a classic 3/2 sack with a nicely fluid lapel roll, like a breaking wave on Sea Girt's shore. Half-canvassed and half-lined this has the every desirable patch pockets, and a single centre hook vent. It has natural shoulders and three button cuffs. It does have some very minor foxing near the bottom hem at the front, as shown--I only found this when photographing, and it might well vanish with a good dry clean. But, it is there, and so this is in Very Good condition only.
Asking just $35, or offer.

Measurements:
Chest: 21
Sleeve: 25 1/4 (+1 1/2)
Shoulder: 17 1/2
Length: 30 1/2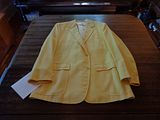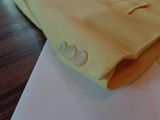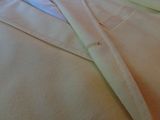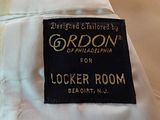 Edited by tweedydon - 6/6/16 at 6:20pm