This Classified is Closed
For Sale:
FS: Grey "donegal" Irish linen, Cotton/Cashmere H&S and Zegna, navy cotton seersucker suiting, VBC super 120's oatmeal flannel
Will Ship To: Anywhere

Irish grey "donegal" 100% grey linen. About 8-9oz. $60/yd
Third from left:
Grey "donegal" Irish linen, 9oz., 60inch width. Very interesting fabric, has a very slight blue hue to it, the hand is silky smooth. $60/yd
A 92% cotton/8% cashmere cotton from Holland and Sherry and 100% cotton from Zegna. These are suiting quality cottons, gabardine/worsted finish, silky smooth, terrific drape, 8/9oz weight. Hard to accurately describe and picture, but these are the best cottons available.
H&S = $70/yd - oatmeal shade
Zegna = $60/yd - classic khaki shade
Made in Italy (zegna mill, no selvage) 9/10oz 100% cotton navy seersucker. The navy is the one on the left, the french blue on the right is not for sale. 59-60 inch width. $75/yd
VBC super 120's oatmeal flannel, soft, luxe finish, beautiful drape. VBC mills for a lot of big name, more expensive brands and their own branded stuff is very nice and more reasonably priced. 10oz $90/yd
Holland and Sherry Victory flannel, super 140's wool, cashmere and mink. 12oz. These are terrific luxury cloths, with wonderful drape and feel, comes with H&S labels.
I have a 3.9 yard piece (SOLD) and a 1.8 yd piece ((SOLD) of the grey flannel
I have two 4.6 yd pieces of the navy chalkstripe (both SOLD), a 3.7 yard piece ($350) and a 1.5 yd piece ($150)
Grey flannel and inky blue with pearl grey chalkstripes.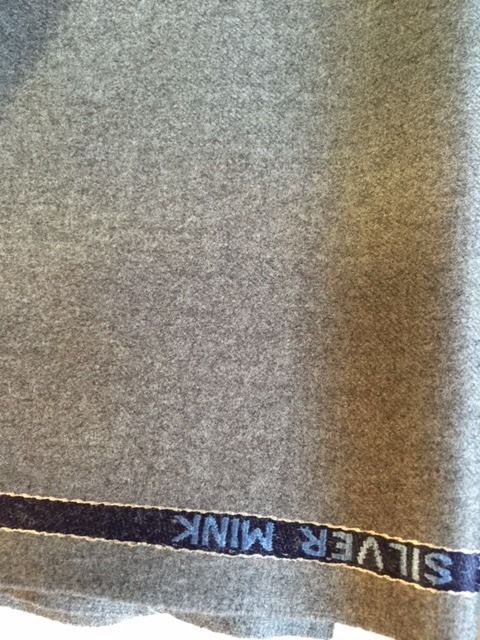 A. Kiton inner mongolia cashmere and linen 10oz ( about 60/40 linen/cashmere) grey fabric with brown plaid. $125/yd. Terrific spring/summer/fall fabric for sportcoats or suits.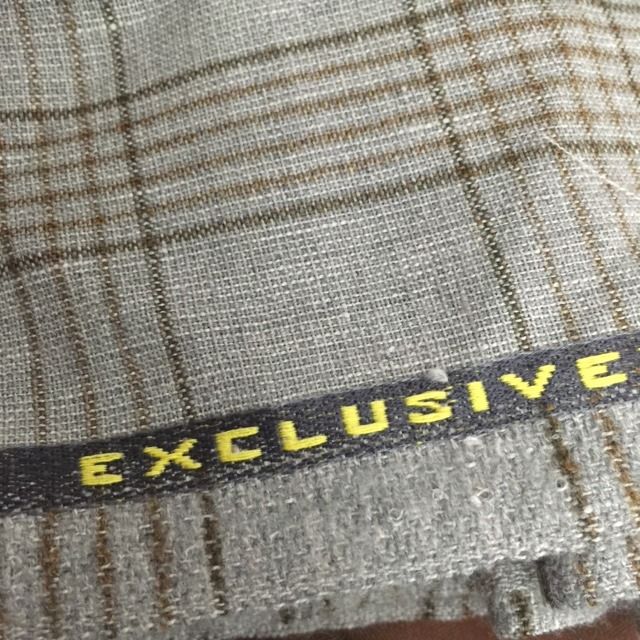 B. Irish Linen, 10oz, chocolate brown "sharkskin". Perfect for a jacket, pants or a suit. Terrific color that is hard to photograph $60/yd. (SOLD)
C. Light blue Zegna linen, 10oz. Its a light blue base with brownish grey undertones giving it a donegal effect. Very unique fabric perfect for a summer sportcoat. $80/yd
F. Made in Italy (Columbo) navy hopsack, 10oz. Silky smooth, terrific drape, airy with a wonderul drape/feel. $60/yd.
I. Brown plaid Kiton Diamante Blue super 150's brown plaid suiting, soft, woolen finish. Makes a gorgeous suit, 3 3/8 yards ($300).
***************************************************************************************************
H. Holland and Sherry oatmeal linen/silk/wool blend. 2 1/4 yard piece, 11/12oz. Fabric feel is that of linen/silk. $75 for the piece. (SOLD)
Irish "donegal" 100% grey linen. About 10oz. $60/yd
Third from left:
Some Kiton fabrics for sale. These are not available to any tailors/trade. All exclusive just to Kiton (for their 8-10K suits
). Also some Loro Piana, Zegna and an incredible Fresco. The tie used in the pics is a solid black wool tie, for color reference.
D. Kiton Super 150's Diamante Blue, medium grey sharkskin. very smooth, silky finish. Pics look like fabric has some shine, it does not, that is a pic artifact. 9/10oz weight. $125 a yard. (ON HOLD)
1. Zegna wool/cashmere brown melange with blue windowpane. Soft feel, great drape. 2 3/4 yards, piece weighs 2 pounds, 2 oz. $250 shipped for the piece (SOLD)
2. Beautiful, rich brown 60% kid mohair, 40% super 100's wool, made in England for Kiton (does not have Kiton on selvedge). This is a gorgeous piece, pics do not do it justice, will make a beautiful suit. 4 yards, piece weighs 2 pounds, 2 oz. $400 for the piece shipped. (SOLD)
3. Brown linen, sorry can't get a good pic of this. Made for Kiton, no selvedge but has mini Kiton hang tag. this makes a great sportcoat, its a smooth finish, not dry like most linen. 2.25 yard piece, piece weighs 21 ounces. $200 shipped for the piece. (SOLD)
5. Kiton 100% worsted cashmere brown plaid fabric. 2 3/8 yards, about 10oz. Fabric feels like worsted wool, not cashmere, an incredible accomplishment with cashmere. perfect sportcoat fabric given the versatility of the color and pattern. $250 shipped for the piece. (SOLD)
6. Incredible 2 ply fresco, navy with blue specks, like a donegal. Never seen any Fresco like this before. Made for Kiton, selvedge reads "2 ply all worsted wool Fresco made in England". 11/12 oz weight. 5 yard piece, $525 or will cut two 2.5 yard pieces for sportcoats at $275 for the 2.5 yard length. first pic is most representative of color. (SOLD)
7.
8. Kiton Grey plaid cashmere and linen fabric, Spring/Summer weight, works for sportcoats or suits. $125 a yard. (SOLD)
9. Kiton brown hopsack with blue stripes. Another beautiful suit in a fabric that I have not seen anywhere else. 12/13oz weight, 3 3/4 yards. $450 shipped. (SOLD)
10. Kiton grey pick on pick, selvedge reads "exclusive for Kiton", spring/summer weight 8/9 oz. 3 3/4 yards, $450 shipped (SOLD)
11. Loro piana Zealander navy with blue windowpane in a sort of hopsack weave, 11/12oz weight, very smooth finish, great drape. $100 a yard. (SOLD)
12. Loro Piana navy "twister" high twist super 120's extrafine wool hopsack. 2 3/8 yard, 10/11oz. $210 shipped (SOLD)
13. VBC for "Fintes Collection" 14.5 Micron super 180's wool/cashmere navy with blue plaid. ridiculously luxury fabric that will make an incredible sportcoat. 12oz, $125 a yard
14. Zegna superfine Autralian wool grey flannel, a classic fabric in a classic color. 10/11oz. $125 a yard. (SOLD)
15. Loro Piana medium grey flannel wool and cashmere, 11/12oz. 4 1/4 yards, $500 shipped. (SOLD)
16. VBC 100% Cashmere in Navy. Super luxe, feels like a pillow made from virgin goose feathers, 11/12oz, 2 3/8 yards, $225. (SOLD)
17. Loro Piana navy herringone twill 100% cashmere, 14/15oz. $225 (SOLD)
18. Loro Piana 100% worsted cashmere, tan twill. 10oz, 2 yards, $200 (ON HOLD)
E. Woodhouse 6 ply 100% wool navy Hopsack, made in England. 15/16oz. $125/yard
Edited by edmorel - 7/3/16 at 1:28pm