This Classified is Closed
For Sale:
FREE! FIVE CLASSIC JACKETS; Summer Ivy classic wash and wear, Phila. bespoke, Plaid, Vintage 3/2 sack, more!
Will Ship To: Anywhere

I have recently acquired a LOT of jackets, and need to make room--so these are now FREE! Just send me $15 (to cover the cost of boxed Priority mailing in the USA in a Medium Flat-Rate box) and I'll send these along; I can fit one or two into a Flat-Rate box.Please PM with interest!1) Classic Tweed, cut from Dormeuil cloth!
CLAIMED
This is a lovely understated tweed! This is made from cloth from Dormeuil, a French clothiers that has been in business since 1842. Dormeuil cloth is easily some of the best in the world, although whether its quality justifies its exceptionally high cost (higher than other superb fabrics, such as those by Holland & Sherry) is a matter for debate. Of course, the original cost of this fabric won't concern you since this is appearing here... But it does indicate that this is an exceptionally nice jacket indeed!
The Dormeuil cloth from which this jacket is cut is lovely; a miniature check in autumnal shades of chestnut, bracket, moss green, and tan, this is a very versatile jacket indeed. Made by Austin Reed, there's no country of manufacture listed, but judging by the twin vent it's either England, or, judging by the three button cuffs with no faux buttonholes, the USA. In either case, the quality of the tailoring is excellent; it's half-canvassed and fully lined, and has a contemporary two button front with subtle darting. It's in absolutely excellent condition.
Measurements:
Chest: 21 1/2
Sleeve: 27 1/2 (+ 1 3/4)
Shoulder: 18
Length: 32 1/2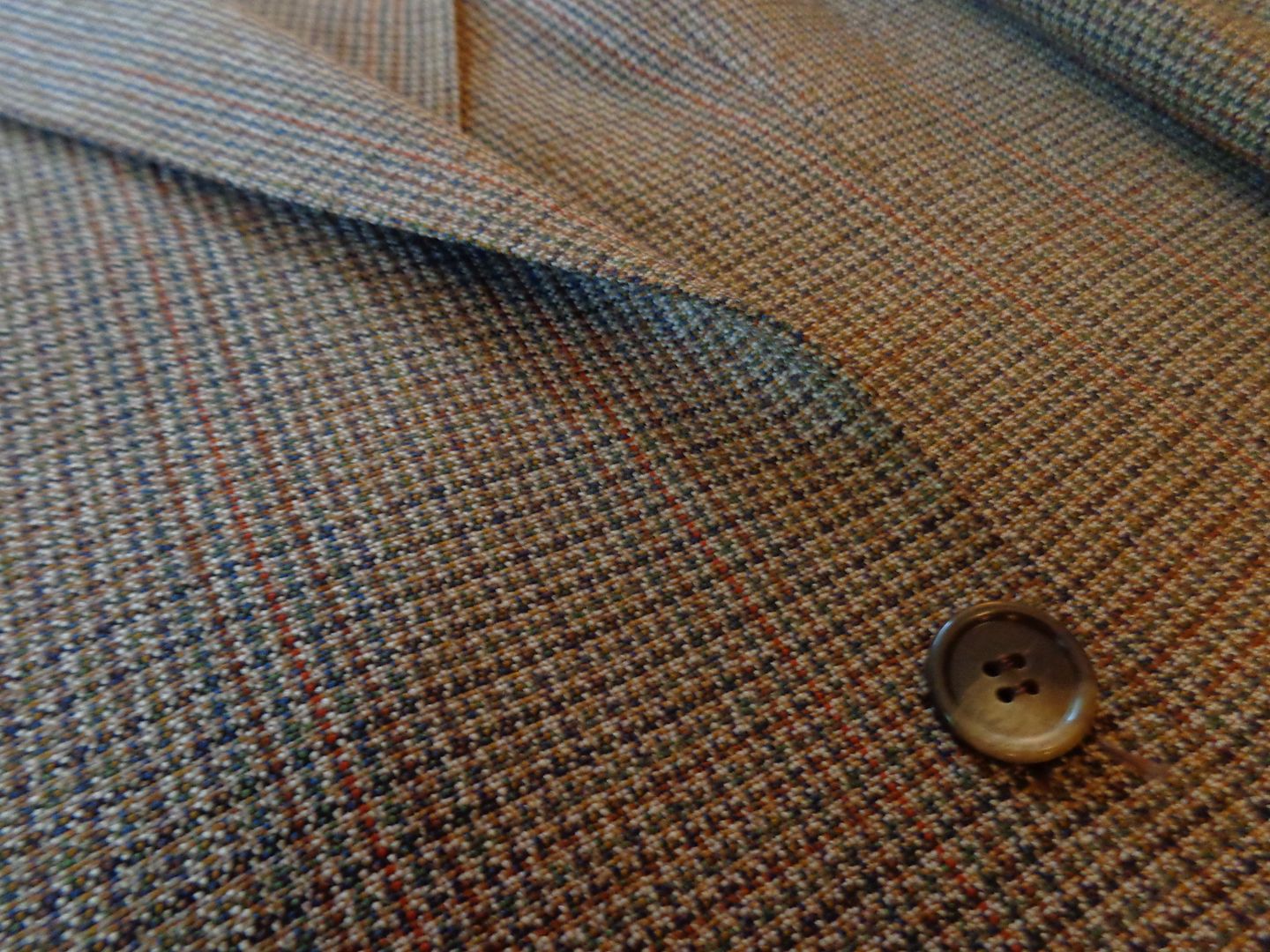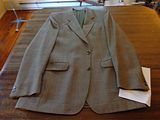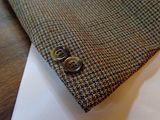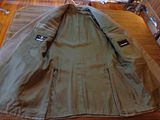 2) VINTAGE 3/2 sack in light loden twill
CLAIMED
This is a SPLENDID jacket! Cut from a lovely thick twill in a light loden green, this beauty is a true 3/2 sack with a lovely lapel roll. It dates from between 1962 and 1972, judging by the Union Label, and was sold by Roots, one of the major purveyors of tradly items in New Jersey and Eastern PA. (And this has a wonderful vintage label from there!) It has a lovely lapel roll, and the twill is wonderfully durable and attractive--almost like keeper's tweed, except all-wool and with no cotton content. It has classic two button cuffs, and is half-canvassed and half-lined. It has a single centre vent. And, of course it was Made in the USA.
This is in excellent condition, except for one minor flaw.... Sometime around 1978 the original owner left two things in the lower left pocket: a list of instructions from one of his clients (he was a lawyer), which were typed out on a manual typewriter.... and some candy! Unfortunately, the candy "leaked" into the lining of the pocket, which is now stiff and candified. (And possibly edible.) This has no effect on the jacket, but my advice would be to have the pocket liner replaced--a simple and easy job for any competent dry-cleaner tailor.
Given this, this jacket is in Very Good condition overall.
Measurements:
Chest: 21 3/4
Sleeve: 24 3/4 (+2 1/2)
Shoulder: 18 1/4
Length: 30
Pocket liner:
3) LOVELY VINTAGE American Plaid Jacket
This is a lovely jacket! Cut from wonderfully thick and comfortable woolen cloth, the colourway and patterning of this jacket are quintessentially American--a lovely plaid with a base of very light tea rose lavendar with checking in cream, slate, and black. The jacket is half canvassed and half lined, with a twin vent. It has an ornamental ticket pocket, and the buttons are all metal shanked. It is a contemporary two button closure, and has subtle darting. It was, of course, Union made in the USA, and is in excellent condition.
Measurements:
Chest: 21 3/4
Sleeve: 24 1/2 (+2 1/4)
Shoulder: 18 3/4
Length: 30 1/2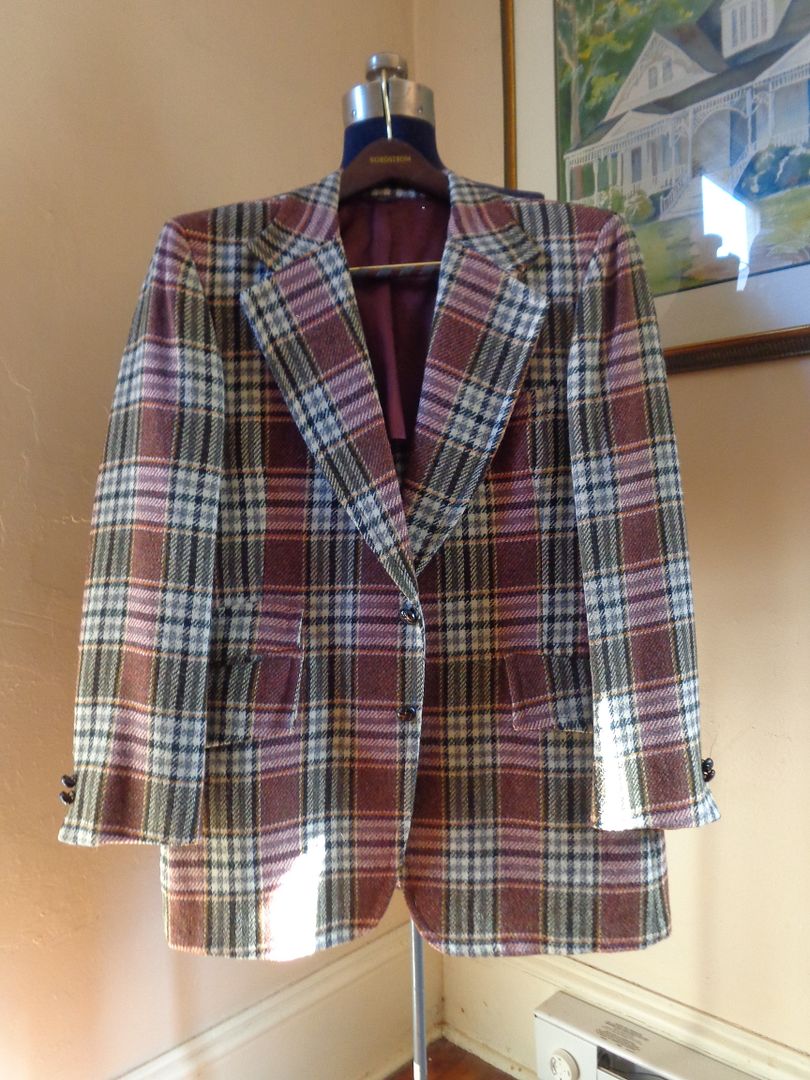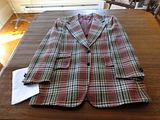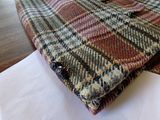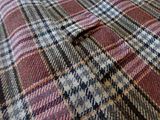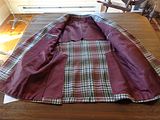 4) CLASSIC Trad./Ivy Haspel Wash-and-Wear jacket
CLAIMED
A staple in the 1960s, Wash and Wear jackets have experienced a surge of popularity among trads as perhaps the most hard-wearing and comfortable of classic American summer wear. This jacket is a lovely example! Union made in the USA by Haspel, THE company for Ivy summer clothing, this is a lovely summery glen plaid. It's a contemporary two button model with subtle darts, a single centre vent and a quarter-lining. It has four button cuffs. This has a single thread pull on the lapel, as shown, which will be an easy fix; because of this and because this is an older piece, this is in Very Good condiition.
Measurements:
Chest: 21 1/2
Sleeve: 24 3/4 (+1 34)
Shoulder: 18 1/2
Length: 30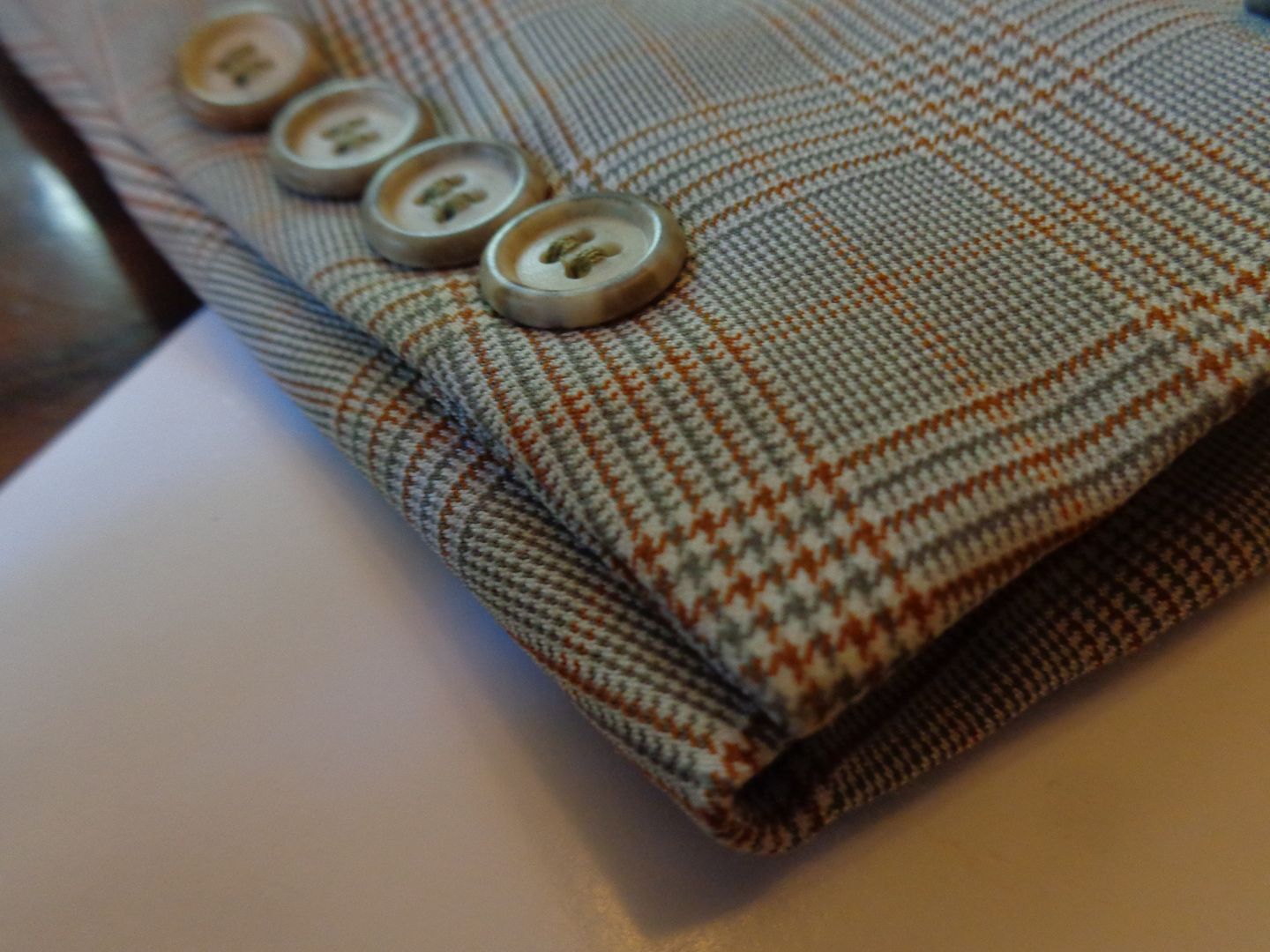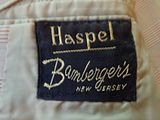 5) BESPOKE summer jacket from Philadelphia tailor!
This is wonderful! Made by the upscale Philadelphia tailor Vittorio Castagna (then located on 17th street) in April 1973, this is a classic 1960's - 1970's plaid jacket that's perfect for summer--as indeed this is the season it was built for! It features a twin vent and hacking pockets, is fully canvassed, and has three button cuffs. It is darted, and has a two button closure. It is fully lined, and is in absolutely excellent condition. Castagna's relocated to Walnut Street in 1988, near Gucci, Burberry, Jaeger, and Duchamps. This is a lovely jacket, in absolutely excellent condition!
Measurements:
Chest: 20 3/4
Sleeve: 25 (+2)
SHoulder: 18 3/8
Length: 31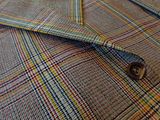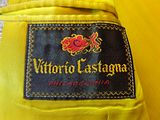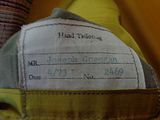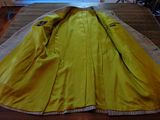 Edited by tweedydon - 5/29/16 at 8:55am