Quote:
Originally Posted by
Dino944
[...]Actually, in thinking about it more, I remember last few serial numbers M & Z (it may be indicated on the credit card like warranty card and/or hang tag)...but those are rare ones with huge premiums because they are the only ones to carry the revised movement that went into the ceramic GMTs cal 3186).     I tried doing some research and saw a few hang tags which may have an indication, but the bezel might have been wrong.  I think if you see one that says LN, it should have a black bezel, BLRO (blue rouge) should be blue red.  Not sure what it would be for black red.  Do some homework and ask some people on a dedicate Rolex forum that have some late model 16710s.  Good luck!
Below is an example where a bezel may have been switched, if that's the correct hang tag for that watch...it has an LN on the tag[...]
Older GMTs also specify the insert colour on the papers, but it's a bit cryptic.
Here's a typical example of a full model code on the papers (R16710A30B7879):
image credit: subgmt.com
The "A" after 16710 denotes a red and black insert. A "B" means the red and blue one, and the solid-black version is indicated by an "N".
To the best of my knowledge, this applies to the US-market watches. But for some markets a different system is used. A plain 16710 refers to the default red and black option, "BLRO" after the model number means blue and red, and "LN" is for the all-black insert, so the latter two are the same as the current GMTs:
Newer US-market models still use the A/B/N reference, though: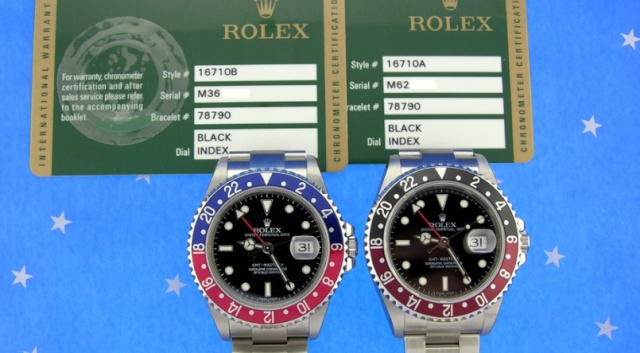 In the first example, the bracelet code is also indicated by the "B7879", which is for the standard 78790 Oyster bracelet with Fliplock clasp. My first GMT II came with the uncommon 93150 bracelet option from the factory, which is shared by the Submariner; the clasp's fold-out diver's extension was called a flight suit extension when used on the GMT. Its certificate says B9315 at the end of the model reference.
The "30" in the middle means a black dial, which all GMT IIs obviously have.
Here are a few old photos of the watch:
No photos of the certificate at the moment, but it has R16710A30B9315 on it.
Edit — here are a few other examples of matching watches and certificates:
16710N
image credit: hqmilton
16710A on 93150 bracelet
image credit: hqmilton
And just for fun, the SEL models have their own reference ("T"), too: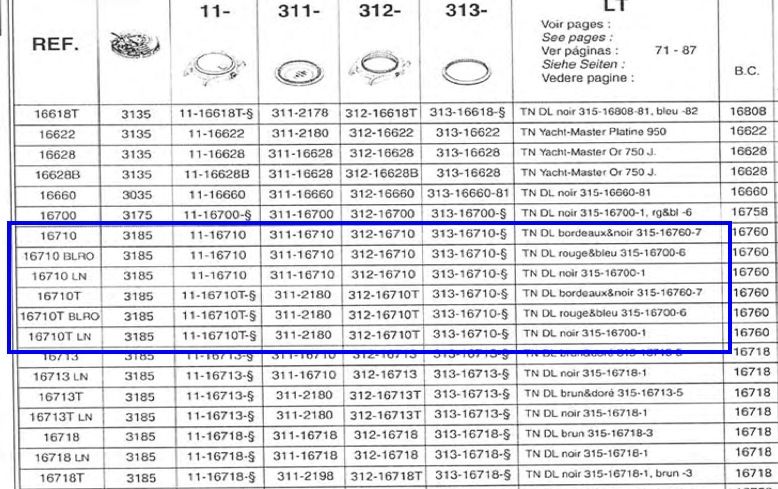 Edited by Belligero - 9/4/16 at 7:56am