Some background- the walnut McAllister was the first AE shoe I ran across several years ago (when I was in undergrad), and I was immediately smitten. I had a friend who showed me his pair, and I thought they were the most beautiful shoes I had ever seen- I told myself I would one day own that shoe.
Fast forward to now, and 11 pairs (+2 incoming...) of AE's later. Last year I was able to get the McClain in walnut on extreme discount, and though I love that shoe, I still wanted a McAllister. I also discovered in the past couple years (as I've grown to know and love AE) that bourbon is one of my favorite colors they've ever done. The point to all of this is that this shoe is somewhat of a grail for me.
I just received my bourbon McAllisters- holy crap this is a gorgeous shoe (it looks almost like wood):
Indirect light:
Interestingly enough, these are an entirely different color than my bourbon Mora's. Side by side under fluorescent lighting:
Side by side in sunlight: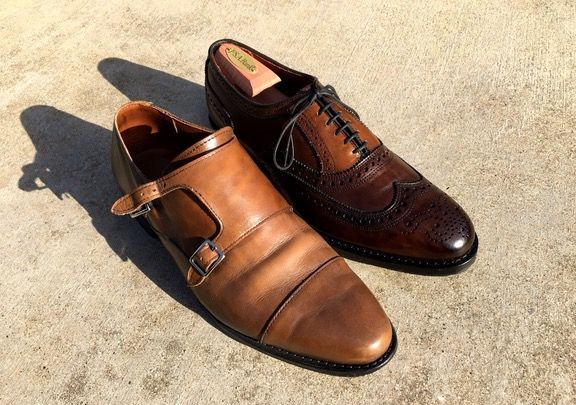 These were the ones purchased off AE's eBay store- they're firsts, for those interested. Best not entirely sober/scotch induced purchase EVER.