This Classified is Closed
For Sale:
PROM SEASON IS COMING! SIX TUXEDOS! Formalwear by Chipp, Acquascutum, Vintage Jas. Mullin, Recent VELVET JAB tux, and a lovely TARTAN with peak lapels! FREE SHIPPING & OFFERS WELCOME!
Will Ship To: Anywhere

PLEASE NOTE THE ABSENCE OF PICTURES IS A CURRENT PROBLEM WITH PHOTOBUCKET, NOT ME!

[

Prom. season is just around the corner... and why rent when you can own your own classic tux for less than the price of a rental?


As always, I offer

FREE SHIPPING ON EVERYTHING in the USA

; International inquires are welcome, with shipping at cost.

Also as always,

ALL OFFERS ARE VERY WELCOME!



Please PM with interest and offers!

1) TRAD GRAIL! Chipp Tuxedo.

This is absolutely wonderful! Made by Chipp--possibly the premier Ivy tailoring firm on the East Coast, which means by default the whole country--this is a classic notch lapel tuxedo. Founded in 1947 by Stanley Winston, after many years of tailoring for J. Press, Chipp was originally located at 44th and Madison in New York City, near J. Press and Brooks Brothers. At its height it employed 30 tailors and a sales force of 10... a ratio of employee specialization that is most certainly not replicated by Brooks and Press today! Chipp folded in the 1980s... although it is survived by Chipp2, run by Paul Winston, Stanley's son. (ho also happens to be an extremely kind man, from my interactions with him!)

My pictures really do NOT do this justice--this is a true beauty! fastened with a single button front, as is correct, this is darted, and has four button cuffs. It has a single centre vent, and is both fully lined and half-canvassed. The trousers are pleated and uncuffed. As this is a Chipp tuxedo, it was, of course, Union made in the USA. It is in excellent condition, apart from some minor creasing at the corners of the lapels, as shown, from pressing.

Asking just $65, or offer, boxed and shipped in the USA.

Measurements:

Chest: 23
Sleeve: 25 1/2 (+1 1/4)
Shoulder: 19
Length: 32 1/4

Waist: 17 1/2 (+2)
Inseam: 29 3/4 (+3 1/4)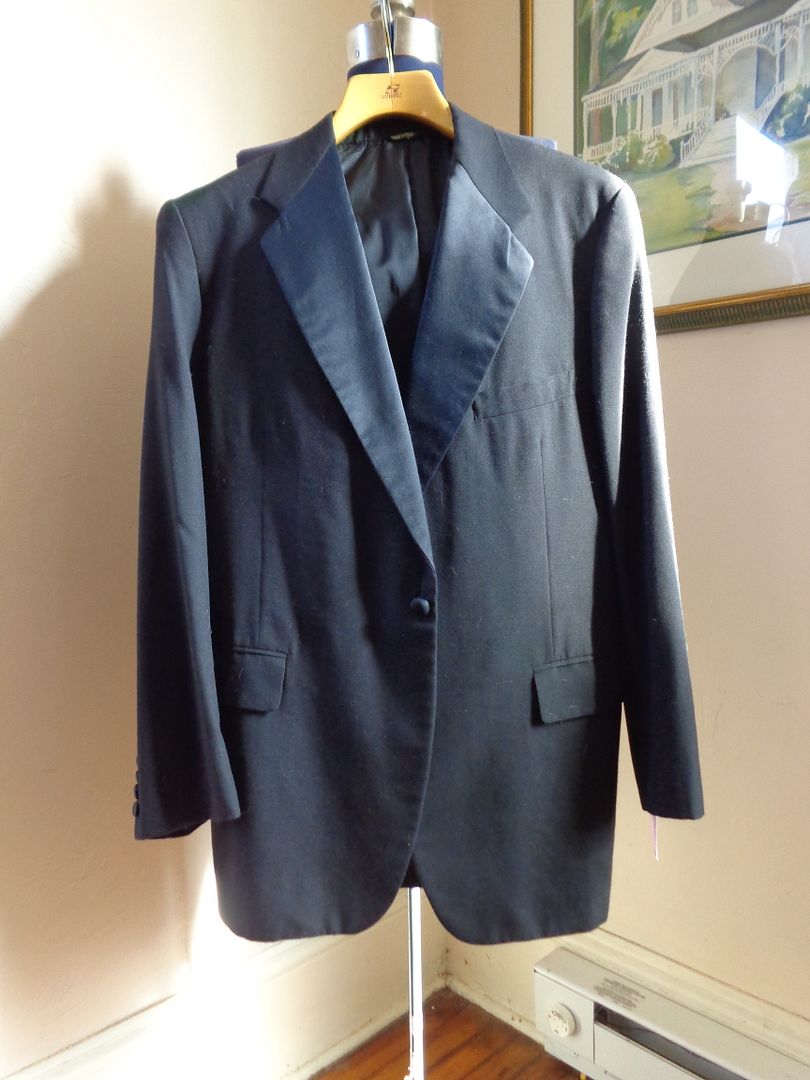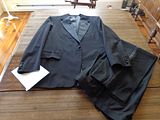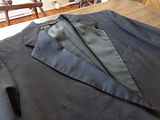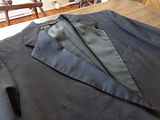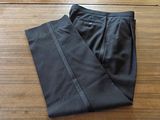 2) BEAUTIFUL Classic shawl collar tuxedo for Jas. T. Mullin of Wilmington, Del.

This is beautiful! A classic shawl collar tuxedo, this dates from the Golden Age of Ivy Style--but it could just as well have been made last year! Featuring a beautiful shawl collar with a buttonhole for your boutonniere. this lovely tuxedo is half canvassed and fully lined. It is subtly darted, has three button cuffs, a single button fastening, and a lovely classic striped lining. The trousers are pleated, and have buttons for suspenders (braces), with no belt loops. This was Made in the USA.

This tuxedo is in excellent condition, except that the lining of the trousers needs some minor attention, as shown. Hence, this is in overall Very Good/Excellent condition. As such, it's a steal at just $49, or offer.

Measurements:

Chest: 22 1/2
Sleeve: 26 1/2 (+1 1/2)
Shoulder: 19 1/2
Length: 32

Waist: 18 3/4
Inseam: 31 1/2 (+3 1/2)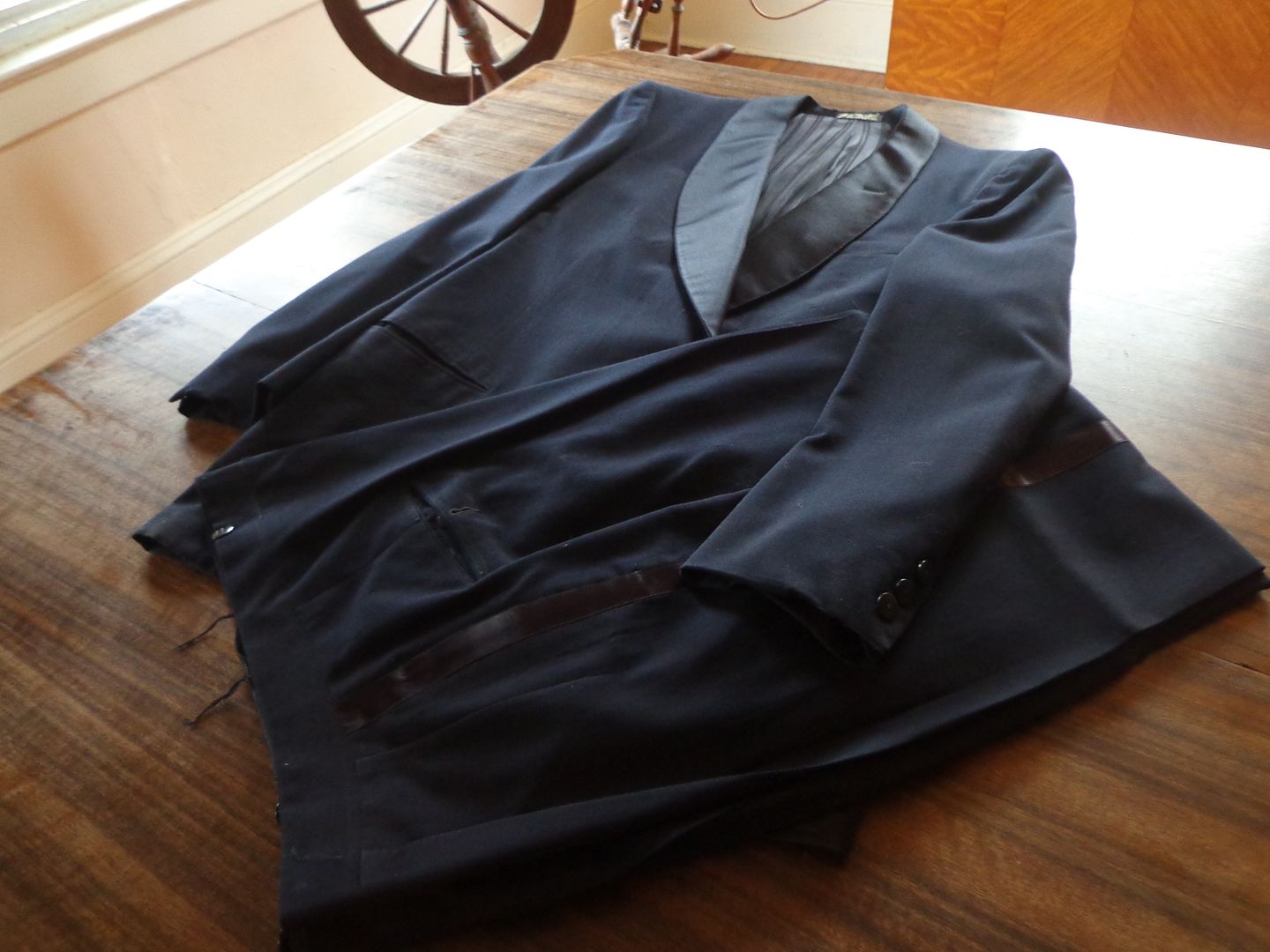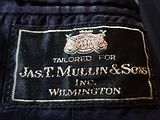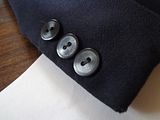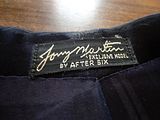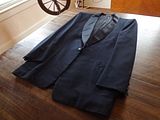 3) RECENT Velvet Tuxedo by Jos. A. Bank!

You know you want this! Made from 100% cotton velvet, this tuxedo is in absolutely excellent condition, having been worn only once or twice. It is half-canvassed and fully lined, is cut as a sack, and has three covered buttons on each cuff. It has a single centre vent, and jetted pockets.

Asking just $39, or offer.

Tagged a 46R, this measures:

Chest: 22 1/8
Sleeve: 25 1/5 (+1 1/2)
Shoulder: 19 3/4
Length: 31 7/8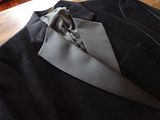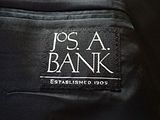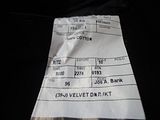 4) UNWORN and BEAUTIFUL Tartan Tuxedo with peak lapels!

SOLD

This is absolutely gorgeous! This is unworn; all of the exterior pockets are still basted shut, and it is, of course, in absolutely excellent condition as a result.

And it really is beautiful. Cut from worsted wool, the patterning and colourway are utterly Ivy; a wonderfully subdued and muted classic tartan. The peak lapels are satin-faced, and it features the correct single button closure. It has no cuff buttons; they were never attached, and this could be worn without. It is fully canvassed and fully lined. The two lower exterior pockets are jetted, with satin facing at the top. This has a single centre vent. It was Union made in the USA for Brigg's of Providence--THE upscale traditional clothing store of Rhode Island's capital.... a worthy rival to its Boston competitors, and beloved of the Newport set.

Note that having a tartan tuxedo in your closet makes your formalwear choices much more versatile; this should be paired with the black or midnight blue trousers that accompany your regular tuxedo, and so tartans are frequently sold as odd jackets, rather than as sets.

Asking just $50, or offer.

This is the St Andrew model, and is tagged a 44L. It measures:

Chest: 23 1/2
Sleeve: 26 3/4 (+1 3/4)
Shoulder: 19 1/2
Length: 32 1/8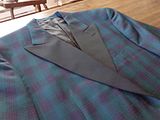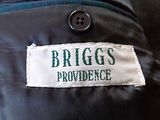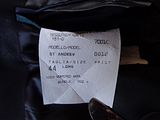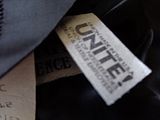 5) MADE IN THE USA Giannino notch lapel tuxedo

This is a lovely recent tuxedo. Featuring notch lapels, this tuxedo is half-canvassed and fully lined. It is unvented, and features a single button fastening and three button cuffs. All of the buttons are covered. The trousers are pleated, and feature a satin band at the top. They lack belt loops and braces buttons. This was Made in the USA, and is in excellent condition!

Asking just $35, or offer.

Chest: 21 1/4
Sleeve: 22 3/4 (+2 3/4)
Shoulder: 19
Length: 29

Waist: 17
Inseam: 27 3/4 (+2)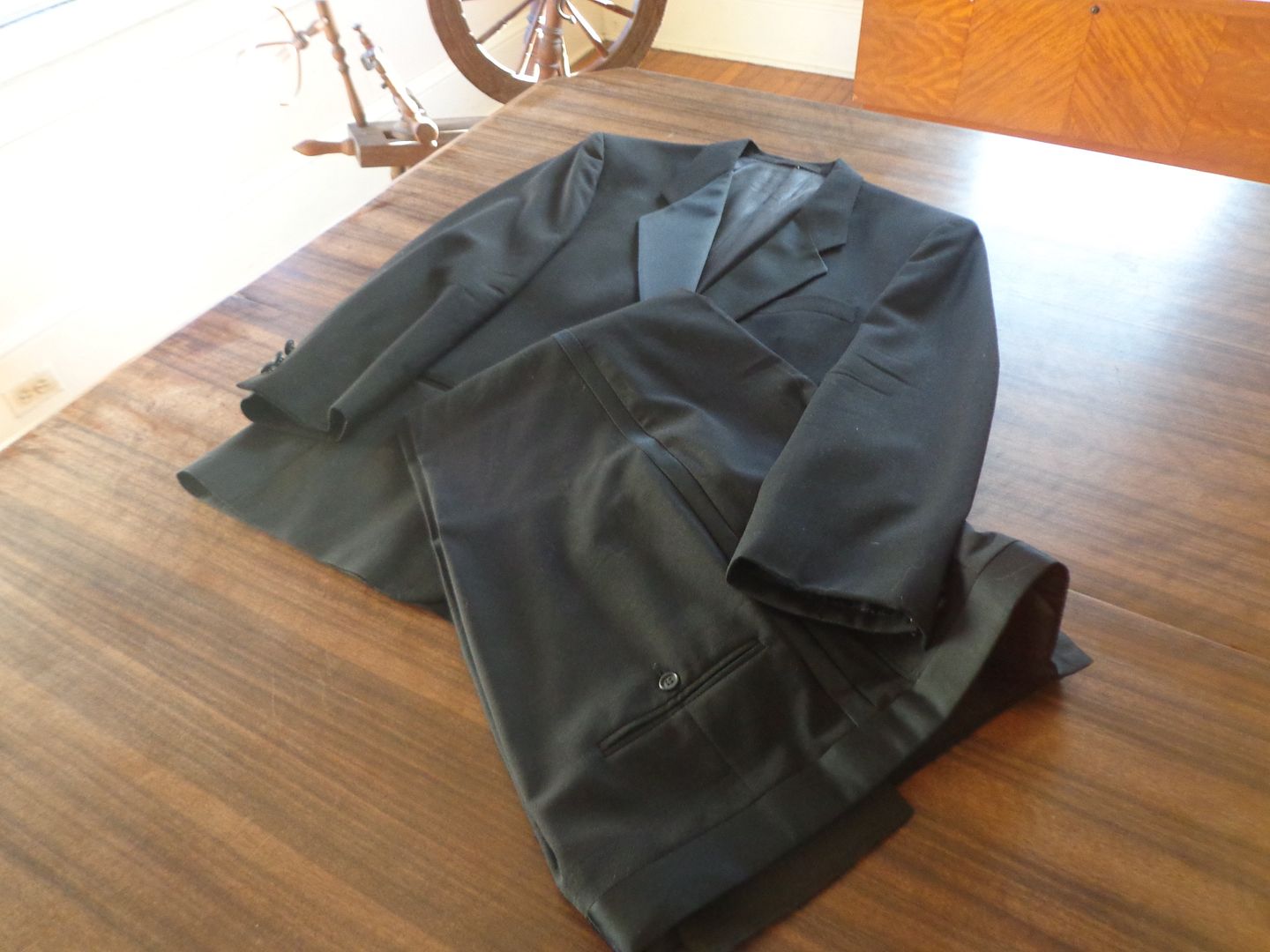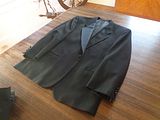 6) MADE IN ENGLAND Aquascutum Double-Breasted, Peak Lapel Dinner Jacket

SOLD

This is absolutely lovely! Made in England, this almost certainly dates from the early 1970s, judging not by its styling--which is classic--but by the fact that it's made from a blend of Worsted and Terylene. Now, before you stop reading, note that EARLY artificial fibres were intended to be far more durable than their natural counterparts, but indistinguishable from them in texture, feel, and performance--that's why very early polyester ties really are hard to tell from silk, and why Brooks, Press, Langrock, and the like charged premiums for them. Your grandfather's terylene is NOT the same as ours--it was far, far better! Plastics, then, were the future.

That this is a mix of wool and terylene, then, should be no deterrent. And that's a very good thing, for this is a terrific tuxedo. A rare double-breasted tuxedo, this has peak lapels that are, of course, faced. It is half-canvassed and fully lined, and is unvented, as you'd expect. It has a 2 by 2 button front (single button closure), and two buttons to each sleeve. All the buttons are covered. The trousers are FLAT FRONT, and feature side adjusters and an ornamental stripe.

This is in absolutely excellent condition--it's clearly been worn very, very sparingly, if at all. The only minor, minor blemish is the fact that there are two tiny rub marks on the buttons on the left-hand sleeve; otherwise, this presents as new.

Asking just $39, or offer.

Measurements:

Chest: 18 1/2
Sleeve: 25 (+2 1/2)
Shoulder: 16
Length: 29 3/4

Waist: 16
Inseam: 31 1/2 (+2 1/2)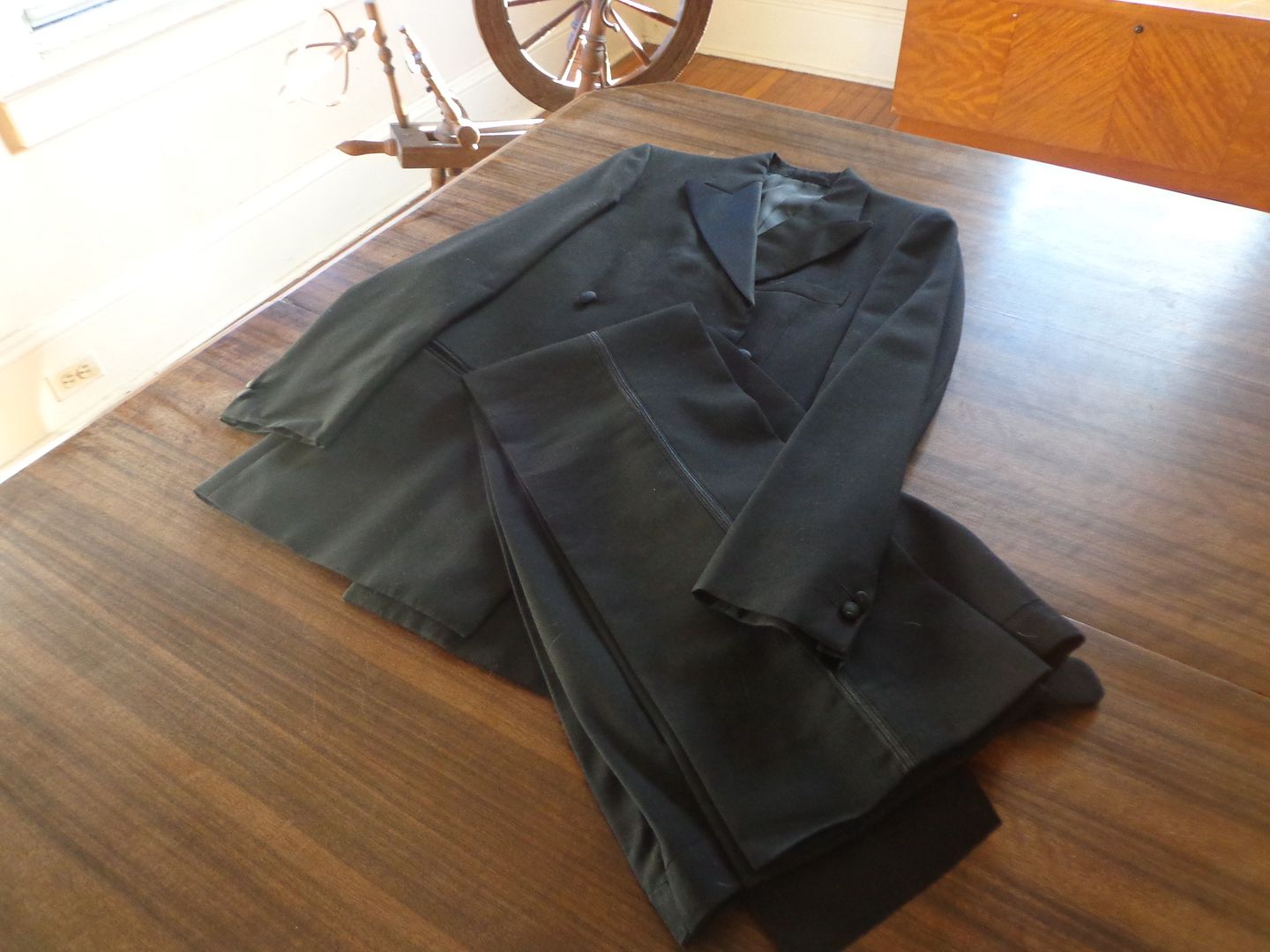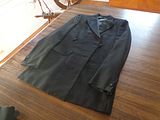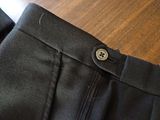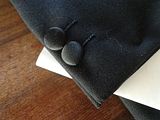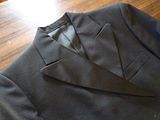 Edited by tweedydon - 4/25/16 at 5:42pm