This Classified is Closed
For Sale:
OUTERWEAR MEGATHREAD! Sizes c. 36 to 44! Bespoke topcoat with fur collar, Brooks Bros. tweed topcoat, 1940 Swedish military overcoat, Vintage LLBean Down Coat with fur collar, Vintage Reversible Mackinaw Hunting Coat, more! FREE SHIPPING & OFFERS WELCOME!
Will Ship To: Anywhere

I have several wonderful pieces of outerwear to pass on today, including an utterly wearable Second World War Swedish military overcoat, a beautiful bespoke full-length overcoat with mouton fur collar, a Bean Down Coat with mouton fur collar, a wonderful Brooks Brothers tweed topcoat, and more!
As always,
I OFFER FREE SHIPPING ON EVERYTHING IN THE USA;
International inquiries are welcome, with reduced shipping!
Also as always,
ALL OFFERS ARE VERY WELCOME!
Please PM with interest and offers!1) 1940 SWEDISH MILITARY OVERCOAT
Issued during the Second World War!
It's 1940. The British Channel Islands are captured by Nazi Germany, the Battle of Britain begins in the skies over the south of England in August, and Germany marches into Scandinavia.... except for neutral Sweden, although its neutrality didn't stop the increased production of war materials, "just in case".... And one of the items produced was this wonderful greatcoat.
(See my Facebook Page WaterhollowTweed for pictures of the Nazi-occupied Channel Islands.... and lots more sartorial goodness!)
Issued by the Swedish military in 1940 (it carries the military production stamp noting its 1940 origin in the lining) it is unlikely that this coat saw active service; its rear half-belt still appears to carry the original basting for storage in its pocket prior to issue. (Although it might have been issued; it has metal unit insignia attached to the epaulettes.)
But had it seen service, it would have served its intended purpose--keeping a Swedish soldier warm and dry in combat--wonderfully. This is a seriously impressive coat; cut from extremely thick woolen cloth that appears to be a much thicker and warmer version of loden, the tailoring on this is incredibly impressive for what was intended to be an utterly utilitarian garment. (The chaps at the Fedora Lounge claim that the 1940s was a decade so stylish it could make a war look good... and while I disagree strongly with that--NOTHING can ever make a war look good--I agree with the spirit behind the claim: That the clothing style and quality of that era was so high that even the most functional of garments were steeped in panache.)
First, it's a classic military double-breasted greatcoat, with the beautifully stylish oversize collars and flared skirts that typify those garments. And while both features are beautifully stylish, they're both functional; the collar for neck and ear protection against cold while on active service, and the skirts to retain warmth and allow additional layering underneath. It also features a half-belt, designed to nip in the waist--producing a wonderful silhouette, yes, but far more importantly making movement from the waist much easier--such as a quick half-turn to fire at someone flanking you. And, of course, it has a single vent, for ease of movement.... That it features lapped seams throughout and the vent is a hooked vent only adds to its appeal. The vent also features a small interior metal hook closure, for neatness on parade. And, of course, the sleeves are cut for ease of movement and feature military cuffs, and the shoulders feature epaulettes.
The front is secured by Swedish military buttons featuring the three crowns of Sweden; all of these are intact. The rear half-belt is also secured by two crowned buttons at the back. This coat is half-lined.
Given that this was issued in 1940 this is in excellent condition; but I'm always conservative with rating vintage items, and this does have a small flaw; a small surface scuff on the back by the right-hand seam, as shown. It could also use a dry clean and press since it's been stored for decades--this might well remove the surface scuff, too. Although one of the metal insignias is intact it is loosely attached; the other is split in half, and also loosely attached. Giventhese minor flaws this is in Very Good condition--and given its weight and durability it could easily serve you as a highly unusual and historic coat for decades to come--this is NOT a coat that needs to be babied!
Asking just $65, boxed and shipped in the USA. This is HEAVY!

Measurements:
Chest: 21
Sleeve: 24 1/4 (+1 1/2)
Shoulder: 18 1/4
Length: 44 1/2 (This is a classic full-length military overcoat!)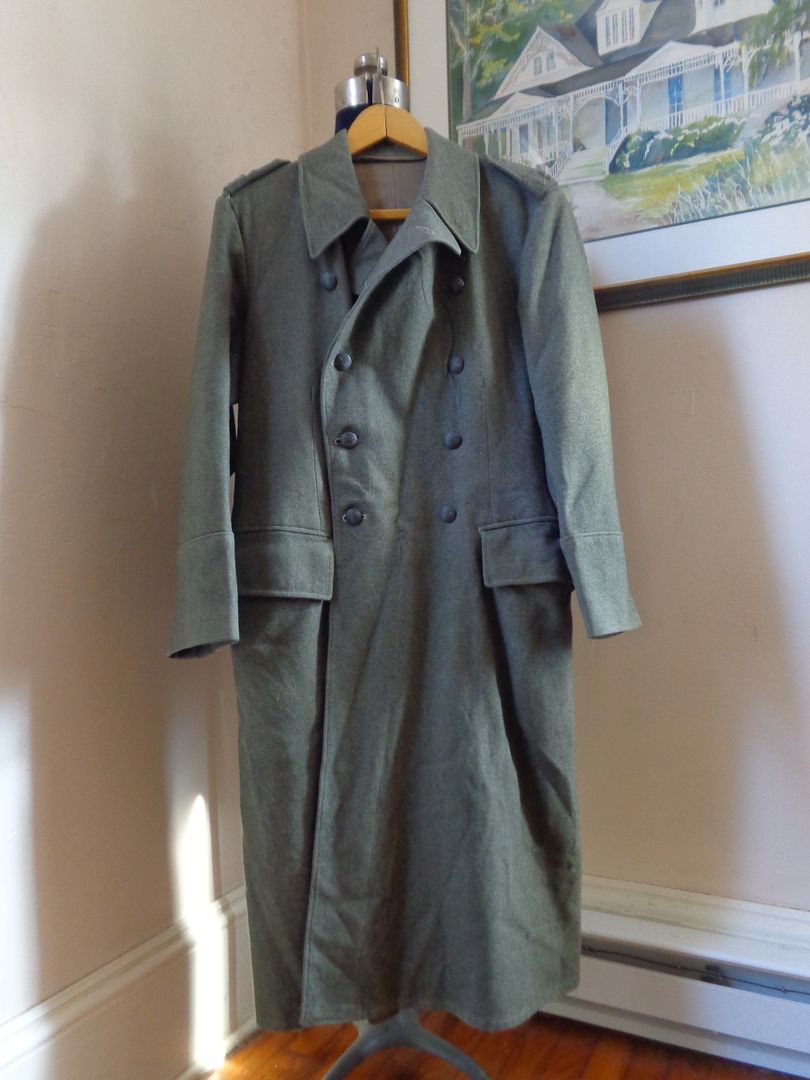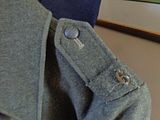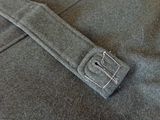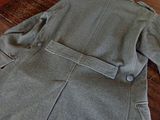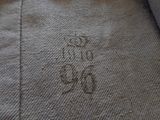 2) GORGEOUS VINTAGE BESPOKE TOPCOAT WITH LUXURIOUS FUR COLLAR
SOLD
This is absolutely wonderful--the collar is gorgeous; thick, rich, soft, and utterly luxurious; the sort of fur collar that you'll only see on bespoke garments like this one. I should note that I'm not a furrier, but since this collar appears to be constructed from one single pelt this is almost certainly a vintage mouton collar. It's in absolutely wonderful condition; this coat has clearly been professionally stored.
The collar isn't the only thing special about this coat. There is no maker's name or Union label anywhere, and from the amount of handwork that it exhibits it is clear that this is a bespoke item. Although there is no fabric content listed to is clear that this is wool; the colour is a lovely classic military slate grey. The oat is double breasted with a six button front; the buttons are supplemented with a tie belt (i.e., no buckle) in 1920s fashion. The coat is beautifully cut, and appears to be fully canvassed; the cuffs have cuff belts. This is fully lined, and features a center hook vent. It's also a lovely full length coat--a nice contrast to the rather feminine short topcoats that have been a feature of recent years.
It is in excellent condition, except for one tiny moth nibble down by the hem, as shown; this won't be seen when worn, and so could be safely ignored!
Asking just $95, or offer, boxed shipped and insured in the USA.

Measurements:
Chest: 22 1/2
Sleeve: 24 1/2 (+1 3/4)
Shoulder: 19 1/2
Length: 50
3) SMALL AND LOVELY Brooks Brothers Double Breasted Herringbone Topcoat
This is absolutely wonderful! Cut from a beautiful dark grey broad herringbone cloth that's subtly and sparingly flecked throughout with forest green, rich chestnut, and Royal blue, this is cut as a classic topcoat, with peak lapels, two flapped front pockets, a breast pocket, and a fully functional and flapped ticket pocket. It is half-canvassed and fully lined, and features a single centre vent. It has four button cuffs. It was, of course, Union Made in the USA, and is in excellent condition--the breast pocket is still basted shut! (NB: Careful examination shows that this is NOT missing a button, despite appearances!)
This is also in a rare smaller size, and dates from when Brooks Brothers was very, very good indeed! This lovely, classic topcoat is a steal at just
$75, or offer.

Measurements:
Chest: 20
Sleeve: 23 1/4 (+2)
Shoulder: 16 3/4
Length: 45
4) Schott Down Vest.
Made in Elizabeth, NJ, alongside the famed Perfecto motorcycle jacket, this is a stylish and utterly functional vest. It features a high collar to protect the neck from wind, two deep slash pockets--with overflaps, so that they retain their shape when not in use, and carry items more securely--and the fact that the back is longer than the front--just as a work vest should be! The vintage label is wonderful!
Asking just $25.

Size S; measures:
Chest: 20
Length (back): 29
Length (front): 26
5) Swedish Military Utility Jacket
This is lovely; extremely well-designed, and very well made!
This is Swedish military issue, and retains all of its original Swedish Army buttons, featuring the Triple Crown of Sweden. The front features two flapped hacking pockets that are secured with military buttons; the placket is secured with four buttons at the top (as shown), and then further buttons at the bottom of the placket in the interior, giving this a very elegant silhouette. The interior features a flapped security pocket with button closure, while the back features two further utility pockets, with security hook and button closures. This jacket is unlined, and would be perfect for warmer days.
This jacket is in Very Good/Excellent condition.

Asking just $29, or offer.

Tagged a 40, this runs smaller; it measures:
Chest: 19 1/2
Sleeve: 21 1/2
Shoulder: 17
Length: 25 1/2
6) MA1-type Blouson Parka
For when you need warmth without weight, this would be perfect! It features two slash handwarmer pockets on the front, a zipped security pocket on the arm, and storm cuffs.
Asking $19, or offer.

Tagged size L. Measurements:
Chest: 27 (large owing to bulk)
Sleeve: c. 36 (measured like a shirt)
Length: 25.5
7) VINTAGE REVERSIBLE MACKINAW FIELD JACKET by the Minnesota Woolen Co., c. 1965.
The Minnesota Woolen Co. operated in Duluth, MN from 1916 to 1977, and specialized in wool blankets similar to Hudson Bay blankets and woolen outerwear for outdoorsman. The best testimony of the quality of their garments lies in the fact that a lot of their hunting jackets and shirt jackets are still going strong, after 40 or 50 years of hard field use; they can be readily found in usable condition through online vintage retailers or eBay.
(A short video put out by the Minnesota Woolen Co. in 1959 can be seen on my Facebook page,
WaterhollowTweed
. Please "Like" me for early chances at the goodies I post here, plus information about vintage and classic clothing!)
But while this jacket--which likely dates from the mid 1960s--is of similarly high quality, there's something very special about it: It's reversible. And the Minnesota Woolen Co. didn't make very many reversible jackets, or else they didn't survive, or else they're so beloved that they rarely make it onto the secondary market, as this is the first of its kind that I've seen. (And I've seen a lot of MWC shirt jackets!) My suspicion is that this was a fairly rare item, probably owing to its original cost. Adding the gabardine shell to the heavy wool shell would have made this quite a costly item, and I suspect that the typical customer of the MWC wasn't looking to spend a lot on his or her workwear,
So, the first point to note about this is that it's reversible. One side is the heavy bright scarlet wool that's frequently used in hunting gear from the mid 1930s to early 1970s, when it was superseded by blaze orange. The other side is tan gabardine cloth. Clearly, the idea was that you'd have a jacket that would repel rain--rather than simply soak it up, as wool does--and so enable the heavy wool to keep you warm for much longer in the field.
The scarlet side features two deep front pockets, covered with flaps secured by oversize buttons. It also features two deep slash handwarmer pockets, and a front chest pocket--again, flapped and secured by an oversized button. The gabardine side features two deep handwarmer pockets and a zippered chest security pocket. Since this coat is designed to be fully reversible the sleeve cuffs have no buttons or straps of any kind, so they can be easily turned inside out. The collar is oversized and designed to stand; the coat is closed by a zipper, again, designed to function perfectly no matter which way the coat is turned. Since this is designed for woodland hunting it's cut for ease of movement, and so has venting at the seams on either side.
This also comes complete with its original hood, which, of course, can be reversed like the rest of the coat! It buttons on and it easily removeable.
Unlike most hunting coats of this vintage this has all of its original buttons intact, and the zipper is lovely and fluid. Unfortunately, the wool side has suffered some moth depredations, most noticeably on the collar. This is NO LONGER AN ISSUE, and has resulted in cosmetic damage only, but because of this this lovely jacket is in Good/Very Good condition only, and so is only
$29, or offer, boxed and shipped in the USA.

Measurements (this is c. a modern 40R):
Chest: 23
Sleeve: 25 1/8
Shoulder: 19 1/4
Length: 31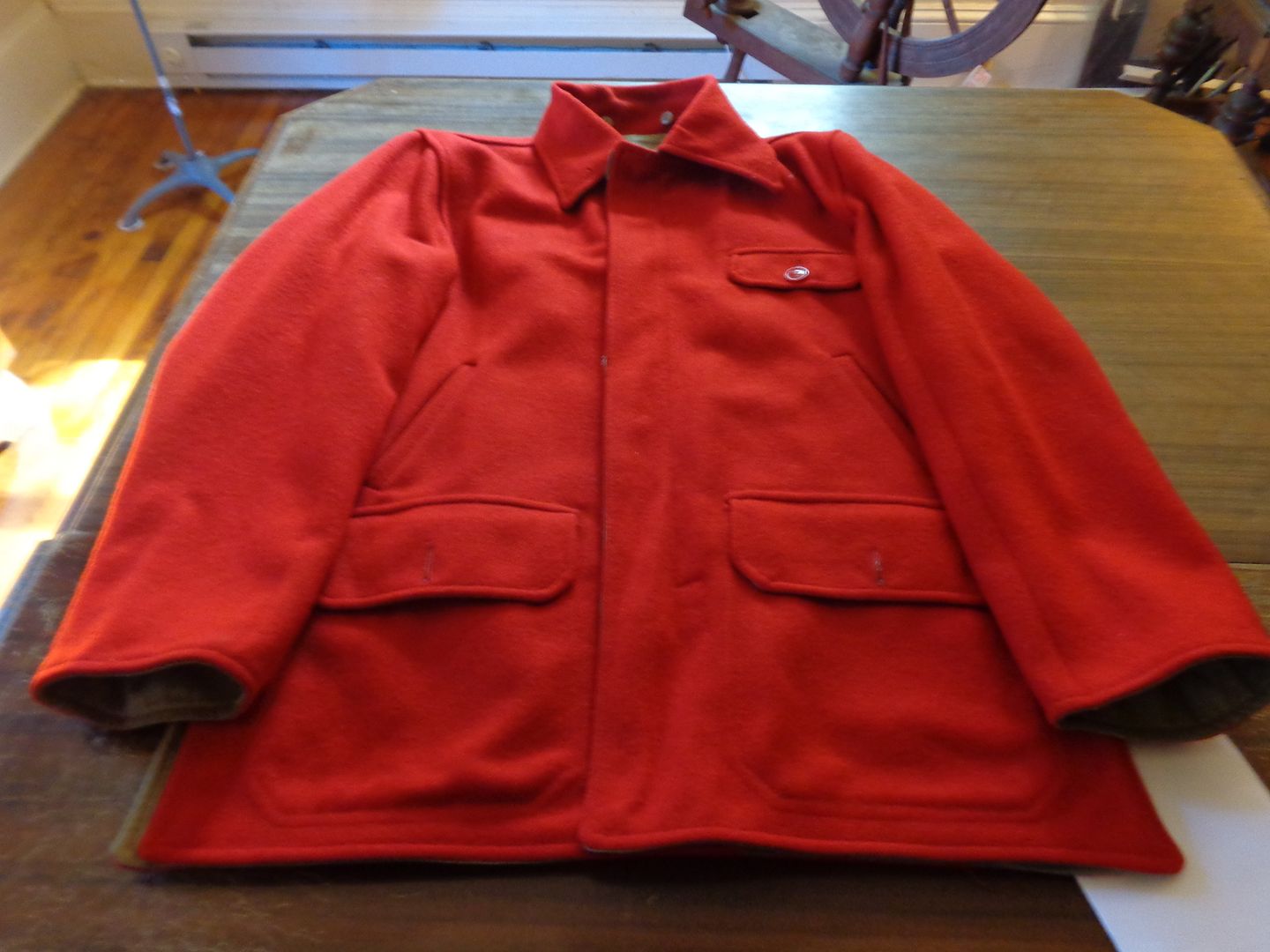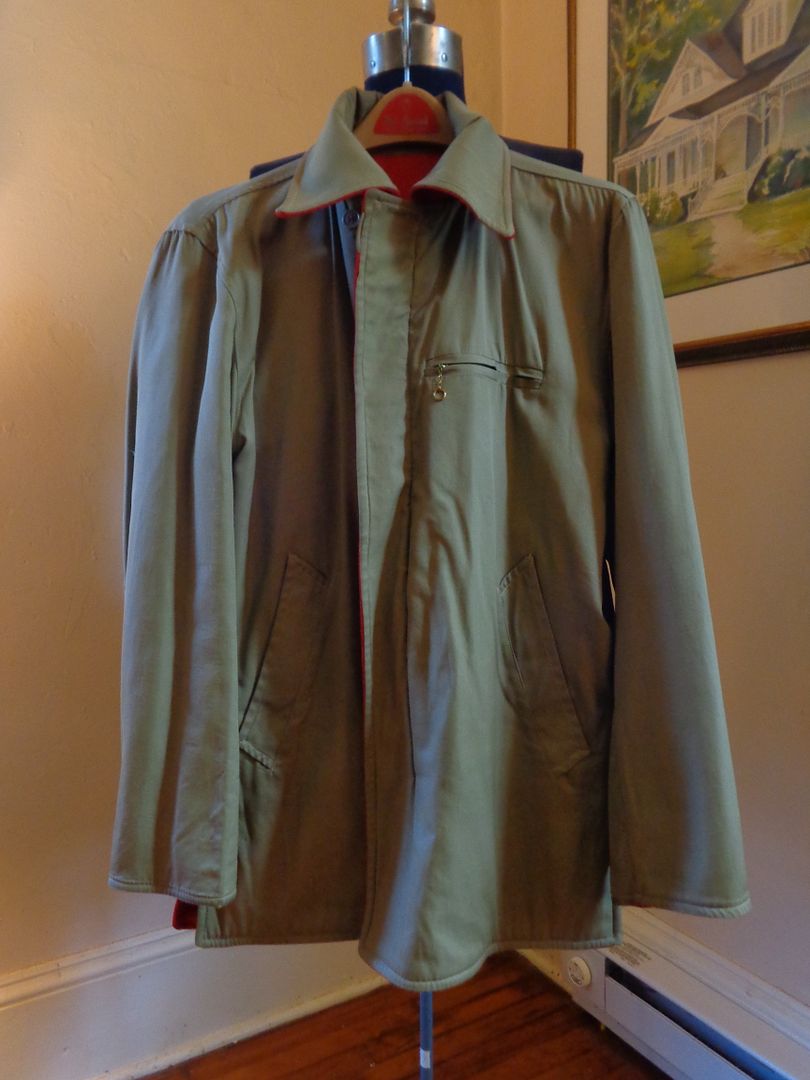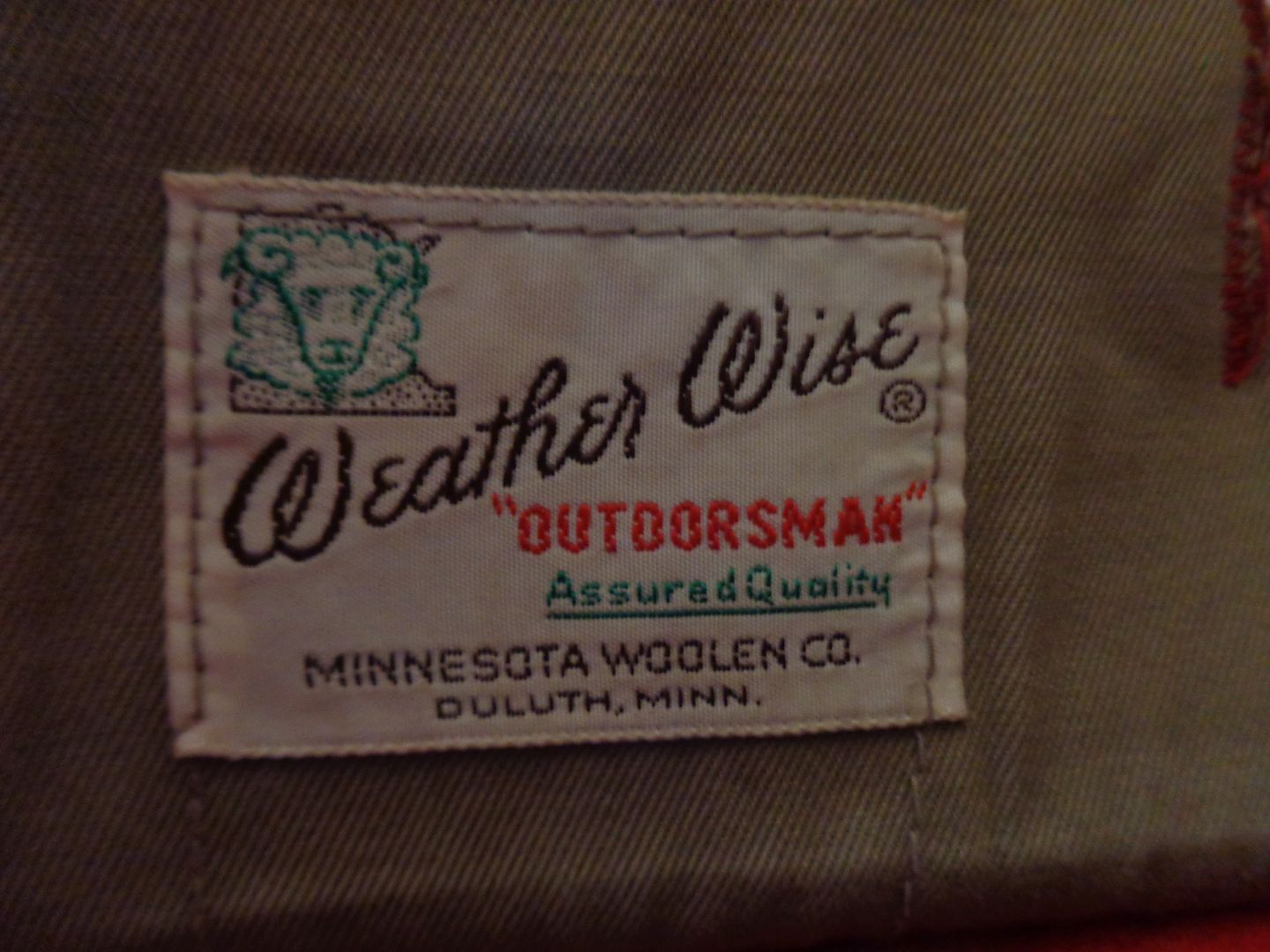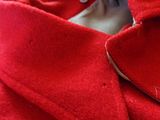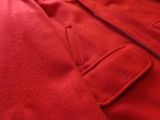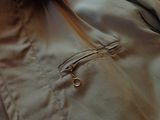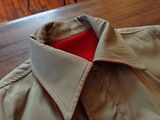 8) BEAUTIFUL Vintage "Down Mainer" Down Coat from LL Bean, with mouton fur collar!
SOLD
This is a lovely and utterly functional coat--as you'd expect from vintage Bean! Unlike most down coats and jackets this has been designed so that the exterior presents as a normal raincoat--here, a classic single breasted, belted style with a lovely oversize mouton fur collar--rather than as a "puffy" ridged jacket. The down is contained in "packets" concealed in the interior of the coat--and unlike most "down" jackets this is the real thing, being fully insulated with goose down--rather than the more common mix of down with other plumage. This coat is thus exceptionally warm, yet very lightweight.
The front is secured by oversize leather-covered and metal shanked football buttons, as well as a belt; the buckle is all leather and has no wear at all. This coat has two slash front pockets on the exterior, and a single centre vent. It also features a beautiful oversize mouton fur collar, with the fur being sourced from the USA. The sleeves have cuff belts. The original locker loop is intact.
This coat does have some wrinkling, mainly on the sides, and a couple of minor scuff marks commensurate with use. It also has a couple of white lines across the mouton collar; I have no idea what these are, but they don't detract from the appearence at all.
It was Made in the USA.
Owing to these flaws this is in Very Good condition, and hence is a bargain
at just $39, or offer, boxed and shipped in the USA.
International offers welcome, with reduced shipping available.
Tagged 40. Measures:
Chest: 22
Sleeve: 35, measured like a shirt.
Shoulder: NA--raglan sleeves
Length: 38 1/4
This scuff appears *underneath* the overlapping vent flap, and so cannot be seen when worn:
Edited by tweedydon - 1/12/16 at 5:22pm