This Classified is Closed
For Sale:
OUTERWEAR! Sizes 36 - 44. Schott down vest; Vintage Reversible Mackinaw Jacket; Tweed Shooting Jacket; Swedish Military utility jacket; Eddie Bauer leather jacket; more! FREE SHIPPING & OFFERS WELCOME!
Will Ship To: Anywhere

I have some lovely pieces of outerwear to pass along today, including a Swedish military utility jacket, a Schott of NYC down vest, a tweed shooting jacket, a rugged leather jacket by Eddie Bauer, vintage reversible Mackinaw hunting jacket, a lovely and functional Field Jacket--and more!
As always, I offer
FREE SHIPPING ON EVERYTHING IN THE USA
; International inquires welcome, with shipping at cost.
Also as always,
ALL OFFERS ARE VERY WELCOME!
Please PM with interest and offers!

1) Schott Down Vest.
Made in Elizabeth, NJ, alongside the famed Perfecto motorcycle jacket, this is a stylish and utterly functional vest. It features a high collar to protect the neck from wind, two deep slash pockets--with overflaps, so that they retain their shape when not in use, and carry items more securely--and the fact that the back is longer than the front--just as a work vest should be! The vintage label is wonderful!
Asking just $25.

Size S; measures:
Chest: 20
Length (back): 29
Length (front): 26
2) Duck Field Jacket by Land's End.
SOLD
Forget the maker, this is a very serious field jacket indeed! Cut from rugged and sturdy cotton duck, this features a button-in thermal liner, two deep front bellows pockets perfect for carrying shotgun shells or tools, two slash handwarmer pockets on the front, like a Barbour Border, and a leather collar. This has a zippered interior security pocket, and retains its full complement of origonal spare buttons. It has a couple of minor white marks on one sleeve, and so this is just in Very Good condition. This would make a perfect, classic Field Jacket that will serve you well for decades!
Asking just $29, or offer.

Tagged 38- 40; measurements:
Chest: 23
Sleeve: 25
Shoulder: 20
Length: 31 3/4
3) Leather Jacket by Eddie Bauer
SOLD
This is a lovely and rugged everyday leather jacket by Eddie Bauer! A lovely dark chestnut brown, this has two deep front slash pockets and a zippered security breast pocket. The sleeves secure at the cuffs by snaps, and the jacket zips at the front with a beautifully fluid YKK zipper. It has been cut so that it has a bi-swing back, like a shooting jacket. It does have a long surface scuff on the back, as shown, but this will fade ver time--and do so quickly if you condition it (I recommend Pecard's!) As such, this is in Very Good condition--conservatively!--and so is a steal at
just $39, or offer.

Tagged L Tall; measures:
Chest: 24
Sleeve: 26 1/2
Shoulder: 21 1/2
Length: 29
4) Swedish Military Utility Jacket
This is lovely; extremely well-designed, and very well made!
This is Swedish military issue, and retains all of its original Swedish Army buttons, featuring the Triple Crown of Sweden. The front features two flapped hacking pockets that are secured with military buttons; the placket is secured with four buttons at the top (as shown), and then further buttons at the bottom of the placket in the interior, giving this a very elegant silhouette. The interior features a flapped security pocket with button closure, while the back features two further utility pockets, with security hook and button closures. This jacket is unlined, and would be perfect for warmer days.
This jacket is in Very Good/Excellent condition.

Asking just $29, or offer.

Tagged a 40, this runs smaller; it measures:
Chest: 19 1/2
Sleeve: 21 1/2
Shoulder: 17
Length: 25 1/2
5) MA1-type Blouson Parka
For when you need warmth without weight, this would be perfect! It features two slash handwarmer pockets on the front, a zipped security pocket on the arm, and storm cuffs.
Asking $19, or offer.

Tagged size L. Measurements:
Chest: 27 (large owing to bulk)
Sleeve: c. 36 (measured like a shirt)
Length: 25.5
6) Vintage Tweed Shooting Jacket
SOLD
Made for Mullin's of Wilmington
This is a lovely example of a tweed shooting jacket! Cut from classic brown and cream herringbone tweed, this shooting jacket--which from it heft is clearly intended to be outerwear--has all of the features that you'd want in a functional utility jacket; this was clearly designed for use, not for merely looking the part.
It is, first, cut from a beautifully sturdy and classic brown herringbone tweed. It features two deep handwarmer pockets--like a Barbour Border--and two deep bellows pockets at the front, which are protected by flaps. It has, of course, a shooting patch on the shoulder, which is likely suede; this is complemented by the two suede elbow patches. The jacket is fully lined with an all-wool liner with what appears to be a bemberg covering in the shoulder back area. It has a single center vent, and a four button closure--the buttons are nicely oversized for closing with gloved (or cold!) hands. It also has a shoulder yoke--as you'd expect from a shooting jacket--and a chain locker look, which is intact.
This coat was Union Made in the USA, likely in the late 1960s. It was expressly made for Mullin's, the traditional men's clothiers in Wilmington, DE Mullins opened in the C19th and expanded to Market Street in 1917; it moved from there to the suburbs in 1974, where it continued to sell traditional clothing until its demise. One of its last customers was a man who liked its conservative "banker" style... a young politician named Joe Biden.
This jacket was made by Zero King, and since it's a pre-1978 item it dates from the time when Zero King was the headline brand of B. W. Harris Manufacturing, a family-owned business based in Minnesota that specialized in outerwear.... and that made all of its clothes in Minnesota. (This was acquired by Palm Beach in 1978, and then re-acquired by the Harris family in 1983). So, this is a lovely example of domestic clothing manufacturing from a family business!
This coat is in Very Good condition; I'm very conservative with rating vintage items, and this has a small weave flaw on the front, which was likely there from new, as well as some water marking on the bemberg lining, as shown.
Asking just $45, or offer, boxed and shipped in the USA.

This is tagged 40; it measures
:
Chest: 21 1/2
Sleeve: 24 1/2 (+2)
Shoulder: 18 1/2
Length: 31 1/8
Bellows feature:
7) VINTAGE REVERSIBLE MACKINAW FIELD JACKET by the Minnesota Woolen Co., c. 1965.
The Minnesota Woolen Co. operated in Duluth, MN from 1916 to 1977, and specialized in wool blankets similar to Hudson Bay blankets and woolen outerwear for outdoorsman. The best testimony of the quality of their garments lies in the fact that a lot of their hunting jackets and shirt jackets are still going strong, after 40 or 50 years of hard field use; they can be readily found in usable condition through online vintage retailers or eBay.
(A short video put out by the Minnesota Woolen Co. in 1959 can be seen on my Facebook page,
WaterhollowTweed
. Please "Like" me for early chances at the goodies I post here, plus information about vintage and classic clothing!)
But while this jacket--which likely dates from the mid 1960s--is of similarly high quality, there's something very special about it: It's reversible. And the Minnesota Woolen Co. didn't make very many reversible jackets, or else they didn't survive, or else they're so beloved that they rarely make it onto the secondary market, as this is the first of its kind that I've seen. (And I've seen a lot of MWC shirt jackets!) My suspicion is that this was a fairly rare item, probably owing to its original cost. Adding the gabardine shell to the heavy wool shell would have made this quite a costly item, and I suspect that the typical customer of the MWC wasn't looking to spend a lot on his or her workwear,
So, the first point to note about this is that it's reversible. One side is the heavy bright scarlet wool that's frequently used in hunting gear from the mid 1930s to early 1970s, when it was superseded by blaze orange. The other side is tan gabardine cloth. Clearly, the idea was that you'd have a jacket that would repel rain--rather than simply soak it up, as wool does--and so enable the heavy wool to keep you warm for much longer in the field.
The scarlet side features two deep front pockets, covered with flaps secured by oversize buttons. It also features two deep slash handwarmer pockets, and a front chest pocket--again, flapped and secured by an oversized button. The gabardine side features two deep handwarmer pockets and a zippered chest security pocket. Since this coat is designed to be fully reversible the sleeve cuffs have no buttons or straps of any kind, so they can be easily turned inside out. The collar is oversized and designed to stand; the coat is closed by a zipper, again, designed to function perfectly no matter which way the coat is turned. Since this is designed for woodland hunting it's cut for ease of movement, and so has venting at the seams on either side.
This also comes complete with its original hood, which, of course, can be reversed like the rest of the coat! It buttons on and it easily removeable.
Unlike most hunting coats of this vintage this has all of its original buttons intact, and the zipper is lovely and fluid. Unfortunately, the wool side has suffered some moth depredations, most noticeably on the collar. This is NO LONGER AN ISSUE, and has resulted in cosmetic damage only, but because of this this lovely jacket is in Good/Very Good condition only, and so is only
$35, or offer, boxed and shipped in the USA.

Measurements (this is c. a modern 40R):
Chest: 23
Sleeve: 25 1/8
Shoulder: 19 1/4
Length: 31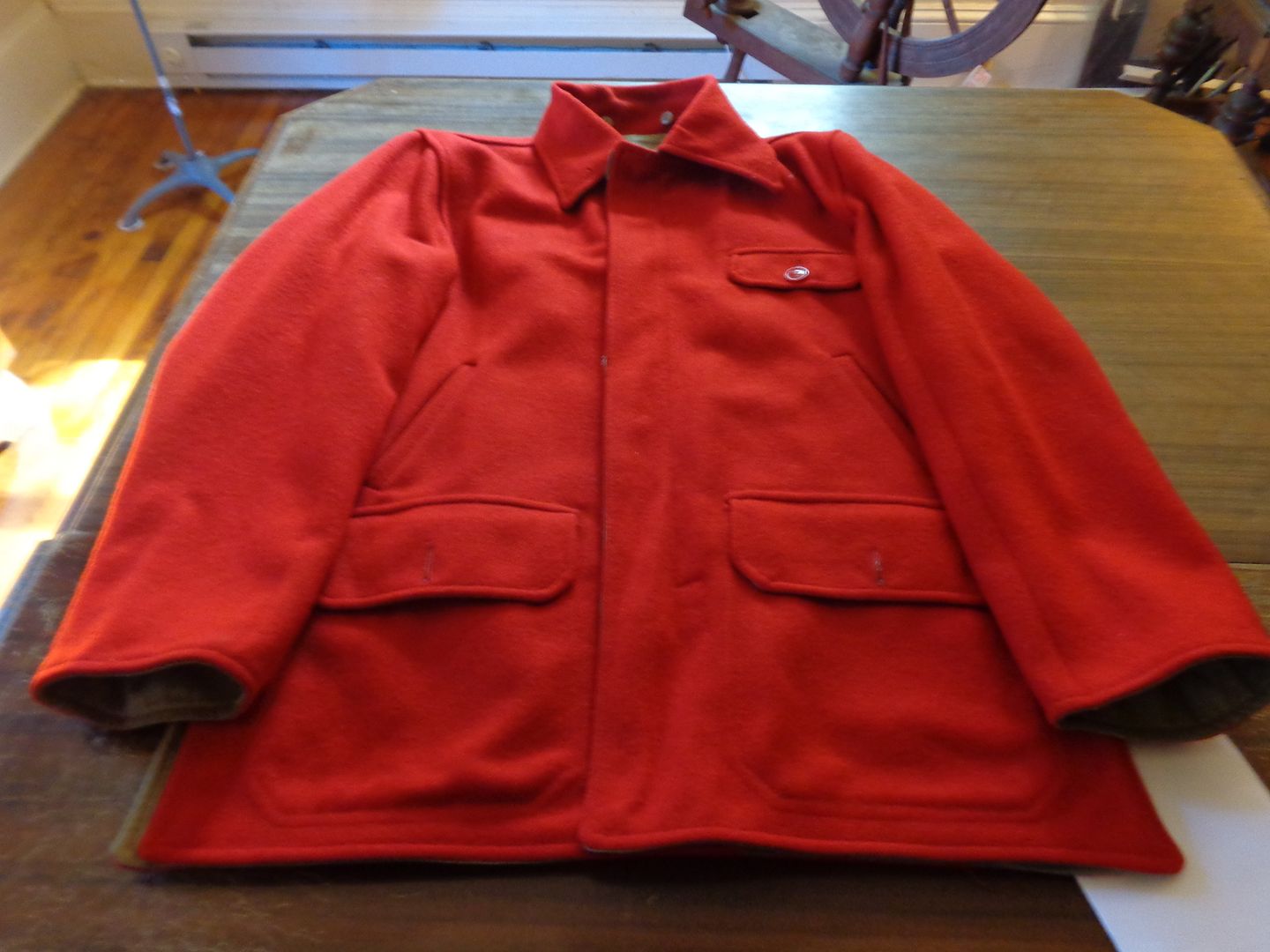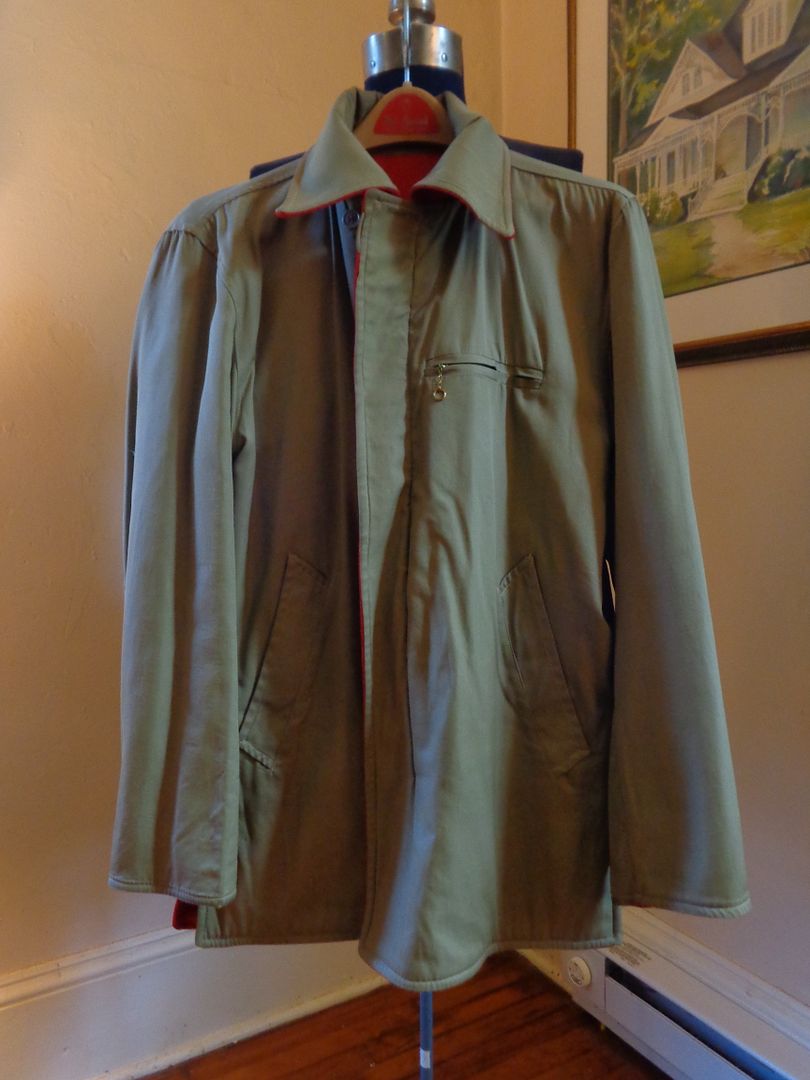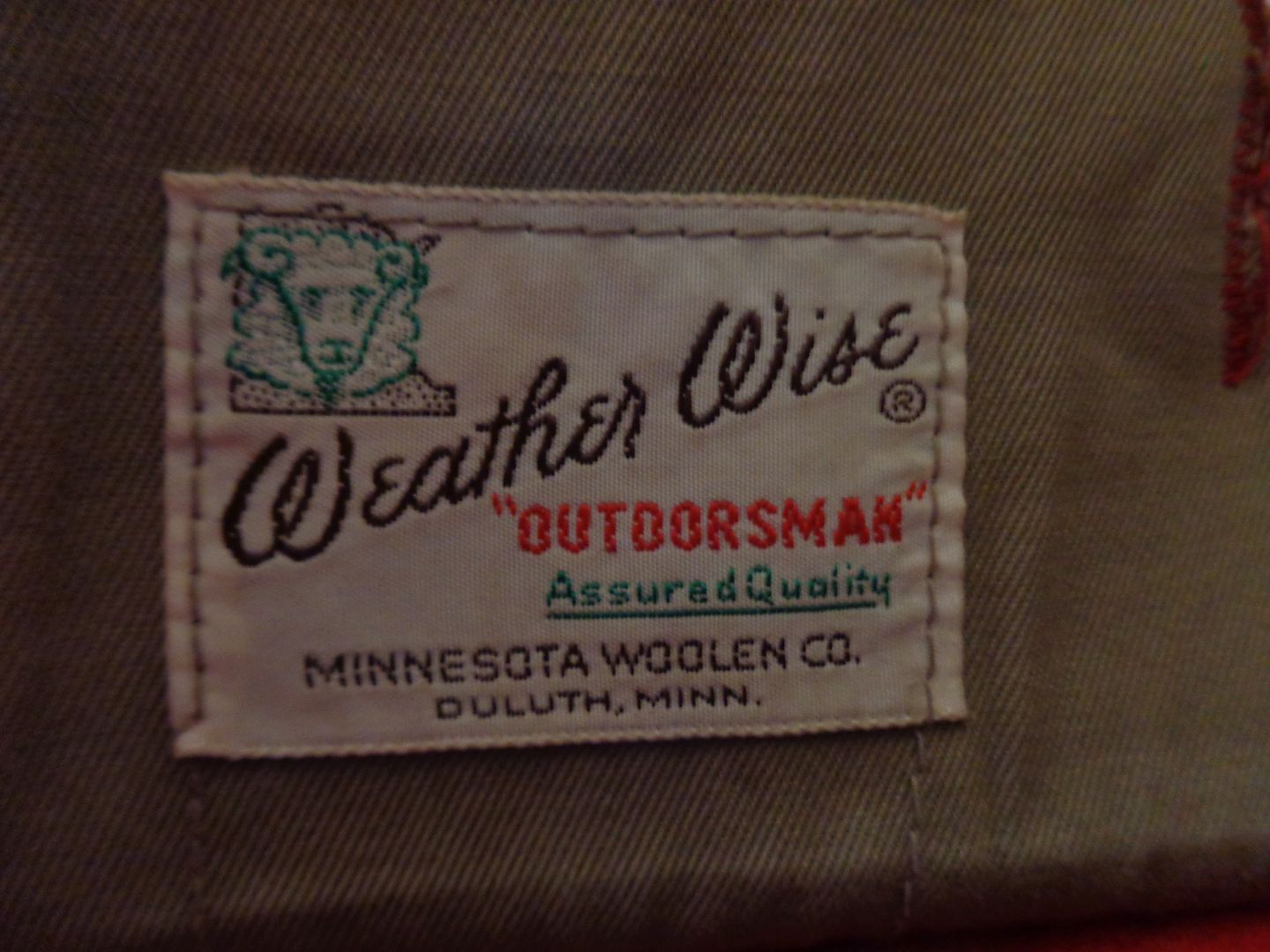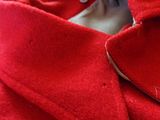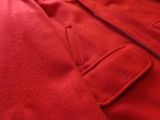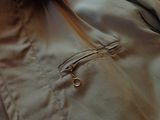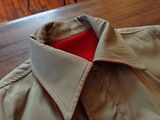 Edited by tweedydon - 1/9/16 at 6:54pm