This Classified is Closed
For Sale:
2 ICONIC POLO COATS--one from former owner of Baltimore Orioles, & made by SIlls, Gordon Gekko's tailor! Lovely Pendleton Polo Coat. FREE SHIPPING & OFFERS WELCOME!
Will Ship To: Anywhere

The SIlls Polo was made for Eli Jacobs, former owner of the Baltimore Orioles; owner of the investment form E. S. Jacobs & Co, which, in 1986, was the second largest manufacturer of computer peripherals in the world!
Not surprisingly, the Polo coat owes its name to the camelhair coats worn by Polo players between chukkas.... and as such it was originally an English, rather than an American, garment. But the English Polo had only a distant resemblance to what would quickly become an American style icon. They often lacked any form of buttoning, closing only with a belt, and were essentially glorified bathrobes..... which was fine for their original purpose of being casually tossed over the shoulders of unmounted players.
(Polos were also originally called "Wait Coats", as they were worn only while waiting.)
During the Edwardian era polo became popular with the East Coast establishment, and the polo coat quickly became popular with spectators and players alike. Guided by WASP frugality the original wrap coat was quickly improved to be a more useful garment, acquiring buttons, deep patch pockets, and the oversized Ulster collar, while retaining the functional half-belt at the back, and often shedding the original belt.
The American Polo Coat was born.
But being produced is one thing; becoming a style icon is quite another. The Polo was not long in securing this status. Its practicality and swagger was quickly noticed by the young men at Ivy colleges whose friends and cousins were associated with the polo set, and within a few years it became the coat of choice for the stylish Roaring Twenties, along with Stutz Bearcats, bootleg liquor, and--for the truly wealthy and adventurous--barnstormer biplanes sold off cheaply after the Great War. Indeed, at the 1929 Yale-Princeton game many noted that the Polo had supplanted the Raccoon coat among the Ivy set... and raccoons everywhere rejoiced.*
By the 1950s, alas, the Polo was in decline, supplanted by the double-breasted trenchcoat made popular by its Second War utility and style. It enjoyed a brief popular resurgence in the 1980s with its fascination with the romance and style of the 1920s and 1930s. Yet that it has declined in general popularity by no means detracts from its iconic status, and the Polo has since its inception always warranted a place in every well-dressed man's wardrobe.
Indeed, so classic is the Polo that a lovely example from 1915 (by Brooks Brothers) is held at the Metropolitan Museum of Art.
And if you want one, they're available.... Brooks still stocks them, so does J. Press, Ben Silver, and O'Connell's, who'll be happy to sell you one for $1,400.
Or you could buy one of these!
*Not really. The raccoons had no idea either that this had happened, or what its implications were for them. They're just animals.

1) STUNNINGLY BEAUTIFUL ICONIC CAMEL-HAIR POLO COAT from Morty Sills--Gordon Gekko's tailor!
This coat has a wonderful Ivy provenance--made by Gordon Gekko's tailor, and owned by a Yalie owner of the Baltimore Orioles!
In the 1930s Mort Sill left J. Press to open his own store, which he named Chipp; he was joined a year later by Arnold Jonas. Shortly thereafter Sill left Chipp to found his own exclusive tailoring firm, Sill's, in New York, maintaining a presence for a while in Harvard Square. After Sill's departure Arnold Jonas entered into an agreement with two other former Press employees Sid Winston and Lou Prager to call their tailoring firm in New York Chipp.... And this became the Chipp that is known, loved, and still operating today--as is J. Press, and Sill's!
Unlike Press and Chipp, however, Sill's had a brief burst of fame in the 1980s when it was (fictionally) Gordon Gekko's tailor, as Gekko tells Bud "And buy a decent suit. You can't come in here looking like that. Go to Morty Sills. Tell him I sent you". (Although, in fact, the clothing worn by Gekko in Wall Street was made by Flusser, SIll's being considered too expensive!)
This coat fully lives up to its provenance.
This coat was made in 1977 for Eli Jacobs., Esq, the former owner of the Baltimore Orioles
. After his BA from Yale and then his stint in the army Jacobs took a law degree from Yale University, and then became the youngest partner of the white-shoe investment banking form White Weld & Co., in 1968. He left to found his own investment banking firm, E.S. Jacobs & Co., which held a controlling interest in Memorex Corp., and after its acquisition of Telex Corp. was the primary owner of the second largest manufacturer of computer peripherals in the world. Jacobs was shy and awkward in public, but loved baseball, and to facilitate networking purchased the Baltimore Orioles in 1988--a year later it went from being the worst team in the league to just missing winning the AL Eastern Division. Jacobs was the Chairman of the Board. He currently serves as a Director of several corporations, and is a member of the National Commission for the Review of the National Reconnaissance Office, to which position he was appointed by the Speaker of the House in 2000.
The quality of the coat meets the expectations generated by both its Ivy Style provenance and its ownership. First, it is a a classic camelhair polo--although this is seriously thick and luxurious camelhair, not the rather thin stuff that's so common today. Second, this coat is FULLY HAND-TAILORED; everything is hand done; all of the seams, the buttonholes, the pick-stitching on the placket, around the collar, and around the pockets, inside the lining--everything. And this was no doubt all done in New York, at Sill's itself. The coat is, of course, full canvassed and fully lined. In addition to the handwork is also distinguishes itself by its fully functional cuffs--a rarity on jackets, and almost never seen on outerwear. All of the four cuff buttons are fully functional. And, of course, it has all of the features that you would want in a Polo coat; it has peak lapels, it is a full-length coat, it has a fully functional half-belt at the back, it has patch pockets, and a single center vent.
This is a spectacular piece of clothing with a wonderful history!
However, it does have some minor issues, as it's been nibbled on by moths in several places. Luckily--very luckily!--these gourmet moths were sensible, and restricted themselves to inconspicuous areas of the coat, such as the edge of the cuffs, on the underside of the sleeve, by the hem at the side on the back, and right at the edge of the chest area, where one's arm would rest. These means that these nibbles could be safely ignored, and need not require reweaving, for the coat to be perfectly and respectably wearable as it is... Indeed, they might even enhance your experience of it, as these flaws mean you don't have to worry about marring something this historical, as it's not pristine to begin with! I've identified the nipples in pictures, both in general and in close up, using different color pencils for each nibble. Given the presence of these, this coat is in Very Good condition.... and as such, given its provenance ad beauty, it's a steal at just $145, or offer, boxed, shipped, and insured in the USA. OFFERS ARE VERY WELCOME!
Measurements:
Chest: 23
Sleeve: 27 (+1 1/2)
Shoulder: 19 1/2
Length: 48
2) Sir Pendleton Polo Coat--by Pendleton Woolen Mills.[/
B]
SOLD
A lovely, rugged woolen version of the iconic Polo, this was from the Sir Pendleton line from Pendleton, which introduced this line in 1956--first in its wool shirts, then, in the early 1960s, more broadly. Union Made in the USA this coat dates from the Golden Age of Ivy Style. It is, of course, double breasted, and features a classic Ulster collar, a 6 by 3 closure (with the top button being functional, but intended to be ornamental), and two deep front flapped pockets. It has a half-belt back and a single hook vent, and features built-in epaulettes. It appears to behalf-canvassed, and is fully lined. This does has a minor flaw--a small and hard to see smudge underneath the left-hand pocket. This will easily come out with the first dry-cleaning!
Asking just $65, or offer, boxed, shipped, and insured in the USA.

Measurements:
Chest: 21 1/2
Sleeve: 26 (+1 1/2)
Shoulder: 18 1/2
Length: 39 1/2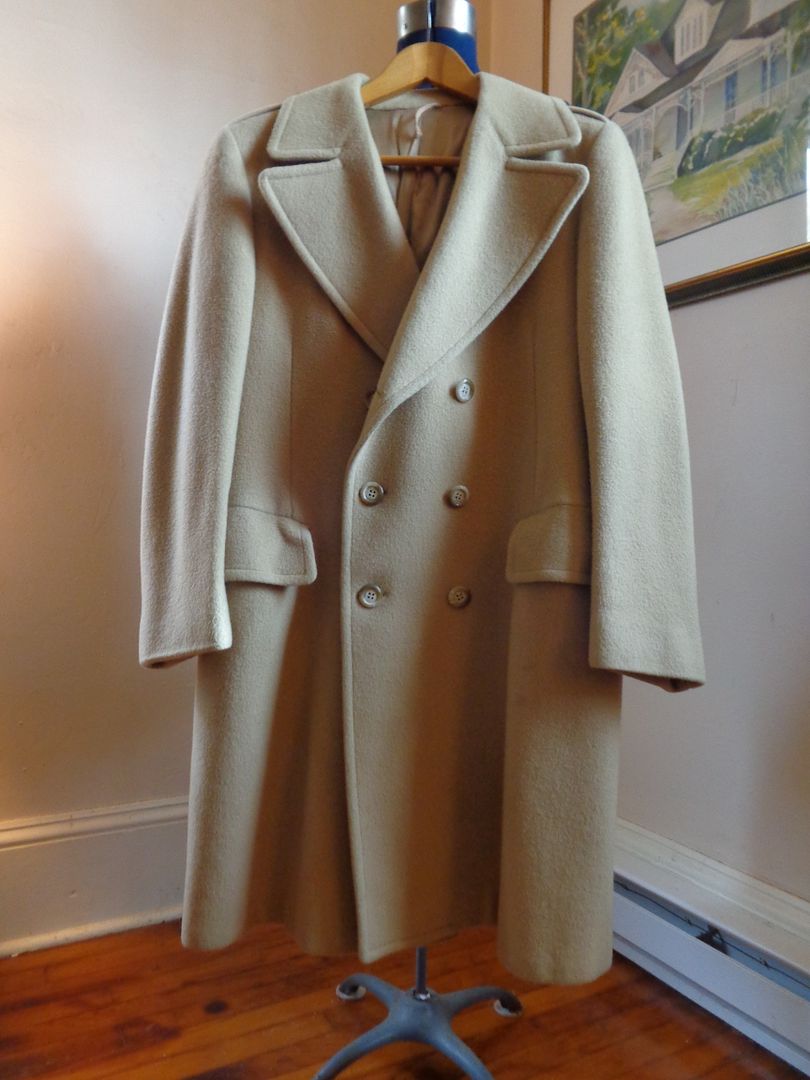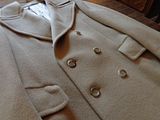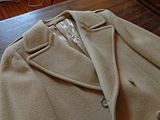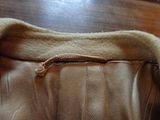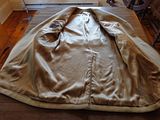 Edited by tweedydon - 12/19/15 at 5:02pm