This Classified is Closed
For Sale:
1940 Swedish Military Greatcoat. Beautiful and utterly wearable! FREE SHIPPING & OFFERS WELCOME!
Will Ship To: Anywhere

It's 1940. The British Channel Islands are captured by Nazi Germany, the Battle of Britain begins in the skies over the south of England in August, and Germany marches into Scandinavia.... except for neutral Sweden, although its neutrality didn't stop the increased production of war materials, "just in case".... And one of the items produced was this wonderful greatcoat.
(See my Facebook Page WaterhollowTweed for pictures of the Nazi-occupied Channel Islands.... and lots more sartorial goodness!)
Issued by the Swedish military in 1940 (it carries the military production stamp noting its 1940 origin in the lining) it is unlikely that this coat saw active service; its rear half-belt still appears to carry the original basting for storage in its pocket prior to issue. (Although it might have been issued; it has metal unit insignia attached to the epaulettes.)
But had it seen service, it would have served its intended purpose--keeping a Swedish soldier warm and dry in combat--wonderfully. This is a seriously impressive coat; cut from extremely thick woolen cloth that appears to be a much thicker and warmer version of loden, the tailoring on this is incredibly impressive for what was intended to be an utterly utilitarian garment. (The chaps at the Fedora Lounge claim that the 1940s was a decade so stylish it could make a war look good... and while I disagree strongly with that--NOTHING can ever make a war look good--I agree with the spirit behind the claim: That the clothing style and quality of that era was so high that even the most functional of garments were steeped in panache.)
First, it's a classic military double-breasted greatcoat, with the beautifully stylish oversize collars and flared skirts that typify those garments. And while both features are beautifully stylish, they're both functional; the collar for neck and ear protection against cold while on active service, and the skirts to retain warmth and allow additional layering underneath. It also features a half-belt, designed to nip in the waist--producing a wonderful silhouette, yes, but far more importantly making movement from the waist much easier--such as a quick half-turn to fire at someone flanking you. And, of course, it has a single vent, for ease of movement.... That it features lapped seams throughout and the vent is a hooked vent only adds to its appeal. The vent also features a small interior metal hook closure, for neatness on parade. And, of course, the sleeves are cut for ease of movement and feature military cuffs, and the shoulders feature epaulettes.
The front is secured by Swedish military buttons featuring the three crowns of Sweden; all of these are intact. The rear half-belt is also secured by two crowned buttons at the back. This coat is half-lined.
Given that this was issued in 1940 this is in excellent condition; but I'm always conservative with rating vintage items, and this does have a small flaw; a small surface scuff on the back by the right-hand seam, as shown. It could also use a dry clean and press since it's been stored for decades--this might well remove the surface scuff, too. Although one of the metal insignias is intact it is loosely attached; the other is split in half, and also loosely attached. Giventhese minor flaws this is in Very Good condition--and given its weight and durability it could easily serve you as a highly unusual and historic coat for decades to come--this is NOT a coat that needs to be babied!
Asking just $75, boxed and shipped in the USA. This is HEAVY!

Measurements:
Chest: 21
Sleeve: 24 1/4 (+1 1/2)
Shoulder: 18 1/4
Length: 44 1/2 (This is a classic full-length military overcoat!)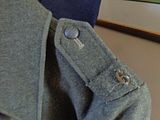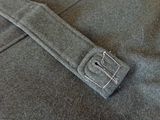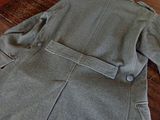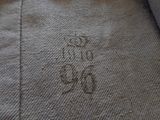 Edited by tweedydon - 12/20/15 at 9:09am