This Classified is Closed
For Sale:
TWO ICONIC POLO COATS! Hickey-Freeman and Pendleton. FREE SHIPPING & OFFERS WELCOME!
Will Ship To: Anywhere

Not surprisingly, the Polo coat owes its name to the camelhair coats worn by Polo players between chukkas.... and as such it was originally an English, rather than an American, garment. But the English Polo had only a distant resemblance to what would quickly become an American style icon. They often lacked any form of buttoning, closing only with a belt, and were essentially glorified bathrobes..... which was fine for their original purpose of being casually tossed over the shoulders of unmounted players.
(Polos were also originally called "Wait Coats", as they were worn only while waiting.)
During the Edwardian era polo became popular with the East Coast establishment, and the polo coat quickly became popular with spectators and players alike. Guided by WASP frugality the original wrap coat was quickly improved to be a more useful garment, acquiring buttons, deep patch pockets, and the oversized Ulster collar, while retaining the functional half-belt at the back, and often shedding the original belt.
The American Polo Coat was born.
But being produced is one thing; becoming a style icon is quite another. The Polo was not long in securing this status. Its practicality and swagger was quickly noticed by the young men at Ivy colleges whose friends and cousins were associated with the polo set, and within a few years it became the coat of choice for the stylish Roaring Twenties, along with Stutz Bearcats, bootleg liquor, and--for the truly wealthy and adventurous--barnstormer biplanes sold off cheaply after the Great War. Indeed, at the 1929 Yale-Princeton game many noted that the Polo had supplanted the Raccoon coat among the Ivy set... and raccoons everywhere rejoiced.*
By the 1950s, alas, the Polo was in decline, supplanted by the double-breasted trenchcoat made popular by its Second War utility and style. It enjoyed a brief popular resurgence in the 1980s with its fascination with the romance and style of the 1920s and 1930s. Yet that it has declined in general popularity by no means detracts from its iconic status, and the Polo has since its inception always warranted a place in every well-dressed man's wardrobe.
Indeed, so classic is the Polo that a lovely example from 1915 (by Brooks Brothers) is held at the Metropolitan Museum of Art.
And if you want one, they're available.... Brooks still stocks them, so does J. Press, Ben Silver, and O'Connell's, who'll be happy to sell you one for $1,400.
Or you could buy one of these!
*Not really. The raccoons had no idea either that this had happened, or what its implications were for them. They're just animals.
1) STUNNINGLY BEAUTIFUL ICONIC CAMEL-HAIR POLO COAT from Hickey-Freeman.
SOLD
This is absolutely gorgeous! Made by Hickey-Freeman, one of THE best American clothiers around, this is, well, beautiful. Cut from extremely thick and luxurious camel hair this coat has a wonderful hand and an utterly insouciant drape.... This is truly a beautiful, beautiful coat, and a worthy heir to the mantle of the coats of the 1920s and 1930s. Double breasted, it features the classic 6 by 3 closure, with an interior button to fasten the interior edge of the coat to the opposite interior to ensure a neat silhouette. It features the classic two deep front patch pockets, which here have lapped seams all around them and elegant flaps. The cuffs have fixed turnback cuffs rather than buttons, giving the coat extra durability, and it has the correct peaked Ulster collar. It also features lapped seams down the sleeves and down the centre back, and a single hook vent.
It is half-canvassed and fully lined. It features a fully functional half-belt at the back. It was, of course, made in the USA, and it is in absolutely excellent condition--indeed, I've just had it dry cleaned by a specialist cleaner, and so it'll be ready to wear as soon as it arrives.
This is simply gorgeous.Asking just $145, or offer, boxed, shipped, and insured in the USA.

Tagged 40R. Measures
:
Chest: 22 1/2
Sleeve: 25
Shoulder: 21
Length (bottom of collar at back): 46 1/2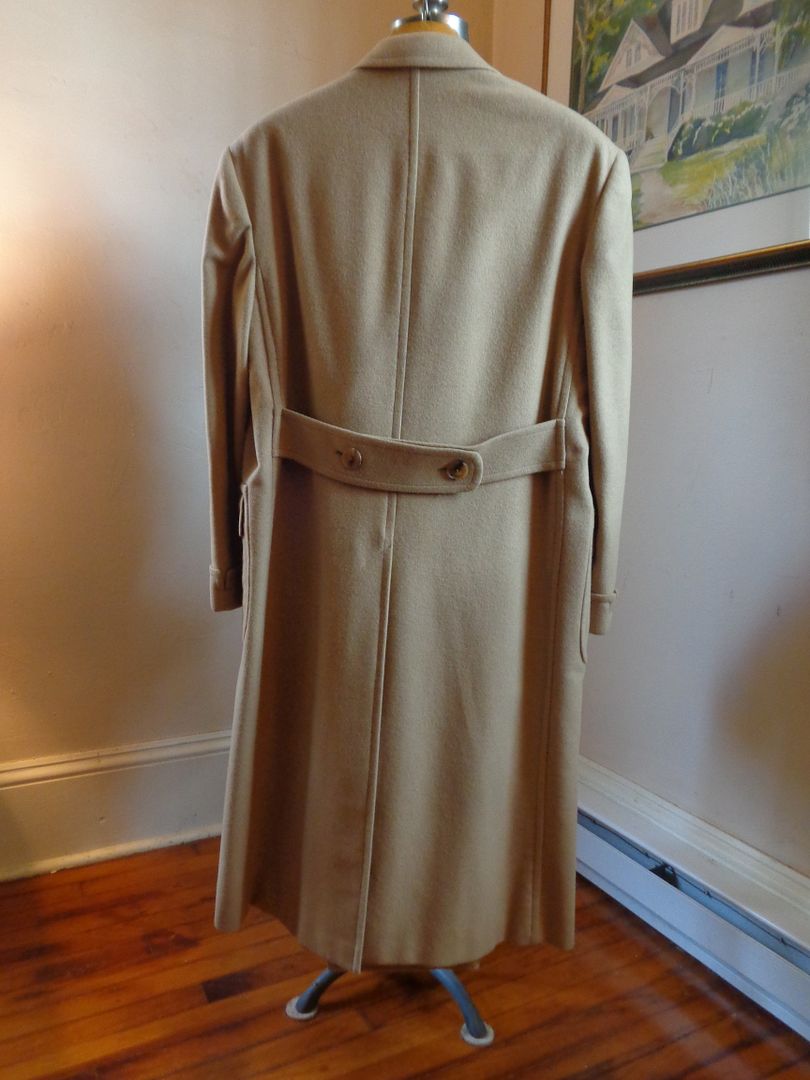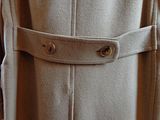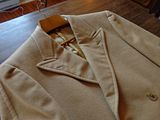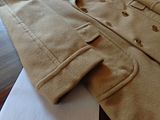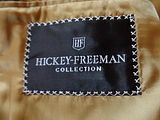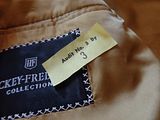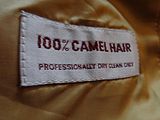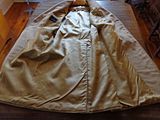 2) Sir Pendleton Polo Coat--by Pendleton Woolen Mills.
A lovely, rugged woolen version of the iconic Polo, this was from the Sir Pendleton line from Pendleton, which introduced this line in 1956--first in its wool shirts, then, in the early 1960s, more broadly. Union Made in the USA this coat dates from the Golden Age of Ivy Style. It is, of course, double breasted, and features a classic Ulster collar, a 6 by 3 closure (with the top button being functional, but intended to be ornamental), and two deep front flapped pockets. It has a half-belt back and a single hook vent, and features built-in epaulettes. It appears to behalf-canvassed, and is fully lined. It's in excellent condition, with the exception of the locker-loo being off on one side... a minor flaw that will be fixed before shipping!
Asking just $75, or offer, boxed, shipped, and insured in the USA.

Measurements:
Chest: 21 3/4
Sleeve: 25 1/5 (+1 3/4)
Shoulder: 17 3/4
Length: 39 1/2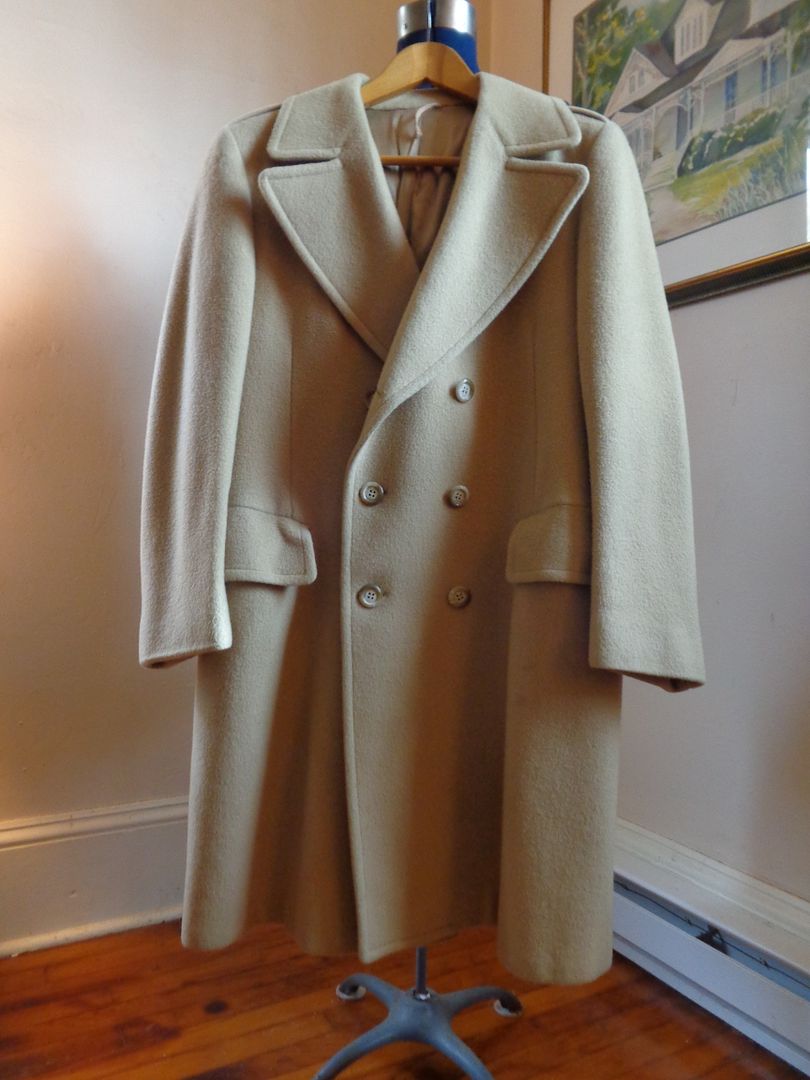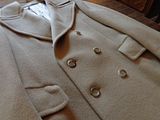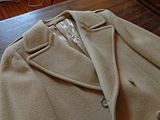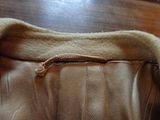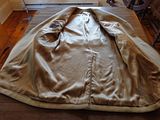 Edited by tweedydon - 11/25/15 at 11:13am