This Classified is Closed
For Sale:
CLASSIC LL Bean Field Jacket, size M; Size M Timberland Field Jacket. FREE SHIPPING & OFFERS WELCOME!
Will Ship To: Anywhere

As always, I offer
FREE SHIPPING ON EVERYTHING IN THE USA
; International inquiries are welcome, with shipping at cost!
Also as always,
ALL OFFERS ARE VERY WELCOME!
Please PM with interest and offers![/B

1) Size M Forest Green Field Jacket.

Introduced in 1924, the Field Coat by L.L. Bean was originally designed for hunting, but its extreme versatility quickly took it out of the woods, and it's just as likely to be seen on the streets of the Upper East Side or Boston Common as it is deep in the Maine woods.

The outer shell is rugged two-ply cotton canvas, treated to be water resistant; the collar and cuffs are 16-wale corduroy for comfort and abrasion resistance. The jacket itself is designed for function. It features a deep lamb-chop pocket on either side at the front; the flap of this is the bottom of the upper lamb-chop pocket that is placed directly above it; a highly functional and innovative design. The jacket has a zipped breast security pocket, and a bi-swing back; both of the shoulders are reinforced. The coat fastens with oversize buttons, ideal for use in the cold.

This coat is complete with its original tartan Primaloft button-in liner and with all of its original spare buttons!

This has a very small white mark on the leading edge of the placket; this can hardly be seen when worn. Otherwise, this is in excellent condition.

Asking just $29, boxed and shipped in the USA.

Measurements:

Chest: 23
Sleeves (measured like a shirt): 34
Length (bottom of collar): 30 7/8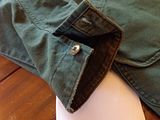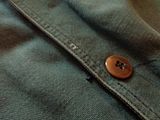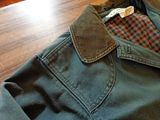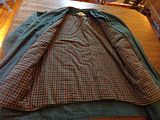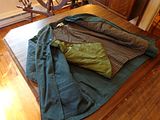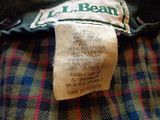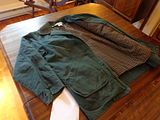 2) Timberland Field Jacket

Cut from substantial cotton duck, this lovely jacket has two deep flapped front pockets which close with studs, and where the leading edges are reinforced with corduroy. It also has a flapped and studded breast pocket, with the stud inset reinforced by corduroy. The collar is complementary green corduroy, and the cuffs are edged in the same material. It has a quilted lining for warmth. It has a bi-swing back for ease of movement. It features a snap-shut interior security pocket and a Timberland zipper. All of the buttons are heavy-duty Timberland buttons. It is in Very Good/Excellent condition, and a steal at just

$25, or offer, boxed and shipped in the USA.

Size M. Measurements:

Chest: 24
Sleeve: 35 1/2
Shoulder: 19 7/8
Length: 25 1/2