This Classified is Closed
For Sale:
DROP! VINTAGE REVERSIBLE MACKINAW FIELD JACKET by the Minnesota Woolen Co., c. 1965. FREE SHIPPING & OFFERS WELCOME!
Will Ship To: Anywhere

The Minnesota Woolen Co. operated in Duluth, MN from 1916 to 1977, and specialized in wool blankets similar to Hudson Bay blankets and woolen outerwear for outdoorsman. The best testimony of the quality of their garments lies in the fact that a lot of their hunting jackets and shirt jackets are still going strong, after 40 or 50 years of hard field use; they can be readily found in usable condition through online vintage retailers or eBay.
(A short video put out by the Minnesota Woolen Co. in 1959 can be seen on my Facebook page,
WaterhollowTweed
. Please "Like" me for early chances at the goodies I post here, plus information about vintage and classic clothing!)
But while this jacket--which likely dates from the mid 1960s--is of similarly high quality, there's something very special about it: It's reversible. And the Minnesota Woolen Co. didn't make very many reversible jackets, or else they didn't survive, or else they're so beloved that they rarely make it onto the secondary market, as this is the first of its kind that I've seen. (And I've seen a lot of MWC shirt jackets!) My suspicion is that this was a fairly rare item, probably owing to its original cost. Adding the gabardine shell to the heavy wool shell would have made this quite a costly item, and I suspect that the typical customer of the MWC wasn't looking to spend a lot on his or her workwear,
So, the first point to note about this is that it's reversible. One side is the heavy bright scarlet wool that's frequently used in hunting gear from the mid 1930s to early 1970s, when it was superseded by blaze orange. The other side is tan gabardine cloth. Clearly, the idea was that you'd have a jacket that would repel rain--rather than simply soak it up, as wool does--and so enable the heavy wool to keep you warm for much longer in the field.
The scarlet side features two deep front pockets, covered with flaps secured by oversize buttons. It also features two deep slash handwarmer pockets, and a front chest pocket--again, flapped and secured by an oversized button. The gabardine side features two deep handwarmer pockets and a zippered chest security pocket. Since this coat is designed to be fully reversible the sleeve cuffs have no buttons or straps of any kind, so they can be easily turned inside out. The collar is oversized and designed to stand; the coat is closed by a zipper, again, designed to function perfectly no matter which way the coat is turned. Since this is designed for woodland hunting it's cut for ease of movement, and so has venting at the seams on either side.
This also comes complete with its original hood, which, of course, can be reversed like the rest of the coat! It buttons on and it easily removeable.
Unlike most hunting coats of this vintage this has all of its original buttons intact, and the zipper is lovely and fluid. Unfortunately, the wool side has suffered some moth depredations, most noticeably on the collar. This is NO LONGER AN ISSUE, and has resulted in cosmetic damage only, but because of this this lovely jacket is in Good/Very Good condition only, and so is only
$45 > 39 > 35, or offer, boxed and shipped in the USA.

Measurements (this is c. a modern 40R):
Chest: 23
Sleeve: 25 1/8
Shoulder: 19 1/4
Length: 31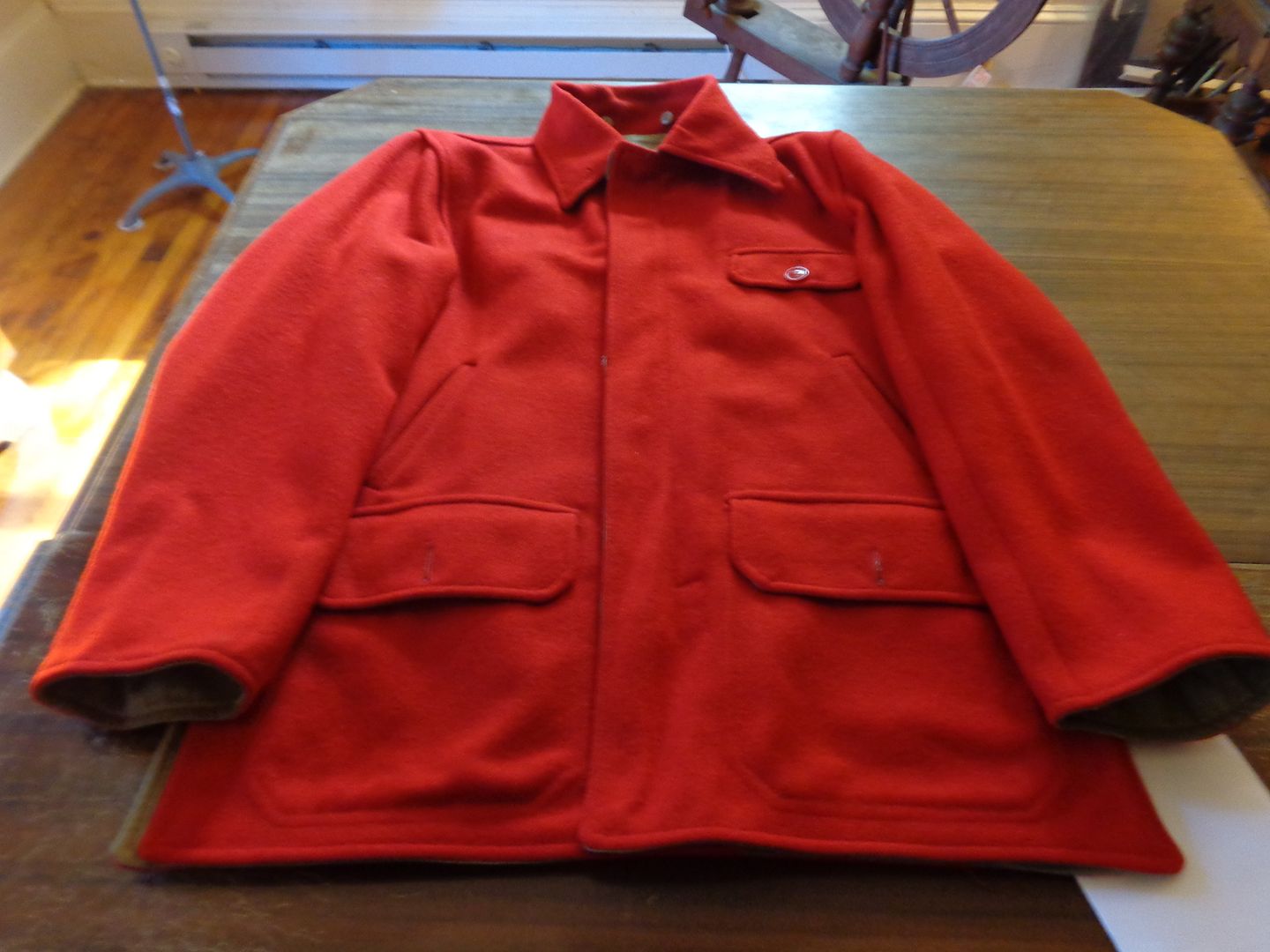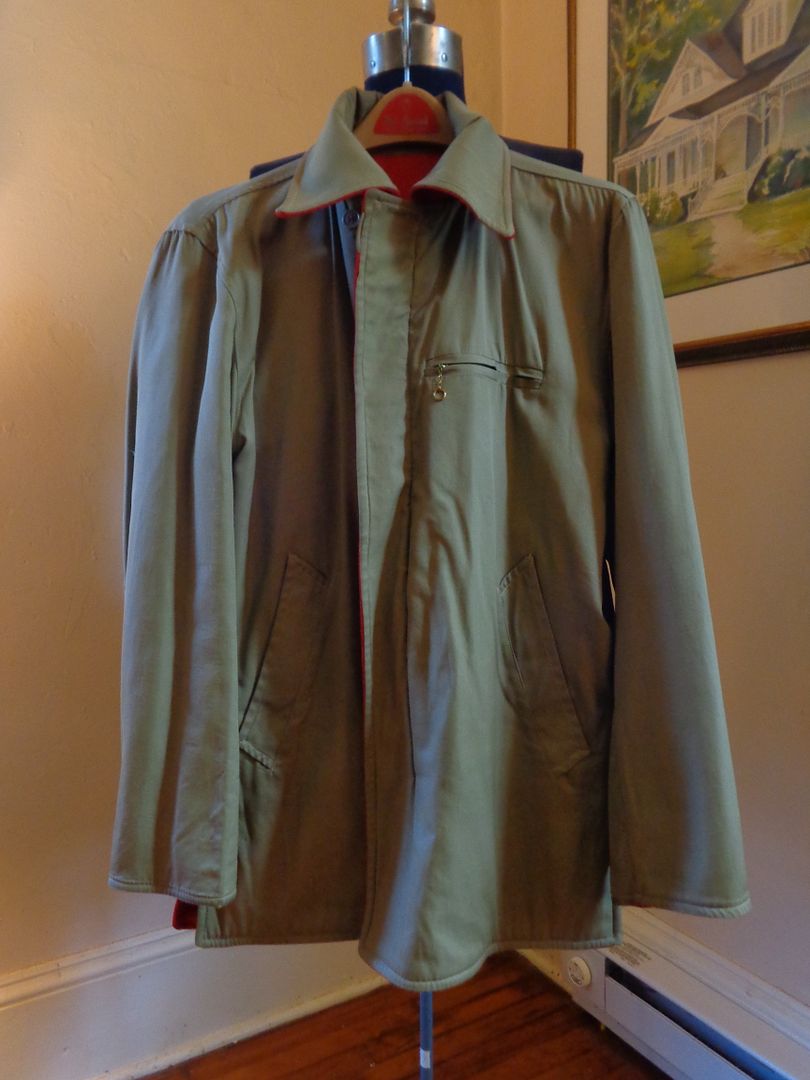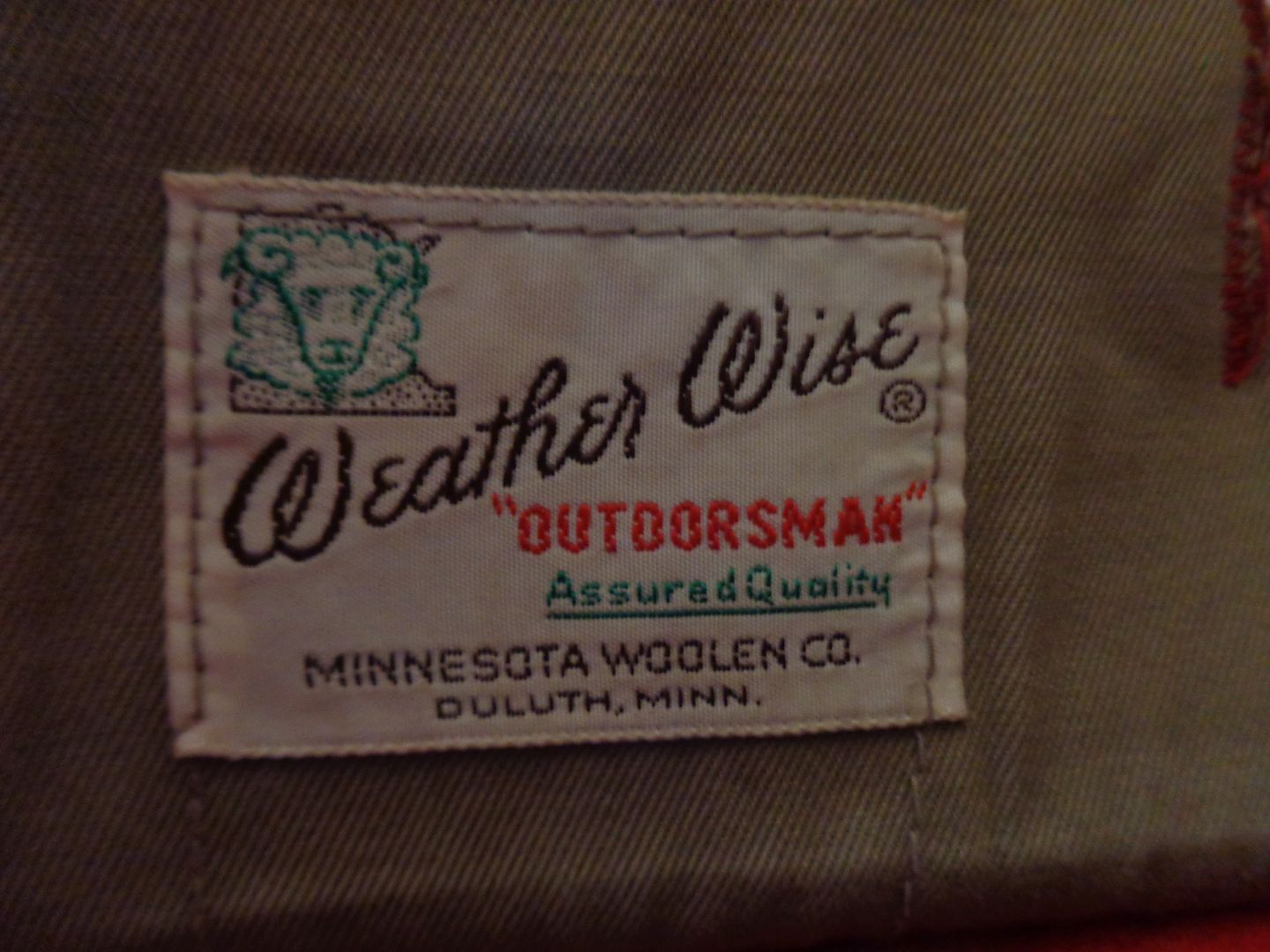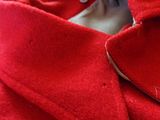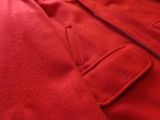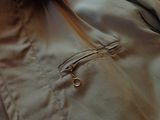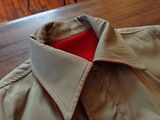 Edited by tweedydon - 11/21/15 at 3:32pm