This Classified is Closed
For Sale:
36 TRAD/IVY Ties for Fall! GRAIL Vintage ties from Langrock of Princeton, Regimentals, Wool, Knits, Emblematics, VINTAGE Ivy League ties (Brown, Yale, Cornell), 1940s reversible wool tartan, more! FREE SHIPPING & OFFERS WELCOME!
Will Ship To: Anywhere

I have a slew of beautiful Ivy/Trad ties to pass on today, includng some genuine GRAILS--a set of original Ivy League regimental ties, several ties from Langrock of Princeton, including a beautiful wool challis, a 1940s reversible wool tie from Trimingham's of Bermuda, plus regimentals, knits, and emblematics!
As always, I offer
FREE SHIPPING ON EVERYTHING IN THE USA
; International inquiries are welcome, with shipping at cost!
Also as always,
ALL OFFERS ARE VERY WELCOME!
Please PM with interest and offers!
GROUP A: KNIT TIES!
The Ivy Fall classic that goes so perfectly with tweed, I have several knit ties to offer today, in silk, wool, wool-mohair, and cotton! Unless otherwise indicated all are in excellent condition.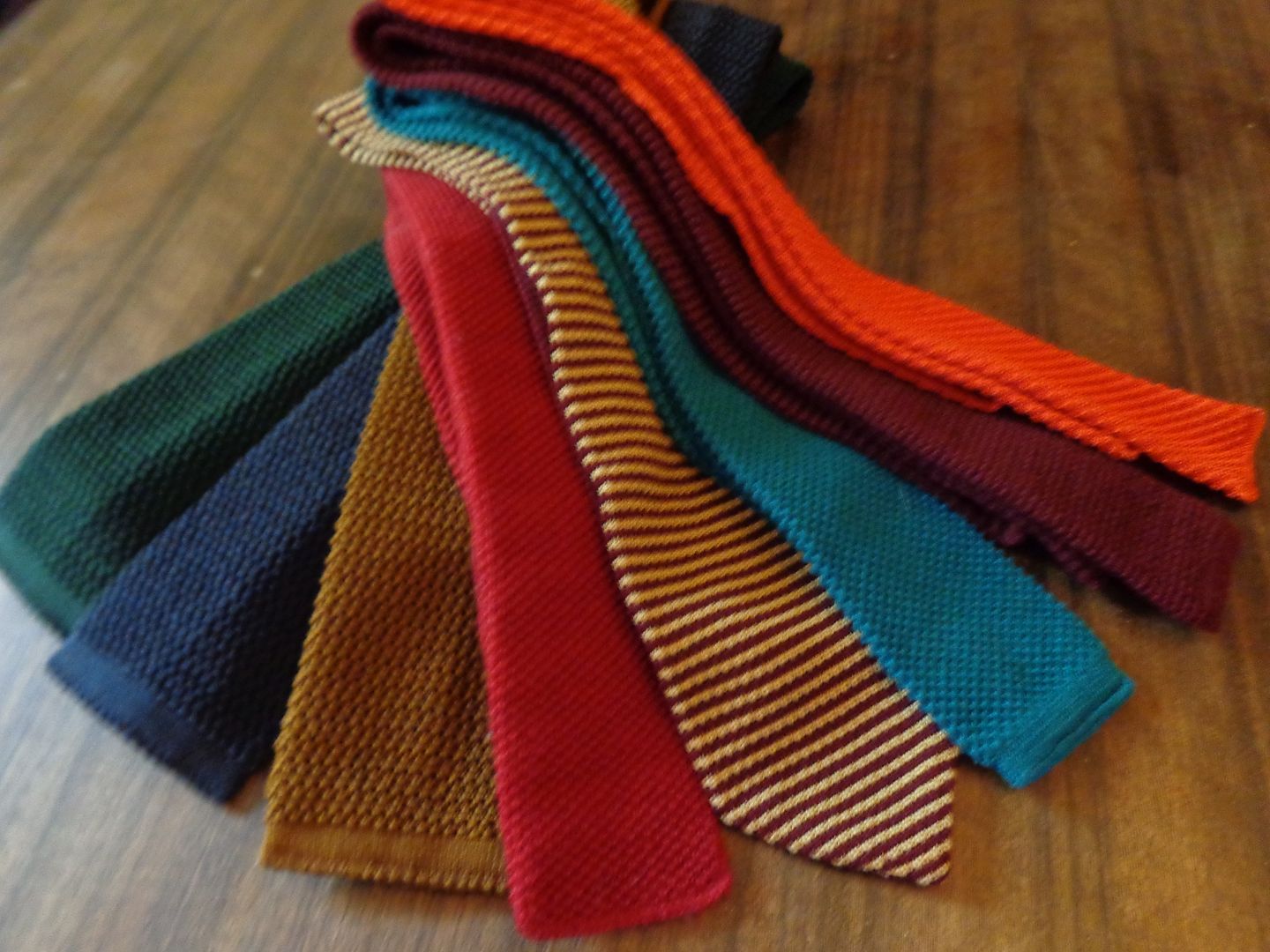 1) SOLD Dark Forest Green Silk Knit; Made in Italy for Land's End. Reinforced neck piece. 3 3/8". $15.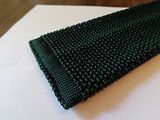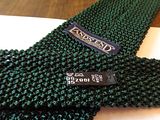 2) SOLD Classic Black Silk Knit; Made in Italy for Land's End. Reinforced neck piece. 3 3/8". $15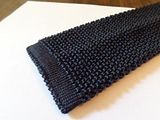 3) Rich Bracken Silk Knit; Made in Italy for Land's End. Reinforced neck piece. 3 3/8". $15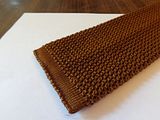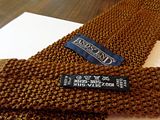 4) Roosterknit--THE classic knit tie! 60% wool, 40% mohair. Berry red. 2 1/2". $13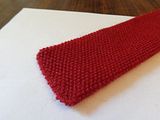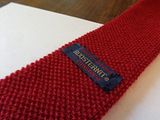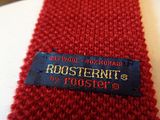 5) Banana Republic; 100% silk knit, Made in Italy. 3 1/2". $14.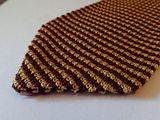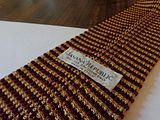 6) Vintage teal knit by Damon. Made in the USA. All cotton.2 1/2". Originally $11... still $11!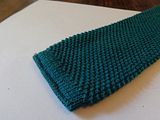 7) Unknown maker; likely cotton. Burgundy. Two small snags on the keeper end, as shown, hence Very Good condition. 2 1/4". $9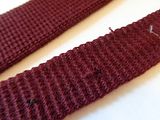 8) Pumpkin orange! Likely silk. A wonderful Fall tie for brown tweeds! 1 3/4". Vintage. $13.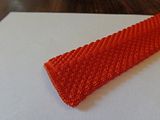 9) Roosterknit. Stripes! All wool. A classic Ivy tie! Originally sold by Bloomingdale's. 2 1/4". $13.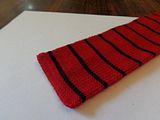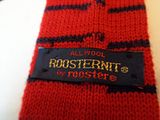 GROUP B: REGIMENTALS!
The classic Ivy tie, worn with anything from the most formal of suits to the most casual of country tweeds, the Regimental tie is one of the links to Ivy Style's borrowing from the dress of English gentlemen, for whom the stripes one wears matter greatly, showing one's membership in Clubs, Alumni Associations, Old Boy networks... and of course, Regiments!
All are in excellent condition unless otherwise noted.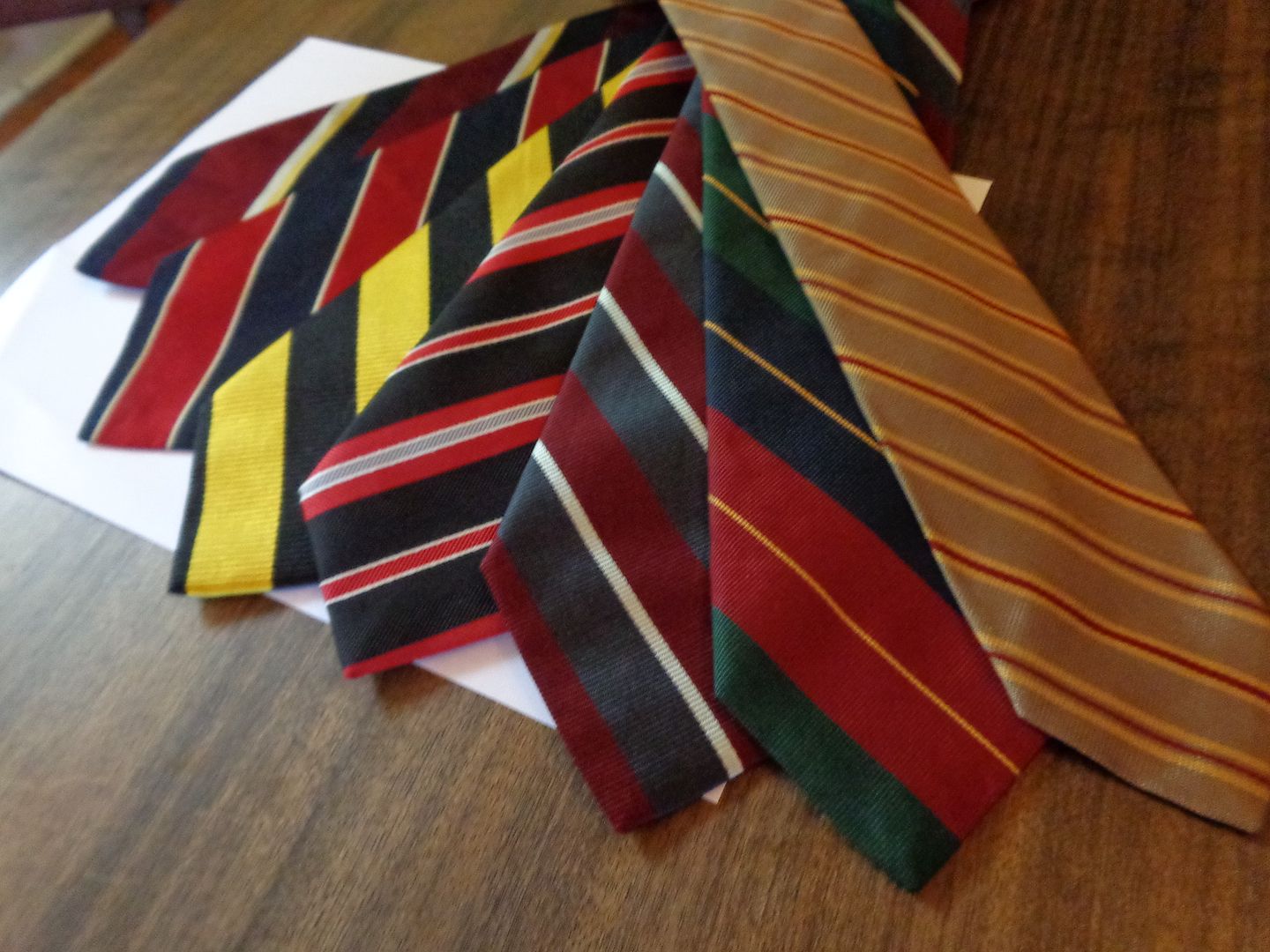 10) OLD SCHOOL Jos. A. Banks. East Yorkshire Regiment. All silk; hand made in the USA. 3 1/4". $15.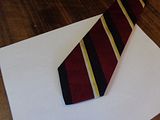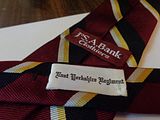 11) The English Shop of Princeton--one of the bastions of Ivy Style! This has a tiny rub on one corner that I only just found, but because of this it's in Very God condition. 3 5/8". $12.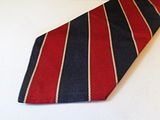 12) Tie Bar. A lovely classic stripe! 3 1/2". $12.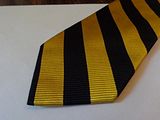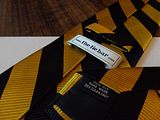 13) Bill Blass. Vintage. Unknown fabric; likely polysilk. 3 1/8". $8.
14) Brown and Church. All silk, made in the USA. 3 3/4". $12.
15) The English Shop of Princeton. Pure organzine silk warp; hand sewn in the USA. 3". The Platonic Form of an Ivy tie! $17.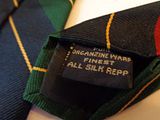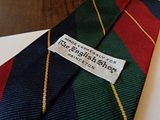 16) Chaps by Ralph Lauren, dating from when it was good--so this is definitely vintage! Sold by Lord and Taylor. Some slight rumpling to the keeper. 2 /58". $12.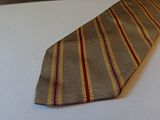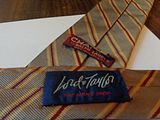 GROUP C: ORIGINAL 1960s IVY LEAGUE SCHOOL TIES!
These are wonderful--if your school is here, grab it quickly, as you're unlikely to see these again! These date, I believe, from the mid 1960s, and were part of a set of Ivy regimentals. These are all in Very Good vintage condition.
These were sold by Nevius-Voorhees, the upscale family-run department store in Trenton, NJ. This store had links to the Ivys--J. Nevius, who became its CEO, was in the '37 class of Princeton.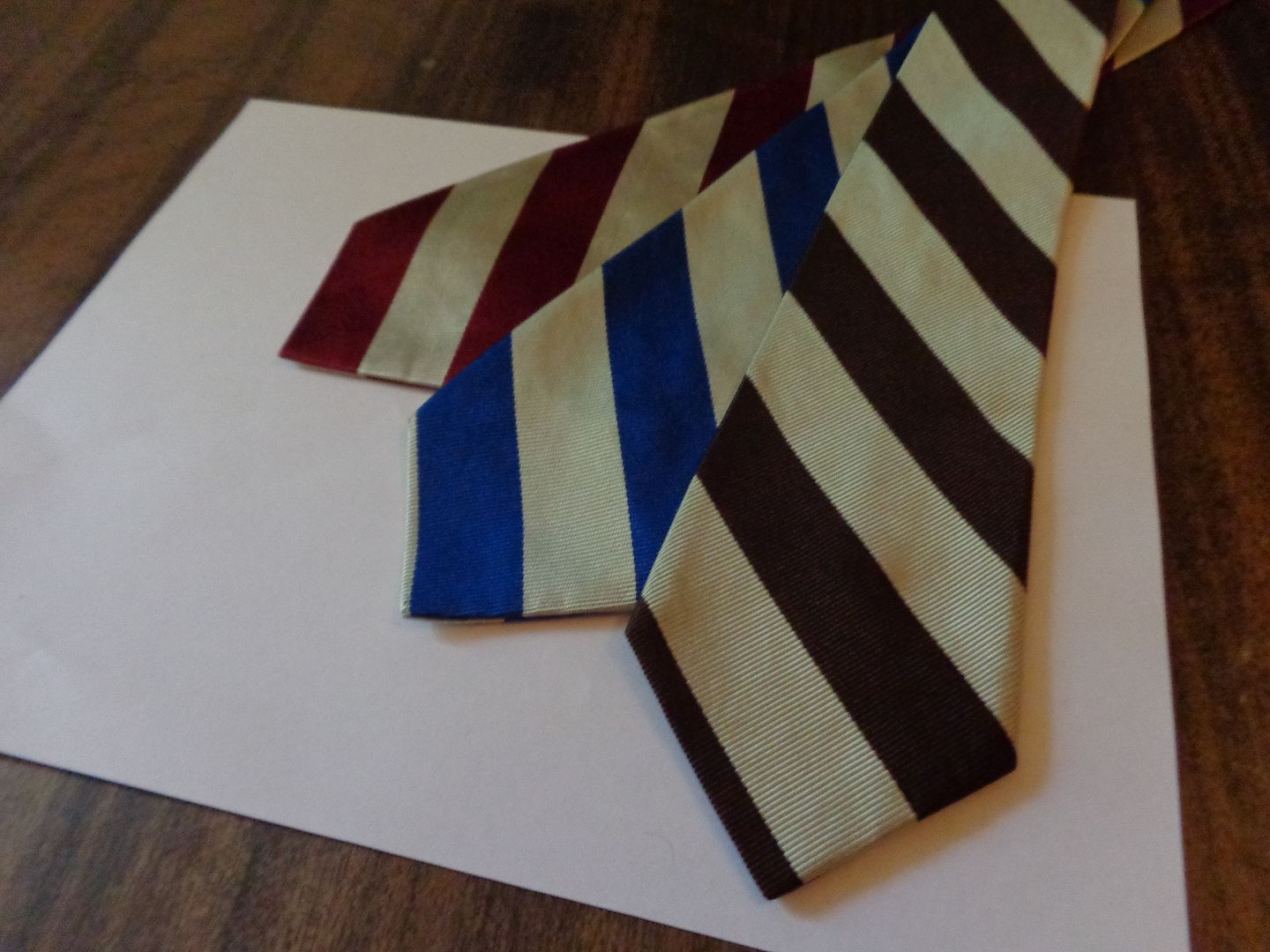 17) SOLD Cornell regimental. Two VERY faint marks on this, as shown. 3 1/8". $15.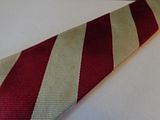 18) Brown regimental. 3 1/8". $15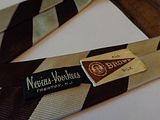 19) Yale regimental. 3 1/8". $15.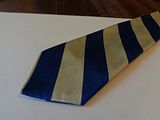 GROUP D: IVY GRAILS! VINTAGE LANGROCK OF PRINCETON TIES FROM VARIOUS ERAS!
Langrock is one of THE Meccas of Ivy Style, being described by Bruce Boyer as being one of the top four Ivy clothiers in the entire country. Specializing--indeed, partly inventing--Ivy Style of the Golden Age, Langrock was boasting in its advertisements in the 1970s that it was the only true purveyor of Ivy Style in America..... and then offers a perfect description of just what Ivy Style is! Alas, its adherence to "The Curriculum" of Ivy Style led to its demise; the refusal to allow darts in jackets through the door sat ill with less traditional clients, and Langrock's closed in 1995.
So important is Langrock to the Ivy Style that there is now a brisk trade in everything Langrock; Langrock labels alone have an active collector's market! As such, I'm delighted to offer this set of Langrock ties spanning several decades of Ivy Style.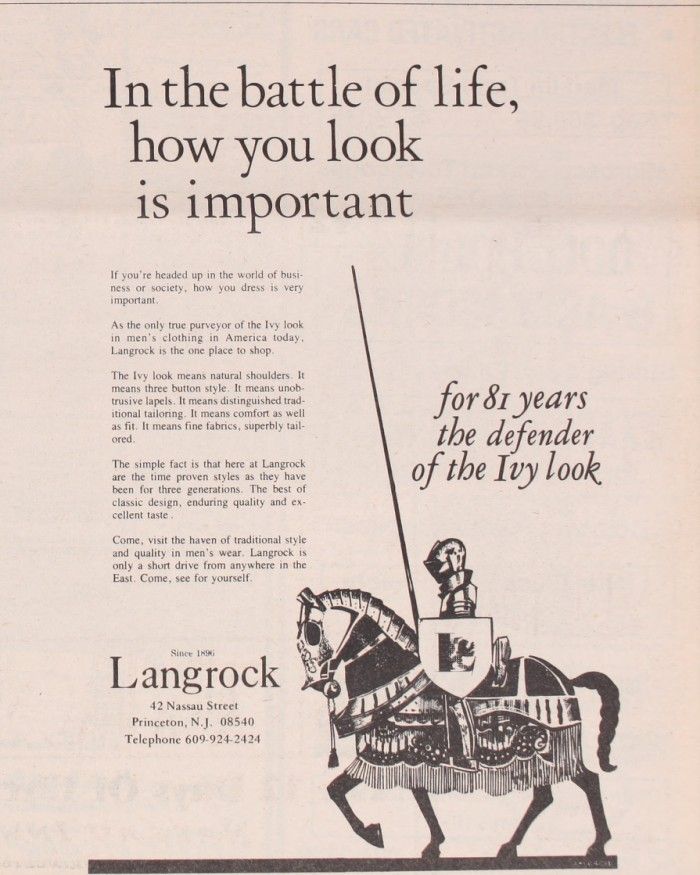 20) SOLD ABSOLUTELY EXQUISITE! This tie is gorgeous; in excellent condition, it was Made in England expressly for Langrock. Perfect for tweed, this is 3 1/2", and just $25.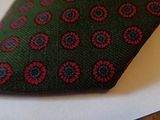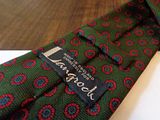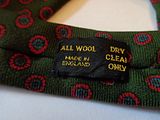 21) Challis Pattern Silk Tie. Made in England. This has some minor discoloration, as shown, hence is in Good/Very Good condition. 3 1/4". $12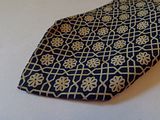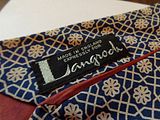 22) SOLD Autumnal medallions. Silk. Absolutely beautiful! 3 1/4". Very Good/Excellent condition. $17.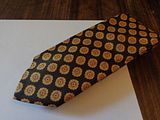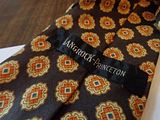 23) A classic regimental! All silk. Minor memory in the knot area, and a VERY faint shadow stain, as shown, which can only be seen when you REALLY look for it, hence Very Good condition. 3 1/4". $15.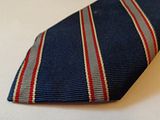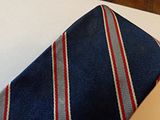 24) SOLD Another classic regimental! Made in England. Some memory in knot area, hence Very Good condition, and so just $15. 3 1/4".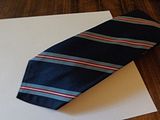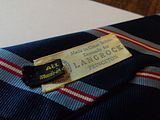 25) VERY VINTAGE 1950s - 1960s Emblematic. This is wonderful, and carries one of the earliest styles of Langrock labels. Reinforced neck piece. Very Good condition. 2 1/2". $16.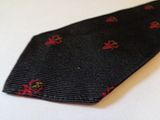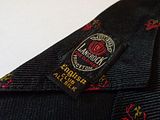 26) SOLD WONDERFUL! This tie was made by Welch, Margetson & Co. of London, one of the premier shirtmakers in London, which also specialized in ties. Founded in 1824, this firm closed in 1963.... which means that this tie is likely late 1950s. It has a VERY faint shadow stain on it, which blends into the pattern, and so is in Very Good condition. It does, however, still carry all of its Langrock labels, as well as the Welch, Margetson Gold Shield, featuring the Imperial British lion... many W, M ties lose this over the years. This is all silk. This is a truly lovely tie, and a wonderful piece of both American and British sartorial history! 2 3/8". Asking just $18.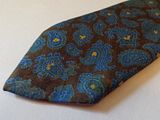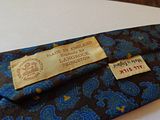 GROUP E: WOOL & CASHMERE
A lovely selection of wool and cashmere ties, perfect for Fall, and ideal for tweed! All are in excellent condition unless otherwise noted.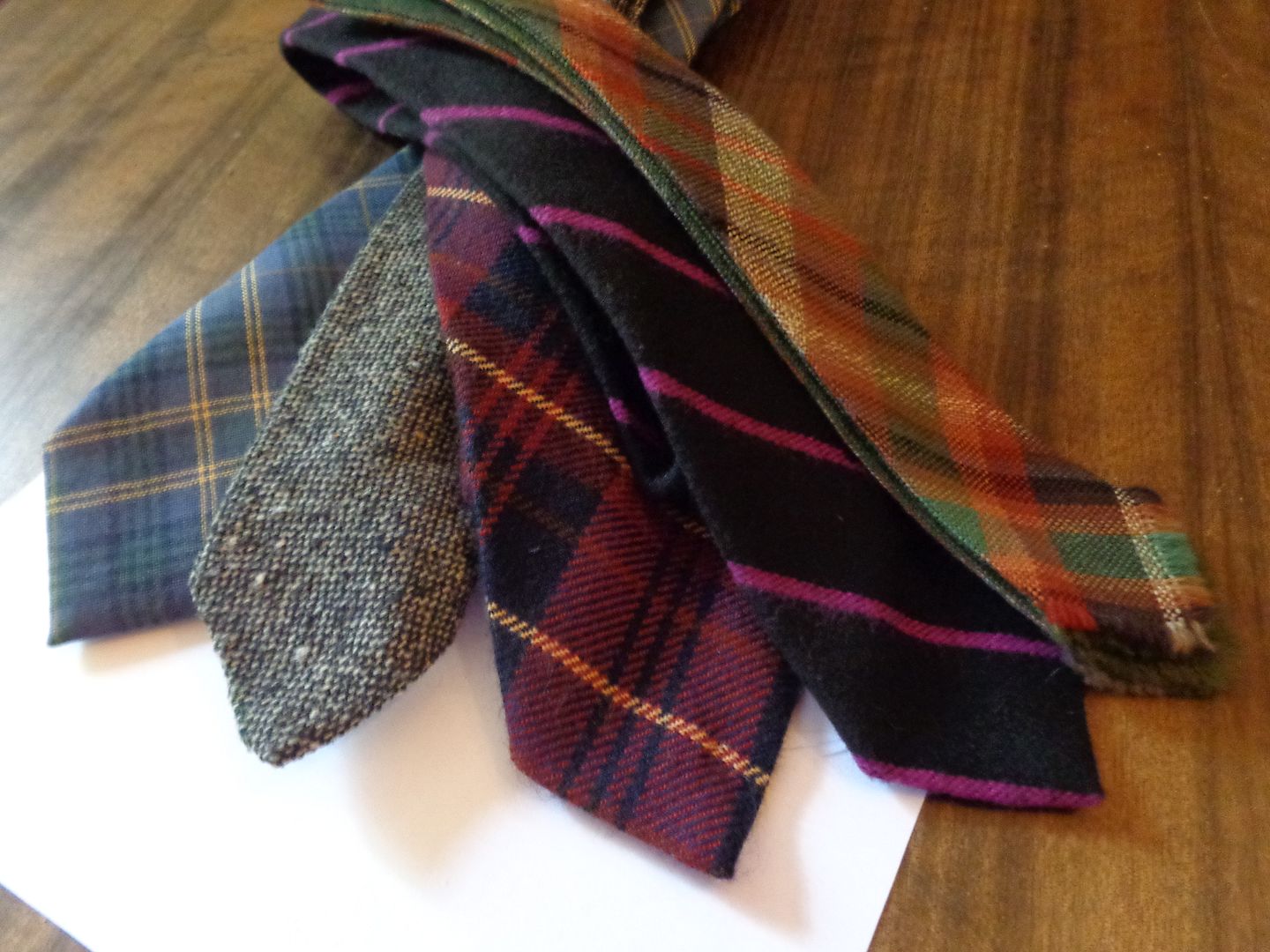 27) Irish plaid tie--oddly, Made in Scotland! All wool. 3 3/8". $14.
28) SOLD Tattersall tie. Wonderfully textured, in Donegal-esque pepper and salt! 3". $14.
29) Rooster Tartan tie. Lambswool, woven in Scotland. This is lovely! 3 1/4". $15.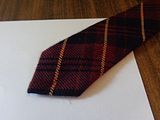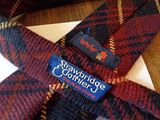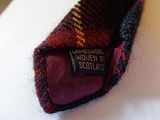 30) 97% CASHMERE & 3% WOOL by Polo. This is wonderful! The fabric was woven in Italy, with the wool being added to provide more durability than a pure cashmere tie would offer. This was Made in the USA. It's in excellent condition, except for a tiny weave fault on one stripe, as shown, likely there from new. 3 1/8". $18.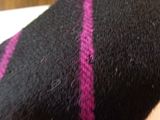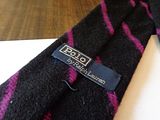 31) WONDERFUL & RARE! A Reversible Plaid Tie from Trimingham's of Bermuda! Trimingham's was established in Bermuda in 1842, and was the premier clothier for the vacationing Ivy set from the late 1940s on, until its closure in 2005. This is a lovely reversible tie; a forest green birdseye weave on one side, and a classic American plaid on the other. It was loomed in England, and likely dates from the late 1940s to early 1950s. It would be perfect with tweed.... No matter which side you had on display! It could use a dry clean to freshen it up, but otherwise it's in Very Good condition. 2 1/2". $20.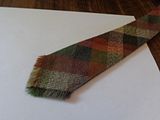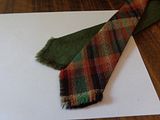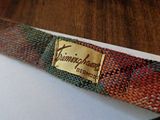 GROUP F: EMBLEMATICS
One of the staples of an Ivy wardrobe, emblematic ties were used in England by clubs and regiments as "town" ties, with the more familiar stripes being reserved exclusively for the country. I recall once reading an anguished letter from a man writing to a foremost authority on etiquette around 1960 asking when he should change his tie when he was taking the train out of London.... when, he wanted to know, was one sufficiently far from London that the stripes should replace the emblems of his School tie? Emblematics have long since departed from such restrictive origins, and now appear in all manner of guises, adding fun and whimsy to even the most staid Ivy outfit!
Emblematic ties are also distinguished in the Ivy wardrobe by being almost the only place where polyester is tolerated--the other being the standard issue cotton-poly trench coat of Burberry and Aquascutum!
All of these are in excellent condition, unless otherwise noted.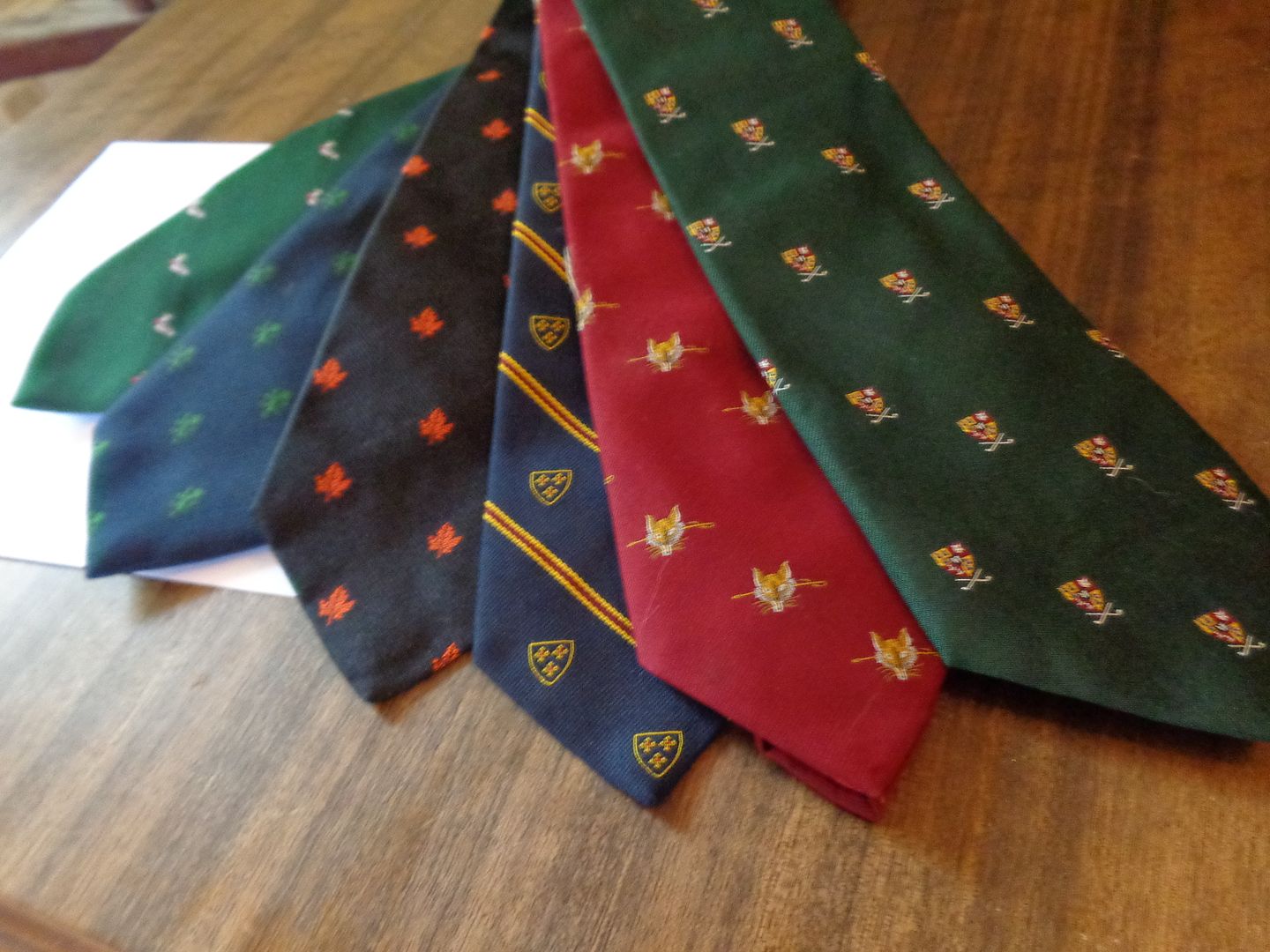 32) SOLD Ducks! 95/5 polyester/silk. 3 1/8". $10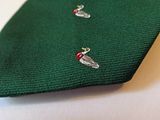 33) Autumnal leaves! A really lovely, classic tie--all silk. 3 3/4". $14.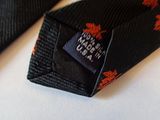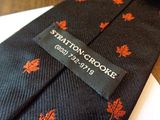 34) Heraldic tie by Wm. Chelsea. Likely poly-silk. 3 1/4". Has a tiny smudge on one edge. $10.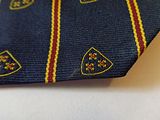 35) SOLD CHIPP! This is wonderful; a beautiful fox mask emblematic by one of the premier American tailors, Chipp. Chipp's humourous ties are very sought after, and can command very high prices..... and, in some cases, a talk with your Human Resources department after the sexual harassment complaints come in! This is a lovely tie that would be perfect with brown tweed for a quintessential country look. It has some minor fraying on the keeper, and so is in Very Good condition. 3 3/8". $17.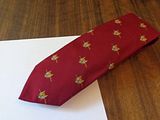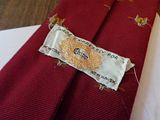 36) Heraldic tie by Polo. All silk. Made by hand in Germany. 4". Excellent! $14.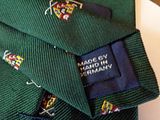 Edited by tweedydon - 10/13/15 at 6:49pm