Okay, so I received my very expensive Keith Highlander shoes from Ebay for a whopping price of $35 + shipping last night and decided to 'Doc Holliday' them up a bit. Thanks to the Doc for his previous explanation and pictures of his work which gave be the confidence to give this a whirl. By the way, nowhere does it say 'Keith Highlander' on these shoes. (??)
I will show how this stripping was accomplished and also show what the shoe looks like in the finished state as I believe there are still several pairs for sale on Ebay. As for this pair, I have purchased far too many shoes recently and I am looking to sell these at a slight loss. I paid $34.99 + 9.95 shipping for a huge total of $44.94 and I will sell for $50 shipped. I had my fun with them, now somone needs to wear them...they are a 10.5D.
Alright, on with the show.
Doc has already shown the shoes in the 'shoe thread' on the B&S forum, but note the clear coat in my picture here: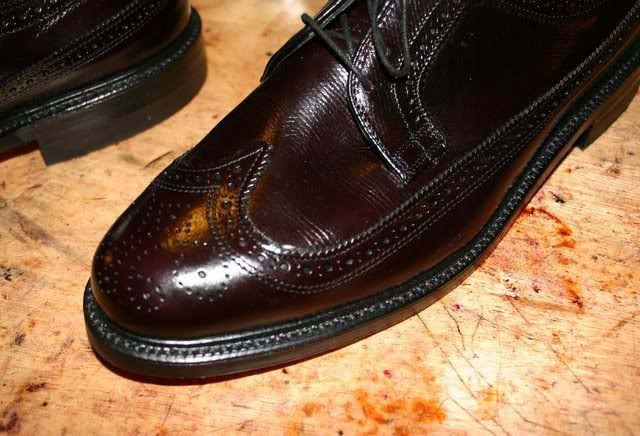 I was at Wegman's last night (Grocery store) and since they didn't sell acetone (and I am impatient) I bought some plain nail polish remover, which is primarily acetone. I made sure not to buy the 'nail strengthening' formula or any other varient as these contain gelatin and other components that I didn't want to introduce into the equation.
Good ventiliation is highly recommended for this task as are proper gloves and eye protection.
So I dabbed a little on a cloth and began wiping with moderate finger pressure. This is what began to occur: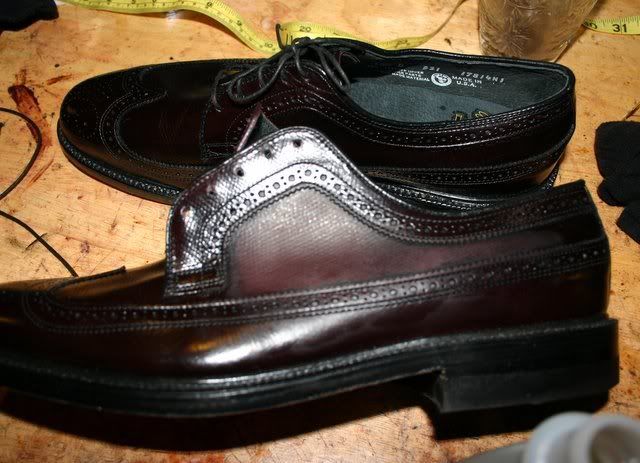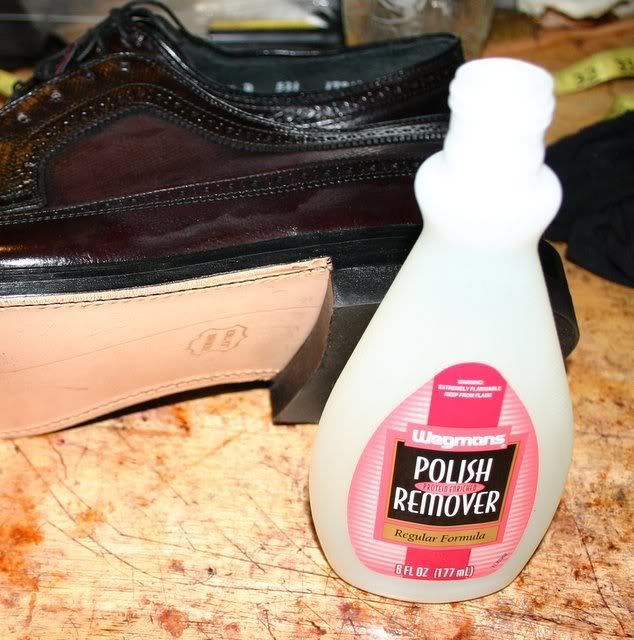 I gained confidence as I went along, since it seemed really hard to mess this up. I didn't rub too hard as I wanted to maintain a nice dark color. I would suspect that the color could be stripped if I worked it harder.
To get into the broguing and all of the crevices I used a toothbrush. Just dunk it in the bottle and scrub: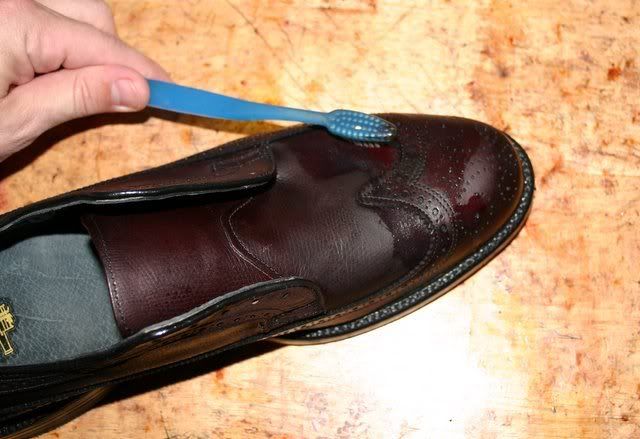 Here is how the before and after acetone treatment is starting to look: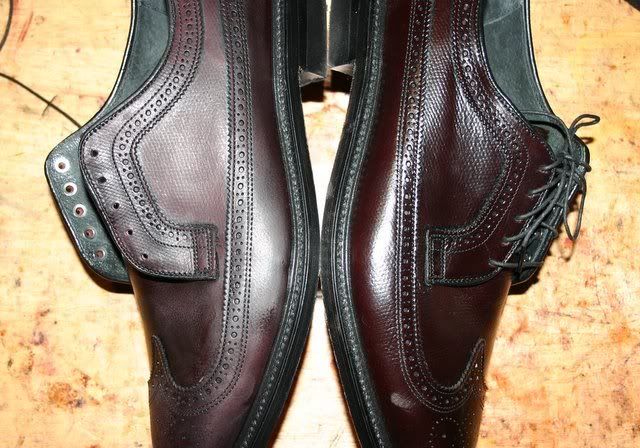 After completing the second shoe, and going back to touch both shoes up one final time, I went on to the polishing stage. I could have hit them with leather conditioner here, but I wanted to go for a very dark burgundy since I already had a few pairs of longwings which were more red. I also thought the dark color might look good with jeans. Sooooo....I liberally applied some Allen Edmonds cordovan shoe cream, which is a very dark color. After they dried and were brushed I again applied cream, allowed them to dry, and brushed them. This stage was done while I worked on other shoes...
I suppose here is a good point to mention that my other favorite tool is a cheap screwdriver kit I purchased at Harbor Freight Tools for less than the cost of a coffee at Starbucks. These small screwdrivers are great for cleaning out broguing and little creases.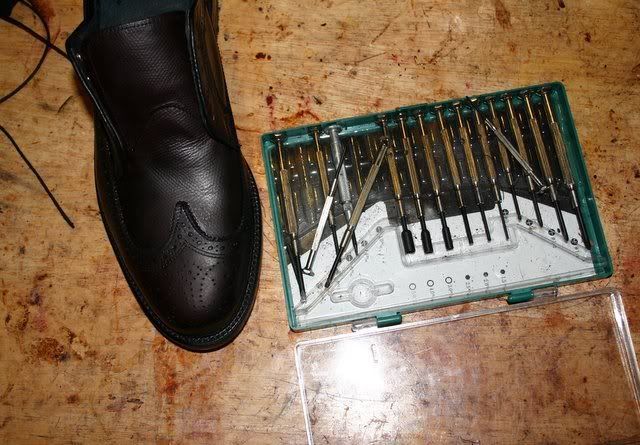 After this was completed I applied a little bit of shoe polish and gave them a good brush and buff with a cloth. I chose not to go nuts with the polish to keep them a little more casual looking. I think that as they are worn a polishing here and there will serve them well in the future.
So.....(and sorry for the lousy pictures, it was 8:30PM in my basement)....here is the finished product: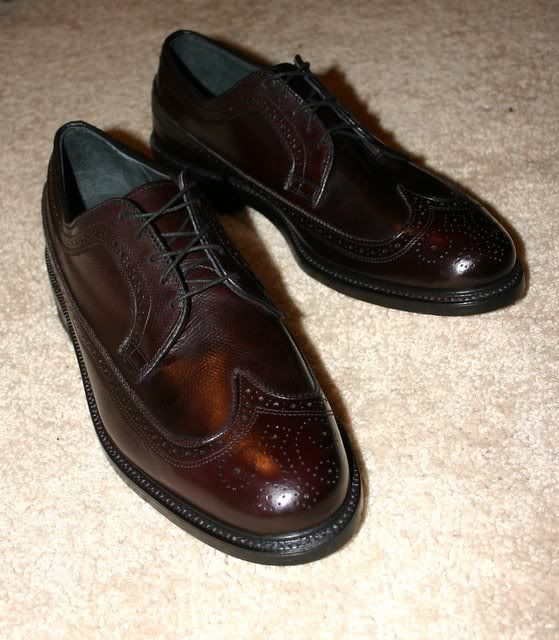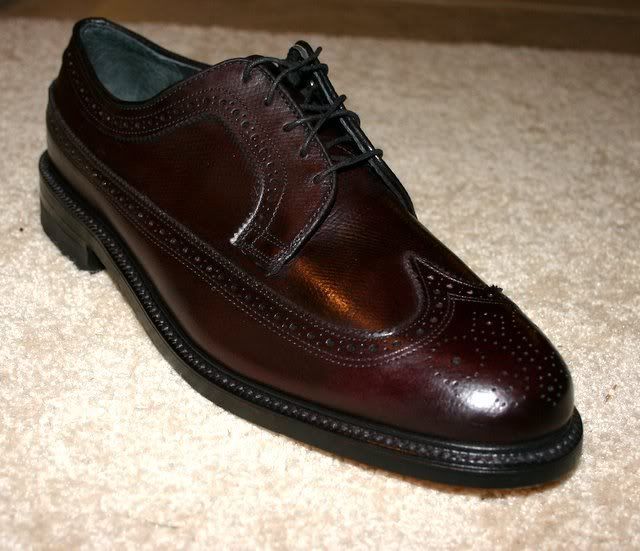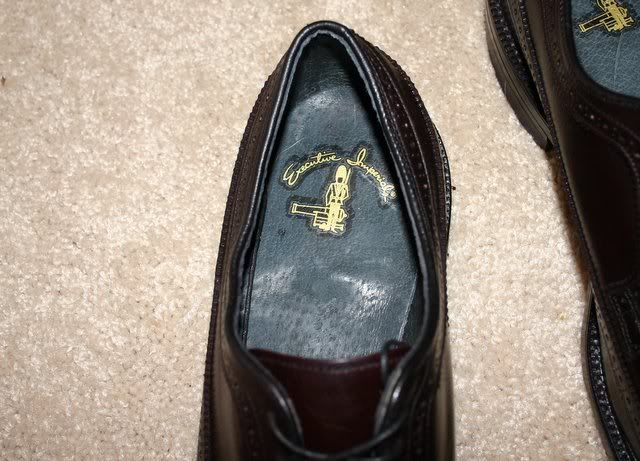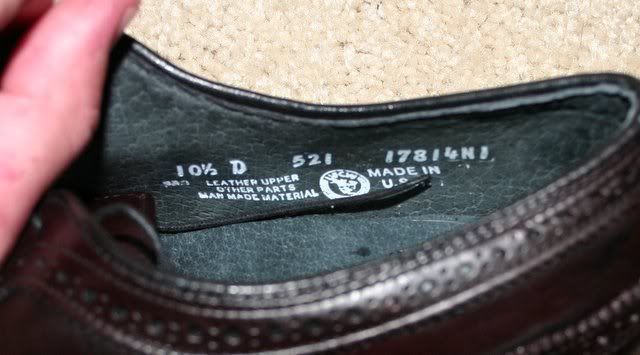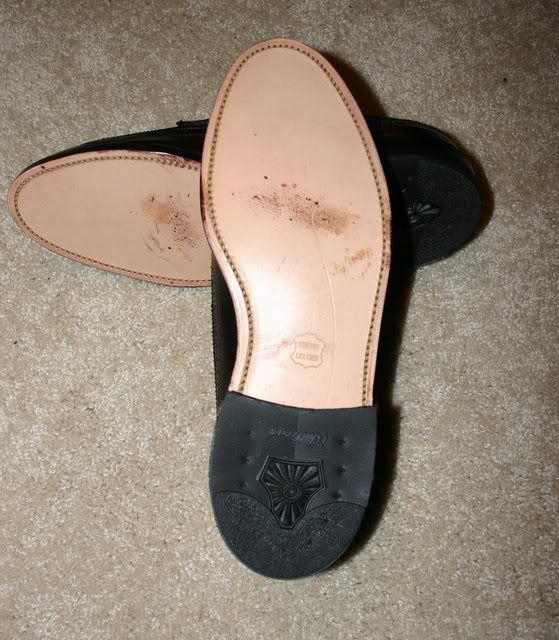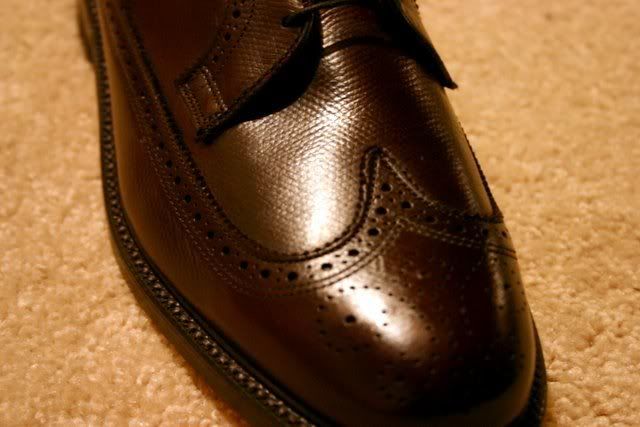 All in all it took maybe 10 minutes to strip them and another 10 minutes to polish them (exluding dry times). And remember, these shoes are now famous and can be yours for $50 shipped.