Thanks.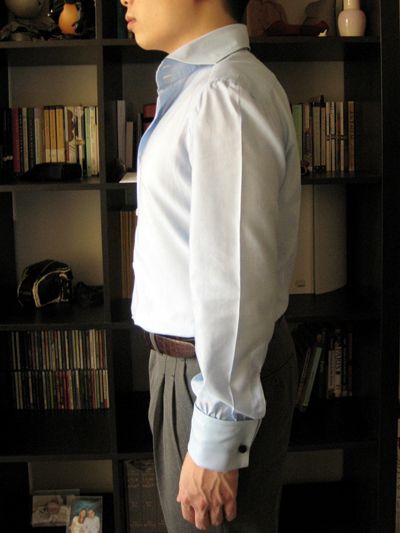 (Again, excuse the cuff bunching over my watch)
Quote:
Originally Posted by
VINSON
I am wondering why my shirt isn't as perfect as yours (well, besides the fact that it cost as much as all 8 of my shirts).

I know I have too much excess fabric in the lower back.
and it looks like around the part where you tuck it in, my shirt has extra material on the sides so it doesn't tuck as neatly.
I'm very curious about the arms though.
I'm no expert, but it looks like your shirt may be too tight around the waist; the flare into the skirt looks really dramatic. My guess is that something wonky is going on with how they shaped your pattern to make that funny divot in the back.
From the side, your sleeves look like they were cut in a straight line and don't follow the curve of your arm. My arms are pretty straight as is, so my sleeve doesn't bunch even though it's pretty straight.