Hope this is all right with the moderators, that i start a new thread for this as the old thread looks like no one is seeing the update. hope this doesnt kill anyone:
well, i got my shipment. seems the algonquin toe is another model, not my model sorry guys.
here are photos, alot of these im slightly disappointed are a bit more shop worn than they were claimed to be (over the phone).
i will price these accordingly and the rest if i dont sell i will have to return.
I have a size 9 (9.5 D US) in this wholecut FAM model in brown. more shopworn than i expected, still brand new in box technically
$599 shipped
I also have a FAM semibrogue in 9 (9.5 D US) and 10 (10.5) in brown.
the 9(9.5 D US) was a display (the one with the sticker on the heel) it has a finish that is slightly altered due to the length of display (looks as some lint stuck on the finish) you will see in person visibly but on the photo you cannot see it. these are
$559 shipped
and the 10 (10.5 D US) is
$599 shipped
. 10 also more shopworn than expected
here is the one i received earlier , 9 (9.5 D US) which is got the scratch on the left heel but besides that is pristine condition compared to the above
$619 shipped
: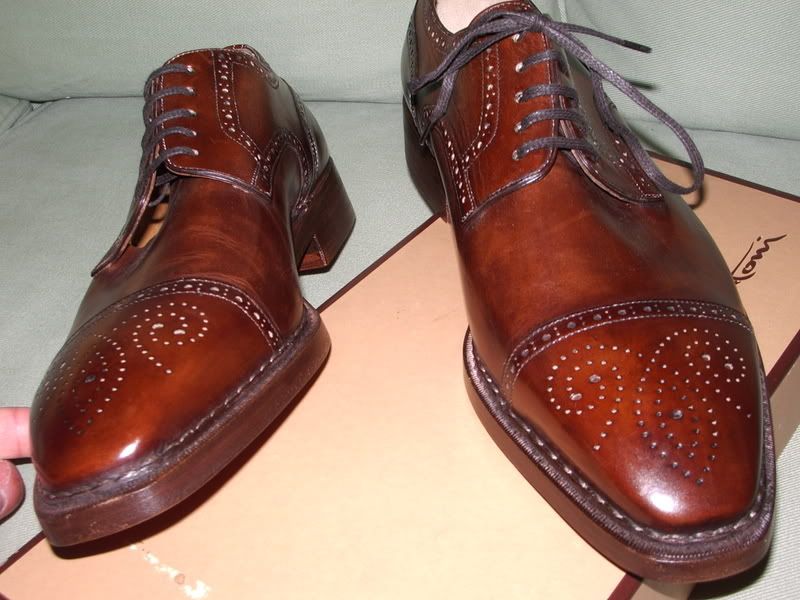 I also have a 8.5 (9 D US) and 9 (9.5 D US) in a brown Algonquin toe but these are not the algonquins i have . these are a more traditional split toe in a rust /med brown, and have a thick goodyear construction . price lowered also, but these are pristine condition both pair
$639 each shipped
.