UPDATE!
: I will be doing things as follows: the most recent additions (anything added in the past couple of days) will be going up top. Otherwise, items will go in the proper area (ties, shoes, whatever). All items from the Minisale thread have been brought into this one. Please note that I have set up a GrandCentral number that will ring my cell phone -- please call this if you have any questions that you would like answered quickly or you feel like berating me for any reason. I live in the Eastern time zone of the US and I barely sleep, so feel free to call me at 3 in the morning if you really need to know the width of a shoe or something, I totally don't care. For those who aren't familiar, GrandCentral provides alternate phone #s so you can publicly provide a number without giving out your permanent phone number. Make sense? Anyway, for reference, three ways to get in touch and ask me to measure something, describe something, photograph something, whatever:
Call Bergdorf Goodwill
(I answer to Jake): 740.661.4262
AIM:
gilscottheroin
PM
: You already know how to do this.
Paypal
:
anendlesscloset@gmail.com
(feel free to donate tens of thousands of dollars so I can go to college and stop being useless)
MOST RECENT ADDITIONS 7.20.07
Two TM Lewin shirts, 15.5/33. $30 for one, $55 for both. French cuffs, gorgeous fabrics, etc.
Super classic Polo shirt, sz XL. $12.
L-R: Brooks Bros. navy/white/gold horizontal stripe $14, unknown maker navy/white horizontal stripe $8, silver textured Turnbull & Asser $30, completely insane Polo woolen equestrian tie with stripe $25, slightly less insane Polo woolen equestrian tie $25, blue/yellow Polo $15, vintage tie with great color/heft/no unusual width issues (reminds me of some nicer Zegnas I own) $10, burgundy Brooks Bros. medallion $10.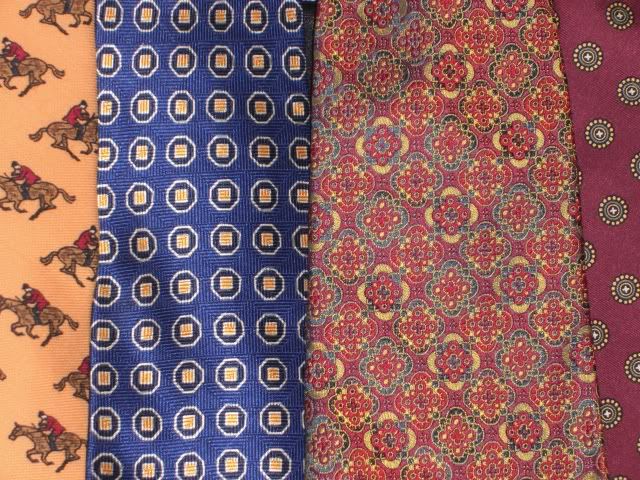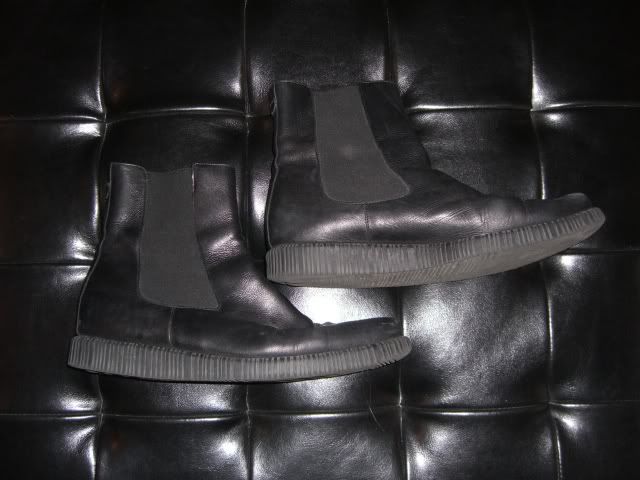 Unique black Bally boots, sized at 39 (equivalent to US 8). $40.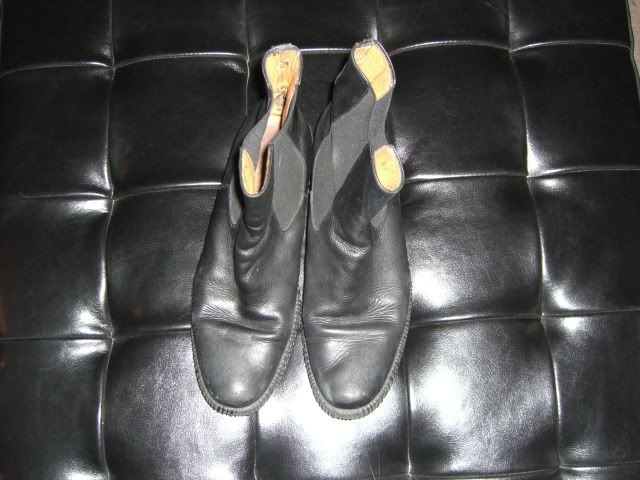 EU56 grey striped Cantarelli sportcoat, absolutely amazing fabric, dual rear vents. $125.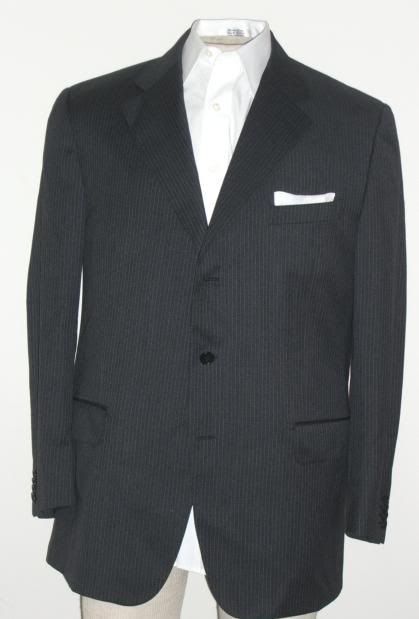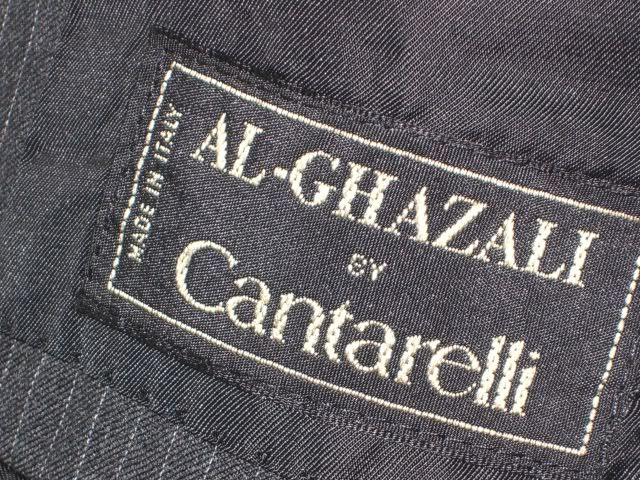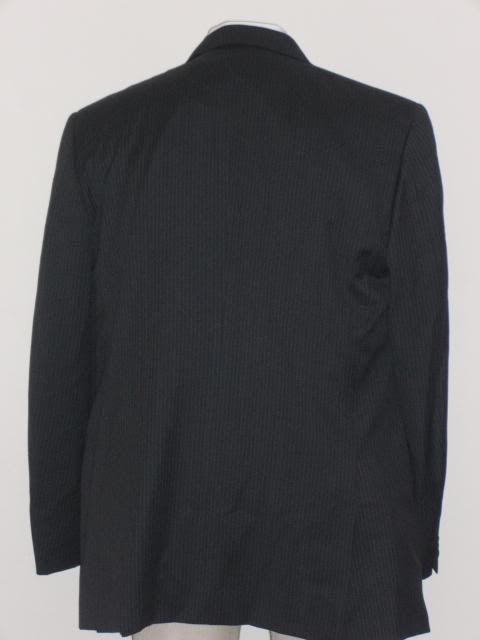 Brown RM Williams boots UK9.5G, $150.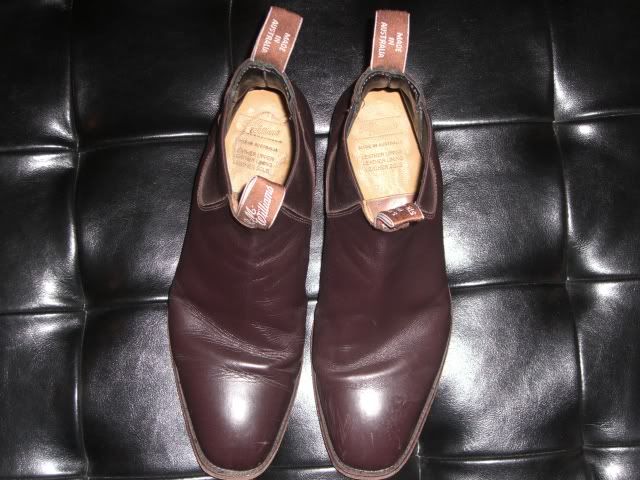 Sz XL Mariano Rubinacci linen casual shirt (no top button, but this is not the type of shirt to be fully buttoned). $60.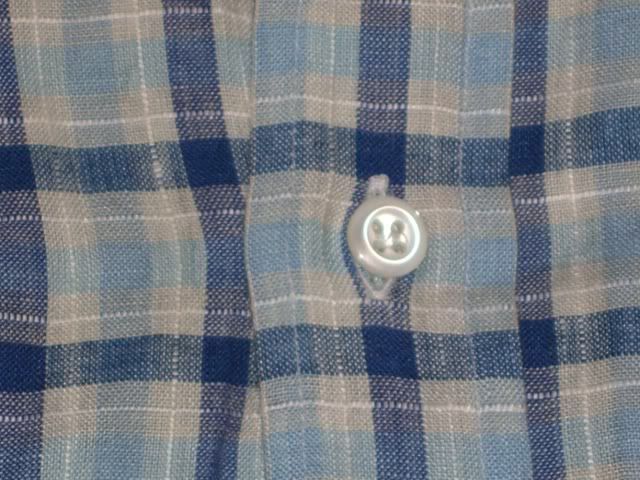 Navy Canali suit sz EU50R, $250. Measurements of jacket: underarm-to-underarm 22", waist 21", sleeve 26", shoulders 19", length 31". Trousers: waist 17.5" laid flat, inseam 30", rise 11.5".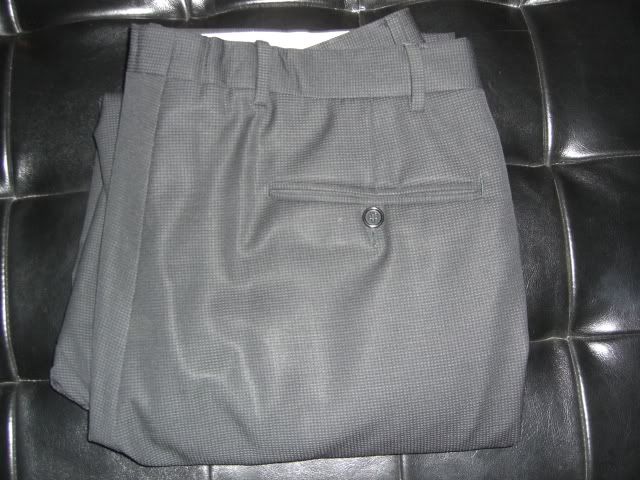 TIES
I have loosely organized the ties for sale, shot them in groups, and attempted detail shots. My hands are not the steadiest things in the world (lol stress alleviate it with your dollars), so please forgive the flash giving some of these lovely cravates a Jones New Yorkian sheen -- I assure you it is illusory. All prices include shipping within the US (and likely overseas, unless you're trying to get me to ship these things to Lagos or something).
Group A:
L-R: Red/green Ben Silver $25, Blue/red/yellow/white no name $10, Lt. blue/orange/yellow/navy Tino Cosma $20, Navy/red/white Brooks Brothers $12 SOLD, Tan/red/navy Aquascutum $15, Gold/red/navy Woodhouse Lynch (I think this is Columbus-local -- it's a nice tie, nice heft, but essentially no-name to most of you) $8, Classic Red/Navy Lands End $10 SOLD (Connemara has requested that I note that he made the first purchase, despite his absence. He offered no further comment.) Brown/yellow/white Church's $20 SOLD.
Group B:
L-R: BCBG (heeey...) $5, Heavy navy Joseph Abboud $12 SOLD, White/blue/yellow Tino Cosma $40 (this is from my own closet, and it's one of my favorite ties, and the fact that I need to sell it is a testament to my own failure as a man) SOLD, Pink/blue/yellow Luigi Borrelli (very small spot, indicated in heavily-zoomed detail photo below) $35, Blue/orange/black no-name $8, Green/purple Hugo Boss (it's actually really nice) $20, Navy/yellow MERONA, KING OF ALL NECKTIES. I have four of these, actually. $5 apiece. Surprisingly very nice. Red/black/white Brooks Bros. tie $15 SOLD. Oh, and that golden tiny tie is a Brooks Brothers children's tie. The first person to cop some merch from me who mentions having a male son in need of baller attire gets it. Or you can just give me $5 for it, if you don't have any use for ties of your own and simply need to clothe your small person.
Group C:
L-R: Skinny vintage Balenciaga paisley, $15, Red Charvet paisley, $30, Luciano Barbera paisley $25 SOLD, Completely balls-out Pal Zileri paisley $20 SOLD, ultra-nice Aquascutum houndstooth/paisley combo (this one is really hard to let go -- note detail shot below) $25 SOLD, Blue Aquascutum paisley $20 SOLD, Tan Aquascutum paisley $15, red Aquascutum paisley $15.
Group D:
The first person to cop something from Group D gets this random silk pocket square.
L-R: Small paisleys Talbott $10, Red Brooks Brothers paisley $12, Ornate RL Polo paisley $12, Talbott large paisley $10, Paul Stuart Made in Italy paisley $20, Andover Shop paisley $18 SOLD.
Group E:
L-R: Blue Lands End $8, Joseph Abboud $12, Purple Jos. A Bank $8, Blue textural Jos. A Bank $8 SOLD, Yellow Jos. A Bank $8, Silver Banana Republic $12, Silver Calvin Klein $5, Navy textured Banana Republic $12, silver Hugo Boss $12 SOLD, gold Bugatchi $8.
Group F:
Every single one of these is Etro.
L-R: Completely ridiculous baby items tie $25, red dot $25, yellow dot $25 SOLD, skinny geometric $20, green silk $30 SOLD, green 70/30 wool/silk $30.
Group G:
All of these are Polo.
L-R: Classic red/navy $20 SOLD, blue $15 SOLD, all patch ties $18 or $50 for all three (please someone buy all three -- I want to believe in a world where the same guy wears all of these), geometric $12 SOLD, completely ridiculous "shirt" tie $20, red tie $6 (HAHAHA ITS RALPH LAUREN GREEN LABEL YOU'VE BEEN FOOLED SERIOUSLY IT'S NICE THOUGH).
Group H:
L-R: Bergdorf Goodwill x Forbes 'Capitalist Tool' $10, Navy Thai silk w/ elephants $10, Red Thai silk $10, Woolen Gianni Versace $15 SOLD, Pringle Murray of Athol tartan $10, Pringle Farquharson tartan $10, Grey wool tie (pull off the Thom Browne/SoCal2NYC on the cheap look omgomgomg) $10, Completely ridiculous suede (yes, suede) tie with pharaohs and battleships and stuff (!) $8.
Group I:
L-R: Striped Irish woolen $8, Neiman Marcus $8, Carrot & Gibbs orange with black dots (this one is really cool) $20, no-name orange/blue $8 SOLD.
Group J:
L-R: Talbott BoC for Nordstrom (amazing heft) $20, Blue Brooks Bros. $15, Daniel Milano $15, Navy Brioni $35 SOLD, Lands End $8 SOLD, Tino Cosma $20, Henry Jacobson $10.
Group K:
L-R: Brown Zegna $15 SOLD, golden Tino Cosma $15, Navy/red/tan Zegna $18, Navy/red Brooks Bros. $12, Navy Burberry $20, Crimson Scabal $25, Red Brooks Bros. $12, Red Talbott BoC $18.
Group L:
L-R: Lt. Blue Lavorazione Sartoriale (amazing heft + this is one of those ties women freak out over) $25 SOLD, Purple Charvet $40 SOLD, Pink/orange Versace tie w/ Medusa $30 SOLD, silver Giorgio Armani $20 SOLD, yellow Brooks Bros. floral $10.
Group M:
L-R: Crimson Banana Republic $12, Brown/blue Arnold Brandt (this tie is awesome) $25 SOLD, Navy/red Turnbull & Asser $30, Navy/pink Brooks Bros. $15 SOLD, Pink Charvet $40.
Group N:
L-R: Zegna floral $15, Crimson/white Thos. L. Carey $8, Multi-stripe Kiton $80 SOLD, horizontal stripe Brooks Bros. $15, Pink Baldessarini $40.
Group O:
Here we have an array of 24 knit ties. $100 for all of them or $6 apiece. If they go out in pieces, first person to order more than three at a time gets this sweet orange/green striped woolen (or if you are looking at this and just really like that tie, I'll take $10 for it). If they go out as a lot, I'll toss that tie in with it.
And heeeey I am selling the ottoman they're sitting on for $100 if you live in Ohio and want it (who knows):
Group P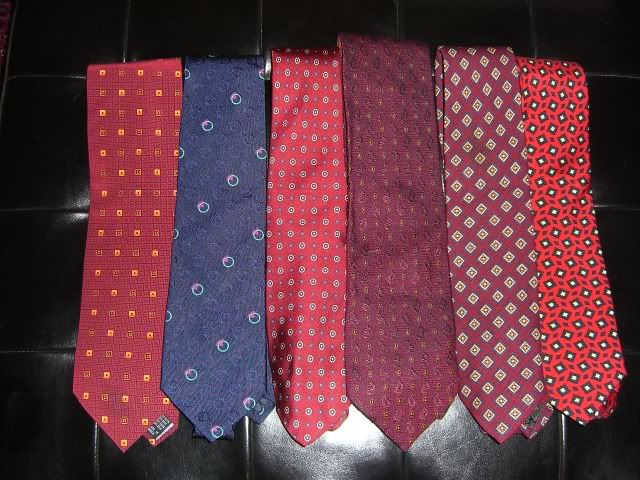 L-R: Red Alexander Julian Colours $6, Navy Christie's Savile Row $12, Red Brooks Brothers $12, Burgundy Joseph Abboud $14, Red Robert Talbott $8, Red Aquascutum $15.
Group Q: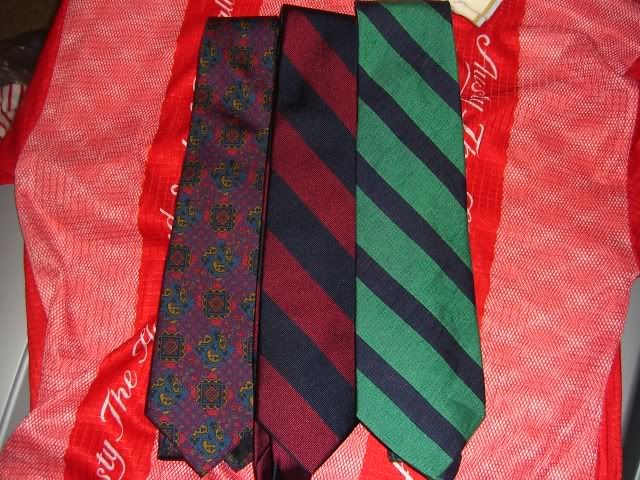 Ties, photographed atop an Ajax jersey.
L-R: Etro $25, classic red/navy narrow tie $8, awesome green/blue linen Lands End $15.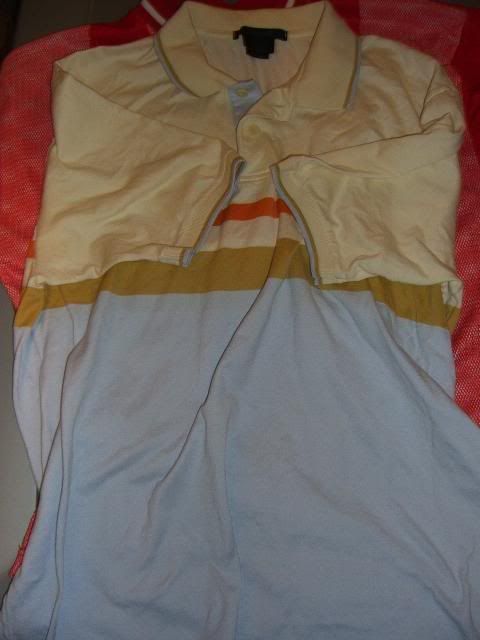 Group R: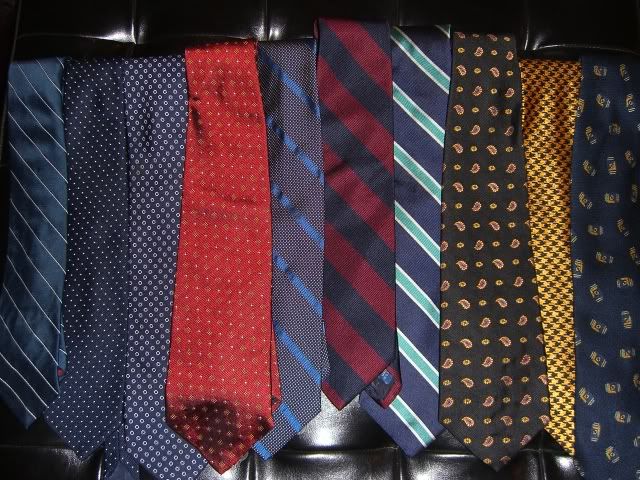 L-R: No-name narrow navy stripe $10 SOLD, no-name narrow navy pindot $10 SOLD (buy both for $18), Blue Holliday & Brown $40, Red Brooks with tremendous heft $15, Blue J. Crew stripe over dot $20, Red/navy Brooks stripe $15 SOLD, Navy/aqua Brooks stripe $15, Black/purple Polo paisley $18, Venanzi yellow houndstooth $8, Navy Barney's NY $10. All ties 100% silk.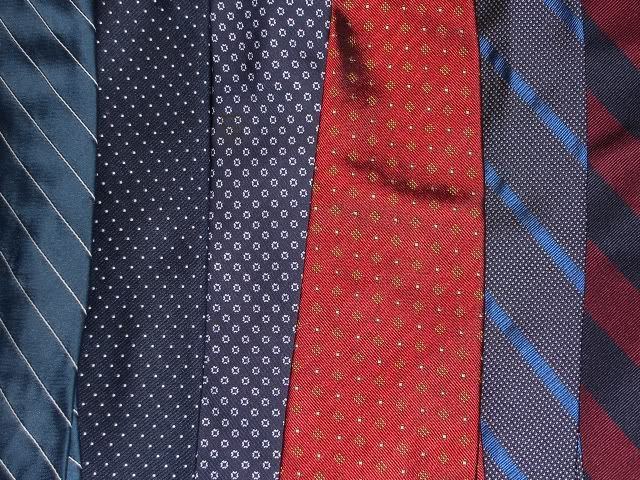 OUTERWEAR
EU46 awesome green leather moto jacket from Spain. This is some Bergdorf Goodwill private stock right here.
Amazing
fit. This pains me. Buy this and get comments everywhere you go. $130.
Size medium grey Armani Exchange moto-style jacket with two zipped breast pockets, double zipper. Paid full retail for this in the days when I was prone to such follies. It was somewhere in the $150-200 range, I think (yeah...). No exterior branding or other overt tackiness. Perfect for the guy who wants to dress like a Tekken character. Please excuse my laughable posed shot, my apartment is in complete disarray from photographing clothes and the timer caught me off-guard. $40.
Vintage tough guy leather jacket, strikkly 4 tha S.T.R.E.E.T.Z. It's a size 44, and though it's obviously meant for a hard man, that leather is so soft. This is distressed, by which I mean it actually has cool distressing as well as some "oh, that's not ideal" distressing. Note detail photo. It's still as real as it gets. $30.
JACKETS/BLAZERS
NOTE: If the same person buys all three of the following jackets, it'll be $300. We'll call it the Summerslam Deal. Note the measurements, they should all be suitable for wear by one person, though fits will vary slightly.
Ultra-gorgeous lightweight wool Gieves & Hawkes tan jacket, 40R. This thing is beautiful. Photos do not do it justice. $200. Measurements: 21" pit to pit, just under 18" across the shoulders, 32" total length.
Emporio Armani linen blend jacket EU48 $80. Measurements: 21" pit to pit, 18.5" across the shoulders, 31" total length.
J. Crew cotton jacket, sz S. Great for summer and as a knockaround travel jacket. Functional sleeve buttons, beautiful striped body lining. $45. Measurements: 20" pit to pit, 18" across the shoulders, 31.5" total length.
Awesome RL Polo cotton jacket, sz. XL. You know you love the staging here! This gentleman is ready for a day out. Note that his pants are already off (mannequin has a big ass, is fussy)! $50. Buy this in combination with some other summery stuff and we might be able to work out a deal. Measurements: 24" pit to pit/20" back of the shoulders/33" total length/25.5" top of shoulder seam to sleeve's end.
Thoroughly awesome textured blue Zegna jacket with patch pockets. EU48. This one's great and incredibly distinctive. $100.
Amazing camelhair Zegna db, sweet patch pockets. EU50. $80. Measurements: underarm-to-underarm 22", shoulders 19.5", total length 30.5", sleeve 23".
Zegna double breasted, awesome stitching. EU48. Worsted Super 100s. $70.
Banana Republic, 44L. $30.
Amazing bespoke country jacket from forgotten clothier. I adore this thing. Sorry the fit's a bit odd on the mannequin. $90. Measurements: 21" pit to pit, 18" back of shoulders, just shy of 30" total length.
Unusual odd jacket with narrow lapels, belted in the rear, leather accents. This would make some seriously crucial streetwear. Forgive the conservative staging, didn't feel like swapping out the thick Zegna for a narrower tie. $50. Measurements: 20.5" pit to pit, 18" across shoulders, 30" length.
Classic navy Brooks Bros. blazer. 41R. $40.
Grey Canali, EU56L. Bemberg lining. $60.
Unconstructed seersucker by Basso, bought at a sample sale a long time ago, worn once or twice. It's a bit rumpled here, I'll see to it that that's fixed prior to shipment. Fits like a 38. $30.
So, who's got balls? This is vintage Merc. If you don't know what that means, then you're probably not interested anyway. Made in England, tagged size 40. Movie star-grade cocaine not included. $40.
SHIRTS
Sorry about the visible hangers, etc. in some of these -- bear in mind I am not setting this up like eBay with elaborate staging, etc. for the most part, so this may seem a bit transparent. Those shirts are hanging on a rack to my left. You can see it in at least one photo of me. Apologies if that's unromantic.
Luigi Borrelli for Bergdorf Good
man
, beautiful stitching and buttons, you know the drill. 15.5-39.$85.
White/blue checked Brooks Bros. shirt, sz M. $18.
Gorgeous multi-stripe Tailorbyrd shirt, sz M. This brand is slept-on. Highly recommended. $22.
Black/pink grid on white H&M shirt, sz M. $16.
Striped RL Polo shirt, 15.5/34. $15. I love this fabric.
SOLD
Great Zegna Sport polo, sz M. $30.
Striped Brooks Brothers shirt, 15.5-4. $15.
Pink/white striped Sulka in 15.5/33. $25.
Blue with white contrast cuffs/collar Sulka in 16/34, French cuffs. $20.
RL Polo red/white seersucker shirt, sz S. $20.
SOLD
Lavender herringbone Flusser 15.5/34-35, $12.
Totally insane vintage Wrangler polo with pearl snap enclosures. Sized L, more like modern M. $20. Measurements: pit-to-pit 19", shoulder to shoulder 18", hair over 26" total length.
Bright pink vintage pearl snap Western shirt 16/33, $22.
Red vintage pearl snap Western shirt, 15.5/34, $18.
Super soft Sea Island Cotton Huntington shirt, French cuffs, 15/34. $18.
Striped Brooks Bros. Sport Shirt, sz L. $15.
Striped Brooks Bros. shirt, 16.5. $15.
Lovely blue checked Ike Behar shirt, 16.5/33. Note spot inside collar, not visible. $12.
Gorgeous checked Atwardson shirt, wonderful fabric. Unsized, measurements forthcoming. $20.
Completely killer Astor & Black MTM shirt. Measurements forthcoming. $30.
White Burberry shirt, 16/34. $20.
Stunning Zegna striped shirt, slim fit. Measurements forthcoming. $40.
Blue/yellow striped Brooks Bros. Sport Shirt, sz XL. $15.
White herringbone Ike Behar shirt, love this fabric. 16/33. $20.
White pleated Turnbull & Asser tuxedo shirt, French cuffs, 16.5/42cm. $40.
Gorgeous striped blue/white Burberry shirt with contrast cuffs/collar, French cuffs, 16.5/33. $30.
Absurd snap shirt with shoulder details, tagged size M, slim fit. $15.
Come on now, work with me here. This rules. XL. $20.
PANTS
Banana Republic Gavin fit cotton trousers, perfect for summer. I am marginally irritated that these do not fit me, because they'd be heavenly in this weather. 33/32. $20.
SOLD
SHOES
Here's the posse beatdown shot of some loafers. Sorry about the group shots, but volume is key here. Individual shots, close-ups, etc. available on request.
L-R: Allen Edmonds Newport (tassels removed) sz 8 $30, Allen Edmonds Grayson $35 8D, Allen Edmonds Grayson 13D $40, RL Polo (Crockett & Jones) $75 8.5D, mystery Italian loafer 10M (good quality, Vibram soles, leather feels nice, but I have no idea what brand these are -- the stamped insole is mostly worn away, all I can make out is "olo" and I don't think these are Manolos, you know? See the photo below. If you know what it is, by all means let us know) $25.
L-R: Black suede Ferragamos (these appear to be unworn or close to it -- no, they're not Tramezzas) 10.5D $75 SOLD, Amazing chili Allen Edmonds Fifth Avenue 13A $75, Allen Edmonds Lloyd 8.5D $40.
L-R: Allen Edmonds Park Ave. with completely killer patina, 10.5B, $100. Navy Allen Edmonds Woodstock dock shoe, 13B, $75. Allen Edmonds Paxton loafer 8EEE, $45.
L-R: Allen Edmonds Park Ave. 10B $70, Black Allen Edmonds Park Ave. 13B $100, Allen Edmonds Devonshire 10.5C $35.
L-R: Black Santoni (not FAM) loafer 8.5D $75, Black Bally loafer 8D $25, Burgundy Bally loafer 8D $25 (buy both for $45), cool red Florsheim loafer (I love shoes with this profile) 11D $25.
Gorgeous burgundy Allen Edmonds Park Avenue, 10D. $100.
L-R: Vintage boots 9D, $50. Vintage boots 11D, $40. Vintage side-zip ankle boots 8D, $35.
Women's Trovata x Vans green corduroy/brown leather shoe, sz 8. These retailed for $140, they don't make them anymore, etc. $80.
BELTS, BRACES, OTHER ACCESSORIES
L-R: Navy Trafalgar braces $20, absolutely amazing Trafalgar belt sz 34 $30, Coach belt (small spot, see photo) 40" $8.
Trafalgar belt sz 30 $30.
MISCELLANY
Totally sweet seasonally inappropriate brown down-filled vest with corduroy detail. $20. Eternal winter awaits you.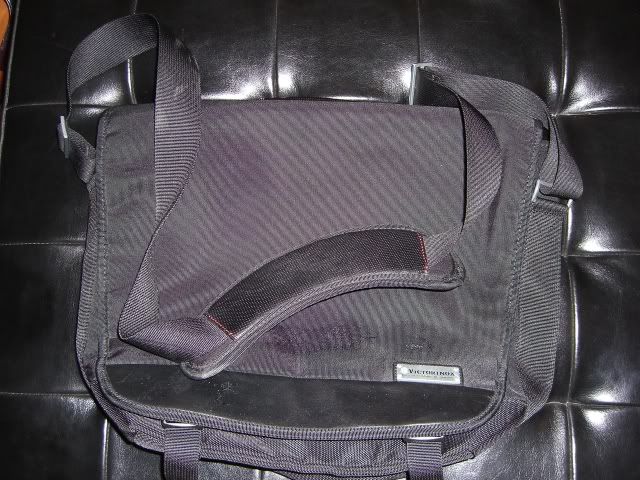 Victorinox bag, ultra-useful. $40.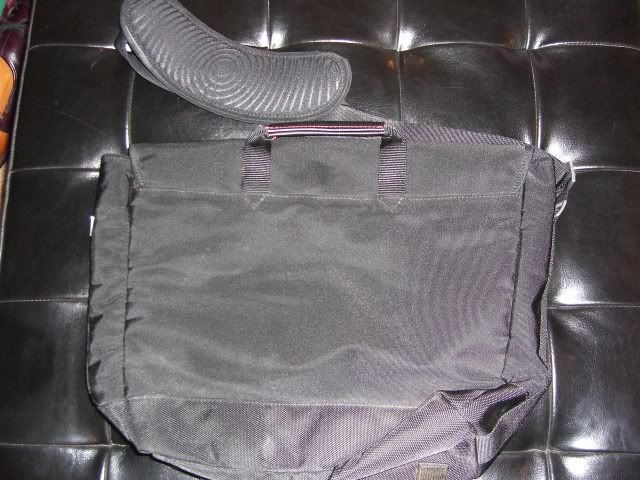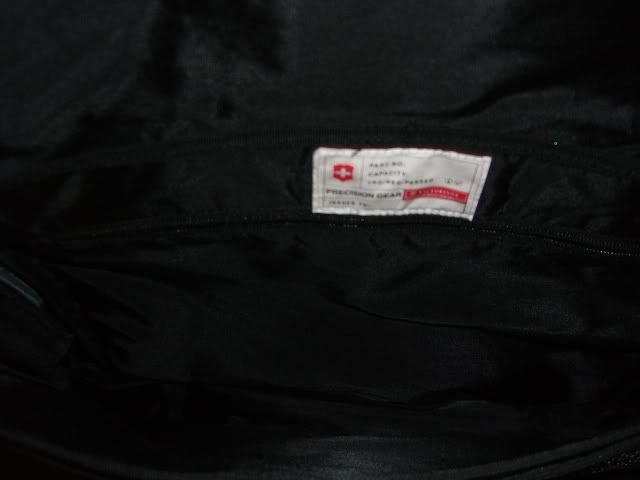 Yet more to come.