This Classified is Closed
For Trade:
[FT/FS] Boris Bidjan Saberi Scar-stitch heavyweight leather - M
Will Ship To: Anywhere

Beautiful jacket, I've bought it recently, unfortunately too small for me, esp. in the arms.
It's perfect for 48-small 50 when worn rather slim, big 46 when worn a bit looser, I (50-small 52) can still fit in. It'll mold to wearer's body.
I've been told it has been worn around 10 times, I wore it 2 more.
Leather itself is in 8-9/10 condition, broken threads in photographed places are the only flaw.
Pretty heavyweight, really great feel, supple (quite similar to calf feel) and comfortable leather with longer cotton lining. Leather is much more matte than on 1st picture, looks so because of flash.
I've been informed it's horse leather, bought 3 years ago for around 4000$, not many were made. I think it's possible that's it's either specifically treated horse (feels similar to calf) or calf itself. If you have specific information about that one, I'll appreciate that!
I'll be happy to trade for different leather to fit L-XL from BBS, CCP, RO or similar (can be with cash either way). Cash offers are also welcome.
Measurements:
Front length: 74-5cm
Back length: 68-9cm (+ lining)
Pit-to-pit: 48-9cm
Shoulders, sleeve: raglan
lining is 5-9cm long, depending on place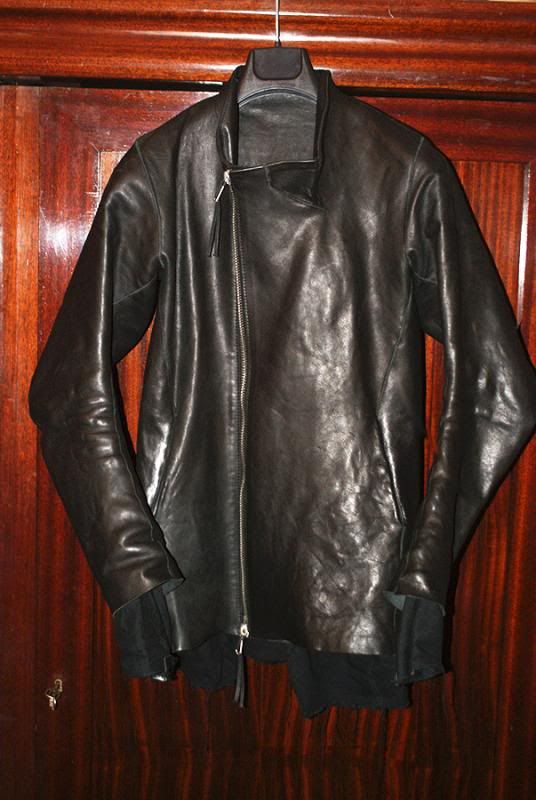 http://i92.photobucket.com/albums/l3/wojtekr/photos/DSC03534.jpg
http://i92.photobucket.com/albums/l3/wojtekr/photos/DSC03533.jpg
http://i92.photobucket.com/albums/l3/wojtekr/photos/DSC03539.jpg
http://i92.photobucket.com/albums/l3/wojtekr/photos/DSC03540.jpg
http://i92.photobucket.com/albums/l3/wojtekr/photos/DSC03542.jpg
http://i92.photobucket.com/albums/l3/wojtekr/photos/DSC03543-1.jpg
(1st broken thread)
http://i92.photobucket.com/albums/l3/wojtekr/photos/DSC03544-1.jpg
(2nd)
+ fit pics:
http://i92.photobucket.com/albums/l3/wojtekr/photos/DSC03548-1.jpg
http://i92.photobucket.com/albums/l3/wojtekr/photos/DSC03550-1.jpg
http://i92.photobucket.com/albums/l3/wojtekr/photos/DSC03551-1.jpg
http://i92.photobucket.com/albums/l3/wojtekr/photos/DSC03553.jpg
Edited by Wojtusior - 2/26/14 at 9:19am