Gotta love Lange, that is a serious watch Steve! Wow, much to read here after being away for a while
On my regular non-English language watch forum, there are two yearly exercises that I greatly enjoy:
My watch year in review
and
Watch plans for the new year
.
So I thought maybe we could play here as well? I'll go first
My watch year in review - 2015
Out:
This was my first grail, the Heuer Autavia 1163T "Jo Siffert". Sad to see it go, but I had another purchase that needed funding. Also, I got a very good price, reflecting both the rocketing of Autavia popularity and our oildriven weak local corrency. Now is the time to sell globally and buy locally for us, a nice change.
I have only one Autavia left, hard times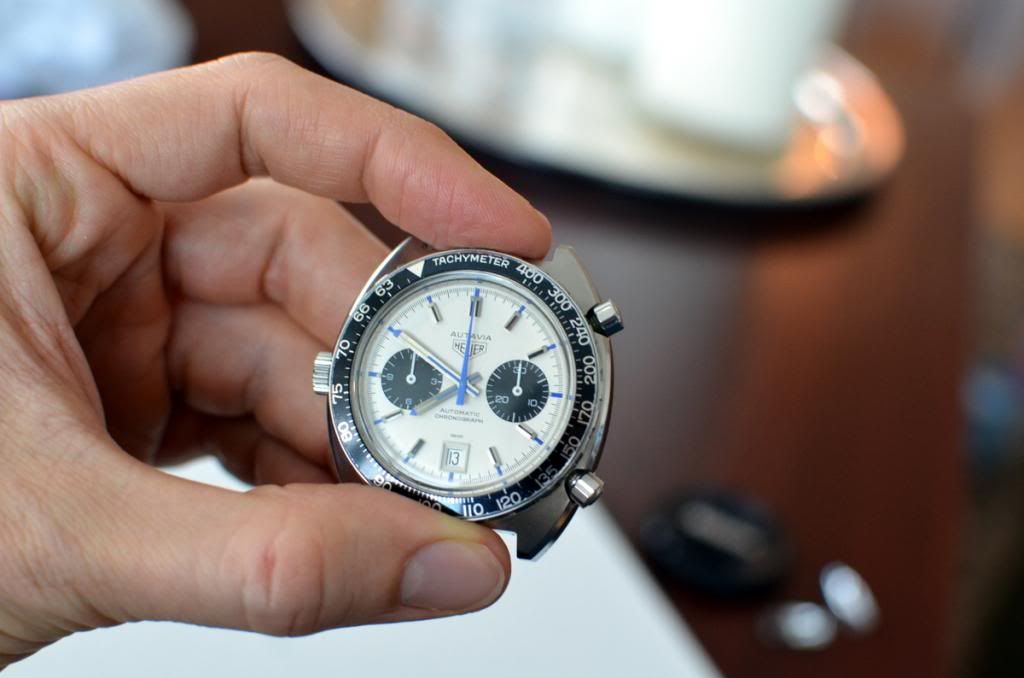 In:
The Patek Philippe Calatrava 5196G. Having been in the watch nut community for a while, with a (well deserved) reputation for weak impulse control, sometimes fellow nuts contact me with pieces they imagine I could enjoy. Not my fault. A new favourite, I find the plain dial and svelte case absolutely amazing on my wrist.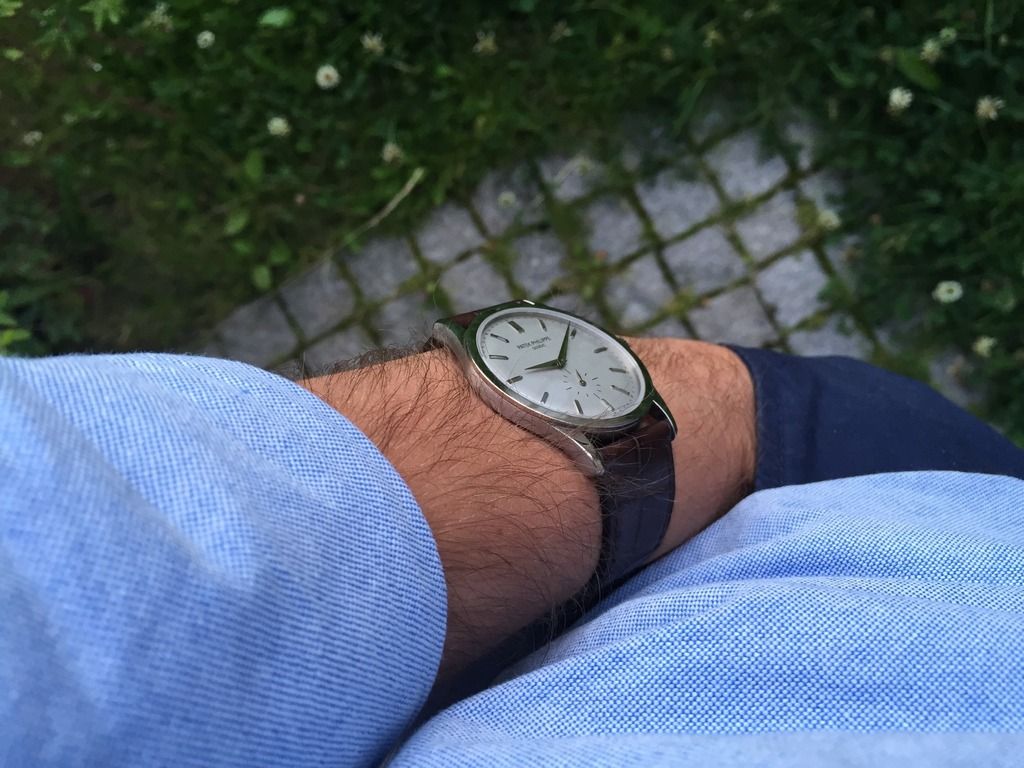 And this is what I sold my Siffert to get, a 1978 Rolex Explorer II 1655. Just in, and sorry, this crappy picture is all I have. I have turned down serveral 1655s earlier, due to either price or (uncertain) provenance. Too much fakery and
frankensteinery
in the 1655 game. Well, as usual, prices only go up, but at least this one has history. Not papers, but a recent and verified copy of the handwritten index card from the local AD where it was purchased in 1979. And documentation of every service since. Very well used, not a lot of ink left on this bezel. But a strong case and (trust me on this, sorry about the picture) wonderful dial.
Still on the fence on whether to source a correct unpolished mk3 bezel and give the case a light respectful brush and polish. But so happy to have an orange hand Explorer II.
Vintage Rolex will always be my kryptonite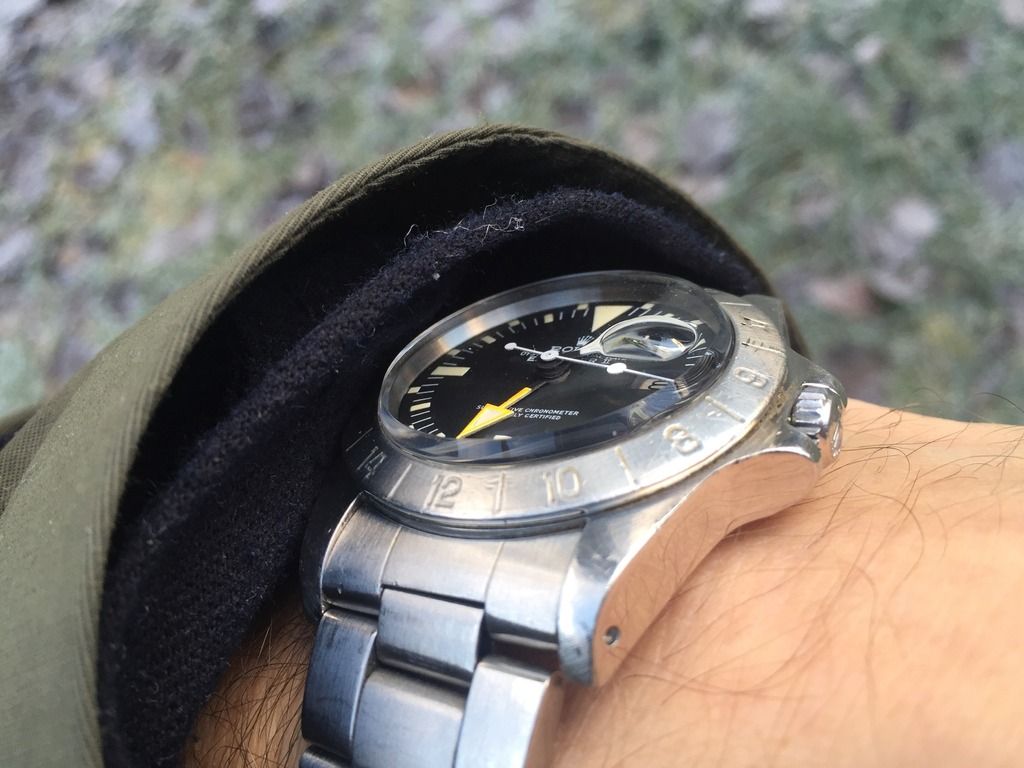 Watch plans for the new year - 2016
Eh, sit still and do nothing? Yeah, I've tried that before. Not my strongest suit.
One of my favourite watch pushers is now an A. Lange & Söhne AD, and there are so many lovely models. My tastes are changing towards smaller and dressier pieces, both the 1815 and Saxonia range would fit me very nicely. The 1815 Up/Down in white gold has been a favourite so far, but more and more my mind turns to the boutique edition of the manual Saxonia small seconds. The rose gold and grey dial is a wonderful combination. I have yet to try this on the wrist, but the pictures are alluring.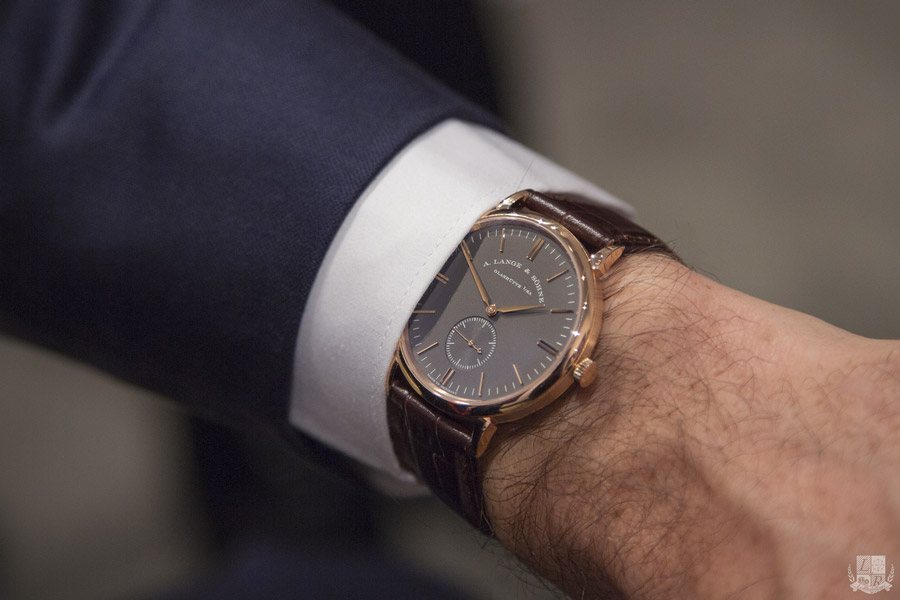 For similar reasons, I am also eyeing Vacheron Constantin. The brand history is so strong, and the range of models is one long wish list.
I wonder, is 40mm too large for a two handed dress watch? The Patrimony Contemporaine in white gold.
Anyway, these are only dreams and fairytales so far. No new funds for watch purchases, so something has to go. When choosing the candidates, there are two criteria: Can I buy it back? Will selling it break my (watch nut) heart? This usually means no Rolex or Patek ever gets the axe. Therefore my JLCs are living dangerously, particularily the rose gold Master Chronograph. Also, while absolutely amazing, the AP Royal Oak chrono could be sacrificed if the desire for something more classic becomes too strong.
There it is, for those that bothered to read it all.
How about you?
Edited by NonServiam - 12/10/15 at 1:49pm