Quote:
Originally Posted by
Dino944
As for OQs, its was probably the most over engineered and well built Rolex in its day, even with a quartz movement.  
Warning: Spoiler!
(Click to show)
It had advances that took decades to make it into Daytonas, Subs and GMTs.  It was the first steel Rolex to have a sapphire synthetic crystal, the first steel Rolex to use solid links for its bracelets, it was more antimagnetic than a Milgauss , and it even those it was a quartz it used an 11 jewel movement  IIRC it was water resistant to 100m when most were water resistant to 50m.   No watch can be everything to everyone. So quartz clearly won't be for everyone.  However just for comparison sake when you look at these movements, one can see the Rolex quartz movement isn't what you find in average to inexpensive quartz watches.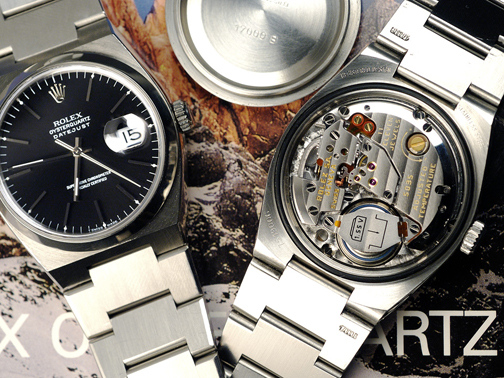 Indeed, I caught up with my watchmaker friend earlier this week, and we talked a fair bit about the OQ. One thing he mentioned is that it's by far the most costly-to-produce three-hand movement Rolex has ever made — and possibly the costliest, period. He commented that the 4130 isn't exactly cheap to make either, but only the 4160 might be comparable in internal expense to the quartz calibres. I guess there's a reason its price was double that of a Submariner's when it came out. When you consider its low production and that it's one of a kind for Rolex in almost every way, it's surprisingly how little they go for currently compared to other models.
I found it interesting that the cal. 9001 annual calendar isn't as expensive to make as the chronographs, either — it uses a very simple (and extremely well-designed) mechanism, which is its genius. I'd like to see the Sky-Dweller's movement in a less-bulky steel case sometime, but I doubt that will happen any time soon.
Anyway, he's quite familiar with the 5035/5055 calibres after getting specailized training on them at Rolex's advanced course in Geneva (where the 4030 movement is also covered and where he got the aforementioned info). He ended up liking the Oysterquartz a
lot
— so much so that he asked me to find a good 17000 for him, which I recently managed to do. It's difficult to find one that hasn't lost its bevels on the case and bracelet, but they're out there for those with patience. Now it's just a matter of getting it over to Norway.
Thin is good, but at 11.8 mm. it's barely slimmer than a Daytona, which is a seriously water-resistant watch. I still don't get why they did this design in 42 mm; it would have looked much better in a case that fits the movement. It's always nice to see something on the restrained side from them, but for me, the combination of trendy sizing with a pseudo-retro look makes it a bit of a meaningless watch.
I reckon the 38 mm EP model is a much better buy, funky overlapping subdials and all. It's distinctly Zenith, whereas the two-register doesn't seem to have much of an identity.