Just catching up on this thread. That Altiplano is lovely. Would love to see it in red gold. I'll have to re-assess and include it in my current quest for a minimalist, thin watch! AL&S Saxonia Thin, VC Contemporaine Handwound...Piaget Altiplano? The choices!
I don't think you could go wrong with VC Traditionelle, for all the reasons that Dino and others have listed. Despite my minor nay-saying earlier, I do think its a great watch...
Did you get a chance to check-out any of the simple AL&S three-hand watches? I feel that with all the interweb obsession over the Lange 1s, Datographs, and other top-end complications, their simple and elegant dress watches (like the Saxonias, 1815s and Richard Langes) get overlooked. Yet I've always felt that they make a very compelling product, every bit as balanced and finely crafted as the AP Jules Audemars, Pateks and VC Patrimonies...
Quote:
Originally Posted by
Keith T
I can't even begin to tell y'all how disappointing it was to meet Newcomer....
...dude looks absolutely NOTHING like his avatar in real life.
But for realz, we had a blast and I only wish we had a bit more time to hang and look at some more awesome timepieces. Unfortunately, my boss has this thing called "work" that he expects me to at least occasionally try to do, even on a fine March afternoon. Next time, the bourbon's on me!
And apologies in advance for the standard crappy phone pics, but we did indeed get a chance to handle some very fine watches, mainly in the true "dress" category, which is my current obsession anyway. (By April, it could be sundials or maybe hour glasses, who knows.)
So I was once again taking a very close look at this most basic of Altiplanos...super clean. Just two stick hands, very simple, very .... austere. And I really like it. Black on white. Perfect for formal occasions, if you don't mind breaking that particular "style rule". Also quite reasonable, in relative terms. Would slide right under a shirt cuff and disappear. One of those watches that well, maybe only a watch guy would really love. I've had the AD pull this one out of the case twice now, FWIW.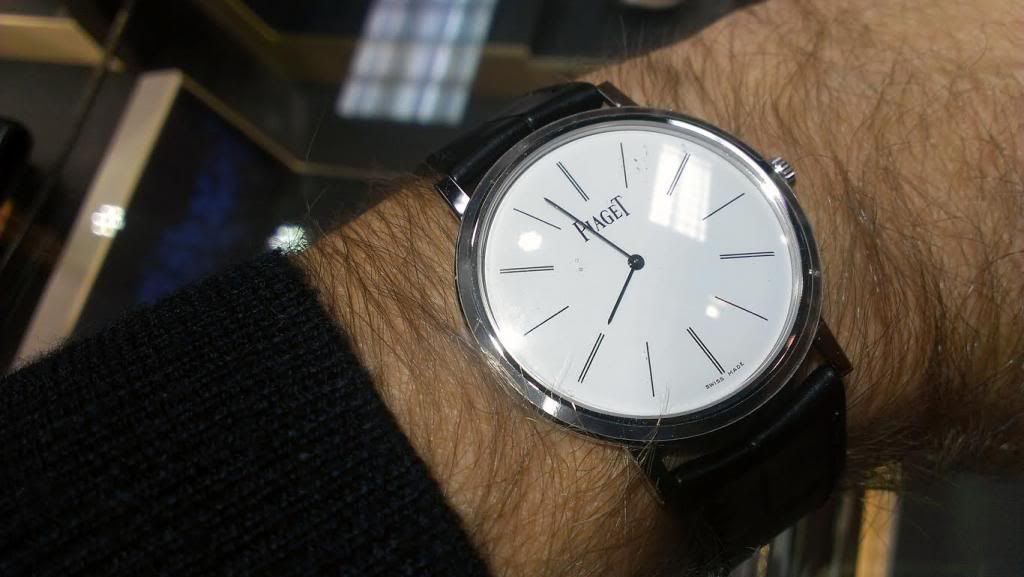 Sticking with Piaget for a moment, Newc had a nice dial shot of the larger automatic version, with the date at 9, and sub-seconds at 4. Another great watch, similar to the above, but with its own personality. Kind of a quirky layout, not that there's anything wrong with that. But check the backside here...again, not the best pic, but lots to love:
The surprise of the day had to be how much of a watch-crush Newcomer admittedly seemed to develop for FPJ. Like, instantly. That blue joint in particular. What a stunner.
We've definitely all heard about the quality issues, and believe me Dino, I hear you.
(Nobody wants a hot....stripper ... with...VD? OMG you really went there.)
But damn. Those watches. In the flesh? Wow. The guy makes some beautiful stuff. Truly. I mean, I REALLY dig that contrast of the white hands on the blue dial, and I like the font for the numerals a whole lot on that particular piece as well. It's just somehow distinctive; and the rail track, the inner white circle on the dial, the
shape
of the hands....the way it all comes together makes for a really sophisticated look.
Our AD has an extra nice space dedicated for them, (they shipped in special furniture?) and my sales lady told a funny/sad story about how she had to raise hell to their Journe rep before he would start allowing females to attend their annual owner's dinner. Apparently certain people haven't got the memo that it's 2014 yet.
Anywho, I took a quick snap of this one, with the plastic still intact since we were worried Newc might drool all over it LOL:
We also poked around a bit in some of the other cases, mainly just glancing at UN, Panerai and JLC. (A Reverso will make its way into my stable before I exit the watch game. Mark my words!)
Also took a quick peek at Breguet, which we both agreed was a bit too....stuffy, as Newcomer said, for young whippersnappers like ourselves.
And at the end of the day, when I'm dreaming about something from the Big Three, I always like to glance through this and start running calculations in my head.
One kidney = 1921 American Historique? After all, they say a man's reach should always exceed his grasp...
Oh hell, I guess I'd settle for that gorgeous Patrimony Traditionelle