Off the mark...further ahead of the curve, same thing! 
Quote:
Originally Posted by
Newcomer
I am glad to get your support on it! I think that is might be a good look! I think something a little more casual would do wonders for the watch. I will have to think a little more about it before really committing to it. This time I may try ABP instead of CF!
Thankfully, the black strap on my MUT is finally breaking in. This thing is about as solid as it gets! Still squeaks a bit though.
I think the navy with royal blue will be stunning and really give the watch a sporty character.  
Quote:
Originally Posted by
NonServiam
Regarding the Royal Oak Chrono: The one really ROCs my world is the old rose gold model on a strap (26022OR). It's just heavenly. Flashy, a bit over the top, but still way within good taste (unlike most ROO). I've tried on several ROCs, but like the 15300 I used to own, the bracelet, although cool as hell, is just too rigid. On a strap however!
I could seriously trade a bunch of watches for this one
It has to be the older dial with the square indeces though! The newer ones are missing something, not sure what ...
Warning: Spoiler!
(Click to show)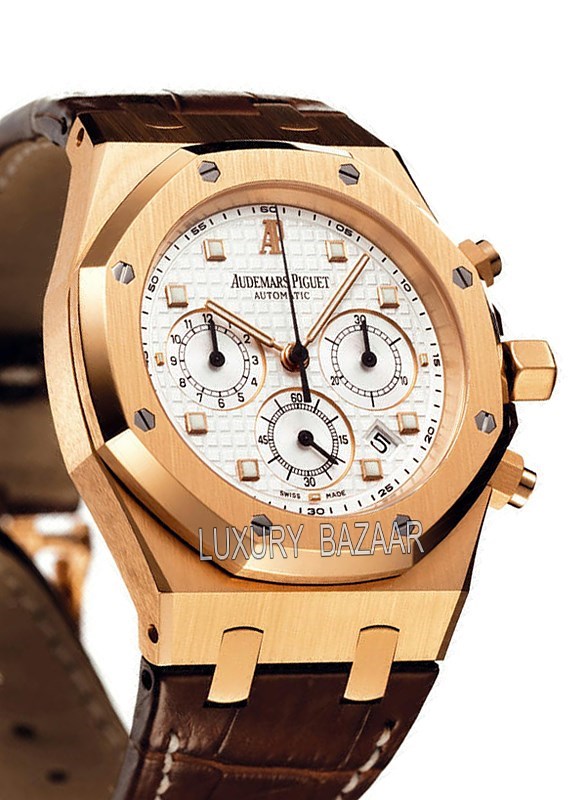 There are actually a lot of differences on the dial besides the shape of the lum/hour markers. On the old one the subdials look a tad more recessed, the hands for the subdials and sweep seconds hand are black (rather than rose gold), and all the markings within the subdials are different than on the new one.  
Personally, I can see liking the old in rose more than the new, although I like the new steel RO chronos more than the old.  I know you would go with it on a strap as you have had comfort issues with the RO bracelet, but I couldn't do it.  Luckily I've never had a bracelet comfort issue with the RO, it may also be because they changed the clasp (on new models...I know some people complained about the fit of the old butterfly on the 15300).  Anyway, I just could never go with a RO or Nautilus on a strap.  I just feel like its incomplete.  They were each designed to be on bracelets and I couldn't consider one without...but I do understand your comfort issue.  Definitely a great watch.